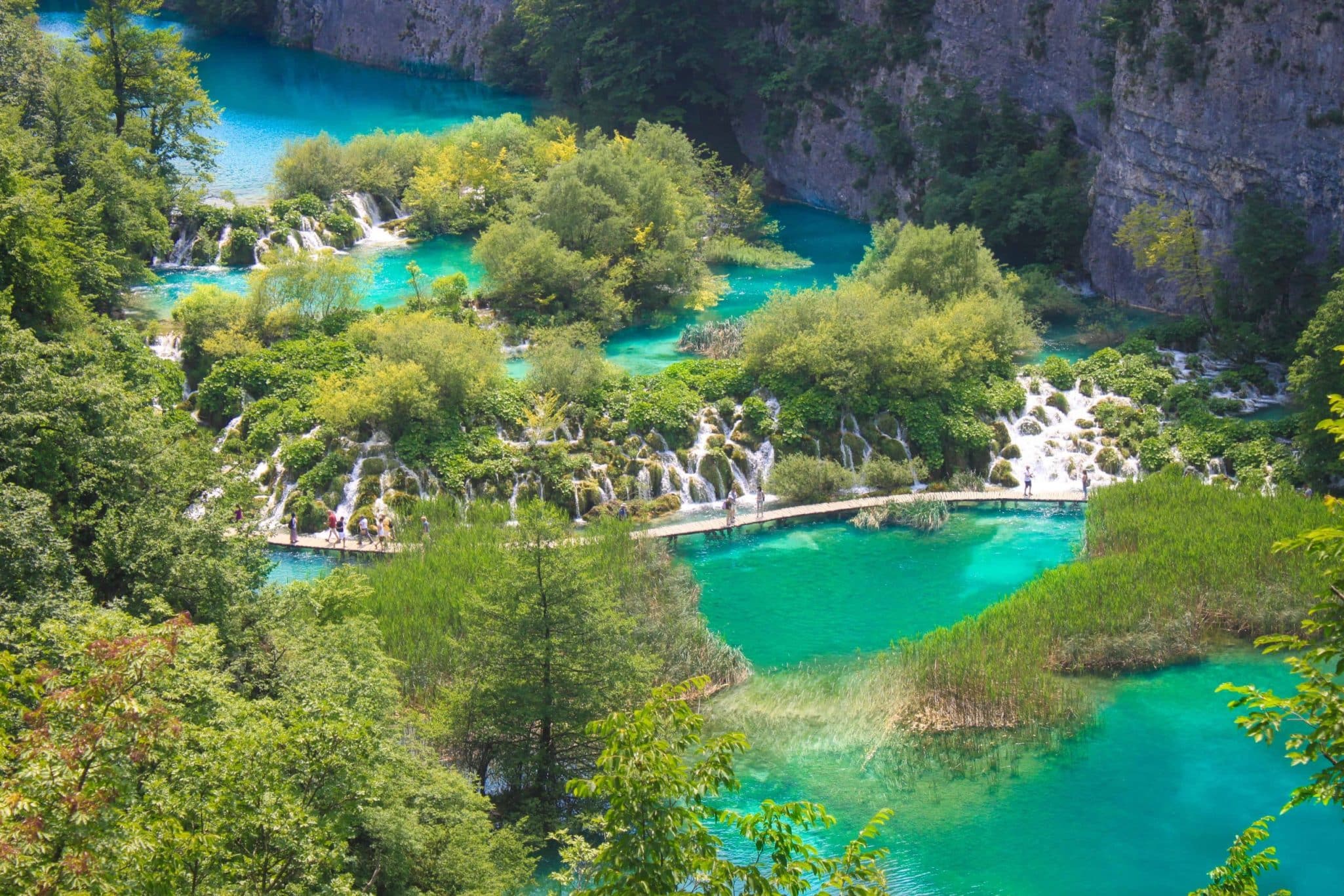 Home to pristine white sand beaches, beautiful UNESCO towns, incredible food (mmhm, cevapi!), and a strong cultural history, The Balkans just has something for everyone. The rich history and the warm, welcoming people of this region has made me come back so many times, and it's my favorite place in the world. I've made this Balkan travel guide to give you an overview of what to see and do in The Balkans.
List of the 12 Balkan Countries:
Bulgaria
Greece
Kosovo
Serbia
Turkey
BALKANS TRIP PLANNING
Rough Budget
Accommodation
Budget: $10-15 (private room)
Mid-Range: $30-70
Splurge: $100+
Food (For One)
Streetfood: $1-3
Restaurant: $5-10
Super nice restaurant: $15+
Transport
From capital to capital:
International buses: $15
International minibusses: $20
WHAT TO PACK FOR TRAVELING THE BALKANS
The Balkans has a typical central European weather with hot summers hovering around 25-30 degrees C in July and August. In the winter, you can expect snow and temperatures down to 0 degrees C. The great thing about the shifting temperature is that you can visit this region all year round. My favourite time is spring and autumn, because temps are milder and there are less people – especially May and June.
Balkans Quick Information
Safety: Generally speaking,The Balkans is a safe place to go. Yes, you'll see the occasional scams here and there, but it's nothing compared to Paris, Rome, Thailand or Bali. In fact, The Balkans is the place where I feel most at home and most safe on my travels, which has to do with the openness and honesty you'll experience there. Based on my experience of traveling all over the world, I would never leave home without travel insurance. I recommend going with World Nomads as they have the best adventure travel coverage, covering activities like hiking, skydiving etc.
Language: Each Balkan country has its own language, but you can easily communicate in English. Maybe not so much in the countryside of Albania or Kosovo, but in most touristy countries like Croatia and Slovenia, you'll get by in English just fine.
Transportation: It's easy to get around in the Balkans. I recommend using Rome2Rio to view busses and train schedules. You'll save tons of time if you use this website ahead of time.
BALKAN TRAVEL: BEST THINGS TO DO
The Balkans have a little bit of everything for everyone. The best part is that the region is still largely undiscovered, which means you'll have much of it to yourself. Here are a few of the best things to do in The Balkans.
Soak up the beaches at the Albanian Riviera
The beaches in Albania are the best in Europe, which is why heading to the Albanian Riviera is a must in the Balkans. Albania is still largely unexplored, which means the beaches are well kept and you'll have them (almost) all to yourself. The Albanian Riviera is best explored by car, although it is possible to take local transportation between the larger towns.
Take a cooking class
One of my favourite things to do when I travel is taking a cooking class. It's the perfect way to really get to know the culture, people and history. Luckily for all us foodies, the Balkans have an amazing cuisine. Of course, the food differs from country to country, but much of the flavours and ingredients are the same.
Watch the sunrise at Lake Bled, Slovenia
Lake Bled is one of the most magical places you'll ever visit. It's located just an hour from the capital Ljubljana, and it's one of those places that are way better in real life than in the photos. In the middle of the lake, there's an island with a small church, and the lake even has its own fairy tale castle.
Experience the real Narnia in Soca Valley, Slovenia
Another magnificent and absolute must-see in Slovenia is Soca Valley. It's located in the Western part of the country, and was one of the highlights of my Slovenia trip. You'll get the most out of your trip by going through the Vrsic Pass (not open during winter) and head from Bovec down to Kobarid. This is where part of the movie Narnia was filmed.
Explore the majestic Plitvice Lakes, Croatia
Oh, Plitvice. I've seen many waterfalls in my life, but this is the most beautiful. What makes Plitvice Lakes special is that there are so many waterfalls. It's a whole park that you can spend days exploring, and each waterfall is prettier than the last. Do yourself a favor and visit. It's really stunning.
Look for Game of Thrones sites in Croatia
Any fellow Game of Thrones fans here? Well, you're in luck, because you'll find lots of them in Split and Dubrovnik. You know Kings Landing, right. That's the real-life Dubrovnik, where you'll find anything from the Great city walls to the Jesuit staircase with Cersei's infamous Walk of Shame. Find photos of all the Dubrovnik Game of Thrones sites here.
Relax at Lake Ohrid, Macedonia
Looking for a quiet place to spend the weekend? Look no further than Lake Ohrid in North Macedonia. It's easy to get here. Just get on a plane to Skopje, take a bus or rent a car (2.5 hours) to Lake Ohrid, and you're there. It's such a lovely lake with a beautiful town and historic monasteries right at your doorstep.
Visit the quaint Mostar in Bosnia
Mostar is the most popular place in Bosnia and Herzegovina. The thing that makes Mostar unique is the beautiful Stari Most bridge and medieval town. It's like a fairy tale with its high minarets, street art and wonderful views. And the food. Oh, don't get me started.
Watch the amazing landscape in Montenegro
Montenegro is spectacular for one main reason: the landscape. While it's a good idea to base yourself in the historic town of Kotor, you can easily explore the rest of Montenegro from there. The main sights include Lovcen national park, Ostrog monastery and Durmitor National Park. The latter was my favorite. Read my posts about the 10 best things to do in Montenegro.
Go vampire hunting in Transylvania
If not for Dracula, what is Romania most known for? Have fun looking for flapping bats in Transylvania, visit Sibiu – the city where the houses have eyes or look for Dracula's castle (Bran castle). The capital Bucharest is a melting pot of Art Nouveau architecture and green parks, while you'll find the perfect weekend break in the city of Brasov. Oh, and they also have pretty amazing food in Romania that you should try.
EXPLORE BY COUNTRY
Here's a list of all the things to do in the The Balkans, broken down by country:
Albania
Bosnia & Herzegovina
Croatia
Romania
Slovenia
Macedonia
Montenegro
Albania Travel Guide
Albania Travel Tips
Albania is probably the least explored country in the Balkans, and truly a hidden gem. Whether you're looking for the pristine Albanian beaches, soaring mountain tops, old Ottoman UNESCO towns delicious seafood or a dose of history, Albania's got it.
Language: In Albania, there's a mix of Albanian, Italian, Greek and English. You'll also find people who speak German (mainly the men). In the major cities, most people speak English, and if they don't, they'll be quick to help find someone who does. Get the most useful Albanian phrases here.
Currency: The Albanian Lek is the official currency in Albania. I always recommend withdrawing once you get there to get the latest rates. And you won't have trouble finding ATM's in the larger cities like Tirana, Sarandë, Gjirokaster or Berat.
Visa Rules & Regulations: Albania isn't within the Schengen Zone, but there are certain regulations as to who needs a visa and who doesn't. I recommend checking with your Embassy's website to be safe.
Budget and Prices: Albania is a pretty cheap country. But as with all countries, prices go up in the main tourist towns. You'll notice that when you're at the riviera, prices are higher, while inland in Gjirokaster and Berat, they're remarkably lower.
Safety: Obviously, you should always use common sense and be aware of pickpockets, but apart from that, Albania is a safe country. One thing I have to mention, though, is that the roads aren't always super great. Since Albania was closed-off for many years, they've got a little catching up to do – especially when it comes to infrastructure and maintenance. Even if you follow the coast road by the Albanian Riviera, which is the newest, you'll encounter huge potholes, unpaved roads and more of less every farm animal you can imagine. Just see it as an adventure – that's what we did.
How to get around: Public transport from one place to the next happens by mini busses. There are bus stations in the major cities of Tirana, Berat, Gjirokastër and Sarandë. But if you're getting on in some of the smaller towns, you need to stand by the road and wave at the driver. Then he'll pick you up. It's the standard way of doing it in Albania.
Bosnia & Herzegovina Travel Guide
Bosnia Travel Guide
If you're looking for the most underrated country in the Balkans, Bosnia is it. Bosnia is the places where I've met the nicest, most welcoming people in the world. Sarajevo is its capital with lots of beautiful sights, but also an abundance of history from the '90s war.
Mostar is the most popular place in Bosnia and also a very popular day trip from Croatia. It has the world-famous Stari Most bridge and an interesting clash of the Orient and the Balkans. Close by, you'll find the magnificent Kravice Waterfalls, where you can swim and soak up the sun. Other nearby sights include Blagaj Tekke, Konjic and the medieval Pocitelj.
Language: There are three major languages in Bosnia & Herzegovina, namely Bosnia, Croatian and Serbian.
Currency: The Bosnian Mark (KM) is the official currency in Bosnia & Herzegovina. You can find ATM's in the larger tourist towns such as Sarajevo and Mostar.
Visa Rules & Regulations: Bosnia & Herzegovina isn't in the Schengen Zone, but if you have a Schengen visa, you can enter the country for up to 15 days. I recommend checking with your Embassy's website before your trip.
Budget and Prices: Prices in Bosnia are low, especially compared to neigh-boring country, Croatia. You can find nice double rooms for under $40 / night, meals rarely cost more than $5 in a restaurant and transportation (including taxis) is very cheap.
Safety: Obviously, you should always use common sense and be aware of pickpockets, but apart from that, you'll be safe in Bosnia.
How to get around: The transport from one place to the next is fairly easy in Bosnia and is quite efficient. You can take busses, mini busses or go with private tours to see the country. Roads (especially the freeways) are really good, so renting a car would also be a good idea.
TOURS AROUND BALKAN
If you'd like to see several Balkan countries at a time and don't want to do it's by bus or a road trip, I highly recommend joining a tour. My favorite tour company is GetYourGuide, which is the travel company I use to book guided tours and day trips myself. They're my favorite, because they have competitive prices, excellent customer service and free 24-hour cancelation.
If you'd rather just do day trips, check out the variety of tours they have and the details of each trip.
WHAT TO EAT IN THE BALKANS
You'll find some of the most amazing food in the Balkans, and it's one of my favorites. This region is full of fresh seafood, rich ingredients and bold flavors. When you're traveling to the Balkans, you should try these dishes:
Cevapi: These small meat sausages taste differently around the Balkans, but I had the best in Bosnia.
Burek: Burek or byrek is a delicious filo-pastry pie stuffed with cheese, spinach, potato, minced meat or even mushrooms.
Pršut: Salty paper-thin sliced ham, served with cheese, olives and a glass (or bottle) of wine.
Truffles: My favorite of them all. In Croatia, they put truffles in everything – from cheese and pasta to ice cream, cake and honey. It's that good.
The wine: The wine in Croatia and Slovenia is particularly great.
To get more inspiration on what to eat in The Balkans, you can check out my
Croatian food guide
as well as the comprehensive article on the
best dishes in Istria
, Croatia that you have to try during your trip.
PLACES TO STAY IN THE BALKANS
The hotels in the Balkans vary a great deal. You can go camping or glamping by one of the lakes (I did that in Lake Bled and loved it!), you can stay in an apartment, at a bed 'n breakfast or a luxurious old captain's mansion in Montenegro. Either way, you won't be out of places to stay in the Balkans.
Where to Stay in Prishtina
Where to Stay in Skopje
Where to Stay in Kotor
Where to Stay in Bucharest
Where to Stay in Belgrade
Where to Stay in Ljubljana
Where to Stay in Istanbul
Books to Read when Traveling The Balkans
It isn't really a vacation without a good book, is it? Here are some great reading material about the Balkans that I recommend checking out before or on your trip.
Logavina street This book shows how life was during the besieged city of Sarajevo. It focuses on residents of one street in the centre of the city – Logavina.
Girl at War It tells the horrors faced by Croatians during the Yugoslav Wars in the 1990's, and the subsequent recovery from the trauma years later.
Stork Mountain This book is about an American student, who returns to Bulgaria to find his missing grandfather. He falls in love with a local Muslim girl, who he is forbidden to see. The novel explores the borders of the Balkans, where Bulgarians, Greeks, and Turks are mixed together.
Black Lamb and Grey Falcon This highly acclaimed book shows the troubled history of the Balkans and the complicated relationships between its ethnic groups.