I've created this complete Romania travel guide with all the information you need to visit Romania for the first time.
Spooky organ music and Dracula flapping his cape while laughing sinisterly. Although not overly popular with locals, the vampire reputation is what most people visit Romania for. And I have to say: A Romania travel adventure wouldn't be complete without exploring the Dracula-induced Transylvania and all its gothic castles, including Bran Castle (known as Dracula's castle).
Read next: 12 things to do in Brasov (vampire hunting in fang-tastic Transylvania)
But Romania has more to offer than stories of bloodsucking bats and menacing werewolves. What I really loved about Romania was the dramatic Carpathian Mountains, which stretch on as far as the eye can see, and the medieval towns and villages which seem as though they were lost in time. Really, the word magical doesn't even begin to describe Romania.
Romania Travel Planning
Rough Budget
Accommodation
Budget: $20-25 (Private room)
Mid-range: $35-80
Splurge: $100+
Food (For One)
Street food: $3-7
Restaurant: $15-20
Super nice restaurant: $30+
Transport
Bus: $2-5
Train: $10-20
Top cities in Romania
Bucharest
Bucharest is known to some as "Little Paris", and you'll quickly see why. This city mixes towers of glass and steel with renaissance palaces and gardens to provide a capital city that has something for everyone. It kind of reminded me of Skopje in that way.
Sibiu
Sibiu (my favorite town in Romania) is a 800-year-old city built originally by German Saxon Transylvanians as a great walled city. You can find the wall in the Old City. The most fascinating thing about Sibiu is that the houses have eyes! The eyes are really attic windows to keep the houses ventilated, but it looks like they're always staring. Sort of scary, but then again.. we're in Transylvania.
Brasov
If you're looking for that vampiric tone of Romania, you need to visit Brasov. Nestled at the base of the Carpathian Mountains and full of 17th century gothic architecture, this town has everything a lover of the gothic aesthetic could ask for.
Cluj-Napoca
This Transylvanian town was once a Roman settlement before it was taken over by the Germans in the 12th century. Here you'll find some of Romania's best churches, cathedrals, museums, and a beautiful opera house. Cluj-Napoca (also known just as Cluj) is a real cultural and historic hub.
Sighisoara
Sighisoara is not only a town with gorgeous architecture, it's also the birthplace of Vlad the Impaler, whom Bram Stoker's Dracula character was inspired by. If you visit, you'll want to explore its Venetian House, the 14th century clock tower and every church in-between. The cobbled streets lead you back in time to some of the most beautiful parts of Romanian history, all contained in one stunning little town.
Bran
Bran is a collection of five idyllic little villages all connected to one of Romania's most popular sights: Bran Castle. The castle is a popular tourist attraction for the fact that it still stands in perfect and beautiful condition, and that is was once seized by Vlad the Impaler himself. It's known as Dracula's Castle, although you can find other more vampire-looking castles (whatever that means) in Romania. Like Corvin Castle or Peles Castle.
Iasi
Pronounced 'Yash', Iasi is one of the oldest cities in all of Romania; and it's still considered to be a true arts and culture hub. This is partly because the palace which still stands today is called the Palace of Culture (and it's one of the must-see buildings in Romania).
Constanta
Constanta is a port city at the edge of the Black Sea, and its history goes back 2,500 years! It's the busiest port town in the country. Constanta Archaeology Park is also absolutely worth a visit!
What to Pack for Traveling Romania
Romania is a very warm, very sunny country. So, it's good to pack light clothes and sunscreen if you're planning on visiting between April and October. During this time, light clothes like T-shirts and shorts, as well as sunglasses, are vital. On top of this, you'll want some sturdy hiking boots or walking shoes. Romania has the Carpathian Mountains after all!
You'll probably want to do some hiking, or at least some wandering around. So pack your hiking boots and go explore. For a more detailed and thorough packing list for Romania or any other country in the Balkans, you can check out my extensive packing list right here.
Romania Travel Information
Currency
Despite Romania being part of the European Union, it has kept its own currency: the Romanian Leu. The notes are very colourful-looking! And the exchange rate right now makes one leu equal to around 0.25USD, so that's 4 leu to a dollar. Nice, easy maths!
If you're from the UK, that's one leu to 0.20GBP, or 5 leu to £1. Just as easy maths! So, although the Romanian Leu isn't as common as the Euro, it is a weaker currency, meaning the country is one of the cheapest to visit in the EU – and its currency is easy to work out in your head whenever you're shopping or eating out. Removing needless money stress is the key to a good holiday, after all!
Electricity Socket
Romania uses the standard two-pronged European plug with a voltage of 230V – same as every other European country. Nice and simple! So, if you're coming from any other part of Europe, just bring your electronics.
If you're heading over from the UK, US, Canada, Australia, etc, then buy yourself a universal travel adapter for your laptop, phone, and anything else you're bringing. That way you'll be sorted for Romania and anywhere else in the world you're visiting!
Visa
Since Romania is in the European Union, visiting is easy and visa-free for most people. If you're coming from a fellow EU country, you can stay for as long as you like – study, work, buy a house, whatever you feel like! If you're coming from the US, Canada, Australia, New Zealand, you can stay for 90 days, visa-free! Several nations from Africa, the Middle-East, and South America will need to apply for a visa, so check the Romania government website for more information on that.
Is Romania Safe?
Absolutely. Whether you're traveling with friends or family, or you're a solo traveler, you're safe in Romania. The people here are friendly, approachable, and helpful. Even the risk of pickpocketing, purse snatching, and scamming is low – something very rare in a popular tourist destination!
Romania is one of the safest countries in the Balkans. And for an area that's already very safe, that's saying something! I've said this so many times before, but the Balkans is the place in the world where I feel the most comfortable and secure traveling alone. The only crime that occurs unusually often in Romania is car theft, so if you rent a car, just make sure to lock it and park it somewhere public at all times (and get theft insurance!). Other than that, you're not likely to encounter any issues during your trip. Romania travel
Read next: The Ultimate Balkan Travel Guide
That said, don't ever let your guard down completely. Romania isn't heaven, and crimes are possible. So, keep an eye on your belongings and get yourself some travel insurance. If you're insured, any loss or theft is immediately much less of a concern! And, of course, accidents can happen anywhere. While you're swimming, hiking, or even in your hotel. We're all clumsy once in a while. So, you should always, always have travel insurance, even in low-crime areas.
The best people to get that insurance from, in my experience, are World Nomads. Their insurance covers loss and damages, injuries and sickness. If you get insurance with them, then you're totally covered and ready to visit Romania.
Useful Romanian Phrases
Since Romanian is a Romance language, rather than the Slavic languages which cover most of the Balkans, you'll see a lot of similarities between Romanian and Italian, Spanish, and French. Romanian people are also pretty strong English-speakers, especially in Bucharest. So, you needn't worry too much about getting stuck in a language rut when you visit.
But, as with any place you go to, it's good to pick up and store away a few useful phrases, even just for the sake of being polite and showing some effort. Here are a few easy phrases to learn that will make you feel more part of the culture of Romania.
Hello – Salut
Good morning – Buna dimineata
Goodbye – La revedere
Yes – Da
No – Nu
Please – Ta rog
Thank you – Mersi
I don't understand – Nu inteleg
Do you speak English? – Vorbiti engleza?
Help! – Ajutor!
How to Get Around in Romania
Rent a Car in Romania
As I've already mentioned, Romania is safe. And that goes for driving as well. Compared to a few countries in the Balkans (such as Albania and Greece), drivers in Romania are calm and relaxed. So, there's no real fear or danger of feeling overwhelmed or nervous when you take to the roads during your trip.
Go ahead and hire a car without any worries. And the best sites to use for renting a car in Romania are Sixt and RentalCars. These sites are equally cheap, and allow you to book in advance, then pick up your car when you arrive and you're ready to go!
Buses, Minibuses and Trains
Romania uses a lot of buses, minibuses and what they call 'maxitaxis' (these are big private minivans which can carry a big group of people). Using a combination of all three means the entire country is at your disposal! If you can't, or don't want to, rent a car, then you can get around all of Romania cheaply and easily using this system of buses and minibuses. Of course, you can also take the train, but it's a bit slow compared to the minibuses.
Read next: Bran castle. Finding Dracula's castle in Transylvania
Maxitaxis are a very popular inner-city form of transport, and the bigger buses can get you from town to town quickly and cheaply. The timetables are often ignored, however, for the fun of randomness! So expect a little frustration when buses start showing up whenever the feel like it – or sometimes not at all.
Best Time to Visit Romania
Being a Balkan country, Romania gets really hot in mid-summer. This means that spring and autumn are your friends! If you can avoid the summer, you'll also be avoiding the really humid weather. The kind of weather that makes you not want to leave the hotel. You'll also be missing the school holidays, making the cities less busy and the flights much cheaper!
Read next: 11 amazing things to do in Bucharest, Romania (yes, it's totally worth visiting)
In spring (April-June) and autumn (September/October), the Black Sea is warm enough to swim in, and the mountain air is fresh as can be! It's the perfect time to be outdoorsy and explore this gorgeous country from top to bottom.
Best Things to Do in Romania
Find Dracula
Dracula may not be alive and biting in Transylvania, but there are plenty of creepy castles where you can imagine the old count living with his flapping bats. Brasov and Sighisoara has the most vampire vibe – and – you can even stay in a Dracula-themed hotel:
Dracula Castle located a few km from the Borgo Pass, which was the inspiration for Bram Stoker's Dracula Castle. It has bathrooms created from stone grottoes and a medieval banqueting hall with skeletons and skulls.
House of Dracula is located between Rasnov and Brasov, and this castle-like building is backed by forests and also close to Bran Castle.
Read next: A full-blooded guide to Transylvania (your survival kit)
Discover the Carved Face of Decabalus
Decebalus was the last king of Dacia and, carved into a huge white rock by the side of a river, is a statue of his face. The carving took ten years to complete. Yeah, ten! And now it overlooks and protects the Danube, the most famous river in Europe. The only way to see it is by boat, but sailing down the Danube is a great experience in Romania as well, so it's a win-win!
Visit the Wooden Churches of Maramures
Romania has a deep and diverse religious history. That history has led to many shifts and changes in its culture over the centuries. The result of this? Amazing architecture at every turn! The best of which are these remarkable wooden churches in the Maramures region. Some of them are UNESCO-protected.
Take a Steam Train through a Mountain Pass
The last great steam train to pass through a mountain forest in Europe can be found in Romania. This train journey is perhaps the most magical and romantic thing you can do in the whole country. It's also a great reason to visit Romania during the winter months, when the forest will be covered in a blanket of snow.
Discover the Oldest History of Romania
Heading to Sarmizegetusa Regia means stepping back in time thousands of years. The fortress here dates back almost as far as Jesus himself, and there are also archaeological sites to discover. There's so much ancient European history here, if that's something you're interested in. Romania travel
Read next: 11 amazing things to do in Sibiu, Romania | The city with eyes
Travel to the Moon-like Mud Volcanoes
We call them volcanoes, but all that's happening is underground gases which result in this incredible moon-like landscape. This whole area looks so alien compared to the lush green forests and mountains of the rest of Romania. All the more reason to visit! Like a petrified forest, it's something totally unique and an opportunity you shouldn't miss.
Visit the Fairy Tale Town of Sighisoara
Much of Romania looks like a fairy tale, honestly. Its towns are charming, ancient, and beautiful. But none are quite so fairy tale as Sighisoara, birthplace of Vlad the Impaler! This town of colourful houses and cobbled streets is a UNESCO World Heritage site for a reason. Gothic architecture abounds and it's a pleasure to wander through.
See the Natural Sphinx of the Bucegi Mountains
This natural rock formation is completely untouched by human hands. And yet it looks a lot like the Sphinx of Giza in Egypt. It may be a total coincidence but it's a very cool and original sight! It's got to be seen to be believed, and makes for a very fun adventure to reach it!
Visit the World's Happiest Cemetery
We often joke about funny or ridiculous things we say and do winding up on our headstones, but this never actually happens, does it? It's usually some polite description, and that's it! In Sapanta, however, there is a cemetery full of cartoony graves that celebrate and satirise the lives of those buried there with funny stories and poems. A wonderful, happy spin on death.
Best Romanian Food
Romanian food was such a pleasant surprise for me. It's very meat-based, so there's a warning for all vegans out there. But if you're okay with meat, you're in for a treat. Even if you're not a carnivore, there's still so much great food in Romania. You can come for nothing else but the food and have a great time! Here are a few fantastic local foods to get your mouth watering.
Read next: Romanian food you have to try
Mici – These are caseless sausages made from grilled ground meat and various spices. They're a staple food at every Romanian barbecue. And barbecuing itself is a daily thing in Romania. When you eat mici, they're served with mustard and bread, and they're delicious. Romania travel
Papanasi – Yummy doughnuts made from fried cheese, covered in a sweet and sour cream and blueberry jam. These are a traditional dessert in northern Romania and they're popular across the country.
Ciorba de Burta – This is a soup made from tripe (stomach lining of a cow). Now, of course, tripe is absolutely not for everyone. But even if you've tried it before and you didn't like it, or you think you just won't enjoy it, give this soup a go. It's all about how it's prepared. Romania travel
Balmos – If there are two things that Romanians love, it's cheese and sour cream. This pie, which was made famous centuries ago by local shepherds, is pretty much just that. It's indulgent, salty, buttery, and really delish.
Jumari – A creative way of cooking a rather ordinary food. Jumari is a traditionally wintertime snack of bacon fried into a lump with garlic and other spices. Romania travel
The Best Hotels in Romania
Romania is a beautiful country, and its cities are just as pretty as the countryside. This means that, wherever you end up staying, chances are it'll be lovely! Where you want to stay is all down to what surroundings you want. Here are a few of the absolute best hotels from Sibiu, Brasov and Bucharest. Romania travel
Bella-Isa Apartment Central (Sibiu) – This wonderful apartment is a little piece of heaven. It's a big, beautiful building in the centre of Sibiu, featuring modern and beautiful rooms, and delicious food nearby! Click here to get the latest prices.
Belfort Hotel (Brasov) – This hotel is all comfort, modern interior and glamour at a cheap price. You've got views of the Carpathian Mountains and you're as downtown as you can possibly be (just 50 m from Brasov Old Town). Click here to get the latest prices.
Rembrandt Hotel (Bucharest) – I loved staying at Rembrandt Hotel; a stylish 3 star hotel. The staff is so nice and I loved the breakfast and their delicious Belgian waffles. It's upscale and so is the price, but you get your money's worth there. Click here to see the latest prices.
Romania Travel Tours
If you're like me, you prefer to go out and explore a place by yourself. To feel independent like an explorer out in the wilderness. And yeah, that's great! But taking an organised day tour is a great way to get to know a place – and to get local tips that you wouldn't otherwise. Tours are often the best way to see a place, and Get Your Guide provide some really incredible ones! From Bucharest to Iasi, you can find some of the best tours and activities with these guys, guaranteeing you don't miss out on a single aspect of Romania's incredible cities, landscapes, and history.
Books to Read on your Holidays in Romania
When you're heading to a country as beautiful and historically deep as Romania, you can't pass up the chance to read into its history, read its authors, or read a guide to get the most out of your travels. To really get to know a place, you've got to both visit and read about it. So, why not do both! Bring these books with you when you visit Romania. Romania travel
Lonely Planet Transylvania – From the people who make the best travel guides in the world. Here's the ultimate pocket companion for your travels around Transylvania in Romania! Keep it with you and use it to find the best paths through this beautiful country.
Along the Enchanted Way – This book tracks the life of an Englishman who moves to a country village in Romania, lives among the locals for a few years, and falls in love with the culture. It's sweet, touching, and enlightening.
In Europe's Shadow – This book takes a look at the modern history of Romania, its role in the Cold War and its life as a nation after World War 2. There's a lot to learn and discover here, and it's all written with intensity and excitement.
Pin it!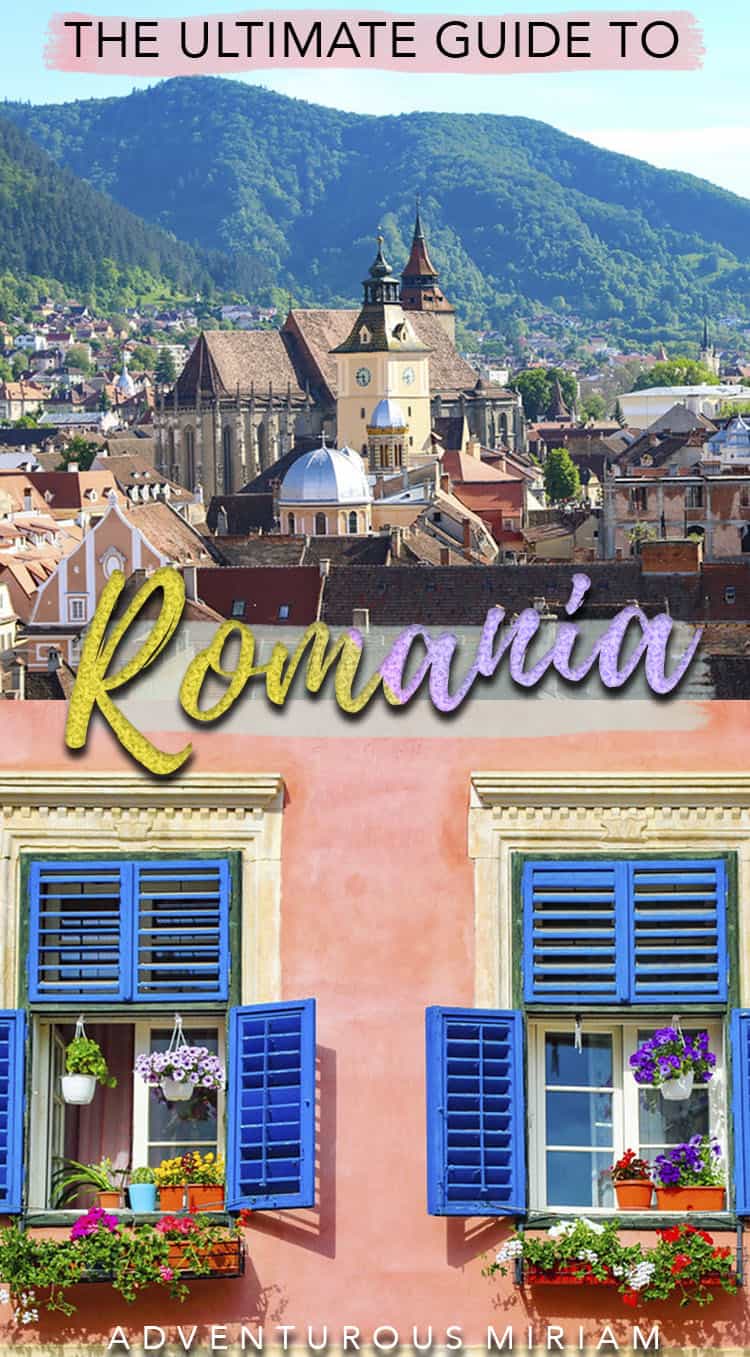 Psst! This post probably contains affiliate links, which means I earn a commission (at no extra cost to you) if you click through and make a purchase. As always, I only recommend products and services I trust.