Visiting Spiez and Oberhofen castles in the Swiss Alps
Spiez and Oberhofen castles are two medieval keeps by Lake Thun in Switzerland. I visited both castles on a day trip from Interlaken and learned a lot about the area's history and culture.
This post contains referral links for products I love. Adventurous Miriam earns a small commission at no extra cost to you if you make a purchase through my links. Thank you for your support ♡ Learn more
SPIEZ CASTLE AND VINEYARDS
Entrance fee: 10 CHF (US $10). Find more information on their website (in German).
When I researched for things to do in the Jungfrau region of Switzerland, I first stumbled upon Spiez castle; a historic 1.000 year-old castle, near Bern and Interlaken.
In Spiez, I was welcomed by Georg von Erlach whose family ruled the town and castle from 1516 till 1875. Georg came all the way to Spiez to show me around the castle and introduce me to his family's history. If you're reading this, Georg – thank you so much for the grand tour!
Castle Spiez is as beautiful on the outside as the inside. Aside from the castle, the grounds include the fairy tale Romanesque church and a flower park. I got the best view from the castle tower, which is also the oldest building at Spiez. The rooms leading up to the tower are a mix between wood-paneled Renaissance style and early Baroque.
On my way up the tower, Georg showed me graffiti of horses and knights scratched into the walls. Apparently, some of the graffiti wasn't discovered until recently when the castle was renovated.
Right next to the castle there's a small church which is one of the oldest buildings in Switzerland. Most of the church is from AD 1.000, while parts of the crypt dates back to AD 700. It's free to access the church and the garden.
The castle is very family-friendly with fun activities for kids. And right next door is the marina, which is said to be the most beautiful in Switzerland. The water is so transparent and turquoise that you wouldn't believe it's actually a harbour.
THE MEDIEVAL OBERHOFEN CASTLE
Entrance fee: 10 CHF (US $10). Find more information on their website.
After visiting Spiez and having lunch at the harbour, I continued to Oberhofen, which is just across the lake. The town is quite small and its main attraction is the castle.
Whereas Spiez castle clearly has been around for many generations, Oberhofen castle seems more modern, both in architectural style and interior. It dates back to the 13th century and entails styles from Neo-Gothic to Turkish influence. The postcard Oberhofen castle is surrounded by lake Thun, snow-capped mountains and a stunning flower garden. You'll even find palm trees in front of the castle.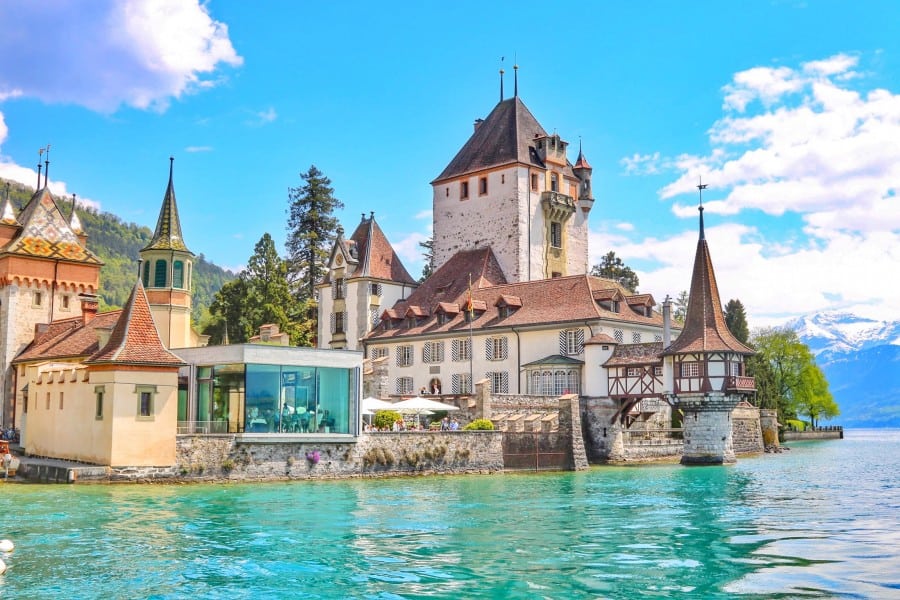 Spiez and Oberhofen are two very different castles. I found Oberhofen to be more contemporary and Spiez more historic. They were both interesting to visit, especially on the same trip because it gave perspective and background info about the area and history.
HOW TO GET THERE
From Interlaken, it's a quick 20 minute train or bus ride to Spiez. If you have Interrail or Eurail, you can use the pass.
I took the boat from Spiez to Oberhofen, which is the most scenic transportation if you ask me. From Oberhofen, you can take the bus back to Interlaken. It stops at Interlaken West and takes 30 minutes.
Read more posts from Switzerland
Pin to Pinterest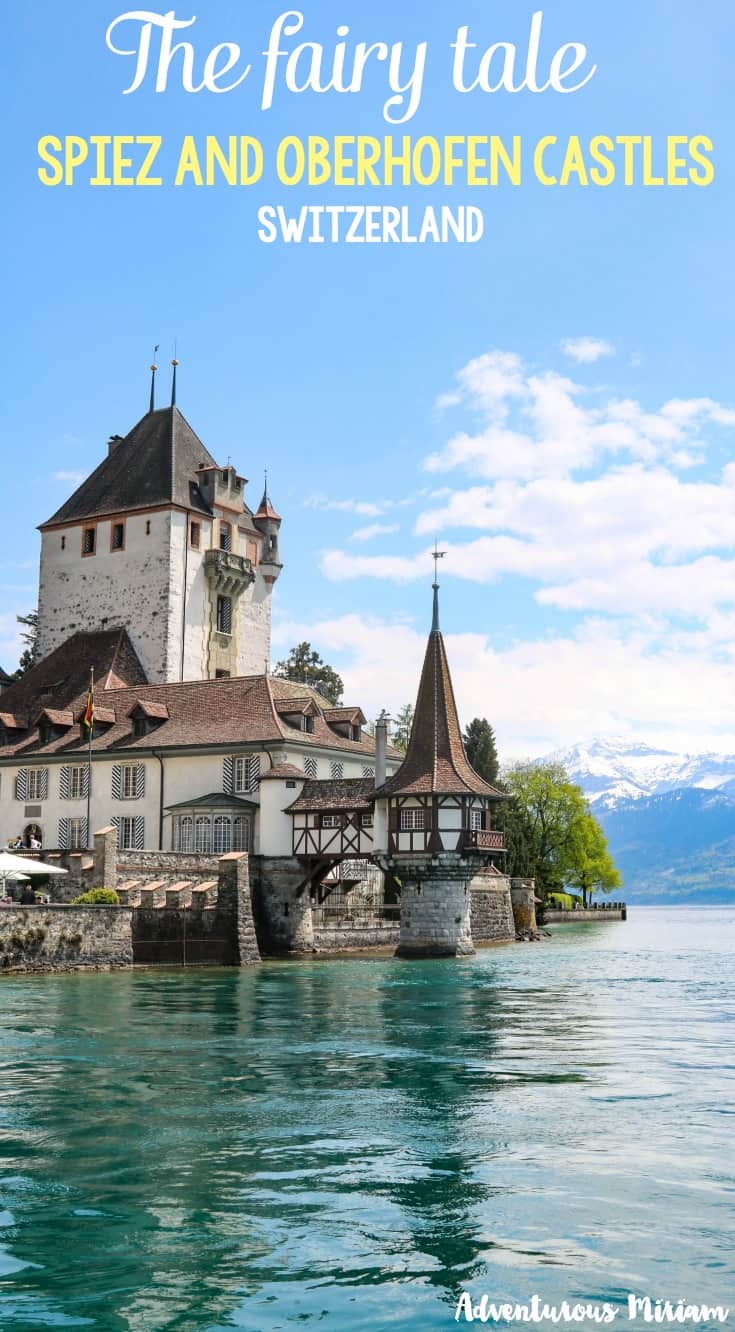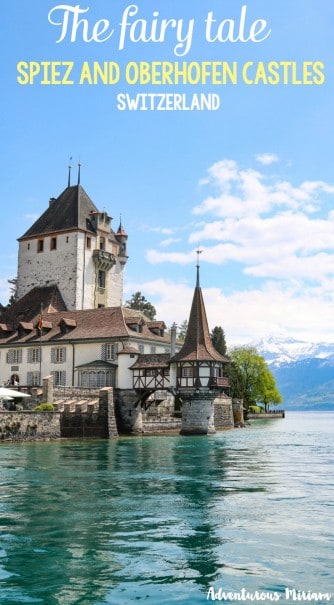 Many thanks to My Interlaken for hosting me in Switzerland. Whenever I travel, there will always be full disclosure about whether my stay was hosted by a tourism board. And even if I'm on a press trip, my view will never be swayed one way or the other.