An amazing one day in Spiez Switzerland (2023 itinerary)
Spiez is by far one of the prettiest places in the country, and its location on the shores of Lake Thun makes it look like something from a fairytale.
As a lover of fairytales, the Swiss Alps, and anywhere magical, I've had this place on my bucket list for years and I was so happy to finally make it here.
Here is a complete guide on how to visit Spiez Switzerland with the history, opening times, prices, and things to do!
This post contains referral links for products I love. Adventurous Miriam earns a small commission at no extra cost to you if you make a purchase through my links. Thank you for your support ♡ Learn more
Spiez itinerary
One day in Spiez Switzerland
One day is the perfect amount of time to experience the best things to do in Spiez.
You can explore the medieval castle that was built around 1200, and the early Romanesque church dating from 762 A.D.
If you're looking for something more relaxing, enjoy a glass of wine at the castle's wine-making facility, head to the vineyards or the Spiez marina nearby. You can also do all sorts of water activities in the bay of Spiez, and there's a playground for kids. The castle and small town of Spiez is very family-friendly with fun activities for kids.
🏰 For the perfect day trip, make sure to visit Oberhofen castle, which is just across the lake. You can take a boat there.
Where is Spiez
Spiez is located on the shore of Lake Thun. It's situated in the Bernese Oberland region (the Bernese Alps) and is known for its picturesque landscape and historic castle.
How to get to Spiez
Spiez is a well-connected town in Switzerland. You can get there by train, bus and ferry from major cities like Bern, Zurich, Basel, and Geneva. From Interlaken, it's a quick 20 minute train or bus ride to Spiez. If you have Interrail or Eurail, you can use the pass.
With public transportation
Timetable (train): get off at Spiez train station
Timetable (boat): get off at Spiez Schiffstation
Travelling time by train
From Thun: 10m / Interlaken: 20m / Bern: 30m / Zurich: 1h30m
🚞 Get the all-in-one Swiss Travel Pass!
With the Swiss Travel Pass you'll get unlimited rides on trains, buses, and boats throughout Switzerland!
Simply show the Swiss Travel Pass on your smartphone and you're ready to explore Switzerland.
🏰 Things to do in Spiez
Spiez castle
When I researched for things to do in the Jungfrau region of Switzerland, I first stumbled upon Spiez castle; a historic 1.000 year-old castle, near Bern and Interlaken. The castle is the main attraction in Spiez.
In Spiez, I was welcomed by Georg von Erlach whose family ruled the town and castle from 1516 till 1875. Georg came all the way to Spiez to show me around the castle and introduce me to his family's history.
Castle Spiez is as beautiful on the outside as the inside. Aside from the castle, the grounds include a fairytale Romanesque church and a flower park.
Spiez castle opening hours
Open from 1st May – 31 October 2023
Monday 2 pm – 5 pm
Tuesday to Sunday 10 am – 5 pm
July and August until 6 pm
Spiez castle history
Spiez castle was built by Rudolph II, King of Burgundy, in 933. For over 250 years, it remained a mystery until the outer walls and base levels of the central tower were added around 1200.
Spiez Castle has had an interesting past, with ownership changing hands several times. It was co-owned by noble families for a while, during which time a residence hall was added to the central tower. However, it was the Erlach family who built the castle's reputation, as they owned it for over two centuries. The family made significant improvements to the castle, including expanding the gallery and constructing a wine production.
One of the most notable additions to the castle was the "New Castle" on the southern side of the gatehouse, which was remoduled in late Baroque style. This addition gave the castle a unique charm and character that set it apart from other castles in the area.
🇨🇭 Read next: Jungfrau itinerary: 20 things to do in Jungfrau region
The castle tower
The best part of Spiez castle is the tower.
From the tower, there's a really good panoramic viewpoint of the church, most beautiful bay and vineyards. The rooms leading up to the tower are a mix between wood-paneled Renaissance style and early Baroque.
On my way up the tower, Georg showed me graffiti of horses and knights scratched into the walls. Apparently, some of the graffiti wasn't discovered until recently when the castle was renovated.
Spiez castle church
Right next to the castle is a small church which is the oldest building at Spiez castle and also one one of the oldest in Switzerland. Most of the church is from AD 1.000, while parts of the crypt dates back to AD 700. It's free to access the church and the garden.
Explore the Spiez vineyards
Spiez castle is surrounded by hilly vineyards that produce some of the most exquisite wines in the world.
Make sure to take a stroll through them and admire the fantastic views.
Niesen – the Swiss pyramid
Looming over Spiez is the mighty Niesen mountain. It's 2,362 meters high and a popular place for hikers and tourists.
If you're not into hiking, you can take the 30-minute funicular railway to the top of the mountain. It runs daily from end of April to mid-November. On your way to the top, you can enjoy incredible panoramic views, and there's a restaurant and mountain lodge at the top.
Have lunch at Spiez marina
Right next to the Schloss Spiez is the marina, which is said to be the most beautiful in Switzerland. The water is so transparent and turquoise that you wouldn't believe it's actually a harbour.
You'll also find palm trees and beautiful flowers lining the walkway, which make you feel like you're in a tropical beach town.
Have lunch at one of the cafes or local restaurants here. These are highly rated:
Sports activities at Lake Thun
After lunch, you can do water sports and other outdoor activities: You can sail, play tennis, rent paddle-boats, swim, or just sit by the water and enjoy the beautiful lake promenade. It's the perfect location to relax.
Where to next?
While you're in Spiez, make sure to check out other nearby sights. Lake Thun and Lake Brienz are two beautiful lakes with castles, spectacular views and charming alpine towns that are worth visiting. Here are the must-visit nearby sights:
Lake Thun boat cruise
Castle Spiez is located by the Lake of Thun, which is one of the most beautiful lakes in Switzerland.
The best way to explore the lake is on a boat tour. Check out this boat day pass where you can explore both Lake Thun and Lake Brienz with the snow-capped mountains in the background. It's so pretty!
Oberhofen castle
Oberhofen Castle a magical lakeside castle in Switzerland that's located just across the lake.
I highly recommend visiting both of these unique castles as they're different and look like something taken straight from a fairytale.
🛥️ You can take a quick boat trip from Oberhofen to Spiez and vice versa.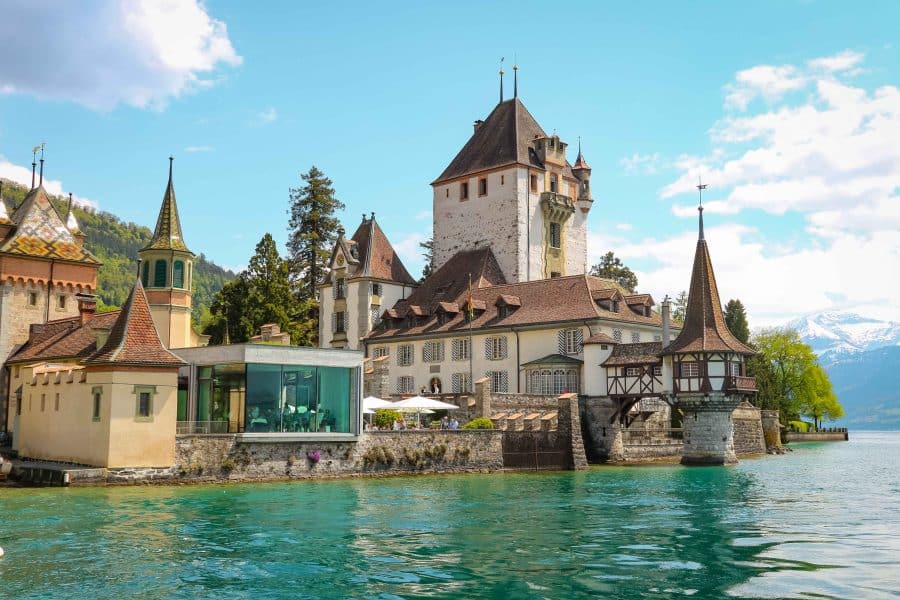 Is Spiez worth visiting?
100% YES. Spiez castle is one of the prettiest I have seen in Switzerland. Honestly, I'm so happy that I got to visit this enchanted castle.
It's been on my bucket list for years now and it really does look like a magical chateau from the pages of a storybook.
Even if you're not into Disney or fantasy, there is something in Spiez that will appeal to every type of visitor.
There's lots of history to discover, a marina that appeals to nature lovers, and incredible views over the lake and mountains.
I would highly recommend adding Switzerland's fairytale town to your bucket list! You won't regret it.
Where to stay in Spiez
La belle vue Boutique Hotel & Café (⭐ 8.9) – Amazing views of the Spiez castle, Lake Thun and the mountains! With wonderful food and cosy rooms, this hotel has the highest rating in town. Check latest rates here.
💸 Switzerland travel insurance
I highly recommend having travel insurance because let's be real — the last thing you want on your trip is for accidents to get in the way.
I recommend Safety Wing — they offer affordable prices, great coverage, and a reliable 24/7 on-call service.
🙋‍♀️ Spiez itinerary FAQ
What is Spiez Switzerland known for?
These are some of the things Spiez is famous for:
Spiez is famous for its picturesque landscape
The stunning scenery of Spiez harbor and Lake Thun
Spiez Castle which dates back to the 10th century
The Spiez vineyards that produce some of the world's finest wines
Who owns Spiez castle?
The Spiez Castle Foundation has owned the castle since 1929.
Interesting facts about Spiez castle
Spiez Castle was built in the 10th century as a fortified tower to protect the region. It was later expanded in the 13th century when the original tower was incorporated into a larger castle complex.
In the early 14th century, the castle was owned by the powerful von Bubenberg family. The castle was their seat of power until it came into the possession of the Bernese government in the 15th century.
During the Middle Ages, Spiez Castle was an important center of trade and commerce. Merchants and traders passing through the region would often stay at the castle, which also served as a customs office for goods entering and leaving the area.
In the 16th century, the castle was used as a prison for political prisoners. It was also a site for storing ammunition and food during times of war.
In the 20th century, Spiez Castle was restored and converted into a museum, showcasing the history and culture of the region. Today, you can explore the castle and its grounds, and take in the views of Lake Thun and the surrounding mountains.
How much time to spend at Spiez castle?
Spiez Castle and gardens take about 2 hours to explore. While you can spend less time here, too, I do recommend a few hours to take in the beautiful scenery and learn about the history of the castle and area.
Is there a parking lot at Spiez castle?
Yes, there's a car park at the castle.
Many thanks to My Interlaken for hosting me in Switzerland. Whenever I travel, there will always be full disclosure about whether my stay was hosted by a tourism board. And even if I'm on a press trip, my view will never be swayed one way or the other.
Read more posts from Switzerland
Save it!