Renting a car in Denmark (Plus a FREE Road Trip itinerary)
Denmark is a fantastic country to explore by car – and I'm not just saying that because I'm Danish and love my country.
The roads are safe and organised. Drivers are relaxed and friendly. And there's so much lush green countryside to drive through.
Road trips in Denmark are bliss!
Renting a car in Denmark is an amazing idea when you visit the happiest country on Earth. And you can rent with Discover Cars, who have locations all over Denmark and offers you the cheapest rental options for when you visit.
This post contains referral links for products I love. Adventurous Miriam earns a small commission at no extra cost to you if you make a purchase through my links. Thank you for your support ♡ Learn more
Car Rental in Denmark
I recommend checking out Discover Cars, because they're the best deal finders for rental car companies in Denmark.
This is why I recommend Discover Cars:
Discover Cars compare rates for car rental companies in Denmark – both International and reputable local companies
They have 24/7 support and great reviews
They also offer low rate guarantee!
They're the biggest brands in car hire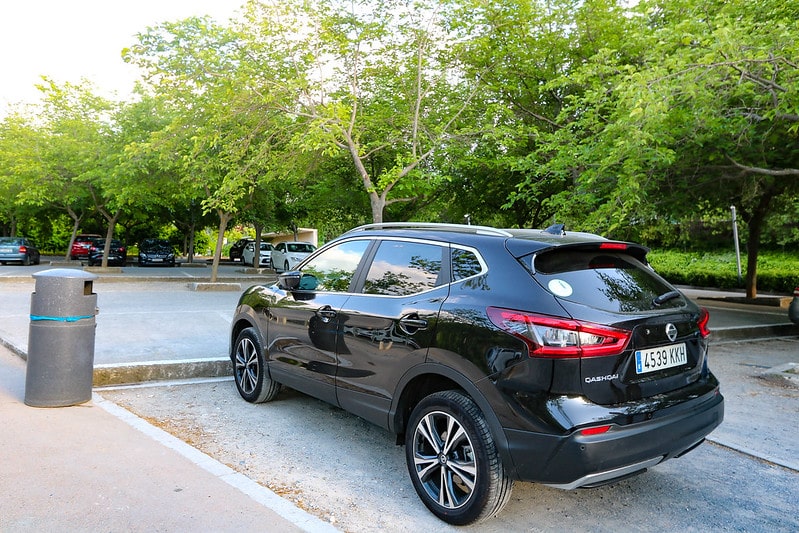 Best Car Rental Company:
DISCOVER CARS
When booking your car rental online, I recommend Discover Cars. They search both international corporations and local companies, so you get the best deal.
Budget for Your Road Trip in Denmark
Most things in Denmark cost around the same as they do in the UK or the US. This gives you a good idea of how to budget before you head to Denmark. Here's a quick budget guide for you to follow.
Accommodation: $200-300 per night for a nice apartment
Food: $15-25 per day for eating out
Car rental: $55-75 per day for a car
Fuel: $1.90 per litre
Renting a Car in Denmark (FAQs)
Driver's licence
In order to rent a car, Denmark asks only that you have a valid driver's licence from your own country. That's it!
Age
If you're excited about renting a car in Denmark, just make sure you're twenty years old at least. If you're under 26, you'll need to pay a young driver's surcharge of 119 Danish Kroner.
Payment methods
When it comes to car hire, Denmark rental companies (just like most rental companies around the world) don't accept debit cards. So, make sure, when you pay online or in person, that you use a credit card.
Accidents
When you're renting a car in Denmark, you'll also have to take out insurance which will cover you for most accidents and collisions.
Driving in Denmark
Speed limits
Speed limits in Denmark are very clearly signposted. In built-up urban areas, the limit is usually 50km/h. When you head out onto country roads, it goes up to 90km/h. Then motorways are the national speed limit: 110km/h.
Which lane is used for driving?
When you're renting a car in Denmark, remember to drive on the right side of the road and the left side of the car. This might take a little adjusting to if you're coming from the UK, but driving in Denmark is so slow and relaxed that you'll get used to it almost immediately.
Read next: 12 amazing reasons to visit Bornholm island
Toll roads
The regular roads in Denmark don't use tolls, so you don't need to worry about any surprises there. That is, except for two bridges: The Storebælt Bridge (or Great Belt Bridge) which connects the Danish islands of Zealand and Funen and costs 245DKK to cross in a car. And the Øresund Bridge which connects Denmark to Sweden and costs 390DKK to cross in a car.
Road conditions
If you're considering car hire, Denmark has possibly the best roads in Europe. Seriously, they're so perfectly maintained, painted, and signposted. You can't go wrong. Traffic is also really good across most of the country, even in Copenhagen, because of how much everyone cycles. There are cycle paths on every road, and traffic is perfectly alleviated as a result!
What it's like to drive in Denmark
When it comes to car rental, Denmark is great! If you're not familiar with the rules of the road in Denmark, just follow the perfectly-painted lines and huge signposts, and you won't go wrong.
We drive quite slowly in Denmark; drivers are relaxed and friendly (most of the time), so there's really no stress at all on the road. Long drives across the Danish landscape are also a pleasure. There's such a relaxed and pleasant atmosphere across the whole country that you just won't want to leave.
How to Choose the Perfect Car in Denmark
Are you going on a short trip or a long road trip?
This will basically determine what car you choose. Smaller cars are better for shorter trips. If you want cheap car rental, Copenhagen can offer you a small economy car that you can then use to take around the local area for day-trips around Zealand.
But if you're looking to take a long road trip to Aarhus or North Jutland and back, a bigger car is a better idea. Something with a bigger tank and more space for your luggage. So, if you're thinking about renting a car in Denmark, just think about how far you're planning to drive. The further you go, the tougher the car should be.
Manual or automatic
For car hire, Denmark generally prefers manual transmission. You can definitely get yourself an automatic, but they are a little more expensive. If you can drive a manual, it's definitely a good idea. It'll not only save you money, but you'll also get a wider selection of choices.
If you go for automatic, the kind of car you'd prefer to get might not be in stock. So, when you're planning to rent a car, Denmark prefers manual – if you can, of course.
Car Rental in Denmark
One-way rental fee
A one-way rental fee means paying more to pick up your car in one place and drop it off in another. This relieves the stress of having to get back to where you started, BUT it also doubles the rental price of your car.
For example, when you begin your car hire, Copenhagen Airport Sixt will provide you the car of your choice, then you can drive across to Aarhus and leave the car at Aarhus Airport before flying home. If a round-trip rental price would be $50 per day, a one-way trip will cost you $100 per day.
Read next: 6 best places for local food on Bornholm
Costs and extra charges
When renting a car in Denmark, your extra costs are no big surprise. They'll come from insurance, which everyone needs, paying for an automatic if you need one, and paying a one-way rental fee if you'd prefer to avoid a round trip.
Taking the car on the ferry
If you're thinking about taking the ferry from one island to another, or even across to Sweden, you can take your rental car. But make sure you inform the rental company when you pick up the car. They might add extra charges and coverage to your insurance to make sure you're fully covered.
Documents you need for renting a car in Denmark
When you're looking to rent a car, Denmark just wants to see a valid driver's licence from your home country, and a credit card (not debit) to pay with.
Do you need a special border-crossing card to enter other countries?
Nope! If you're taking your rental car from Denmark to, say, Sweden for example, just let the rental company know that you plan on doing so before you head out.
So, when to visit Denmark?
That would be between May and October. From November to April, Denmark gets pretty cold, rainy and windy.
The country is so green and lush that you'll definitely want to see it in the summer months! In May, it's still windy and can even get cold, but never too cold. And in October you have the beautiful colours of autumn.
Essential packing list for visiting Denmark
If you're visiting in the summer, expect a lot of clear days and intense sun, so pack sunscreen! Also, a good tip for anyone who has hay fever: bring eye drops or antihistamine. You can also buy some at the pharmacies in Denmark (just let them know that you have hay fever – they'll know what to give you).
And if you do come to Denmark in May or October, you may experience a few chilly or rainy days, so bring a light jacket and a small umbrella, just in case.
Denmark Road Trip Itinerary (10 Days)
Day 1: Funen (Odense, Faaborg)
Day 2: Funen (Svendborg, Egeskov Castle)
Day 3: West Jutland (Ribe, Blåvandshuk Beach, the Wadden Sea)
Day 4: West Jutland (The Wadden Sea)
Day 5: Aarhus
Day 6: Aarhus
Day 7: North Jutland (Skagen, the sand-covered church)
Day 8: North Jutland (Råbjerg Mile Desert, Rubjerg Knude Lighthouse, Tornby Beach)
Day 9: Drive back to Copenhagen
Day 10: Copenhagen
Read next: Denmark Road Trip: 6 best routes for your next Scandinavian adventure
Day 1: Funen (

Odense & Faaborg)
After sorting out your car rental, Copenhagen is the perfect place to begin a road trip to Funen. This island, specifically the town of Odense, is the home of H.C. Andersen, the father of fairy tales.
So, head to Odense first to see H.C. Andersen's home, then head down to the gorgeous Hvedholm Castle near Faaborg where you can explore and stay the night.
Day 2: Funen (Svendborg, Egeskov Castle)
Next day, drive to Svendborg, a delightful town in the south of Funen, to try some great local Danish food.
Then stop at Egeskov Castle, a perfectly-preserved renaissance castle that looks like it has leapt from the fairy tales Andersen wrote. Then stay one more night at the delightful Hvedholm Castle in Faaborg.
Day 3: West Jutland (Ribe, Blåvandshuk Beach, the Wadden Sea)
This area of Denmark is so rugged and pure. Follow the coastline down to Blåvandshuk (where you can climb to the top of the lighthouse), then continue down and explore the quaint and pretty town of Ribe.
Stay the night at the charming Den Gamle Købmandsgaard Bed & Breakfast in Ribe.
Day 4: West Jutland (The Wadden Sea)
The Wadden Sea, a UNESCO site and Danish National Park, is right beside Ribe. It's a fascinating area that's often underwater.
During low tide, drive out from Ribe and wander what is basically the ocean floor! Then head back and stay in Ribe for one more night.
Day 5: Aarhus
Aarhus – Denmark's second city, and my favorite –  is full of cultural beauties and amazing cafes. On your first day, make sure to visit the Old Town Museum (Den Gamle By) and ARoS – Aarhus Art Museum (the image below).
These places show the history, architecture, art, and local culture of Denmark perfectly. Then stay at the Sondergade apartment, a spacious New Yorker flat in the heart of the city. 
Read next: Visit Den Gamle By (Old Town) in Aarhus, Denmark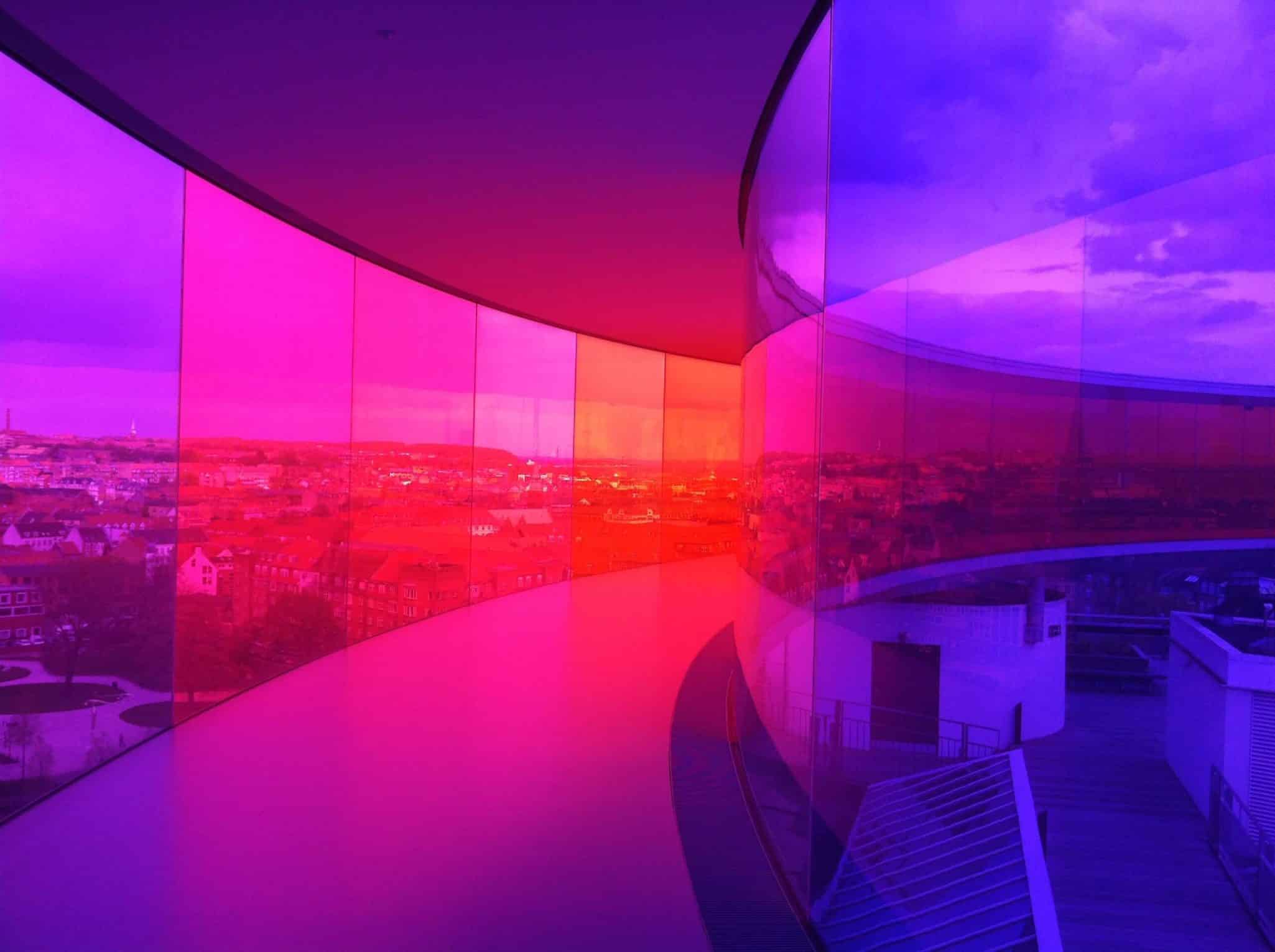 Day 6: Aarhus
On your second day in Aarhus, visit the botanical gardens, Moesgaard Museum, Aarhus Cathedral, and spend the afternoon in Aarhus' Tivoli Friheden theme park. Have dinner in the Latin Quarter,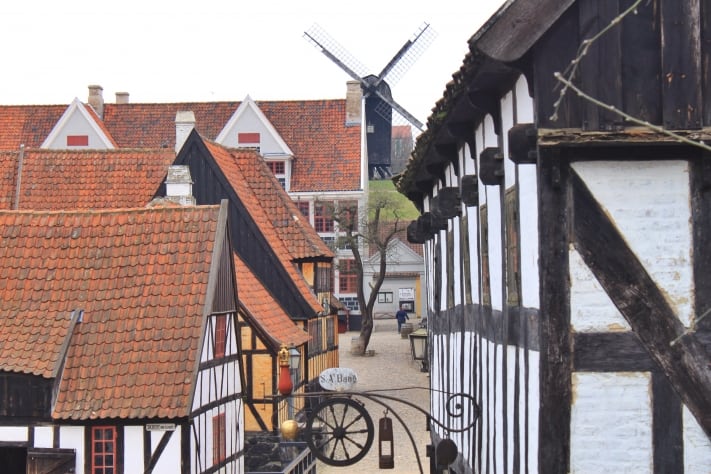 Day 7: North Jutland (Skagen)
Head north from Aarhus to North Jutland and track down the Sand-Covered church. This amazing medieval church was once a colossal building, but it's now so buried by sand that only the tower remains. Quite a sight! Skagen is a quaint and charming place to stay.
Read next: Top 12 things to do in North Jutland, Denmark
Spend the night at Ruth's Hotel, a historic Danish beach hotel that's super popular among us Danes. Hence – you need to make a reservation in advance. If Ruths Hotel isn't available, you'll have a great time at Skagen BnB as well. It's a peaceful and private apartment with a beach nearby.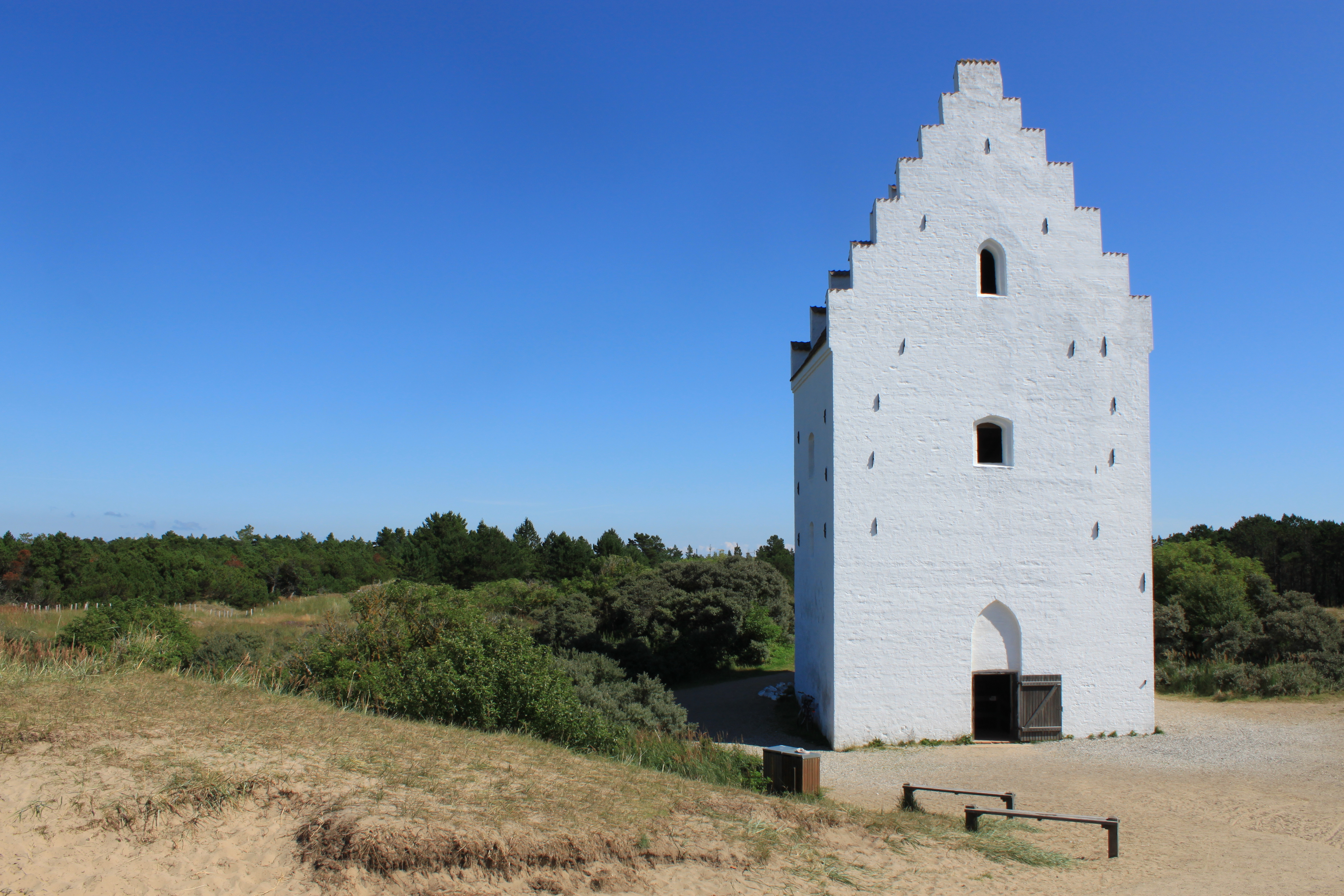 Day 8: North Jutland (Råbjerg Mile Desert, Rubjerg Knude Lighthouse, Blokhus Beach)
On your second day in North Jutland, you can visit the magical Rabjerg Mile, a migrating sand dune that exists as a kind of nomadic desert!
Close by, you'll also find the epic-looking Rubjerg Knude Lighthouse. And you must explore the raw and rugged Tornby Beach. Then stay for one more night in Skagen.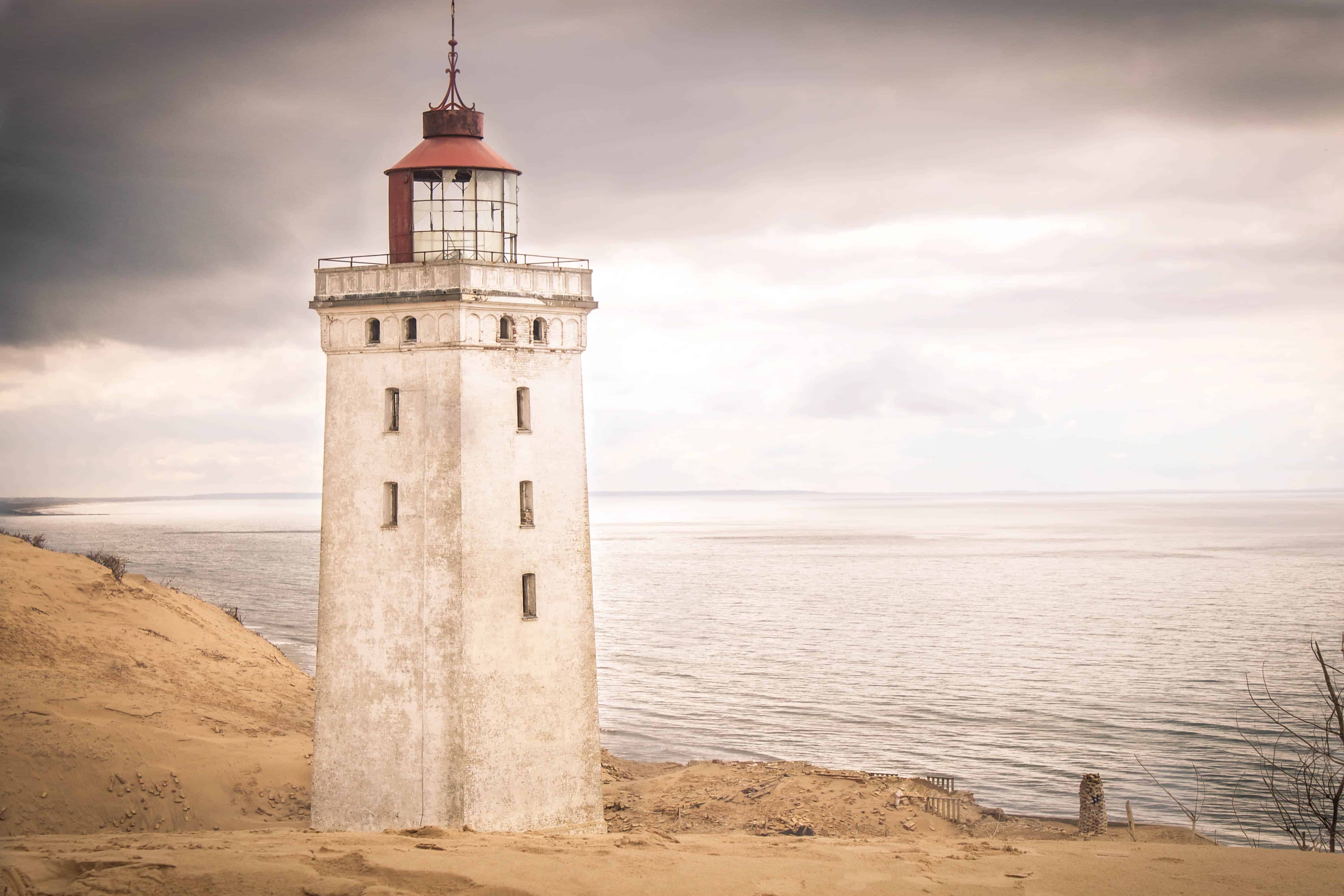 Day 9: Drive back to Copenhagen
Now that you're at your furthest point from Copenhagen, head back to the capital and enjoy some wonderful scenery along the way. The drive should take you around five to six hours.
When you arrive, stay the night at Hotel Bethel, a cosy and spacious hotel in Nyhavn (it's great value for money and we've stayed here several times). There's a great Thai restaurant nearby, but you can also find lots of traditional Danish food in this area.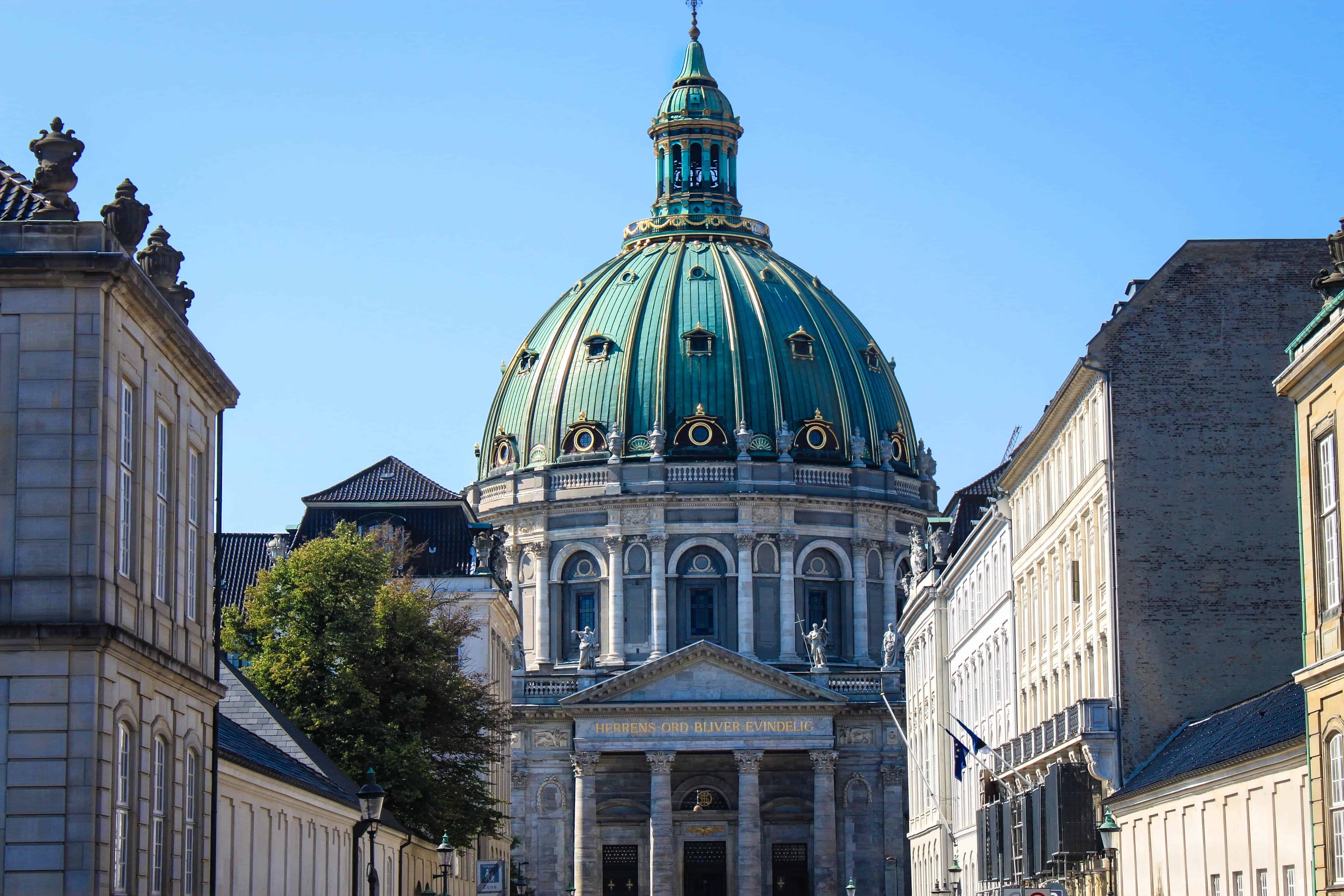 Day 10: Copenhagen
On your last day, back in Copenhagen, make sure to visit the Tivoli theme park, the National Museum of Denmark (it has Vikings!) and take some iconic shots (and have a wonderful dinner) at Nyhavn.
Ready to book your car rental in Denmark?
There you have it. I hope this answered all your questions about Denmark car rental. And if not, ask me anything in the comments or send me an email.
More stuff you'll love: