Basic Albanian phrases and words you need to know (English to Albanian)
Are you going to Albania and want to learn some basic Albanian phrases? What a great idea! While many Albanians speak English (especially younger people), you'll come a long way with a "hello" or "thank you" in Albanian. Locals really appreciate you doing the effort – and most importantly, it does come in handy in so many situations.
Read next: The ultimate travel guide to Albania
In Albania, you'll notice that people also speak Greek, French and Italian. I even met several men (50+ years) who also spoke German – how about that! This actually came quite in handy for me because I know German.
Okay, let's get to it.
This post contains referral links for products I love. Adventurous Miriam earns a small commission at no extra cost to you if you make a purchase through my links. Thank you for your support ♡ Learn more
Albanian phrases to know
To help prepare you for your trip to Albania, I've made a list of the most useful Albanian phrases and words.
I've included the most essential phrases in Albanian (from English to Albanian), and they will help you to quickly learn and use Albanian in various situations (like in a hotel or restaurant, on a trip, smalltalk, shopping, getting to know people, at the doctor, at the bank, and many similar situations). You can find more Albanian words here.
With no prior knowledge, you can learn the most basic Albanian sentences like a pro in no time.
Facts about the Albanian language
First, a few facts about the Albanian language…
Albanian is the national language of Albania (obviously). But it's also an official language in Kosovo and North Macedonia.
Albanian has two main dialects; Gheg and Tosk. In Albania, the Shkumbin river is roughly the dividing line, with Gheg spoken to the north of it and Tosk to the south. The official Albanian language is based on Tosk dialect and perceived to be a softer version of the language.
The two dialects sound alike, but there are obviously some differences. As a traveler, you probably won't notice them, but you will most likely see this one on city signs and maps:
Gheg has nasal vowels while Tosk does not. For instance: Gheg

âsht

vs. Tosk është
Or for example; in South Albania they use ¨, which you can see in several of the city names (Gjirokastër or Sarandë). They don't use ¨ up north.
Read Next: Gjirokaster Albania: A fairy tale hillside town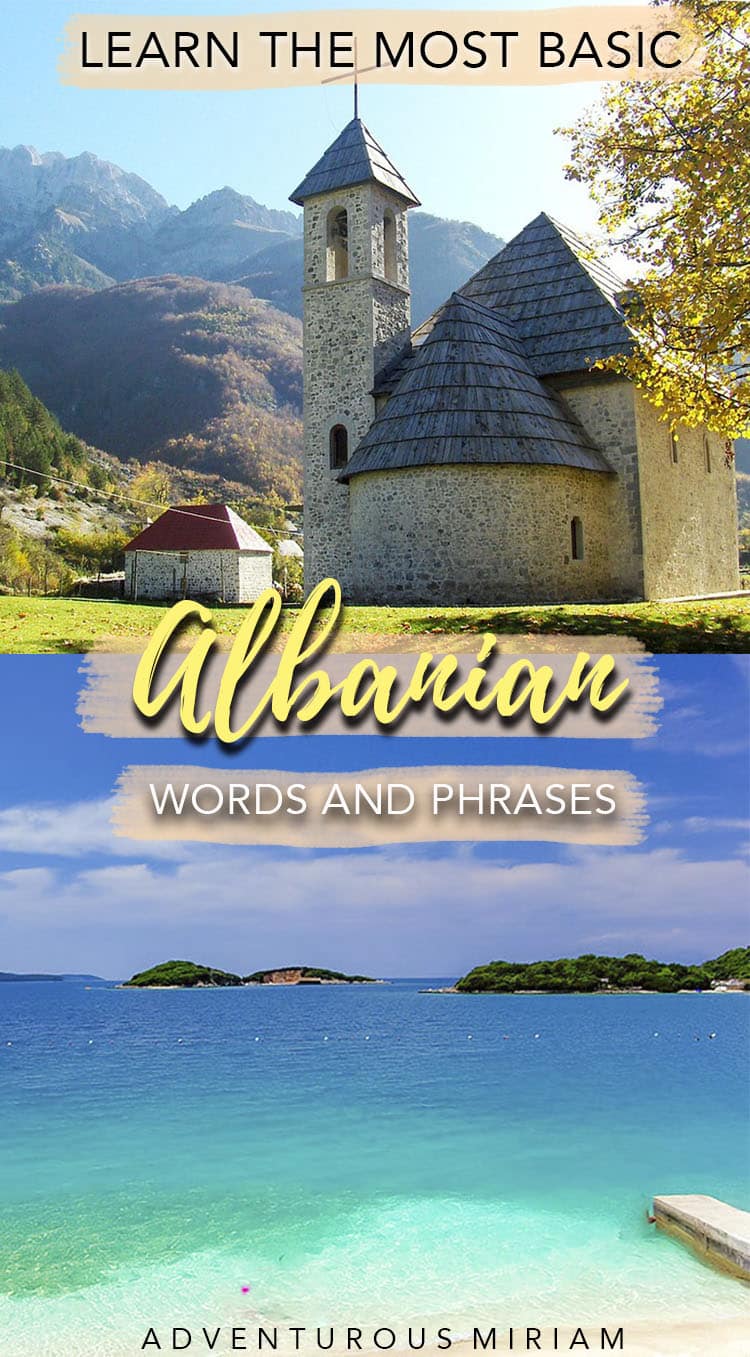 Albanian Phrases
(English to Albanian)
Let's take a quick look at how you pronounce Albanian phrases and words.
The rule is that the main stress falls on the last word of a phrase and on the last syllable of a word. So, for instance, you will pronounce Mirëdita (good day) like this: Mirëdita.
The modern Albanian alphabet consists of 36 letters, and it's easier to learn than it appears. That's because you more of less pronounce the letters as they appear.
Basic Greetings in Albanian
Knowing a few basic phrases and words in Albanian will get you a long way. Like a "hello" on the street, or a "good bye" when you leave the restaurant. I find that locals are much more open and friendly if you know a few words or just show that you've made a little effort.
Hello – Përshëndetje! / Tungjatjeta
Good morning – Mirëmëngjes!
Good day – Mirëdita!
Good evening – Mirëmbrëma!
Good night – Natën e mirë
Bye – Mirupafshim!
Read Next: Where To Find The Most Fantastic Beaches On The Albanian Riviera
Albanian 101: Basic Albanian Phrases
Besides greetings, these are some useful phrases and Albanian words to memorise.
Yes – Po
No – Jo
How are you? – Si Jeni?
What's your name? – Si quheni?
Nice to meet you – Gëzohem që ju takoj
Sorry – Më fal
Excuse me – Më falni
Thank you – Faleminderit
You're welcome – Ju lutem
I don't understand – (Unë) nuk kuptoj
Do you speak English? – Flisni Anglisht?
Where can I find the toilets? – Ku është tualeti / banjoja?
What time is it? – Sa është ora?
Can you help me? – Mund të më ndihmoni?
Read Next: Check out my guide on Albania Travel Tips
Emergency
If something happens and you need help while you're traveling in Albania, it's important to know how to ask for it. I've included the most essential emergency words and phrases, and at the bottom of this section, you'll also find the Albanian emergency numbers.
Help! – Ndihmë!
Look out! – Kujdes!
Fire! – Zjarri!
Go away! – Largohu!
Stop thief! – Hajdut Stop!
Call the police! – Tërhiqni vëmendjen e policisë!
I'm sick – Unë jam i sëmurë
I'm lost – Unë jam i humbur
I need a doctor – Unë kam nevojë për një doktor
Does anyone speak English? A flet njeri anglisht?
Emergency numbers: Ambulance (127), Fire brigade (128), Police (129), general emergency (112)
Basic Albanian for Eating and Ordering Food
Here are a few Albanian words essential for eating, drinking and ordering food. Also, when eating in a restaurant, it pays to compliment them by saying "shee-SHMEH" (delicious) for the food when you're about to pay. I always do this when I eat at restaurants or food stalls. Trust me, a small compliment goes a long way!
A table for one person/two people, please – Një tavolinë për një person/dy njerëz, ju lutem.
Could I please see the menu? – A mund të shoh menunë, ju lutem?
I'm vegetarian – Jam vegjeterian
How much is it? – Sa kushton?
The check, please – Faturën, ju lutem
Breakfast – Mëngjes
Lunch – Drekë
Dinner – Darkë
A beer/two beers, please – Një birre/dy birra , ju lutem
A glass of red/white wine, please – Një gotë vere e kuqe/e bardhë, ju lutem
It was delicious – Ishte e shijshme
Directions
If you're exploring a new town or can't find a certain sight or restaurant, it's really helpful to know the most basic Albanian phrases to ask for directions. And of course – to understand the answer.
I always ask locals for directions when I travel, and almost every single time they make the effort to either follow me to my destination or at the very least make sure that I know where I'm going. People in the Balkans are so warm and helpful more than anywhere else in the world.
Where? – Ku?
Here – Këtu
Left – Majtas
Right – Djathtas
How do I get to… ? Si mund të shkoj te
Is it within walking distance? – A mund të shkoj më këmbë atje?
Taxi – taksi
Bus – autobus
Read Next: Admire the beautiful mountains views in Berat
Shopping
I've never had to bargain for anything in Albania, but it's still good to know the basic phrases for buying a gift or a souvenir.
How much is this? – Sa është kjo?
That's too expensive – I shtrenjtë
That's cheap – I lirë
Albanian Numbers
And when you go shopping, it's essential that you know the Albanian numbers. Especially at local markets, because you can't be sure that everyone speaks English there.
One – Një
Two – Dy
Three – Tre
Four – Katër
Five – Pesë
Six – Gjashtë
Seven – Shtatë
Eight – Tetë
Nine – Nëntë
Ten – Dhjetë
Twenty – Njëzet
Thirty – Tridhjetë
Forty – Dyzet
Fifty – Pesëdhjetë
Sixty – Gjashtëdhjetë
Seventy – Shtatëdhjetë
Eighty – Tetëdhjetë
Ninety – Nëntëdhjetë
Hundred – Njëqind
Thousand – Një mijë
More on Albania:
Are you going to Albania? Let me know in the comments if you have any questions!