10 things to do in Berat – Albania's city of a thousand windows
Berat was the last stop on our road trip through Albania. Driving up along the Albanian Riviera had been amazing, but I was super excited to visit the country's second UNESCO-listed town and explore all the things to do in Berat.
Berat is nicknamed "The City of a Thousand Eyes, and you'll quickly discover how it got that name. The white Ottoman stone houses climb up the hill to its castle, so everywhere you go, the windows seem to be watching you.
This view along with the rugged mountain setting makes Berat one of the most picturesque places in Albania.
This post contains referral links for products I love. Adventurous Miriam earns a small commission at no extra cost to you if you make a purchase through my links. Thank you for your support ♡ Learn more
Berat vs. Gjirokaster
Speaking of beautiful places… Berat is often connected to the other Albanian UNESCO town, Gjirokaster. That's because they're similar in many ways. They both have the unique Ottoman architecture that you'll also find in Mostar and Lake Ohrid. They're also equally beautiful.
Read my post about Gjirokastër here.
Before going to Albania, I read somewhere that they're so alike that you don't need to visit them both. But that's not true. They each have their charm, and while they're similar, they also very much have their own style. I highly recommend visiting both Gjirokaster and Berat.
Take a day trip to Berat
When Albania first came on my radar, my biggest concern was getting around. I planned a solo trip and later on a solo + baby trip, but it just seemed complicated. Rumour had it, that there weren't any actual bus stops throughout Albania, so I was concerned how to travel between the major cities. While that rumour is not complete true – the big cities have bus stops and a bus station – getting around Albania can still seem a bit daunting.
I get that.
If you prefer to travel comfortably without worrying about a thing, you have the option of joining an organised tour. While you can easily spend several days in Berat, you can see everything in a day, too. The town is small enough to be explored by foot, and it's easy to get around. If you're in Tirana and thinking of going to Berat, a day trip would be a perfect solution.
I always book through GetYourGuide, because they have competitive prices, excellent customer service and free 24-hour cancelation. And they have a day trip to Berat from Tirana.
Find it here: Full-Day Berat Trip from Tirana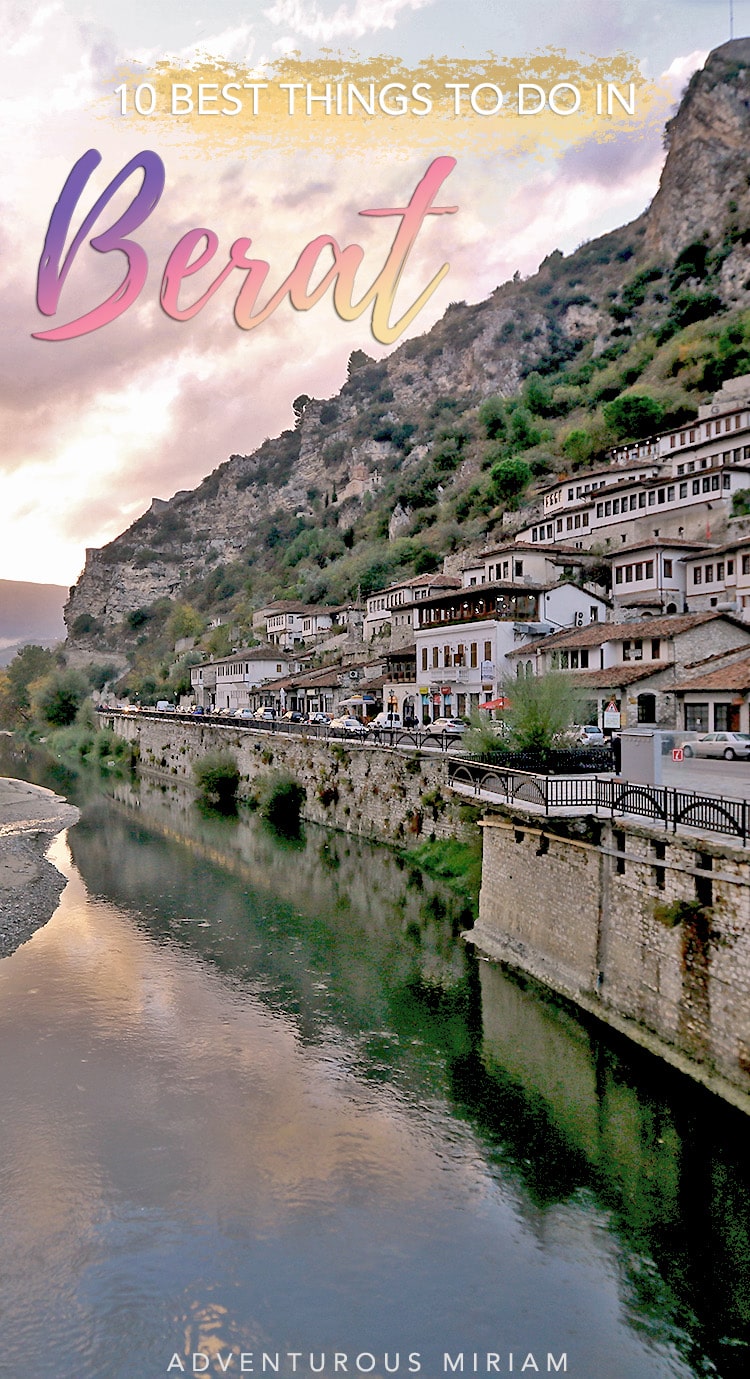 THINGS TO DO IN BERAT, ALBANIA
1. Berat Old Town
The old town is the UNESCO part of the city. Here, you can stroll along the cobblestoned streets and admire the medieval architecture and Ottoman houses. If you walk down to the pedestrian street by the river, you'll see some great examples of these houses. And if you walk a little further to the Gorica stone bridge over the river Osum, you can get absolute best views in town!
Read next: Basic Albanian phrases and words you need to know
2. Berat Castle (Kala)
The number one attraction in Berat (besides the views) is Berat castle, also known as Kala. There's been a fortress here since year 300, but today's castle is from 1200 AC. The castle is located at the top of the hill, and the walk is quite steep. But once you get to the top, you'll have an amazing view of the whole area.
3. National Ethnographic Museum
Once you're done exploring Berat castle, you can walk down the steep hills and find the National Ethnographic Museum. The museum is housed in an 18th century Ottoman building and shows you the everyday life of a local family. They have a similar museum-home in Mostar (Muslibegovic house) and in Gjirokastër, taking you through the house of an Ottoman general.
On the ground floor, you'll find traditional clothes and tools used by weavers and silversmiths, while the upper floor has bedrooms and a kitchen decorated with traditional tapestries and chests.
4. Mangalem and Gorica Quarter
Berat is divided in two halves, Gorica and Mangalem, which sit on either side of the Osumi River. On the south side is Gorica, which is traditionally Christian, while the Muslim Mangalem is on the north bank. Both quarters have narrow alleys of Ottoman-inspired stone houses with traditional tiles and timber doors. And they offer a glimpse into a traditional Albanian dwelling.
The views on the old Ottoman quarters Mangalem and Gorica from both sides of the Osum river are breathtaking, so the bridge is the most photogenic spot in all of Berat. Most people stay in Mangalem, which is the more spectacular area with restaurants and cafés. But it's worth visiting Gorica as well.
5. Bulevardi Republika
Another scenic photo stop in Berat is Bulevardi Republika. This pedestrian street runs parallel to the Osum River, on the Mangalem side. On the right side, you have the park and river, while the left is lined with shops, bars and restaurants with tables outside. It's a great place to shop or have a drink.
6. Local churches
One of the things I like about Berat (and Albania as a whole) is that you're traveling back in time. The traditional Ottoman houses are one aspect, but there's also the rutted roads where you'll pass old carts pulled by donkeys. A unique thing for Berat is the churches. The city has no less than 28.
The most famous church is Holy Trinity Church (in Albanian: Kisha Shen Triadha), which is one of the oldest and most visited in town. It dates back to the 13th century and has some beautiful frescos inside.
Another church worth seeing is the St. Mary of Blachernae Church, which is inside the Berat castle. The church is known as one of Berat's most important historical and architectural monuments, so it's definitely worth the steep walk – especially if you're visiting the castle anyways.
7. Historic mosques
You should also take in the city's historic mosques. At good place to start is The Lead Mosque at the centre of Berat. It dates back to the 16th century. Another interesting mosque is Bachelor's mosque with two floors and paintings inside. Both mosques are located in Mangalem (the Muslim quarter).
8. Sufi Tekkes
There are two sufi tekkes in Berat:
The Rüfai Tekke, built in the 18th century for the Rüfai Sufi order.
The Halveti Tekke, built in the 15th century for the Khalwati Sufi order.
You might remember me mentioning tekkes before in my posts from Bosnia (otherwise you can read it here: The 7 most beautiful places in Bosnia and Herzegovina). A tekke is a Dervish place of worship – sort of like a church or a mosque – that was built by the Turks. It's a beautiful place so I recommend visiting these two if you're interested in religious history.
9. Wine tour
I LOVE wine in the Balkans.
I mean, I just booked another trip to Istria, Croatia, and what I'm most excited about is going back to the fantastic wine (and Croatian food). Albania is pretty good at the wine front as well, and you can visit a local vineyard if you like.
The Çobo Winery has a long tradition of wine making and is the most popular vineyard in the area. Another option is just kicking back in one of the many cafés, enjoy a glass or three and watch the world go by.
Either way – that's my kind of day.
10. Taste traditional Albanian food
You'll find some pretty amazing restaurants in Berat. Try Byrek, a meat and leek pie and raki – the national drink. You can get raki throughout Albania, but in Berat it's made on walnuts.
Lili Homemade Food | For delicious food, a lovely setting and very homely touch, this restaurant is a great place to eat in Berat. This friendly restaurant also has homemade wine!
Weather in Berat
Obviously, the weather varies depending on which season you visit.
Summers (June – September) are warm and dry with temperatures varying from 20°C to an average high of 33°C.
Winters (November – March) are typically cold with an average temperature below 15°C down to 1°C in January.
The best season for visiting is May to September when the weather is dry, clear and the sun is out. Since this is Albania, it won't ever get crowded with tourists, but the high-season is July-August.
Where to stay in Berat
Although it's easy to visit Berat on a day trip from Tirana, it's never a bad idea to stay a night or two. Prices are generally super low, and you get to wake up to this amazing view.
Hotel Rezidenca Desaret – This hotel makes you feel like royalty. It's just a short walk from the old town and rooms are modern. But don't think about it too long – they sell out quick. Find the latest prices here.
Guesthouse Kris – Are you're more into a rustic hotel with a fire place in your room? This place is a traditional stone house where you can eat your breakfast on the terrace with a mountain view. They also have airport shuttle. Find the latest prices here.
Driving in Albania
Personally, I think renting a car is the best way to get around in Albania. That's what we did. While you have the luxury of taking it at your own pace and stopping for photos whenever you like, it's also not that expensive.
We rented a car through Sixt, because they got the best prices and really great customer service. save 10% on car rental in Albania with this link.
Get to Berat by bus
As in general in Albania, most of the buses leave between morning and noon. It's difficult to find buses or minibuses in the afternoon.
From Tirana: Take a furgon from Tirana to Berat (cost: 500 lek), or from other towns make a connection via Fier (200-250 lek). Buses also run from Tirana to Berat (cost: 400 lek). From Tirana, take the bus from "Terminali i Autobuzave te Jugt". This is the south bus terminal. Buses run every 30 mins.
From Sarandë: There are 2 buses a day to Berat from Saranda at 8am and 2:30pm from the main bus stop (5-6 hours, 1200 lek).
And that's it, friends. I hope you enjoyed the post, and do let me know if you have any questions!
More on Albania: