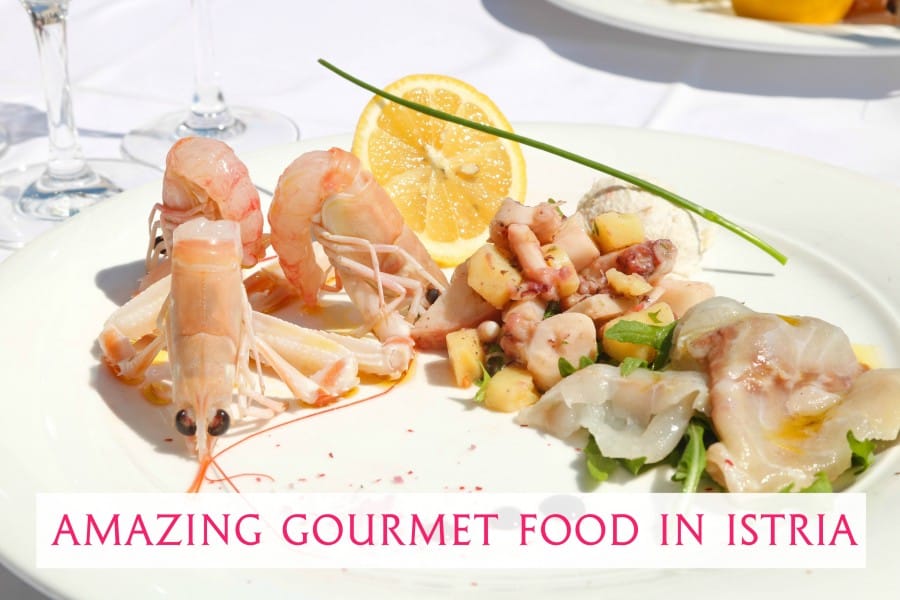 You guys, I've been looking SO much forward to eating my way through this post and sharing it with you. Last year, I wrote a post about how much I love Croatian food, but it included both Istrian and Dalmatian food. This guide is dedicated to the gourmet food in Istria, which is quickly becoming one of my favorite cuisines in the world.
Istria is best known for its olive oil, wine and truffles. Before visiting Istria last summer I had never tasted truffles or quality olive oil and now that I've had it, it's difficult to go back. I spent all last week indulging in 4-5 course meals twice a day. No wonder I gained 3 kg.
Are you hungry for the food in Istria? Here's your guide to the most delightful dishes.
MORE CROATIA TRAVEL TIPS: GET MAPS, ITINERARIES AND CROATIAN PHRASES
Food in Istria – Seafood
The peninsula of Istria is nestled in the Adriatic Sea so it's no wonder that seafood features so prominently in its cuisine.
The best seafood I've had in Istria is fresh oysters (from Lim Fjord), crab claws, grilled fish, sardines and octopus. Some of these delights are seasonal, but if you visit in the spring (April or May) you can have all of the above. The quality and freshness of Istrian seafood is top-notch.
Where to find great seafood
– WILD ASPARAGUS –
I visited Istria in the spring, just in time for the wild asparagus season. That means many of the dishes contained asparagus, including soup, octopus salad and purée. I'm not an asparagus fan in general, and the sort we have in Denmark both tastes and looks different.
But Istrian asparagus? Keep them coming.
– TRUFFLES –
My favorite food in Istria is truffles and I can't get over how exquisite they taste. Croatians add truffles to almost any dish and so far I've tasted cheese with truffle, pasta with truffle, scrambled eggs with truffle, chocolate, wine, beer, patée and sausage with truffle.
You name it, they add truffle.
Istria is truffle heaven and its capital is Buzet, which is the countryside. I've had the best truffle meals in this area (I'm looking at you, Motovun and Hum), probably because those dishes were home-cooked and local.
Where to find truffles
– PRSUT –
Prsut is another essential part of traditional Istrian cuisine. This home-cured, salted ham is cut in thin slices and served as an hors d'oeuvre. It usually comes with cheese, sausages, wine and olive oil.
Where to find great prsut
– CHEESE & POLENTA –
On my first trip to Croatia, I noticed that cheese plays a major role in the cuisine. Just like truffles, cheese is added to most Istrian dishes. My favorite Istrian cheese is truffle cheese (obviously) and sheep's cheese.
Another interesting Croatian side dish that I have discovered is polenta. It's made from cornmeal and is used in many local Istrian dishes. I'm particularly taken with grilled polenta.
Where to get great cheese dishes
– FRESH PASTA –
Ah, home cooked Adriatic pasta. Forget about calories and the low-nutritious stuff you buy at the store, because this pasta is amazing. It has a different consistency than the dry variety, and it's more filling and substantial thanks to the texture.
Home-cooked Istrian pasta has a life of its own and you can easily eat it with just truffles or herbs, although it does taste heavenly with Istrian ox or shell-fish.
Where to find great homemade pasta
– GNOCCHI & RISOTTO –
Food in Istria is inspired by Italian cuisine so you'll see plenty of gnocchi and risotto on the menu. A local variation of gnocchi is stew with meat, which I highly recommend.
Where to find great gnocchi and risotto
– LOCAL MEATS –
Although seafood is the star of Istrian meat, there are some great alternatives, especially further inland. While poultry isn't a major hit in Istria, there's a wide range of pork, sausages and Istrian ox, also known as boskarin.
The sausages (the non-fried) are fat, well seasoned and flavored – they go well with wine and cheese!
Where to find local meet dishes
– DESSERTS & SWEETS –
Somehow after four dishes, there was always room for desert. Can you blame me? ↓
Aside from a great variety of classic Western desserts such as millefoglie and chocolate cake, Istria has it going on in the sweets department! You know how I said that olive oil is a big part of their cuisine? Well, in Istria they serve ice cream…. with olive oil. Naturally, I was skeptic, but seriously guys, it turned out to be a major foodgasm!
Also, Croatians like to add cheese (no surprise there) to ice cream and cakes. Again, I was reserved, but quickly turned over. What a treat.
Where to get the best dessert
– ISTRIAN OLIVE OIL –
Did you know that Istrian olive oil is often awarded as being one of the best olive oils in the world? I can honestly say that after tasting it, I bought three bottles. There's something about the taste; it tastes like freshly cut grass and has a peppery finish.
The best olive oil producers in Istria
– WINE AND DRINKS –
Just as the food in Istria is amazing, so is the wine. And the perfect way to discover new wines is to visit one of the many wineries. The local wine is high quality, particularly Malvasia, a white wine in both an aged version and a fruity style, and Teran, a rich, earthy red. I prefer sweet white wine and was pleased to discover muscat wine, which has a sweet floral aroma.
Wine, olive oil and amazing food – this week has been absolutely amazing and I'm not one bit upset about the extra weight I put on during my stay. In Istria, food equals relaxation, comfort and enjoyment. It's a gourmet getaway, and I'm already excited to return.
Great Wineries and Distilleries
Many thanks to Visit Istria for hosting me in Croatia. Whenever I travel, there will always be full disclosure about whether my stay was hosted by a tourism board. And even if I'm on a press trip, my view will never be swayed one way or the other.
Now over to you. Would you try the food in Istria?
Pin to Pinterest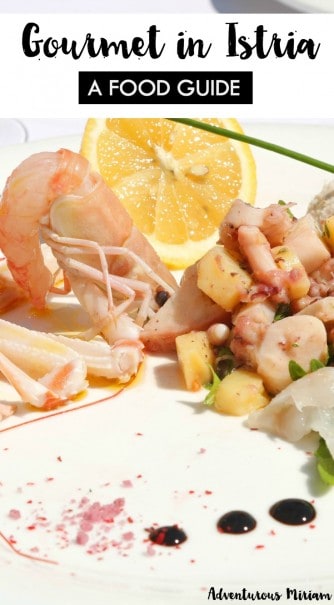 Psst! This post probably contains affiliate links, which means I earn a commission (at no extra cost to you) if you click through and make a purchase. As always, I only recommend products and services I trust.