Psst! This post probably contains affiliate links, which means I earn a commission (at no extra cost to you) if you click through and make a purchase. As always, I only recommend products and services I trust.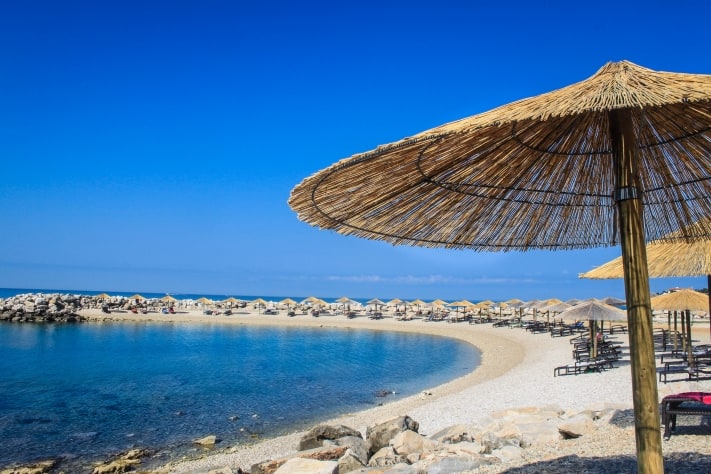 A few years ago, my little brother visited Istria and told me afterwards that it reminded him of Italy – only it was cheaper and slightly better (no offense Italy, you're great, too x). It comes as no surprise that this part of Croatia is similar to Italy since they're neighbors and all. But did you know that Istria has an amphitheatre, countless Roman buildings, that almost everyone speaks Italian, and that the food has Italian written all over it? Even the wines compare, and we all know that Italian wine is the rock star of the show!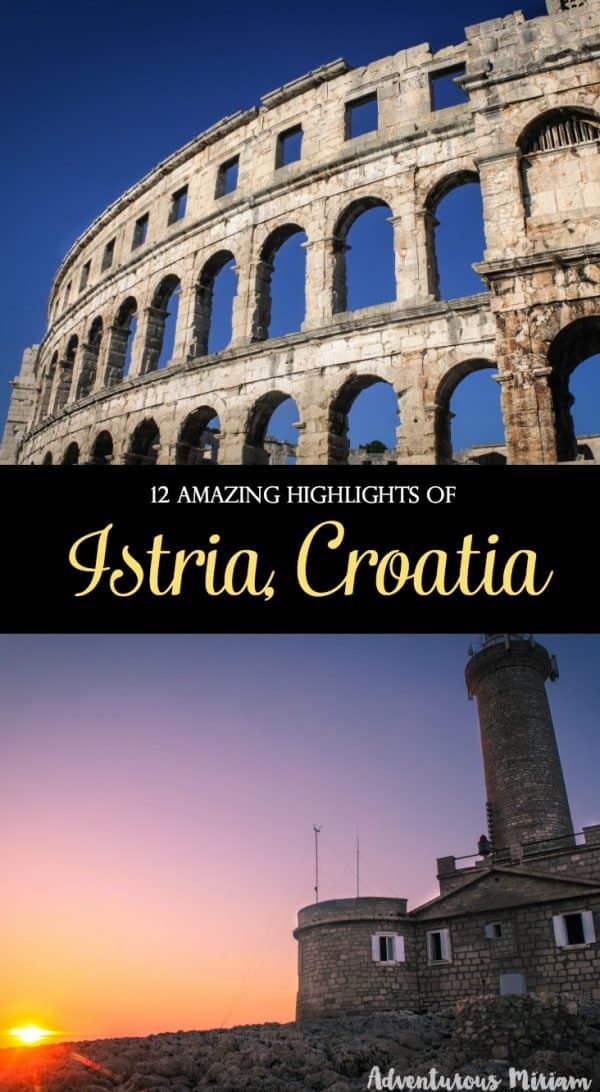 HIGHLIGHTS OF ISTRIA, CROATIA
A few months ago I went to Istria myself and concluded that my brother was right. Istria is fabulous… it's the perfect place to indulge in gourmet food & muscat wine and enjoy gorgeous pebble beaches and ancient history.
Read next: 6 cute towns in Istria you must visit
This heart-shaped peninsula in the north corner of Croatia offers some epic adventures and experiences like biking, gourmet food, beaches, wineries, olive oil tastings, stunning countryside, history and activities such as paragliding, rock climbing and diving.
Here's an introduction to the highlights of Istria.
Map of Istria
Istria is easy to navigate so you can just stay in one city and do day trips to other towns. You can get around by bus although it isn't super easy, so I recommend renting a car as it's much easier and also quite cheap. It takes about 1 hour to drive from Novigrad in the north to Pula in the south.
1. NOVIGRAD
Eat local food and enjoy the history
Novigrad is a cute little town in north and one of the highlights of Istria. To me, Novigrad stood out a little posh compared to other Istrian towns. The beach is really nice there, although you should be aware that all beaches in Istria are pebble beaches, not sandy. If you feel like splurging for a day, head down to the marina and have a cocktail and lunch at Navigare Restaurant.
THINGS TO SEE IN NOVIGRAD
St. Pelagio and St. Maxim's Parish Church bell tower
The town walls
The beach
Novigrad marina
WHERE TO STAY IN NOVIGRAD
Pension Emaus is this lovely little hotel, close to the beach and city center. Click here to see the latest prices.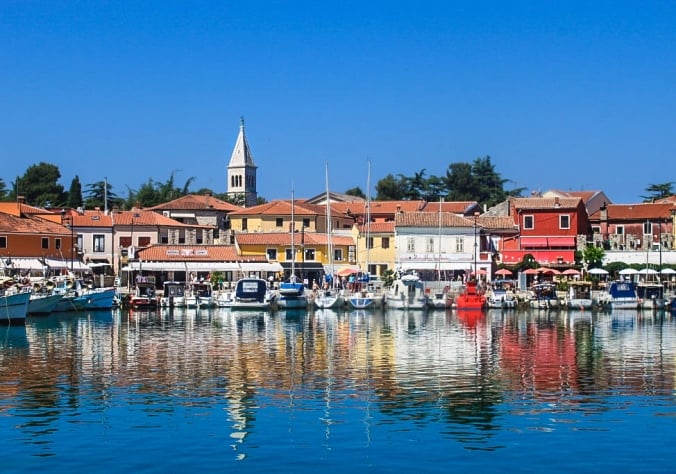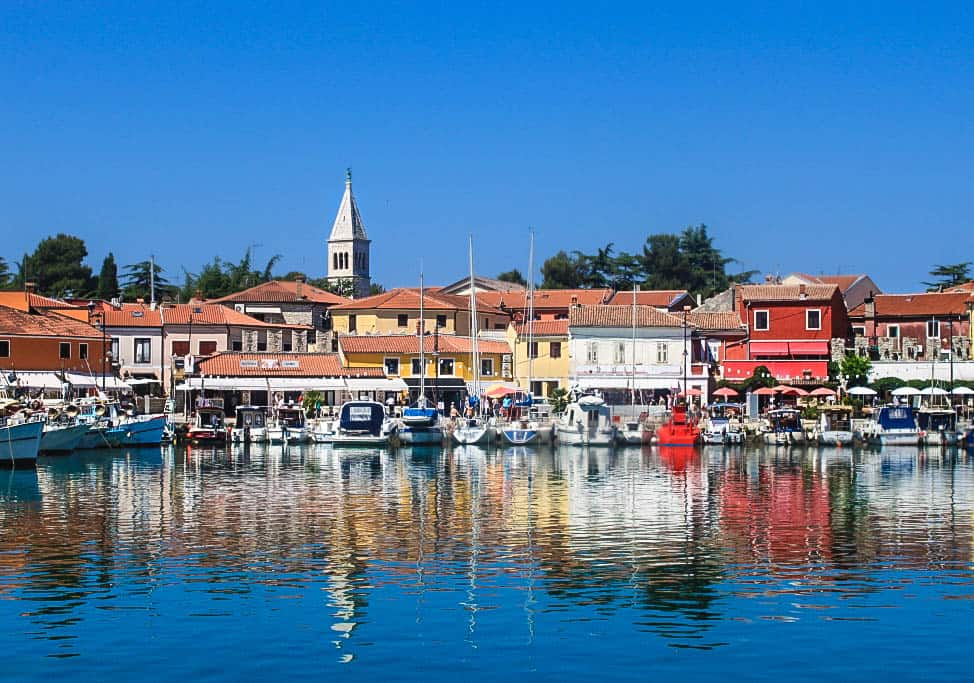 2. MOTOVUN
Explore the countryside and join the Film Festival
Motovun is located on top of a steep hill and a staircase of 1052 steps. This medieval town is surrounded by a walkable wall, and from the top there's a view over vineyards and forests. If you're an early bird and like sunrises, get up at 5 or 6 am and enjoy a view like on the first photo below.
I really liked Motovun although it is very small (only around 500 inhabitants) and there's not much to do except relaxing, enjoying food and taking day trips. But I guess that's what 'going to the countryside' is all about, no?
* Note that the hill is quite steep and narrow so some cars have difficulties ascending.
THINGS TO SEE IN MOTOVUN
The honey tastings in Livade (at the end of the hill)
Church of St. Stephen
Loggia Restaurant in Oprtalj
Walk on the city walls
Motovun film festival (It usually lasts 5-6 days in late July or early August)
WHERE TO STAY IN MOTOVUN
Bella Vista Apartments is spacious with an amazing view – perfect location for exploring the old town. Click here to see the latest prices.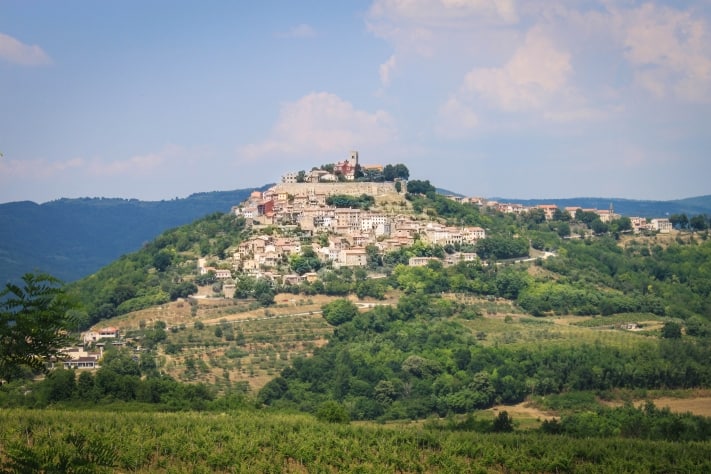 3. VRSAR
Indulge in romance and the town of Casanova
One of the other highlights of Istria is Vrsar; a cute little fishermen's village located between Pula and Rovinj. The town has more than 2,000 years of historical heritage and is home to several biking and hiking trails. In the 18th century, the famous Italian adventurer and seducer Giacomo Casanova visited Vrsar twice – in 1743 and 1744 – and he wrote about those visits in his memoirs.
Once a year, the city celebrates Casanovafest, a festival of love and erotica. In 2015, it was held in June.
THINGS TO SEE IN VRSAR
Old Romanesque gate
Casanovafest (in late June, but check the local website for future dates)
The romantic view points in the old town of Vrsar
Basilica of St. Mary of the Sea
WHERE TO STAY IN VRSAR
Hotel Vista has perfect location and a helpful staff. The view is so beautiful from the (very spacious) terrace. Click here to see the latest prices.
4. VODNJAN
Great olive oil tasting and ancient mummies
In the past, Vodnjan was an important urban center, making it an interesting destination for those interested in architecture and history. In the old part of town, there are many buildings from different periods: Gothic, Renaissance and Baroque, and you can find mummies of saints in the churches.
Vodnjan is also the perfect place for olive oil tastings and for seeing traditional stone cottages (kažun), which used to be built by farmers to provide shelter from extreme weather situations.
THINGS TO SEE IN VODNJAN
Relics and mummified saints in the churches
Olive oil tasting (I recommend Brist)
Traditional stone cottages
The Eko muzej
WHERE TO STAY IN VODNJAN
Madonina Apartment has a very convenient location – close to beach and city center. This beachfront property offers access to a terrace. Click here to see the latest prices.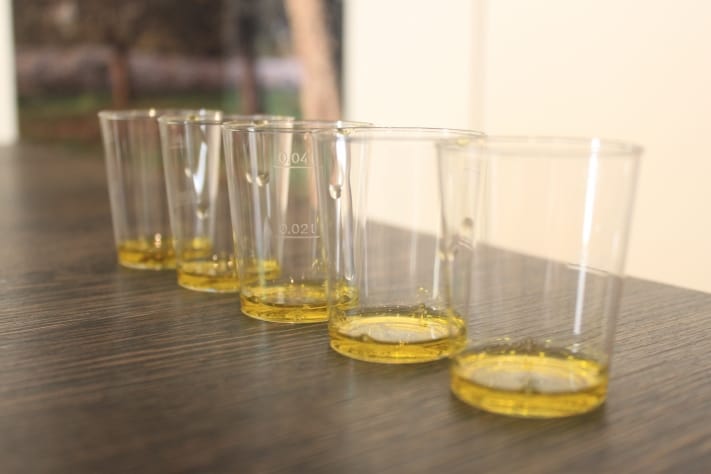 5. ROVINJ
Beautiful coastal town
Rovinj's old town is the most impressive and charming part of town. Aside from the smooth, shiny marble cobblestone streets and pastel-colored houses, this part of Rovinj is renowned for its beautiful Venetian architecture.
Rovinj is just as beautiful as I had hoped, and with its romantic marble streets, charming medieval houses and tasty cuisine, it might just be my top highlights in Istria.
THINGS TO DO IN ROVINJ
Rovinj Old Town
The Marina
The church
Climb the church tower
Stay at Lone Hotel
WHERE TO STAY IN ROVINJ
This is the place to splurge a little and stay at the marvellous Lone Hotel! This design hotel is absolutely amazing – great location, restaurant(s) – yes, plural, and a humongous pool. I absolutely loved staying here! Click here to see the latest prices.
DAY TRIPS IN AND FROM ROVINJ
Before I got to Rovinj, I heard that it had the most stunning sunsets in Croatia. I don't know if it's the beautiful backdrop or if the light just hits it right, but it's true. Those sunsets are magical. It's really pretty from the marina, but you can also enjoy the scenery from the sea, while you sip complimentary drinks and look for dolphins. You'll get that and more on this 3-hour tour from Rovinj. And bring your swimsuit/trunks. You'll want to jump in that crystal clear water.
Book here: Rovinj: Sunset Cruise and Swim
You might also love: From Rovinj: Full-Day Boat Trip to Venice
6. LABIN
An art Mecca and old mining town
Labin is another of my top highlights of Istria and I simply love the artistic vibe. The town is located on the East side of Istria and overlooks Rabač and the sea. Since it's known for its numerous ateliers and galleries, we visited one of the local painters, Vinko Šhaina. His gallery is a former church now bedecked with paintings of skulls.
In the past, Labin was the largest mining center of Croatia, and at the city museum you can visit a recreation of a coal mine site. You get a helmet before you enter the tunnels.
THINGS TO SEE IN LABIN
Church of Blessed Virgin Mary's Birth
City Museum (+ mine). The other museum in town is called Labin National Museum.
The view-point from fortress Fortica
Battiala-Lazzarini Palace
Eat at Velo Kafé
WHERE TO STAY IN LABIN
Little Paradise is exactly what the name promises; a charming apartment with a balcony and garden. Click here to see the latest prices.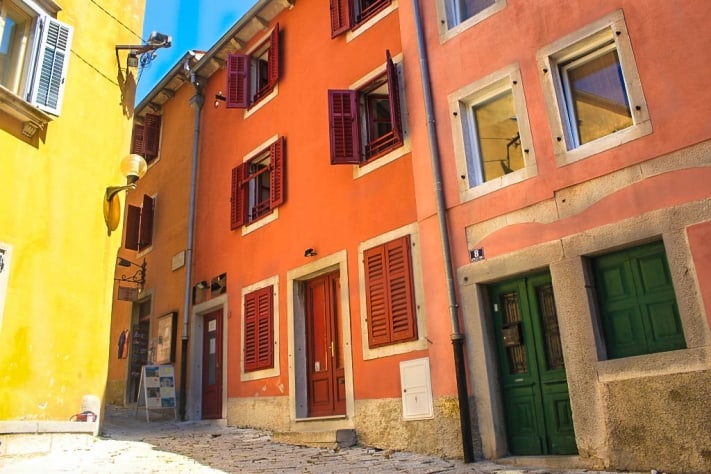 7. RABAČ
Hit the beach
Only 3 km from Labin, you'll find Rabač – a true Istrian paradise with LOVELY pebbly beaches and crystal clear waters. It's a must-visit if you're in Labin and the perfect place for snorkeling, swimming and diving. You can see all kinds of fish and enormous jelly fish.
THINGS TO DO IN RABAC
The beach
Take the tourist train
Go snorkeling or diving
WHERE TO STAY IN RABAC
Located just 2 minutes walk from the beach, Palma Rabac is an excellent little oasis with air-con and a terrace. Click here to see the latest prices.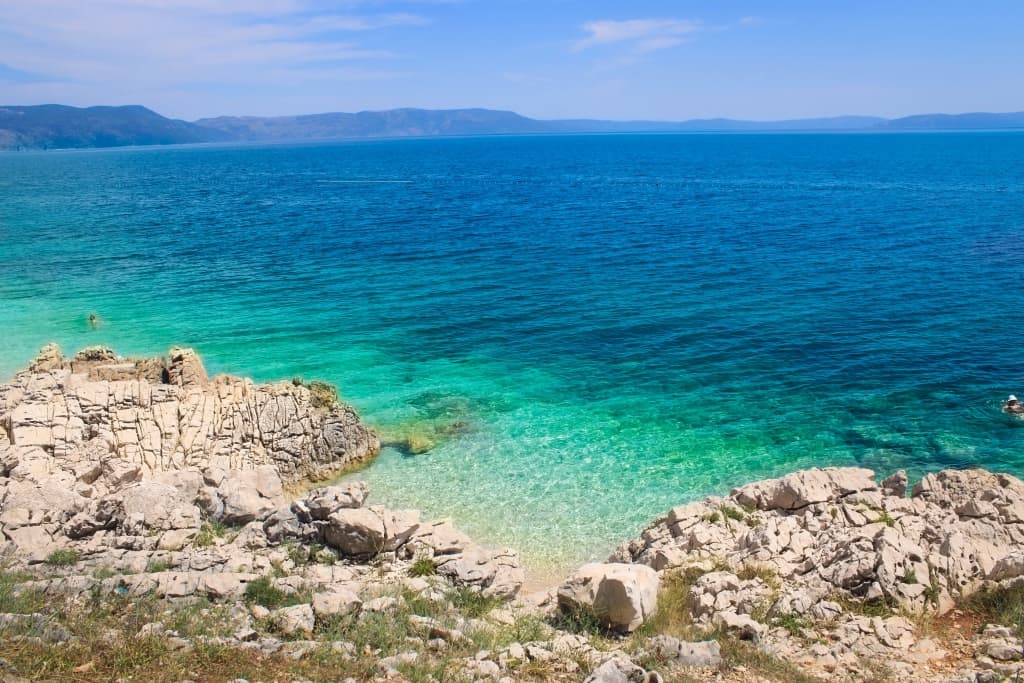 8. POREĆ
A UNESCO site and party hub
The ancient Roman town of Poreč has become one of the highlights of Istria. In the summer, it's the party hub of the peninsula and therefore not the place for a quiet getaway. Poreč has a lot to offer in terms of history, and together with the Byzantine mosaics at Euphrasian Basilica and the tower of Poreč, sites like Pentagonal and the Round tower are not to be missed.
THINGS TO SEE IN POREC
The Euphrasian Basilica (UNESCO world heritage site)
Temple of Neptune
Marafor, an ancient roman square
Decumanus and Cardo Maximus streets
Cave Baredine
WHERE TO STAY IN POREC
Hotel Delfin Plava Laguna is only 1 minute walk from the beach. It comes with a large pool and great view from the rooms. As a bonus, breakfast and dinner is included in the price. Click here to see the latest prices.
9. FAŽANA
Family friendly. Ps. Try the sardines!
Fažana is a picturesque little town close to Pula. It has a beautiful waterfront with many restaurants and cafés. Sure it's a bit crowded in the summer, but it has that charming fisherman town look and vibe so it's definitely one of the highlights of Istria.
I've mentioned earlier that I've got a new-found love for sardines, and I have Fažana to thank for that (thank you, Fažana). The town is known for its sardines, so make sure to try some while you're there!
THINGS TO SEE IN FAZANA
Parish Church of SS
The harbour and beach
Romanesque Chapel
WHERE TO STAY IN FAZANA
Overlooking the Adriatic Sea, Hotel Marina has a spectacular view and is just by the beach and city center. Staff go the extra mile with a smile and you get a welcome drink on arrival. Click here to see the latest prices.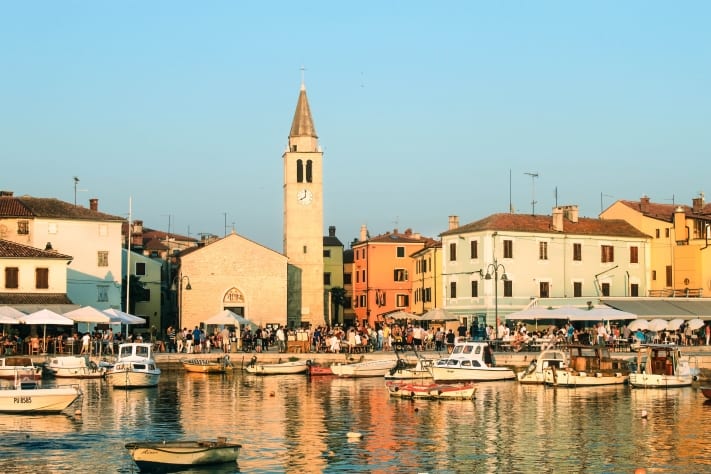 10. PULA
Enjoy the history
Ah, Pula. This town was founded 3,000 years ago (can you believe that!) and is known for its Arena; one of the best-preserved amphitheaters in the world. Pula seems to accommodate everyone's needs: beautiful beaches, colorful reefs and diving spots, culture, great food and history.
A stroll through the city takes you past ancient Roman architecture like the Temple of Augustus, the Triumphal Arch of the Sergi, Hercules' Gate and Twin Gates, Arena and Small Roman Theatre. Pula is the largest city in Istria.
THINGS TO SEE IN PULA
Pula arena

Temple of Augustus

Triumphal Arch of Sergius

Cathedral of the Assumption of the Holy Virgin

Diving at Pješčana Uvala, and the islets Fraškerić and Veruda
WHERE TO STAY IN PULA
Located right next to Pula Arena, Hotel Amfiteatar is perfectly located (just 5 minutes walk from the city center). Breakfast is included and there's an amazing restaurant in the hotel – even if you don't stay here, you should have dinner here. Click here to see the latest prices.
DAY TRIPS IN AND FROM PULA
Istria is conveniently located for a day trip to Italy, so why not spend the day sipping Borolo and sailing in a gondola on the famous canals in beautiful Venice. It's an amazing experience for the whole family.
Book here: From Pula: Full-Day Boat Trip to Venice 1-Way or Return
You might also love: Pula: Electric Bike Sightseeing Tour
11. PORER & KAMENJAK NATIONAL PARK
Get back to nature
At the most southern tip of Istria, you'll find Kamenjak National Park, which is perfect for seclusion and enjoying idyllic beaches and untouched nature. In the park, you can visit the Dinosaur Path (600m long) and discover dinosaur footprints.
About 20 minutes sail from the mainland, you'll find the Lighthouse Porer; an islet so small that it only takes a minute to walk around it. It's possible to spend the night there although the accommodation is very basic.
Entrance to the national park will be charged for vehicles, while the entrance for cyclists and pedestrians is free.
THINGS TO SEE IN PORER AND KAMENJAK
Go camping
The lighthourse Porer
The pebbly beaches
Bike tours and the dinosaur path
Where to stay:
Apartments Villa Fernetich is 50 metres from the Kamenjak park and 12 minutes from the beach. You'll get a spacious room with balcony.
Click here to see the latest prices.
12. LIM FJORD
One of the other great places in Istria is Lim Fjord, which is located between Rovinj and Vrsar. The fjord is a great place for biking, climbing and hiking, plus it has a beautiful mountainous view.
– How to get there –
By car
By cruise, but I've heard it isn't all that good (lots of drunken people onboard)
Bike trip from Vrsar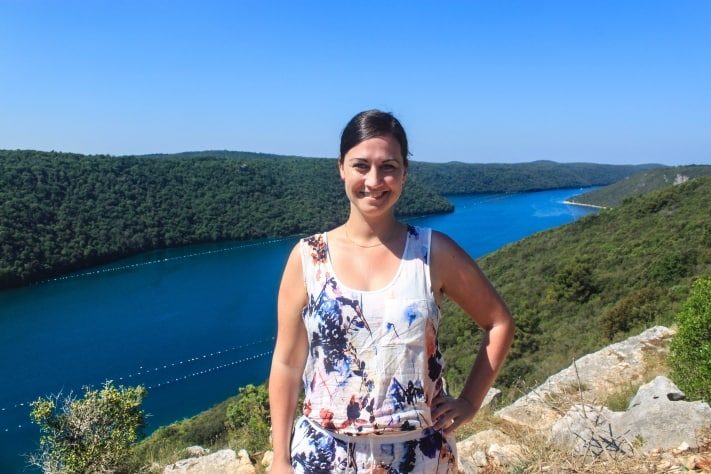 Many thanks to Visit Istria for hosting me on this press trip in Croatia. As always, all opinions and thoughts are my own, regardless of who is footing the bill.
Now over to you. Do you know any other highlights of Istria?