Staying at the Hotel Lone Rovinj in Croatia
Hotel Lone is the best place to stay in Rovinj. Hands down.
Staying here gave me the chance to leave all thoughts behind and simply exist as part of the hotel.
To swim in the pool, heal my mind and body at the wellness centre, and surround myself with the peaceful and natural atmosphere that leaves you feeling refreshed and excited.
Here's my experience staying at Hotel Lone Rovinj & exploring Istria!
This post contains referral links for products I love. Adventurous Miriam earns a small commission at no extra cost to you if you make a purchase through my links. Thank you for your support ♡ Learn more
Why stay in Rovinj
So, why stay at Hotel Lone Rovinj? Or why stay in Rovinj at all? What is it about this city that makes it so ideal for anyone visiting Istria? For a start, it's the ideal base for your Croatia journeys.
Exploring Croatia is best done from Rovinj, because the city is in Istria, the most picturesque and exciting place in Croatia, full of small towns and rugged landscapes to adventure across.
Rovinj is also full of exciting things to do; and surrounded by even more fantastic places to roam and explore.
Let's take a look at some of the incredible opportunities that Rovinj has to offer, and the things I got up to when I visited this coastal paradise.
Things to do in and around Rovinj
I've already written a post about the best things to do in Rovinj, but here's the short version:
Explore Rovinj Old Town
Rovinj is a city of thrilling medieval history. For 500 years, until 1797, Rovinj was part of the Venetian Republic, and much of that history is still intact in the city's art and architecture.
You'll find Venetian lions in Rovinj Old Town. One of the most famous lions can be found on the side of the town hall's iconic clock, which you'll find in an open square surrounded by cafes and bars where you can unwind with a class of chill muscat wine.
Visit the Church of St. Euphemia
This church, and its striking bell tower, stand imposing atop a hill in Rovinj. Its name derives from the story of a young girl who refused to part from her Christian faith and was sentenced to death by her own father as a result, and so the church was dedicated to her.
Standing atop the bell tower, you can get an incredible view of the surrounding city. If you're lucky and the skies are blue, you may even glimpse the Alps at the horizon.
Relax at the beach
While the old town with its gorgeous architecture is fun to explore, it's also good to have a place to get away from the business of those ancient streets.
The beaches in Rovinj (as well as any beach in Croatia) aren't white and sandy, but they are still a fantastic place to climb, wander, and discover the perfect diving spot.
If you bring your swimming gear, feel free to take a dive into the turquoise waters of the Adriatic Sea.
Hunt for truffles in Buzet
If you head out of Rovinj towards the Istrian town of Buzet or Motovun, you can explore the truffle capital of the world.
Here, you can spend a day out in the wilderness, hunting for your own truffles, and also taste all the different and delicious ways that truffles are used in the Croatian cuisine.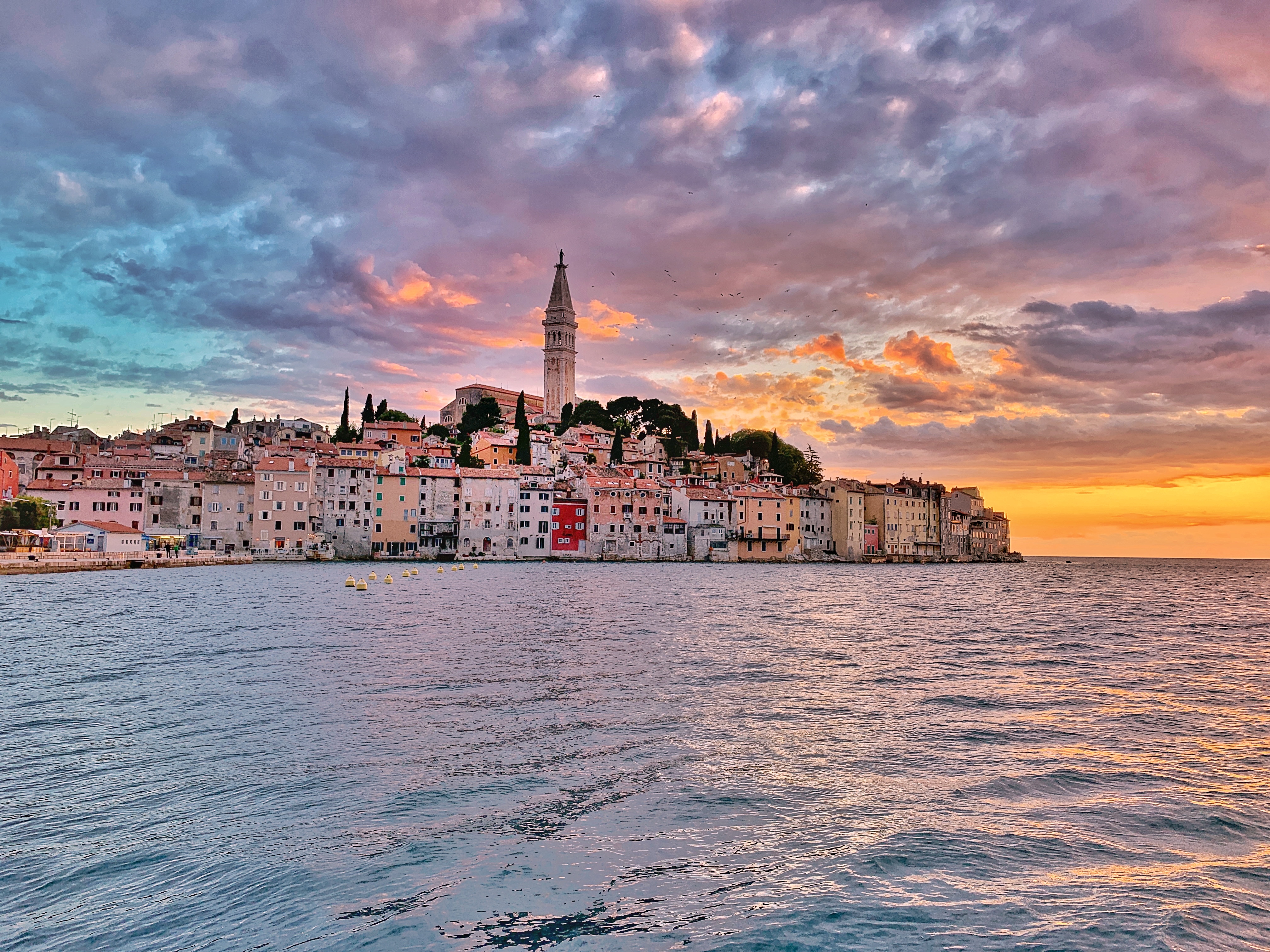 Hotel Lone Rovinj
Okay, so let's talk about Hotel Lone Rovinj! The hotel's premium rooms feature balconies with their own tables and chairs where you can eat, enjoy the park view, and relax to your heart's content.
Hotel Lone's deluxe plunge pool room even has its own private massage bathtub with an infinity pool.
Beyond the rooms, the wellness centre and spa at Hotel Lone Rovinj offer a huge breadth of amazing things to relax you, which I took full advantage of during my stay.
There's a swimming pool, whirlpool rooms, a sauna, and a gym. All of which keep you fit, keep your energy levels up, and your mind in a zen place of calm.
My room at Lone Hotel
I slept really well at Hotel Lone. In fact, it can be difficult to even leave your room when it offers so much comfort and relaxation. My room's shower had this incredible tropical rain effect which was super nice!
I also had a fantastic LCD TV which I could use to relax at night after all my exploring the city and the beach was done, or after getting in some exercise at the pool and the gym at Hotel Lone Rovinj.
If you'd rather have a bath than a shower when you visit the Hotel Lone, feel free! The bathtub is luxurious and heavenly.
And let's not forget the balcony, where I drank my morning coffee – courtesy of the room's Illy coffee machine!
The Restaurants
Hotel Lone Rovinj has a selection of restaurants – not just one – to satisfy every culinary craving you could possibly have during your stay.
There will be foods at these restaurants which you've never tried, and you now have the opportunity. And the quality is out of this world.
Every meal is prepared with love and attention, producing the finest quality dish, regardless of what kind of food you order.
ResoLution Signature Restaurant, for example, offers over 150 different wines, both from Croatia and abroad, for you to enjoy. I LOVE Croatian wine, and getting to try a few different ones was such an absolute luxury!
Restaurant On is worth dining at just for its incredible design and aesthetics; it's one of the most awe-inspiring dining experiences you'll ever have.
And Restaurant E is reserved for sampling some of the most mouth-watering sweets, cakes, and pastries. It's open from 3pm to 6pm and too good to miss.
The Spa
I've already mentioned the fact that you can enjoy the pool, gym, and sauna to your heart's content – ideal for anyone who wants to really work out their stresses all on their own.
But if you'd like to take it to the next level, like I did, there are also some incredible spa treatments you can, well, treat yourself to while staying at Lone Hotel Rovinj.
These include massage, facials, and body treatments. And at Hotel Lone you can have one of the best massages of your life, leaving the place feeling like you've grown a whole new body. You'll feel soothed and reinvigorated – that's for sure.
If you opt for a facial as well, the specialists at the hotel assess the condition of your skin and offer you a facial that will work perfectly with your skin. It's incredible attention to detail, and an example of the absolute luxury they offer.
Design Hotel
If you're wondering what 'design hotel' means, the idea is that hotels like Hotel Lone are perfectly designed to provide luxury, comfort, and beauty in every aspect of your stay.
From the moment you walk in, the décor, architecture, atmosphere, cuisine, comfort, and amenities all work together to create an otherworldly experience of luxury and comfort.
And does all of this actually ring true? Absolutely, yes.
The design and beauty of the hotel itself, inside and out, compliments the atmosphere the staff create, as well as the food available.
The temperature, smells, and tastes; everything about it works to create a perfect atmosphere of comfort. Magical!
Pools and Private Beach
Amazingly, Hotel Lone Rovinj is far more than just a hotel building. Beyond the hotel itself, you'll find a private beach called Mulini Beach.
It opens out into the bay, with its turquoise waters and spectacular views. There's a cocktail bar on the beach where you can enjoy the sun all afternoon in complete bliss.
If you'd rather be inside, Hotel Lone also has an indoor pool, but don't overlook the outdoor pools either! It's a place to lounge and swim in peace. There's a swimming track if you'd like to exercise outside in a green and blue paradise atmosphere.
If you get yourself a massage in the morning, grab some lunch, then spend your afternoon at the outdoor pool, swimming and sunbathing, before enjoying the sunset with a cocktail.
That right, there is a perfect day at Hotel Lone Rovinj!
Final thoughts on Hotel Lone Rovinj
Hotel Lone is a design hotel in every sense of the word. It's amazing to see how well-crafted everything is to create an atmosphere of bliss and joy during your stay. I forgot the world outside completely during my entire stay.
The pools – both indoor and outdoor – as well as the private beach, allows you to spend as much time in the water as out of it without getting restless for even a second.
The range of food and wine options means you get to dine like a queen and not feel the least bit guilty.
This Rovinj hotel is the absolute perfect hotel experience, with every aspect of it being designed to leave you feeling more relaxed and at peace than you ever thought you could be.
PRACTICAL INFO
Book here: Lone Hotel
Location: Rovinj, Croatia
Type of accommodation: Luxury design hotel
Price range: $$$
Read more about Istria
Save for later