How to visit the best sunset viewpoint in Cappadocia
Looking for the best sunset viewpoint in Cappadocia? I'll show you the 3 best places to watch the sunset and how + when to get there.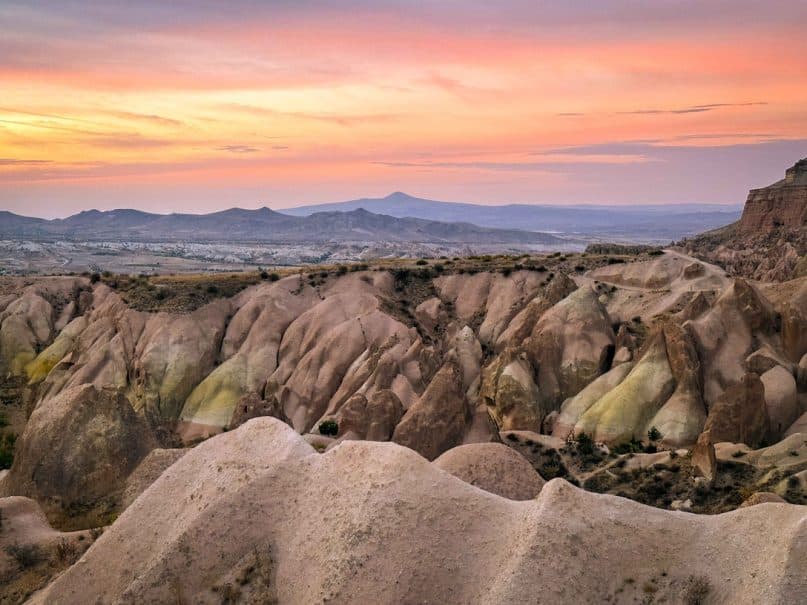 Cappadocia is one of the best places in the world to watch the sunrise – think hot air balloons, magical lunar-like landscapes and pastel skies.
But it's not just about mornings here. The sunsets are just as epic.
Since you're in the mountains, there are a bunch of great places to catch the sunset in Cappadocia.
In this post, I've listed the 3 best sunset viewpoints in Cappadocia so you can choose for yourself.
Let's take a look.
Read next: The perfect 2 day Cappadocia itinerary you'll want to steal
This post contains referral links for products I love. Adventurous Miriam earns a small commission at no extra cost to you if you make a purchase through my links. Thank you for your support ♡ Learn more
Top 3 best sunset viewpoints in Cappadocia
Below, I've listed the top sunset viewpoints in Cappadocia for an easy overview. After that, I'll explain in detail the pros and cons of each viewpoint.
Goreme sunset viewpoint
– The most convenient
– Walking distance
Uchisar castle
– The highest point
– Taxi from Göreme
Red valley sunset viewpoint
– The most beautiful
– Taxi from Göreme
The best sunset viewpoint in Cappadocia
The most convenient
1. Goreme sunset viewpoint
Goreme Sunset Viewpoint, also known as Lover's Hill or Asiklar Tepesi, is the best place to watch the sunset in Göreme town.
Perched just above town, it gives you a near 360-degree view of the area.
They've got a platform up there on the rocks with the historic town of Goreme making a beautiful backdrop. As the sun dips, it silhouettes Uchisar Castle in a cool way.
There are a couple of restaurants where you can grab a bite or a drink, but fair warning – it gets quite windy up there.
Pro tip: Sunset Point is also a great place to watch the sunrise and see the hot air balloons drift over Göreme.
Practical info
Goreme Sunset Viewpoint is just a 15-minute walk from Göreme. There's a small entrance fee if you're coming from Göreme, but you can avoid it if you take the route through Zemi Valley. It's busy at sunset.
The highest
2. Uchisar castle
Uchisar Castle is the highest point in Cappadocia, which automatically makes it a top spot for sunset views. You'll find the castle on a massive rock formation with an epic view of traditional stone houses and valleys that make up the UNESCO-listed Göreme National Park.
It's open till 9 PM in summer, but closes around 6:30 PM in winter. So plan your visit accordingly to catch the sunset.
The castle is about 5 km from Goreme. You can get there by taxi, bus, or even hike through Pigeon Valley or Love Valley.
The most beautiful
3. Sunset viewpoint in Red valley
Red Valley, or Kizilcukur as it's also known, is one of the best valleys in Cappadocia.
Red valley gets its name from the red and pink rocks that light up during sunset. What also makes this place unique is the jaw-dropping view of the lunar-like rock formations, fairy chimneys, and caves in the area.
There are plenty of hiking trails too, so you can wander around and find your own special spot to take it all in.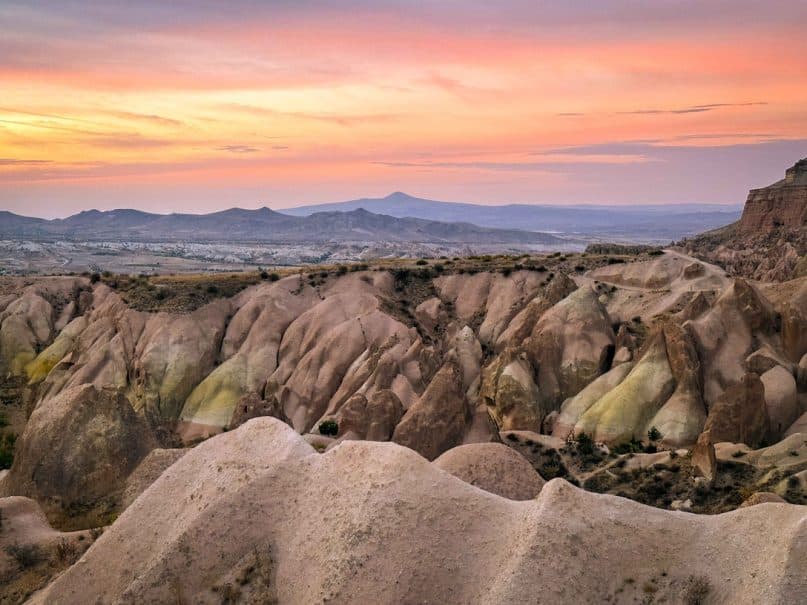 What time is sunset in Cappadocia?
In Cappadocia, sunset times vary across the year. You can expect it to set between 5:15 PM and 8:00 PM, but you should check current sunrise and sunset times in Cappadocia here.
Winter sunsets: around 5:15 PM
Spring and autumn sunsets: around 7:00 PM
Summer sunsets: around 8:00 PM.
My favorite sunset viewpoint in Cappadocia
My favourite sunset point in Cappadocia is the viewpoint in Red Valley. From here, you'll get the best view of the mountains that range from red to pink and yellow.
If you like a town view better, you might prefer one of the other two viewpoints.
Best time to visit the viewpoint in Cappadocia
You can visit the sunset viewpoints in Cappadocia all year round. I recommend that you arrive an hour before the sun sets. That way you'll get it all in.
Remember to check the current sunset times so you'll be there on time.
Where to stay in Göreme Cappadocia
Göreme is the most popular town to stay in Cappadocia, especially if you're staying in one of the cave hotels. It's a unique experience!
We went to several cave hotels, but this hotel is my favourite:
Lunar Cappadocia Hotel (⭐ 9.4) This highly rated cave hotel has an amazing breakfast, great customer service and spacious rooms. Perched on top of a hill, you'll get beautiful views of the hot air balloons in the morning. Check latest prices here.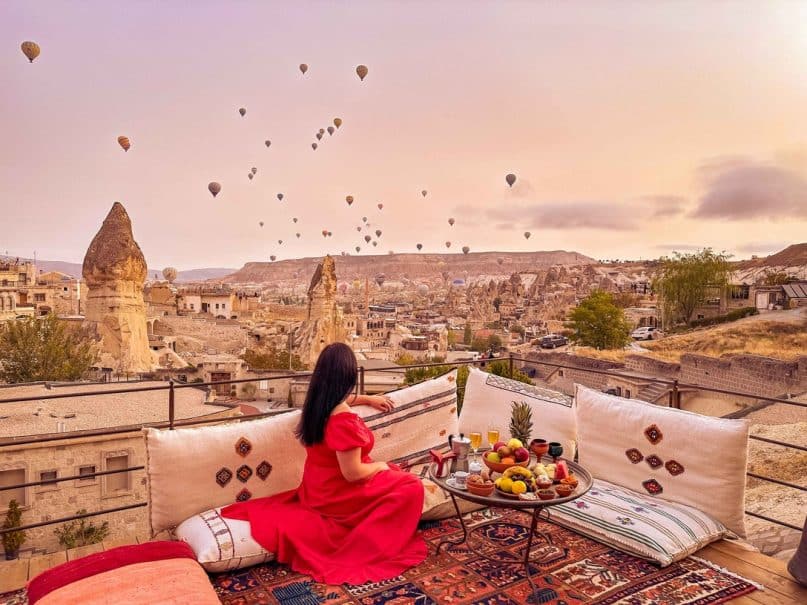 FAQ – the best sunset point in Goreme
Where is the best sunset point in Goreme?
The best sunset viewpoint in Goreme town is Goreme Sunset Viewpoint. You can walk there from your hotel so it's easy to get to (which is also why it's popular).
Where can I watch the sunrise in Cappadocia?
The best place to watch the sunrise in Cappadocia is from your cave hotel balcony or the balloon takeoff site.
Other great places are the Sunset Hill, Love Valley and Rose Valley.
Which is the best sunset point?
The best sunset viewpoint in Cappadocia is Red Valley. Two other popular viewpoints are Uchisar castle and Goreme Sunset Viewpoint.
Do hot air balloons fly at sunrise or sunset in Cappadocia?
The hot air balloons in Cappadocia only fly in the morning. They take off at sunrise so you'll need to get up early.
Where to next?
Where are you off to after Cappadocia? Consider visiting one of these amazing places in Turkey on you trip.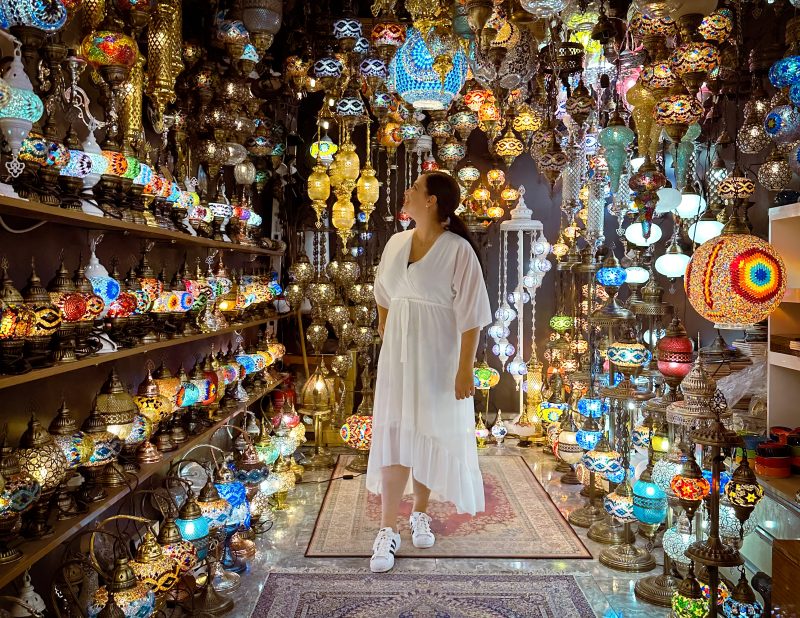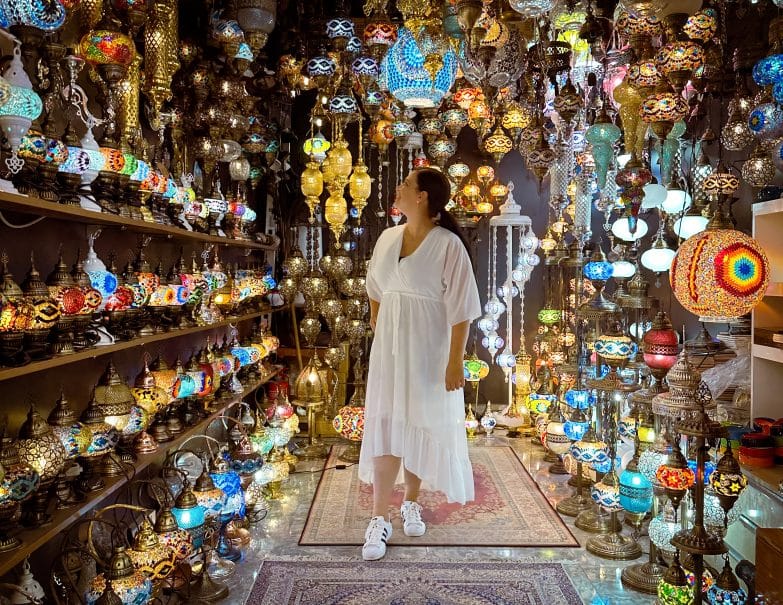 Istanbul
Istanbul is a must-visit when you're in Turkey. Whether you're visiting for 1 day or 3 days, make sure to experience Hagia Sophia and the Blue Mosque.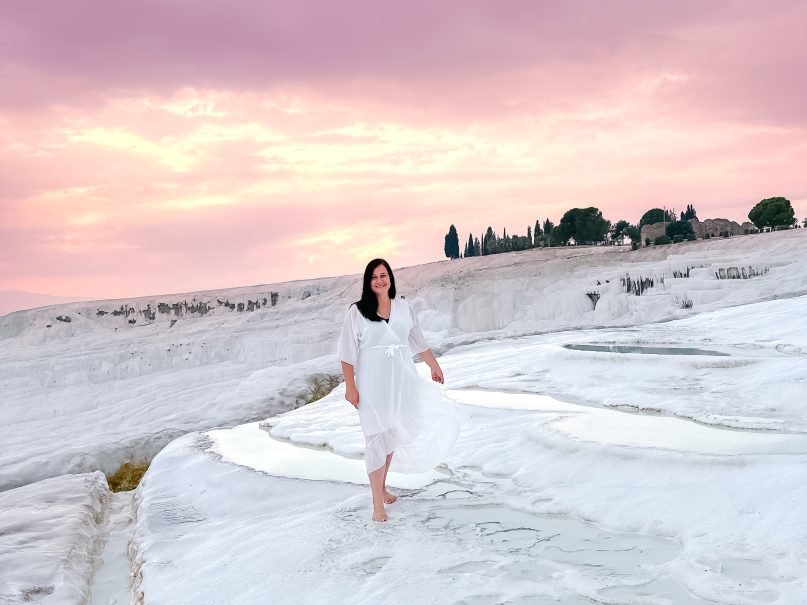 Pamukkale
Pamukkale is a natural wonder that you can visit on a day tour from Antalya and the rest of the coast. Don't miss the Roman amphiteathre!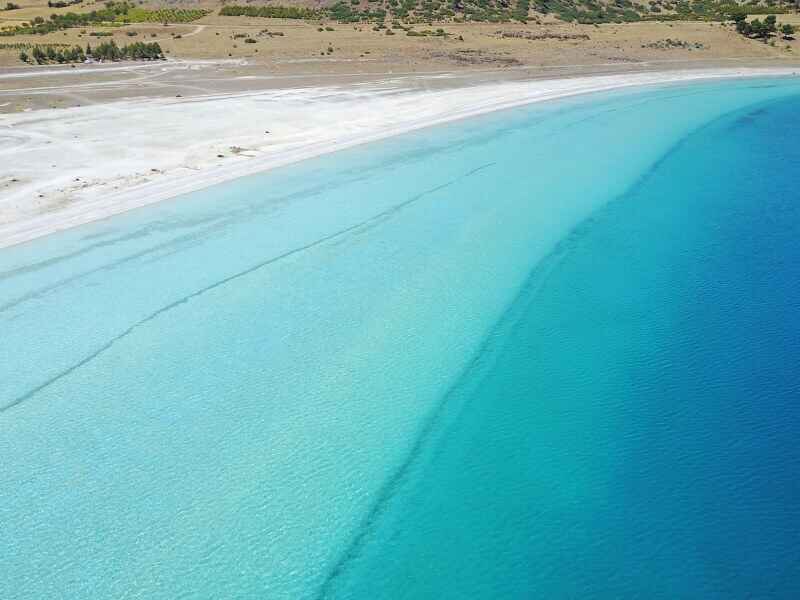 Lake Salda
Close to Pamukkale is the beautiful Salda Lake, also known as The Turkish Maldives. The extinct volcano crater is filled with clear, turquoise water.
More posts from Cappadocia you might like
Save it!