Is Cappadocia safe to visit in 2023? Latest safety advice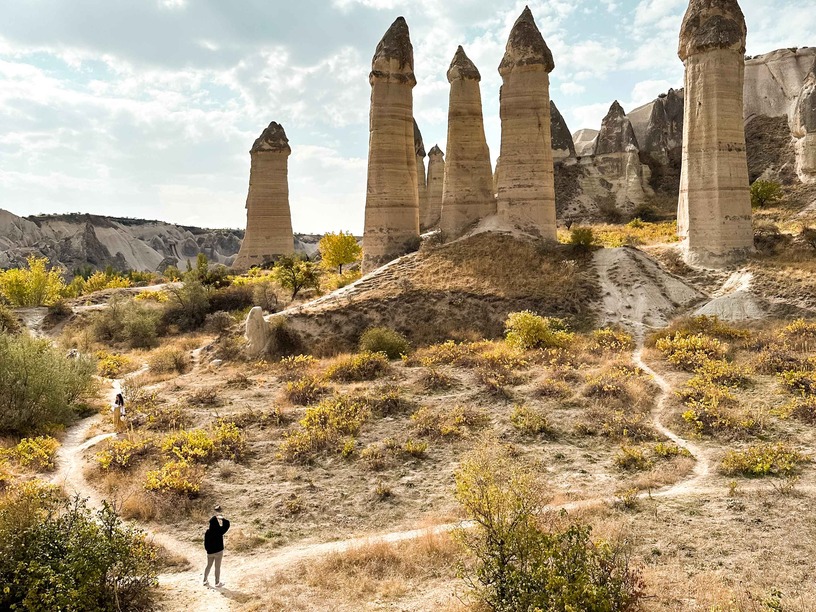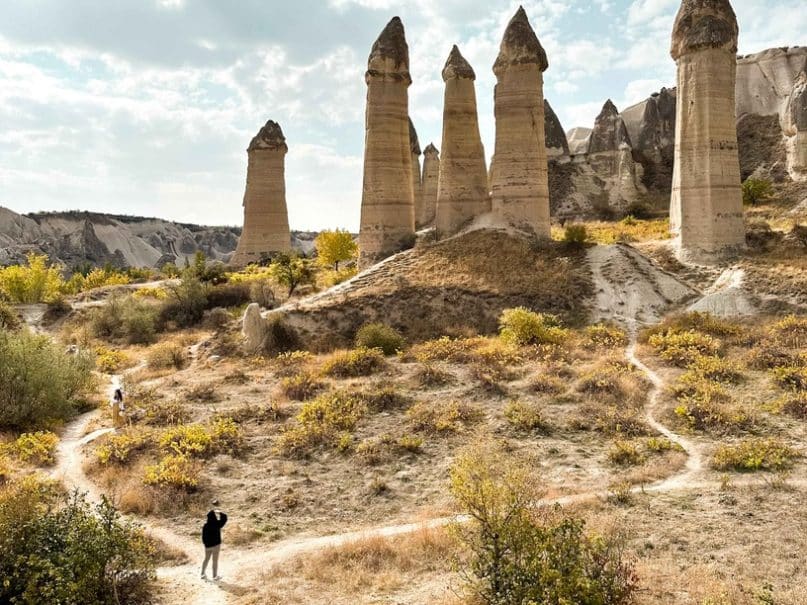 Is Cappadocia safe to visit?
You might be wondering about safety in Cappadocia. Maybe you have questions and concerns about the recent devastating earthquakes and the hot air balloon flight accident in 2022.
In this post, I'll walk you through everything you need to know to visit Cappadocia safely. Because yes – Cappadocia is safe to visit.   
Read next: 10 best Cappadocia valleys you should visit
This post contains referral links for products I love. Adventurous Miriam earns a small commission at no extra cost to you if you make a purchase through my links. Thank you for your support ♡ Learn more
Is Cappadocia safe to visit right now?
Yes! Cappadocia is probably one of the safest places in Turkey, and there are no significant dangers as long as you use common sense and follow standard safety guide lines.
I traveled with my friend and my son (5 years) and we felt 100% safe. Everyone was welcoming and helpful.
💸 Turkey travel insurance
I highly recommend having travel insurance because let's be real — the last thing you want on your trip is for accidents to get in the way.
I recommend Safety Wing — they offer affordable prices, great coverage, and a reliable 24/7 on-call service.
Cappadocia travel guide
Cappadocia safety at a glance
Cappadocia is a beautiful mountain region that attracted over 2.5 million tourists in the first eight months of 2022 alone.
English is widely spoken, I even met an elderly man who spoke Danish. My point is that Cappadocia ​has ​friendly people that are used to tourists. That alone gives you a feeling of security.
While the area is considered safe, you still need to take a few precautions. By choosing reputable tour companies and staying alert in crowded areas, you can have a safe trip to Cappadocia.
Also, remember to check travel warnings before your trip. Although major changes rarely happen in this part of Turkey, it's better to be on the safe side.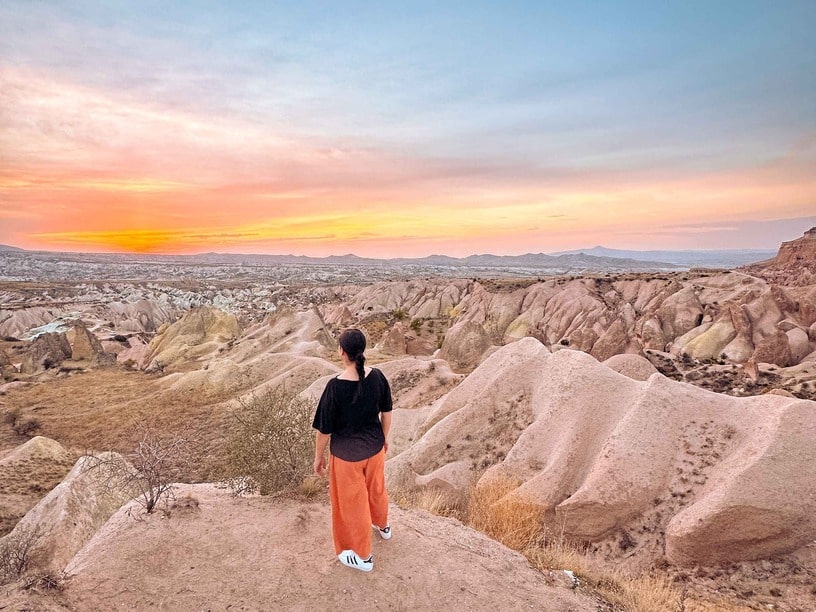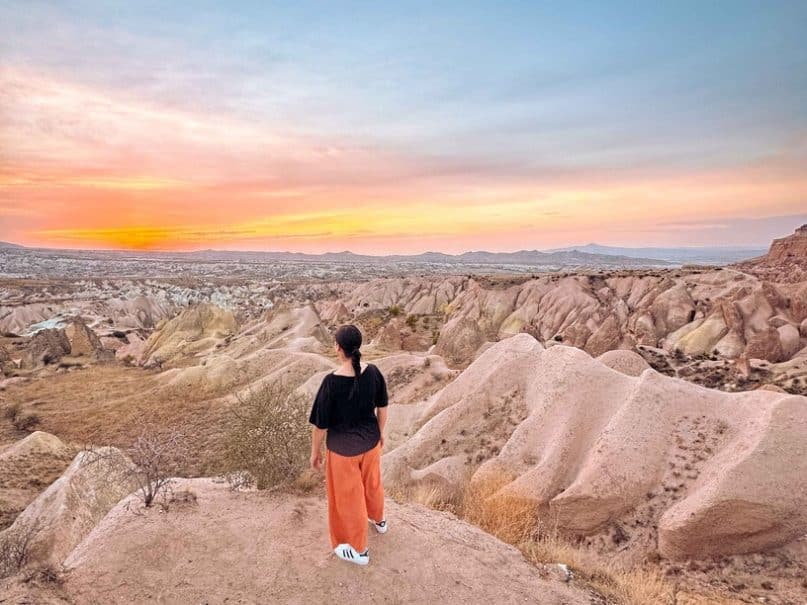 Safety concerns
While Cappadocia is a safe destination, it's still important to be aware of safety concerns that could affect your trip.
Let's go over the risk factors that are often associated with visiting Cappadocia.
The conflict in Syria
The border area between Turkey and Syria is a no-visit zone due to the ongoing war in Syria.
However, Cappadocia is located more than 500 kilometres away from the Syrian border so there's no need to worry about the conflict. Also, Cappadocia is quite remote, so that reduces the risk of any Syria-related issues affecting your stay in the region.
Terrorism
Turkey has experienced terrorist attacks both recently and in the past, which is why Turkey is now considered a level 2 country. But it's important to put the risks into perspective.
Most terrorist attacks have taken place in the southeast of the country near the Syrian-Turkish border, in Ankara and Istanbul – not in Cappadocia.
Turkey is a large country, and Cappadocia is is generally safe from terrorism threats.
Crime
Violent crime is extremely rare in Cappadocia, particularly when it comes to tourists.
Sadly, though, in 2013, two young Japanese women were attacked by a man while hiking. One of them was killed, while the other was injured. The incident was a tragedy that understandably caused a great deal of concern and sadness, both for the victims and their family, as well as for locals and travelers.
However, it's worth remembering that this type of crime is rare in Cappadocia, and Turkey as a whole. Most people visiting Cappadocia have a safe experience.
That being said, you still need to take precautions during your trip. It's essential to be aware of your personal security during your travels. Keep an eye on your belongings in busy areas​, and avoid walking alone late at night. That way you can minimise any potential risks and have a safe trip.
Natural disasters in Cappadocia region
Cappadocia is one of the regions in Turkey with the lowest earthquake risk, and here's why:
When we talk about earthquakes, we categorise areas using a rating system based on how often and how severe the earthquakes can be. Cappadocia, which is located in the Nevşehir province, falls under the 4th degree earthquake zone of Turkey, which has a lower earthquake risk compared to other regions.
For instance, Bodrum and Pamukkale, two popular places in Turkey, are in the 1st degree and therefore most prone to earthquakes. You can find a Turkey Earthquake Map here of all the zones.
Hiking alone
Cappadocia is a vast region where you can explore the valleys and fairy chimneys for hours and days and not see another tourist. While that's great in many ways, it can also be dangerous if you get lost.
Make sure to dress accordingly as it gets cold in the mountains, and always tell someone where you're going.
Scams
Scams are an issue in Turkey. While the scam risk is smaller in Cappadocia, you should still be aware of the most common scams:
Taxi drivers (find the most common taxi scams here)
English-speaking locals befriending you, taking you out for meals, and expecting you to pay.
Is hot air balloons safe in Cappadocia?
If you're planning to visit Cappadocia, you probably want to enjoy the beautiful landscapes from the air. Cappadocia is regarded as one of the best locations in the world for hot air balloon rides, but what about safety? Is it safe to fly the Cappadocia balloons?
The short answer is yes.
To ensure safety, all hot air balloon pilots in Cappadocia are licensed, and the balloons undergo regular safety checks. The tour operators only use experienced pilots with years of flying under their belt, which means they know what they're doing. ​
The hot air balloon flights don't take off unless flying conditions are optimal. If the weather is slightly off, companies will cancel the flights, and you'll have to try again the following day.
This might be frustrating, but it also shows that safety is a top priority in Cappadocia.
Hot air balloons in Cappadocia have the most flying days per year world-wide, and most cancellations happen during off-season.
🎈 You can check if the balloons are flying on the official page of the Aviation Research Center. It's in Turkish, but if the flags are green, the flights are on.
When was the last accident?
The last fatal hot air balloon accident happened on 18th October 2022, where two Spanish nationals lost their lives and three other passengers were injured. The accident happened because of an unexpected increase in the wind.
Over the past eight years, there have been five fatal crashes, with an estimate of between 50-150 flights per day. In other words, there have been 0.3 hot air balloon accidents per year. So, the chance of you being involved in an accident is less than 0.01%, although it cannot be completely ruled out.
Safety tips for travellers
Is Cappadocia safe to travel alone?
Yes, Cappadocia is a safe place to travel alone. However, you should always take some precautions, use common sense and be aware of your surroundings.
Also, make sure to follow the beaten track if you go hiking, and always let your hotel or someone know if you go hiking on your own.
Is Cappadocia safe for solo female travelers?
Yes, Cappadocia is also safe for solo female travellers. People here are friendly and welcoming, and they're happy to help.
I do recommend dressing modestly and thereby respecting local customs. This is a muslim country after all.
Here's my guide on solo female travel and you can find safety tips for women here.
Is Cappadocia safe for families?
I traveled with my oldest son, and we felt very safe and in good hands. Cappadocia is a great destination for families, not just because there's so much to do and look at, but also because the Turkish people are so welcoming towards kids.
Anywhere we went in Turkey, people spoke to Theo, offered him candy and nuts and stroked his hair (up until a point where he asked why are they all patting my head, mom? 🙂 )
To ensure a safe trip, check out my travel guide to Cappadocia and follow these tips:
Stay in reputable hotels.
Book activities, like hot air balloon rides, with certified operators that have a proven safety record.
Keep an eye on your kids, especially when exploring the rock formations and cave dwellings. The rocks can be slippery!
Carry a basic first aid kit and any necessary medications with you.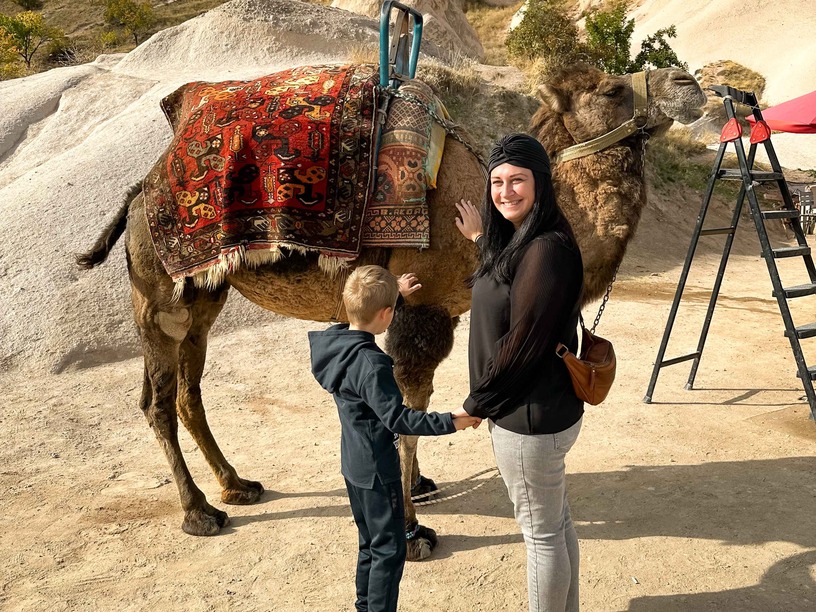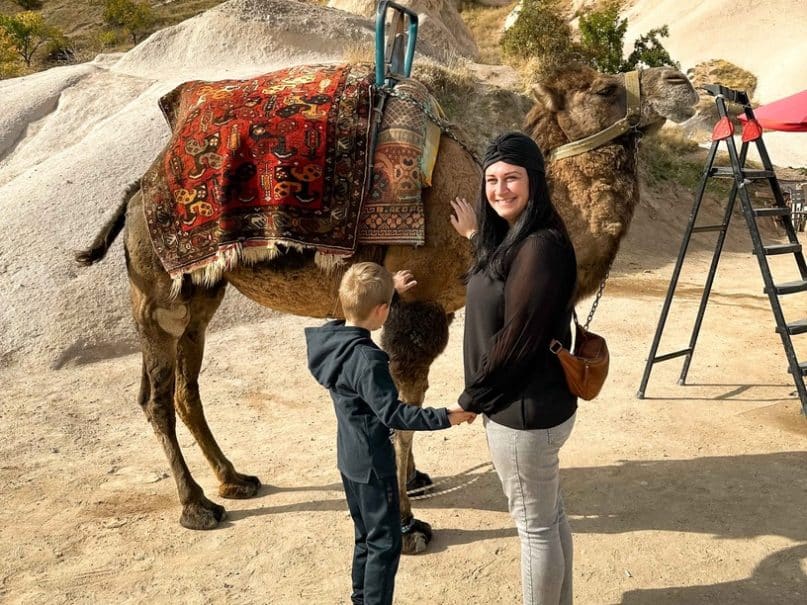 Is Cappadocia Turkey safe?
Explore Cappadocia safely on a ​​tour
Cappadocia is a large area, and while you can explore on your own, you can also choose to go with a tour guide or tour operator. The most popular places in Cappadocia include: Love valley, Red valley, the underground city, Devrent valley and Pigeon valley.
These are the most popular tours in Cappadocia:
What to wear in Cappadocia
Cappadocia is a muslim country so you should dress conservative to avoid unwanted attention. No need to wear a head scarf, but you might want to leave the crop top and short dresses at home.
The weather in Cappadocia changes throughout the year, so you should pack accordingly:
In the winter months, Cappadocia experiences cold temperatures, rain, and even snow. Make sure to pack warm clothing:
Beanie
Scarf
Jumpers
Trousers / jeans
During the milder spring and autumn seasons, you should prepare for changeable weather. Layering is key:
Long-sleeved shirts
Trousers / jeans
Comfortable trainers or hiking boots
For summer travels, be ready for hot and sunny days. Pack breathable, light-coloured clothing to keep you cool:
Short-sleeved shirts
Shorts
Dresses
Trousers / jeans
Light jumper for cooler evenings
Sun protection (sunglasses, hats, and sunscreen)
Common sense safety tips
While Cappadocia is generally considered a safe destination, it's important to always use common sense and follow the essential safety tips during your visit:
Be aware of your surroundings at all times, especially in tourist-heavy areas.
Keep your valuables (passports and wallet) on you in a secure pocket or in a hotel safe.
Go with a ​local guide rather than exploring remote areas on your own. Make sure to research and choose hot air balloon companies with positive reviews.
When hiking, avoid going off the beaten track. Be careful on difficult or uneven terrain.
Stay hydrated and apply sunscreen, as the sun can be quite strong in Cappadocia.
If you decide to try hot air ballooning, choose a reputable and well-reviewed operator.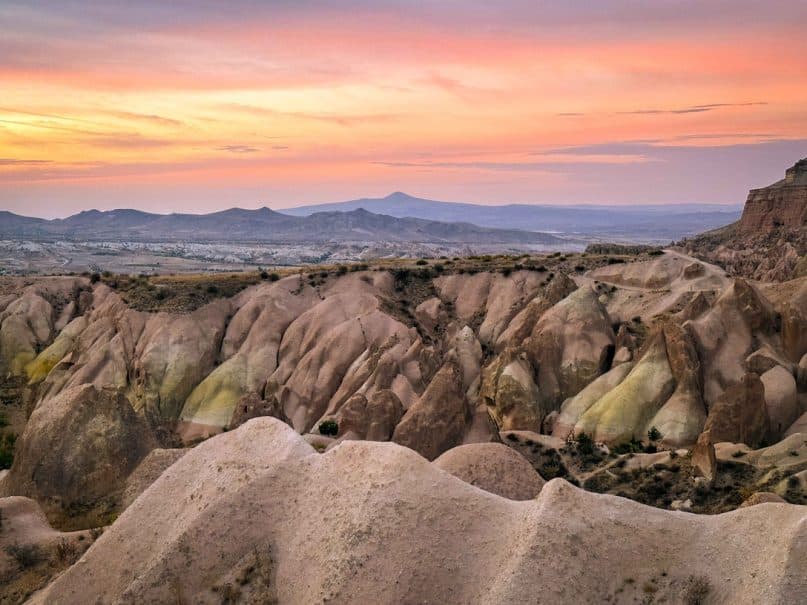 Emergency numbers
In anything were to happen while you're in Cappadocia, this is how to get help:
Emergency numbers:
112: Ambulance. (The 112 Emergency Call Centers speak English, Arabic, German, and Russian in addition to Turkish)
155: Police
Several hospitals and clinics are available in the region, and many hotels also have medical facilities.
💸 Turkey travel insurance
I highly recommend having travel insurance because let's be real — the last thing you want on your trip is for accidents to get in the way.
I recommend Safety Wing — they offer affordable prices, great coverage, and a reliable 24/7 on-call service.
🙋‍♀️ FAQ
How safe is it to travel to Cappadocia?
Cappadocia is a safe and welcoming region with a low crime rate. You're unlikely to experience any safety issues as long as you use common sense and the tips shared in my post.
There have been a few incidents in recent years involving hot air balloon accidents and an isolated case of violent crime. However, these incidents are rare and shouldn't keep you from visiting Cappadocia.
What do I need to know before going to Cappadocia?
Here are a few things to know before you visit Cappadocia:
Cappadocia isn't the name of the city where the balloons fly – it's actually the region
The hot air balloons fly every morning at sunrise
You'll find the best views of Cappadocia from the hotel rooftop terraces, Uchisar castle, Sunset Point in Goreme, Ortahisar Castle and from the hot air balloons
You can stay in actual caves in Cappadocia. They're called cave hotels.
What are the threats to Cappadocia?
There are a few potential risks to keep in mind when visiting Cappadocia, including:
Accidents during hot air balloon rides: While hot air balloon rides are a popular and generally safe way to experience Cappadocia, there have been a few accidents in the past that have resulted in injury or death.

Pickpocketing and theft: As with any tourist destination, there is a risk of pickpocketing and theft, particularly in crowded areas or on public transportation.

Extreme weather conditions: Summers in Cappadocia can be hot, while winters can be quite cold. You should pack accordingly.

Geologic hazards: The unique rock formations that make Cappadocia so famous can be slippery or collapse in poorly maintained areas. Be careful.
Is it safe to walk in Cappadocia at night?
While Cappadocia is generally safe for travelers, I don't recommend walking alone at night. The streets in Cappadocia can be poorly lit, which makes it difficult to see cars or to know where you are.
How many hot air balloon accidents in Cappadocia?
The number of Cappadocia hot air balloon accidents is relatively low, with only nine incidents recorded from 1996 to today out of more than 950,000 hot air balloon flights in the region. This means there's an average of 0.3 hot air balloon accidents per year, which is a low risk.
Where to next?
Want more tips on the beautiful Cappadocia?
Read my Cappadocia travel guide and discover the essential tips to visiting Cappadocia, including where to stay, how to get there and what to do in the region.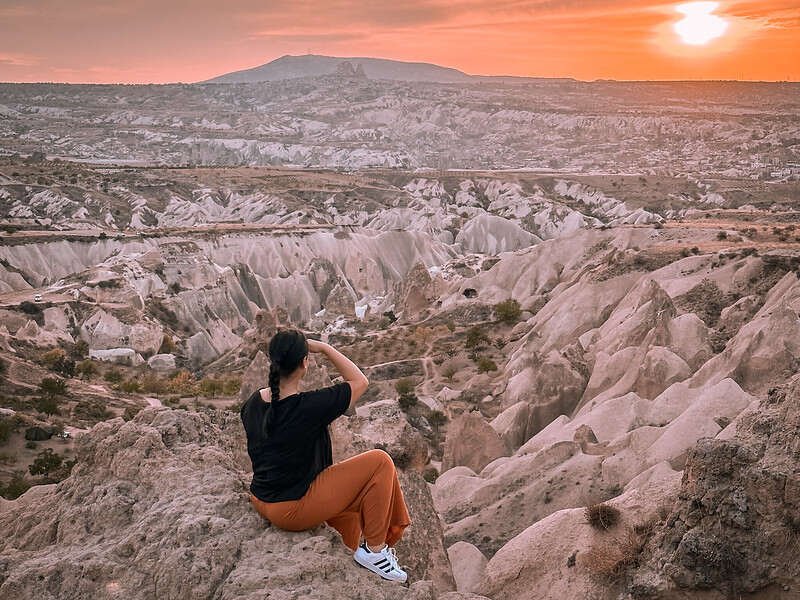 More posts from Cappadocia you might like
Save it!