10 things to do in Bodrum itinerary
Bodrum is a coastal town, known as the unofficial 'Saint Tropez' of Turkey. In the summer months, people flock here from all around the world to enjoy the infinity pools, luxury hotels and the amazing Turkish food.
In this post you'll get the perfect Bodrum itinerary, including where to stay and eat. Whether you're staying for a week or a few days, you'll find sights and fun things to do in Bodrum to keep you busy.
Enjoy!
Read next: The ultimate 7 day Turkey itinerary
This post contains referral links for products I love. Adventurous Miriam earns a small commission at no extra cost to you if you make a purchase through my links. Thank you for your support ♡ Learn more
Bodrum itinerary
What to do in Bodrum?
The perfect Bodrum itinerary includes a few days of sun-drenched relaxation by the pool or the ocean. Stroll through the charming streets and experience the delicious Turkish cuisine. Take a cruise and enjoy the sunset from the Aegean Sea.
You should also spend some time exploring the historical sites in the area, from Roman ruins to the Byzantine castle.
Ephesus – once the capital of Eastern Roman Empire and now a UNESCO site – is just 2.5 hours drive north of Bodrum. You've got lots of wonderful day trips available here!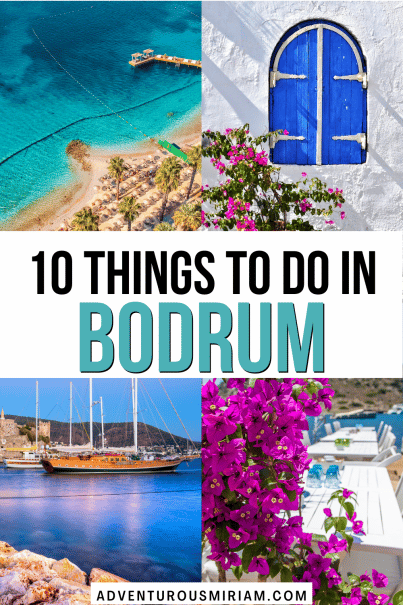 How long to spend in Bodrum?
Bodrum is a small town so you can easily experience Bodrum in one day. However, most people stay here for longer to enjoy the infinity pools and beaches.
I recommend 2-3 days in Bodrum, but you can easily spend a week here and take some day trips, too.
Best time to visit Bodrum
The best time to visit Bodrum is between June and September when the weather is great.
We went in October and almost had the hotel to ourselves, which of course also has its perks. The shoulder months (spring and autumn) offer fewer crowds, so you've got the sights and restaurants more for yourself. Just be aware that some hotels close down during the low season (winter)!
Weather in Bodrum
In Bodrum, the sun shines all year round, much like Costa del Sol in Spain.
The hottest month of the year is July where temperatures range between 20 C and 36 C.
The coolest month is January with an average daily low of 4 C and a maximum of 14 C.
Best time to be on the beach
The best time to visit the beach in Bodrum is from June to October with sea temperatures averaging 23 C or above.
The average water temperature on the coast in Bodrum is 20°C. The minimum water temperature (15°C) is in February and the maximum (26°C) in August.
Winter 17°C
Spring 18°C
Summer 24°C
Autumn 22°C
Map of Bodrum
Use this Bodrum Turkey map to find the sights in this post. Simply press the + or – sign in the right corner of the map.
Where to stay in Bodrum
Bodrum has a wide selection of boutique hotels, all-inclusive resorts, and historic inns, but when you're choosing the best hotel, it really comes down to this: Do you prefer convenience or view?
Hotel with a view: Manastir Hotel (⭐ 8.4) The view from this hotel is amazing (see below photo). On top of that, you get two pools and a restaurant.
Hotel downtown: Su Hotel – Bodrum (⭐ 9.0) If you prefer to stay downtown near the marina, I recommend Su Hotel. It's a charming hotel in the heart of the city, close to restaurants and beaches.
FYI: As mentioned above, some hotels shut down during the off season. We went in October and almost had the hotel to ourselves.
10 Things to do in Bodrum
This Bodrum bucket list brings together 10 of the best things to do in Bodrum, including must-sees, immersive cultural experiences and fun activities.
Here are some of my favourite things to do in Bodrum.
1. The old town
Let's begin with the best on this Bodrum itinerary: the old town.
Bodrum old town is a maze-like enclave brimming with history and culture. The narrow cobblestone streets are filled with local restaurants dishing out delicious Turkish cuisine and bustling souvenir shops offering handmade wares like carpets and jewellery.
Simply take a walk and allow yourself to get lost and discover hidden gems. We found so many beautiful doors and a charming art gallery, just to name a few.
2. The Bodrum bazaars
At the bazaars, you can buy handmade items, typical Turkish souvenirs or delicious street food dishes like dürüm wraps or kokoreç sandwiches with cheese and herbs.
There are several bazaars in Bodrum that you can explore:
3. Bodrum best beaches
Bodrum is a city with many bays and beaches, and the beaches are a main reason for people to visit!
If you visit from June to September, you can spend days swimming, sunbathing, and enjoying delicious seafood dishes right on the beachfront. Many of the beaches have restaurants, cafes and lifeguards onsite.
These are the best beaches in Bodrum:
Bodrum town beach (convenient location and clear water)
Gümbet beach (one of the liveliest)
Bizet beach (popular for its calm water)
Yalıkavak beach (secluded)
Aspat beach (relaxed and luxurious)
4. Mausoleum of Halicarnassus
Next up is the Mausoleum of Halicarnassus, one of the seven wonders of the ancient world.
In ancient times, Bodrum was known as Halicarnassus – the capital of Caria. The Mausoleum was built between 353 and 350 BC for Mausolus, an Anatolian from Caria.
It was probably destroyed by an earthquake between the 11th and the 15th century, so today only ruins remain.
5. Watch the sunrise or sunset at the windmills
The best view of Bodrum is found at the site of the windmills. While they're in pretty bad shape, you will not be disappointed by the views of Bodrum, Gumbet and even Kos that can be seen from the hilltop.
Go here in the morning or the evening for sunrise/sunset. It's really beautiful!
6. Enjoy the nightlife in Bodrum
Bodrum is a vibrant destination, particularly when it comes to nightlife.
On Cumhuriyet Street, you can experience all kinds of lighting and sound shows. There are also foam and dance shows if you're into that.
Nightlife in Bodrum is energetic, exciting and different from other places, which makes it a must-see if you're looking for a night out.
7. Go sailing in Bodrum, Turkey
With its clear turquoise waters and vibrant Mediterranean sunsets, Bodrum is the perfect place to sail along the coast and explore nearby islands, coves, and bays.
Bodrum sailing itinerary
Popular sailing routes include paradise-like Greek Islands like Kos, Symi, and Rhodes plus making a boat trip to Marmaris. Most people like to swim or visit small seaside villages or islands. You can also go diving or snorkeling.
Prices for sailing vary depending on what type of boat and equipment you rent, but is typically quite affordable. You'll pay around $27 for a full day island trip or $37 for a pirate boat cruise.
8. Bodrum castle
Bodrum Castle is one of Bodrum's most iconic landmarks.
Also known as the Castle of St. Peter, it was built as a fortification by the Knights Hospitaller during the 15th century. It was later added to and modified by various powers including the Ottomans.
The castle encloses a variety of structures such as a museum and several impressive artefacts from both medieval and modern eras. Go take a look, it's a fascinating site.
9. Bodrum amphitheatre
Dating back to the 4th century BC, this quaint amphitheater is a true gem from Roman times. Although it's relatively small in size compared to the one in Rome or Pula, you'll be rewarded with its remarkable views.
Go to the upper levels to see the panoramic views of the mountains and sea!
10. Go scuba diving
Bodrum is a mecca for diving due to the pristine and vibrant underwater environment.
Whether you're looking for an array of marine life or sunken relics, the Aegean Sea off the coast offers plenty of opportunities to explore.
You can experience shipwrecks like the SG 115, an old Coast Guard boat that sank in 2007, and the C-47 Dakota, a retired Turkish Air Force plane that crash-landed in 2008 by BOSAD as well as an artificial reef by its side.
Also worth checking out is the Pınar 1, a water tanker from the Navy Coastguard fleet which was sunk in May 2007 by BOSAD.
Where to eat in Bodrum
And now to the best tip of the day: where to taste the best turkish food.
We were so lucky to discover the amazing Artemis restaurant on our first day in Bodrum. Everything – from the service to the food was excellent!
Try the savory kebabs, pide pizzas and delicious mezze platters. You won't be disappointed!
We also loved the Hane Ocakbaşı kebab salonu in Gumbet. The power went off the night we visited, so they decorated with candles and we had such an fun experience. Loved the people there!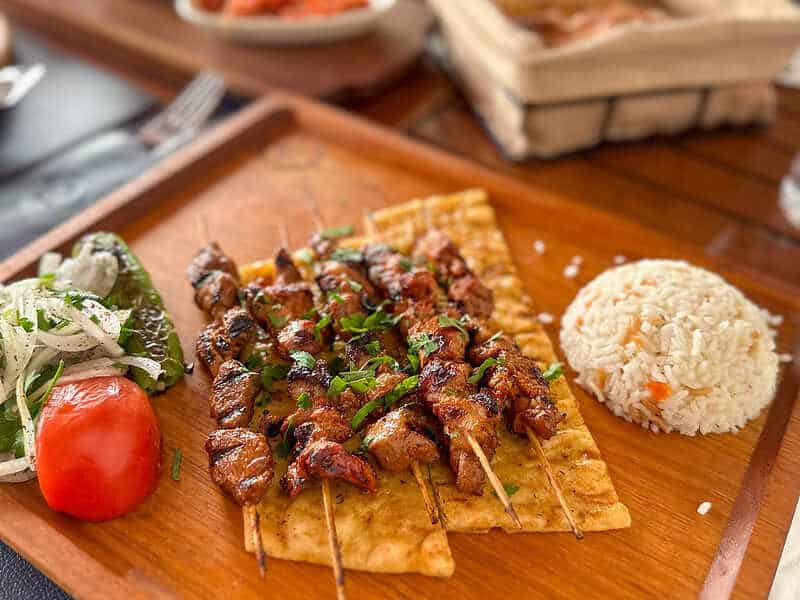 More posts from Turkey you'll love