How to spend amazing 3 days in Istanbul (itinerary 2023)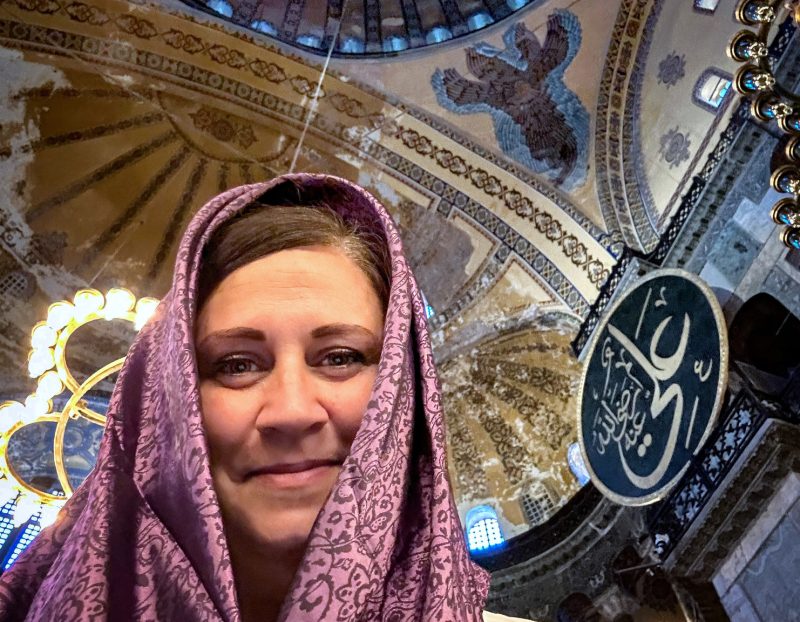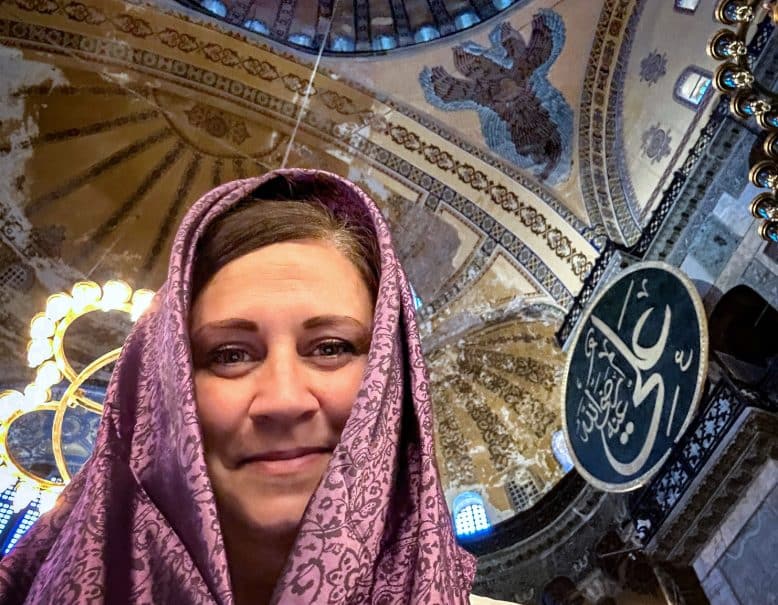 Wondering how to spend 3 days in Istanbul? You've come to the right place.
A month ago, I went to Istanbul with one of my best friends and my oldest son, Theo. He's 5. Before coming to Istanbul, we'd been to Cappadocia, Pamukkale and Bodrum, and to say that Istanbul was a change of scenery is to put it mildly.
Istanbul is a city of contrasts, not just one that combines two continents, but also the modern and historic era. As charming and fairy-tale-like it is, just as chaotic, raw and relentless it is, too.
A myriad of cars, vendors, tourists and maze-like streets, the smell of the salty sea and the spices, calls to prayer ringing in the air, the mosques, one prettier than the other. That's what makes Istanbul unique.
In this Istanbul itinerary, you'll see all of the best attractions when you visit this bewildering, overwhelming and intriguing metropolis.
Let's dig in.
Read next: The ultimate 7 day Turkey itinerary
This post contains referral links for products I love. Adventurous Miriam earns a small commission at no extra cost to you if you make a purchase through my links. Thank you for your support ♡ Learn more
Is 3 days in Istanbul enough?
So, you might be wondering – how many days in Istanbul is enough?
And it's a valid question.
Personally, I think you could spend a week or two here and still not be done. The size of the city will surprise you. With 15 million inhabitants spread across three peninsulas and two continents, Istanbul is not only one of the world's most populated cities but also the largest city in Europe.
While most of the major attractions are located in Sultanahmet, like the Blue Mosque and Hagia Sophia, there are still a lot of highlights where you need a taxi or public transportation to get to.
For that reason, you need at least 3 days in Istanbul if you want to experience the highlights and get a real sense of the city. 
Read next: 18 magical things to do in Istanbul in winter
3 day Istanbul itinerary
Visiting Istanbul in 3 days gives you time to visit the highlights:
Day 1: S

ultanahmet and The Grand Bazaar

Day 2: Ortaköy, Taksim, Galata, the Golden Horn and Kadiköy
Day 3: The Spice Bazaar,

Rustem Pasha mosque,

Fener and Balat, Bosphorus sunset cruise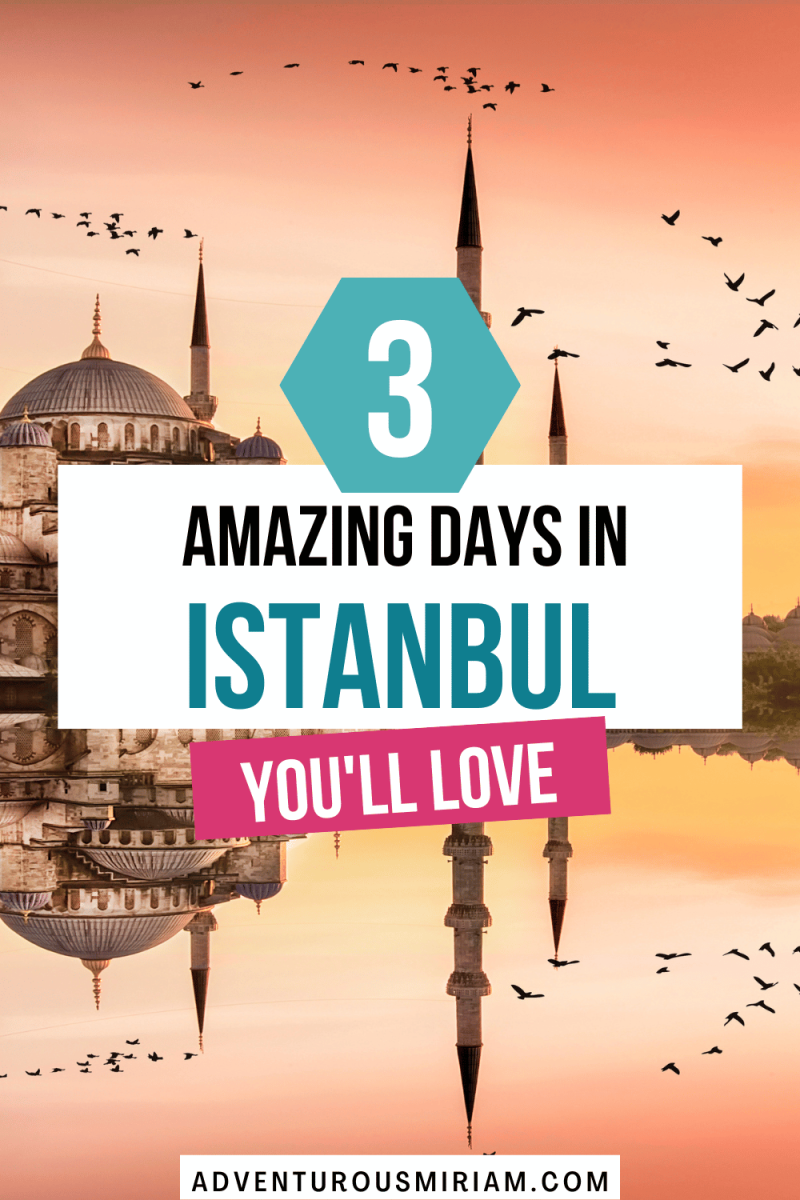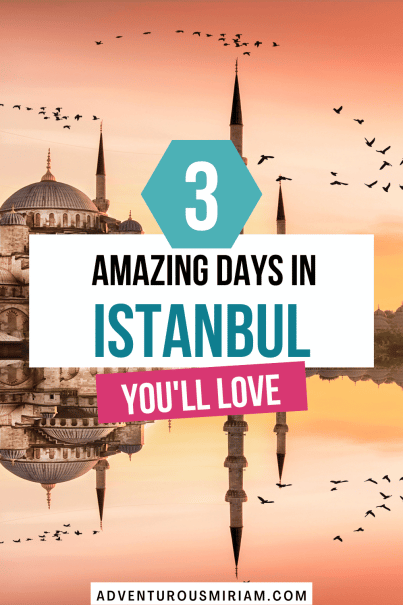 Where to stay in Istanbul
If you're visiting for the first time, the best place to stay is Sultanahmet. This area is home to the main landmarks of Istanbul, such as the Hagia Sophia, the Blue Mosque, Topkapi Palace, Basilica Cistern, and more. Plus, it's quite atmospheric, although also crowded.
Best neighbourhood in Istanbul for first timers: Sultanahmet
Top areas in Istanbul for luxury: Taksim and Beşiktaş
Best place in Istanbul for families: Taksim
Where to stay in Istanbul for budget travelers: Karaköy
Best areas in Istanbul for nightlife: Taksim and Beşiktaş
Budget: The Million Stone Hotel (⭐ 8.8) – Located next to Hagia Sophia, this hotel is right in the heart of Istanbul. It's got palace-like interior, a sauna and modern facilities, which is a treat at that price!
Mid-range: Henna Hotel (⭐ 9.5) – This hotel is 600 m from Hagia Sophia and has a nice garden and beautiful view from the top. There's also room service and a restaurant at the hotel.
Boutique: Hotel Amira Istanbul (⭐ 9.4) – A lounge terrace with sweeping Sea of Marmara views and a modern Baroque décor is what you'll experience at this boutique hotel. Located in the Sultanahmet district (my favourite part of Istanbul), you'll be well positioned to explore the main attractions.
Luxury: Four Seasons Hotel Istanbul at Sultanahmet (⭐ 9.6) – Decorated in a Turkish theme with neoclassical details, you can relax and rewind at this luxury hotel in the heart of Istanbul. You'll find a beautiful view of the Old City from the rooftop lounge.
Where to eat in Istanbul
Eminonu and Karakoy are the places where you can find the best local Turkish restaurants in Istanbul. Located at the two ends of the Galata Bridge, you can easily visit both these areas from places like Sultanahmet and Taksim.
These are a few of my favourite restaurants where you can try traditional Turkish dishes:
Kasap Osman (in Sirkeci) – try the doner kebab
Namli Rumeli Koftecisi (in Sultanahmet) – go for the kofte
Yanyali Fehmi Lokantasi (in Kadikoy) – try the Yanyali meatball
Bitlisli (Sultanahmet) – try the lahmacin, a thin, crispy pizza
Read next: 20 best Turkish food: What to eat in Istanbul
Tip for visiting mosques
The mosque doors close three times a day for a period of 90 minutes for prayer, and visitors are not allowed to enter during this period. Prayer times change throughout the year – check times here.
Dress code: This is an active place of worship. You're required to cover upper arms and legs, and women need to wear a headscarf before entering. Shoes are taken off before entering the prayer hall.
You can borrow headscarfs and clothing at the entrance, but chances are that you'll be visiting more than one mosque during your stay, so you're better off bringing your own scarf or investing in one. They're for sale at $5 in small shops around the Hagia Sophia.
Read next: 12 most famous mosques in Istanbul you should visit now
Things to see in Istanbul in 3 days
Day 1: Sultanahmet and the Great Bazaar
Day 1 in Istanbul is about the must-see sights in the historic neighbourhoods: sights like The Hagia Sophia, the Blue Mosque and many more.
Most of these attractions are located right next to each other, so you can basically visit in whichever order you prefer. Just be aware of prayer times as no entry is allowed during those periods.
Hagia Sophia
Let's begin with the one unmissable sight in Istanbul: The Hagia Sophia. This is the most stunning and magical attraction in Istanbul, it's like a time capsule, which explains the extensive line you'll see outside. 
It has quite a history. Consecrated in 537, converted to a mosque in 1453, declared a museum in 1935, and reconverted into a working mosque in 2020 – the changing status of Hagia Sophia mirrors the history of Istanbul.
Inside, you'll find a plethora of mosaics, glittering gold details and glorious architecture.
Visiting the 1500 year old building on your own will give you some insight, but if you're looking for in-depth knowledge about the history and interior details, you'd be better off with a guided tour. Some of the tours come with skip-the-line access, which is a huge bonus because the line is looooong.
Opening hours: Open 24 hours (The most popular time to visit is between 9am and 11.30am. The crowds and queuing lessens after 5pm.)
Free entry
Read next: Hagia Sophia entrance fee & hours – all you should know
Topkapi Palace & Harem
Next to Hagia Sophia lies the Topkapi Palace. A series of mad sultans, beautiful concubines and scheming eunuchs lived and worked here between 1463 and 1830 when it was the court of the Ottoman empire.
Now, don't make the same mistake I did and think this will be a quick stop. The palace is enormous and there are crowds beyond your imagination here.
You need at least two-three hours at Topkapi, including standing in line. The Harem costs extra to visit, but it's the highlight so make sure to visit!
Opening hours: 9am-6.45pm Wed-Mon Apr-Sep. 9am-4.45pm Oct-Mar.
Price: Adult/child under 8yr $18/free. Harem adult/child under 6yr $5.5/free
Book tickets online with skip-the-line access and guide
Blue Mosque
The Blue mosque is perhaps the most photographed building in Istanbul, and with its cascade of domes, six slender minarets and the blue İznik tiles, it's easy to see why.
The Blue mosque has been closed for renovation for the past year and won't be fully open until at least another year (2024).
I was very pleased to find out that you can actually visit a small section of the mosque now to get a glimpse of the thousands of blue tiles that give name to the mosque.
As with Hagia Sophia, be mindful of prayer times, as it's not permitted to enter during that period.
Opening hours: From 09:00am to 18:00pm every day except Fridays
Free entry
Book a guided trip to the Blue mosque and Hagia Sophia
Basilica Cistern
Built with 336 columns in 532, the Basilica Cistern is the largest surviving Byzantine cistern in Istanbul. It was originally designed to service the Great Palace, but when the Byzantine emperors relocated from the palace, the cistern was forgotten and not opened up to the public until 1987.
Lurking underneath the city, the Basilica Cistern is a fascinating highlight among the many mosques you'll inevitably visit in Istanbul.
Tip: Don't miss the lightshow. It adds a dungeon-like atmosphere, taken straight out of Game of Thrones. Also, be prepared for the high humidity underground.
Opening hours: From 9am-5.30pm Nov–mid-Apr, to 6.30pm mid-Apr–Oct
Price: Adult/child under 8yr ₺20/free
Buy tickets online to avoid the long lines.
Süleymaniye mosque
Perched atop one of Istanbul's seven hills, the Süleymaniye mosque and its cemetery is nothing short of a masterpiece. Make sure to walk around the mosque to get the full experience of the exterior and not least the beautiful views of the Golden Horn.
Grand Bazaar
With more than 4.000 stalls and 61 covered streets you can expect no shortage of food, lamps, spices, handicrafts, bags and much, much more at the Grand Bazaar. Built in 1455, it's regarded as one of the first shopping malls in the world and also one of the largest and oldest indoor markets.
If you're looking for a souvenir or a gift, this is the place to go. I bought Theo's schoolbag at a third of the price I would pay for it in Denmark. You can find so many different things here!
Don't forget to haggle!
Opening hours: From 10am to 6pm daily
Nuruosmaniye mosque
Ready for a UNESCO sight? Well, almost anyway. It's on the tentative list.
The Nuruosmaniye mosque was built around 1748 and it's a beautiful example of the Ottoman style and architecture. The dome is one of the largest in Istanbul – the prayer hall of the mosque is completely covered with the dome. The unique polygonal rear courtyard is also breathtaking, so if you arrive during prayer time, you can spend time exploring and admiring the exterior.
Opening hours: From 9am-6pm daily, but closed at prayer times
Day 2: Ortaköy, Taksim, Galata & the Golden Horn
It's your second day in Istanbul, which means it's time to cross the bridge and explore the other side of the Golden Horn – the so-called modern center of Istanbul.
Ortaköy mosque
Get an early start at the Ortaköy mosque. Ortaköy is one of the most popular mosques in Istanbul because it's located next to the waterfront with the Bosphorus bridge in the background, which is particularly beautiful at sunrise. I recommend walking from Ortakoy to Bebek – it's the most stunning route to walk along the Bosphorus where you can watch fishermen and the architecture.
Opening hours: From 09:00am-18:30pm.
Taksim
Probably the most touristy and popular place in Istanbul, but it's also (and because of it) packed with places to eat, drink, shop and party. On Istiklal Street, a long, elegant, pedestrian, shopping street, you will find loads of restaurants. Don't miss having an izlak burger or a döner kebab.
Read next: The ultimate Istanbul Cappadocia Pamukkale itinerary
Galata Tower
Originally a watch tower built in 1348 under the rule of the Byzantine Empire, the Galata tower is one of the main attractions in Istanbul. At 63 meters above the ground, it was the tallest tower back then and served as part of Constantinople's fortification.
It's still a watch tower today offering the best panoramic views of Istanbul. And you know what? It's got an elevator. Huge bonus if you just climbed the steep hill from Galata bridge, like yours truly did.
Opening hours: From 08:30am-11pm daily
Cost: $9.5
The Golden Horn
When you're done admiring the view from the Galata tower, head down to Galata bridge, which connects the modern centre of Istanbul with its historic centre. The bridge spans across the Golden Horn, where you'll find fishermen lined up with their fishing poles in hand.
Kadiköy (Asian side)
While it's not possible to see all of Istanbul in 3 days, you should try to visit both the European and Asian side. Kadiköy is located on the Asian side, and a ferry ride will take you there in no time. Fun experiences in Kadiköy include shopping, visiting a Turkish hamman (try the Aziziye Hamam) or enjoying some great street food.
You can get to Kadiköy from Karakoy, which is very close to the Galata Bridge. Ferries depart every 20 minutes from the Karakoy-Kadiköy ferry port. You can also take the ferry from Eminonu, which is close to the Spice Bazaar. Look for the Eminonu-Kadiköy ferry port, it departs every 20 minutes.
Day 3: The Spice bazaar, Rustem Pasha mosque, Fener and Balat, Bosphorus sunset cruise
Your third day in Istanbul is all about spices, scents and colours on the European side. These are some of the best places to visit in Istanbul in 3 days.
The Spice bazaar (the Egyptian bazaar)
Start the day at the Spice bazaar. Even before you enter, you'll be overwhelmed by the different scents of spices. An exotic mix of tea, herbs and spices create a unique aroma, which is perhaps the most striking feature of the Spice bazaar.
Built in the 17th century, it's much newer than the Grand bazaar. The interior is more modern and the vendors are friendlier and more outgoing, although I have to say that vendors at the Grand bazaar were nice, too. Not pushy at all, which is often seen at market places.
You'll notice that many of the shop owners will offer you a cup of tea or a spice tasting. Don't be afraid to accept – it's a free sample with no strings attached. You might get tempted to buy some, though – I ended up buying a cajun spice, which tastes amazing with potatoes and chicken.
Opening hours: 10am to 6pm
Rustem Pasha mosque
Right next to the Spice Bazaar is the beautiful Rustem Pasha mosque. It's such a small mosque that I guarantee you probably wouldn't even notice it if you weren't looking for it specifically. You enter through a small doorway, head up the stairs and there it is. We used Google Maps, and I recommend you do the same. Find the location here.
Opening hours: From 9am-6.30pm daily
Fener and Balat
Next up is the two most beautiful neighbourhoods in Istanbul: Fener and Balat. More of less intertwined, the former Greek neighbourhood Fener and the nearby old Jewish quarter Balat, are worth visiting for one single reason: the colours.
The antique shops and houses are painted in bright colours, so if you're looking for great photo ops, this is a must-visit.
We spent 1-2 hours wandering around the areas, but did loose our way a few times trying to locate some of the most iconic buildings that put the neighborhoods on the UNESCO world heritage list. To learn the story of the region and avoid getting lost, go for a guided tour.
Bosphorus sunset cruise
Your 3 days in istanbul itinerary won't be complete without experiencing a Bosphorus sunset cruise. This cruise takes you on a 2.5 hour boat ride around the Bosphorus Strait to see some of Istanbul's main attractions such as Dolmabahçe Palace, Galata Tower.
Spending 3 days in Istanbul? Ask me anything
Don't miss these posts about Turkey