Like most people with a resourceful imagination, I pictured Transylvania filled with dark mountains, creepy castles and forests crawling with menacing werewolves and flapping bats. But now I know… the real Transylvania doesn't exactly send a chill down the spine.
Read next: The Ultimate Romania Travel Guide
Transylvania is more like a fairy tale land. An unspoilt landscape of lush pastures and wildflower meadows, where shepherds tend their flocks and villagers make hay stacks in the sunshine. And people there are quite tanned. Not pale-faced and pointy toothed.
SO, NO VAMPIRES?
Nope, Transylvania is not so much dark, moody vampire territory. But it is linked with fearsome history of devilish vampires and the most famous bloodsucker of all: Dracula. His fictional character was based on the very real Vlad III, also known as Vlad the Impaler →
I introduced you in this post, but I believe good old Vlad deserves a quick refresh.
Vlad III earned his nickname through his preferred method of dispatching his enemies. He liked to tie victims up then hammer a stake through the poor soul's rectum as far as the shoulder. And they lived for days this way.
The region has a long history of myths and supernatural tales. But Romania has held back on promoting Dracula, which you can hardly hold against them since there is no proof that a) Dracula ever existed, and b) vampires ever occupied the area.
Also, although Vlad III and Dracula by many are seen as one and the same, they're not. Dracula is a blood-sucking character made up by Bram Stoker. And Vlad is revered in Transylvania, not as a bloodthirsty vampire, but as a national hero who fought for independence against the Ottoman Empire. So naturally not everyone is thrilled with Transylvania's vampire reputation.
There are vampire stalls and various other promotions around Transylvania. But to be totally transparent, I missed a few more fangs and Dracula themed organ music in D minor here and there. I see a huge potential in vampire tourism and think it could benefit not only to the tourism in the region, but to Romania's economy in general.
CREEPY CASTLES
Dracula may not be alive and biting in Transylvania, but there are plenty of creepy castles where you can imagine the old count flapping his cape and laughing in sinister fashion.
The 14th century Bran Castle – touted as Dracula's Castle – is located just an hour from Brasov. And Bran is just one of the stunning castles in Transylvania – the more impressive ones include Corvin Castle and Peles Castle.
AND CHARMING MEDIEVAL TOWNS
When it comes to castles and charming medieval cities, Transylvania has it going on. See, in the 12th century, the region was inhabited by Saxons from northwestern Europe. They built seven major walled towns in Transylvania and they have been very well kept to this day.
1. Bistrita (Bistritz)
Bistrita is one of the oldest in the region, and it's located close to the Borgo Pass. Its old town is dotted with quaint medieval houses, a 14th century Saxon Evangelical Church and a city wall.
2. Brasov (Kronstadt)
Besides its iconic Hollywood sign and other historical attractions, Brasov also has the impressive Black Church, which is the largest Gothic church east of Vienna.
3. Cluj-Napoca (Klausenburg)
The ancient Cluj-Napoca dates back to the 2nd century A.D. and is easily recognised by its 15th century St. Michael's Church. It's a cultural city with arts, museums and opera.
4. Medias (Mediasch)
The charm of Medias comes from the narrow winding lanes, centuries-old houses and a large pedestrian square. Vlad the Impaler was imprisoned here at one point (1467).
5. Sebes (Mühlbach)
Sebes, lined with colorful high-roofed 18th and 19th century houses, has preserved its medieval feel. City highlights include the Evangelical church, Sebes Fortress and the Tailor's Tower.
6. Sibiu (Hermannstadt)
Rich in history and sights, Sibiu was designated European Capital of Culture in 2007. And the houses there have eyes! It's simply a must if you're in Transylvania.
7. Sighisoara (Schassburg)
Sighisoara is a 15th century gem with nine towers, narrow passageways and beautiful cobbled streets. A UNESCO World Heritage Site, Sighisoara is also the birthplace of Vlad the Impaler.
ROAD TRIP THOUGH DRACULA'S HOMELAND
Itinerary: 4-5 days to see the major sights and cities
Transylvania is nearly three times the size of Wales and it's perfect for a road trip. Roads are generally in good shape, but you have to be careful in traffic and on mountain roads.
A popular road to take is the Transfăgărășan Road, which stretches some 130 kilometres and connects the historic regions of Transylvania and Wallachia. Similar to Vrsic Pass in Slovenia and Trollstigen in Norway, it's steep and filled with hairpin bends so you need to focus (and not look out the window although it will be difficult not to).
IT'S LIKE STEPPING BACK IN TIME
One of the things that amazed me the most about Transylvania is how diverse it is. You can find the most developed cities there, like Brasov or Sibiu. But if you drive 10 minutes into the countryside, you'll pass old villages where people live as they did a hundred years ago.
There are peasants moving hay on horse-drawn wagons, giant stork nests atop lamp posts, shawled wives, Roma men with big hats and grandmas still sweeping the streets with their brooms. If you are looking for the off-the-beaten-path experience, this is it.
UNSPOILT MEDIEVAL LANDSCAPE
It's a beautiful sight driving through Transylvania's landscape, with its flower-filled hay meadows and rural scenes.
Transylvania has four national parks. And although no werewolves (just wolves) and no vampire bats (more like small, harmless church bats) are found here, 60% of all wild brown bears in Europe live in Romania. You might be lucky to see a wild one.
PORK IS KING
Romanian food is surprisingly tasty and specialities included fried dough with sweet cheese, pork aspic and a flavoured bean paste with smoked meat. As far as I experienced, pork rules although poultry and sausage is popular, too.
YOUR GUIDE TO TRANSYLVANIA
How to get around
As mentioned earlier, Transylvania is perfect for a road trip, but it's easy to take the train as well. It takes time though, so the fastest way to get around without driving yourself is by mini bus. Most big cities have a shuttle service between the bigger cities.
When to visit
March to November is best for road-tripping. Colors are more intense in autumn. December to March is ski-season.
Top tip for a road trip
Bring a map or GPS if you're driving. Signs are few and far between.
Where to find Dracula themed hotels
Dracula Castle, located 5 km from the Borgo Pass, which was the inspiration for Bram Stoker's Dracula Castle. It has bathrooms created from stone grottoes and a medieval banqueting hall with skeletons and skulls.
Another entertaining hotel, the House of Dracula, is located between Brasov and Rasnov. This ornate castle-like building is backed by forests and also close to Bran Castle.
Bran Castle – In 2016, Airbnb offered two brave souls a night in Dracula's Castle for Halloween. Stay tuned, maybe they'll host another contest in 2017!
Good reads and movies
Bram Stokers "Dracula", "Van Helsing", "Hotel Transylvania" and "Dracula Untold", which is a personal favorite.
Good to know
Eating out is quite cheap. A decent meal for two is around $18, and local beer is about $1.50 in a bar.
A MAP OF THINGS TO DO IN TRANSYLVANIA
Below is a map of the top places to visit in Transylvania. To use the map, simply click on the pins to see which city they mark. You zoom with the + and – sign in the right corner.
Have you been to Transylvania? Would you go?
Pin to Pinterest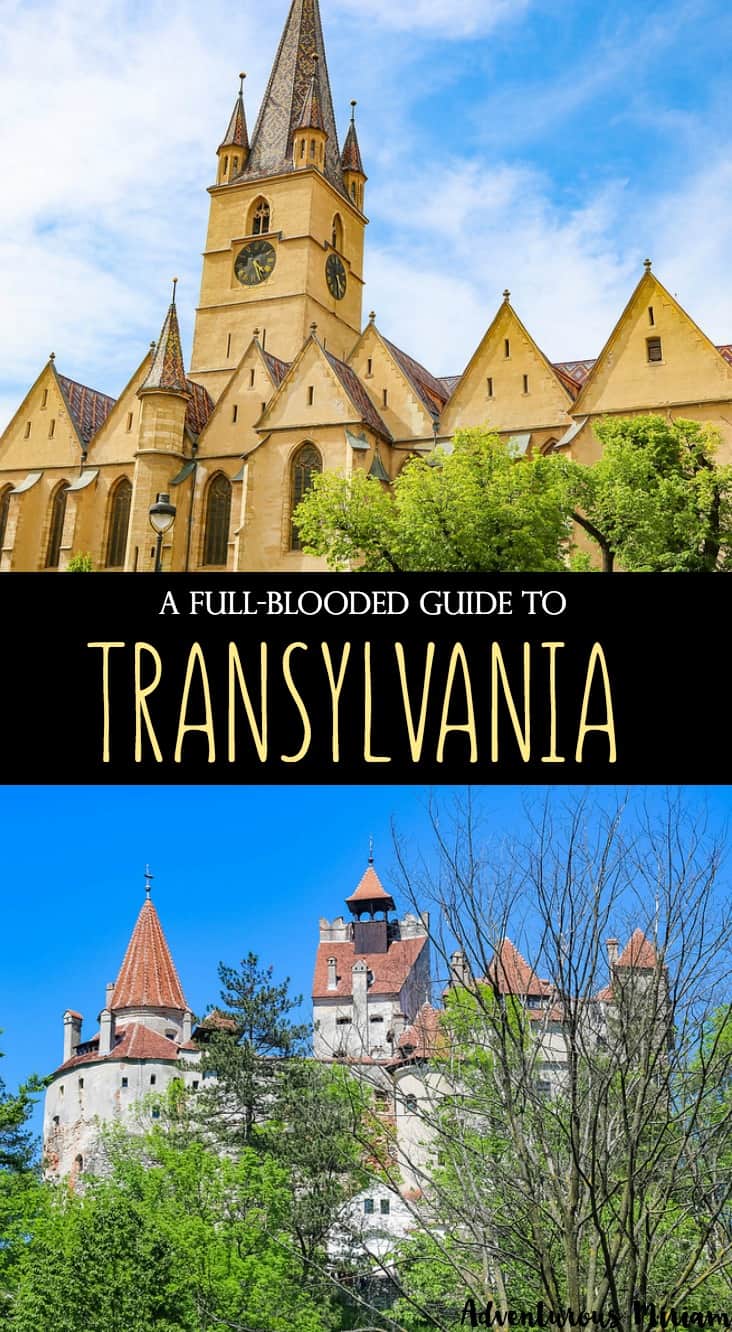 Psst! This post probably contains affiliate links, which means I earn a commission (at no extra cost to you) if you click through and make a purchase. As always, I only recommend products and services I trust.