Playa Tamarindo, Costa Rica – Everything you need to know
On the west side of Costa Rica lies a beautiful little town called Tamarindo. The main draw here is the beach, Playa Tamarindo, which stretches along Costa Rica's Pacific coast with beautiful green mountains in the background. Add to the fact that the town is close to Liberia airport (about 1 hour drive), and you'll get why it's such a popular place.
In this post, I'll introduce you to Playa Tamarindo with everything you need to know, including things to do in Tamarindo, where to stay, best restaurants and basic safety tips.
Read next: What to pack for Costa Rica – MUST-HAVE essentials
This post contains referral links for products I love. Adventurous Miriam earns a small commission at no extra cost to you if you make a purchase through my links. Thank you for your support ♡ Learn more
Introduction to Playa Tamarindo (Map)
The little town in the Guanacaste Province is one of the most popular go-to places in Costa Rica. Tamarindo is known for surfing, diving, and great sunsets, but the leatherback turtles are also a main draw. They nest along the beaches from October to May, and it's a unique thing to witness.
Tamarindo beach
Tamarindo beach stretches about 2.5 km from one end to the other. Most of the beach is great for swimming, surfing and tanning, but the most popular part is the north in front of Witch's Rock Surf Camp.
The beach in Tamarindo has a rather special vibe. You've got the regular backpacker or traveler, the surfers, and then there are the people who like to flex their muscles. It might have changed since I was there, but I didn't find it as chilled as, say Koh Tao in Thailand. In general, I got the impression that people care a great deal about their looks and health in Costa Rica. And Tamarindo was case in point.
Tamarindo surfing
Great weaves are the reason why surfers, and beginners in particular, flock to Tamarindo. There's a large selection of surf camps and plenty of surf spots, where you can learn how to catch the perfect wave and have a fun time.
Vendors and mariachi
Like so many other beaches, the beach in Tamarindo is also overrun with vendors trying to sell you anything from ice cream to bags and tiny toy animals. This is one of the annoying things about touristy beaches, but it is what it is.
A more upbeat thing you might encounter is Mariachi singers. I know, it's a cliché. But during my entire time in Mexico, I didn't see a single band, and then I come to Costa Rica and find them at the beach. What a coincidence.
Tamarindo sunsets
You'll find the most beautiful sunsets in Playa Tamarindo. I've seen many sunsets in my life. So far the most fabulous ones have been in The Philippines, but the sunsets in Costa Rica certainly aren't too shabby either. The saying in this country is pura vida (pure life), and that's exactly what watching these sunsets were like.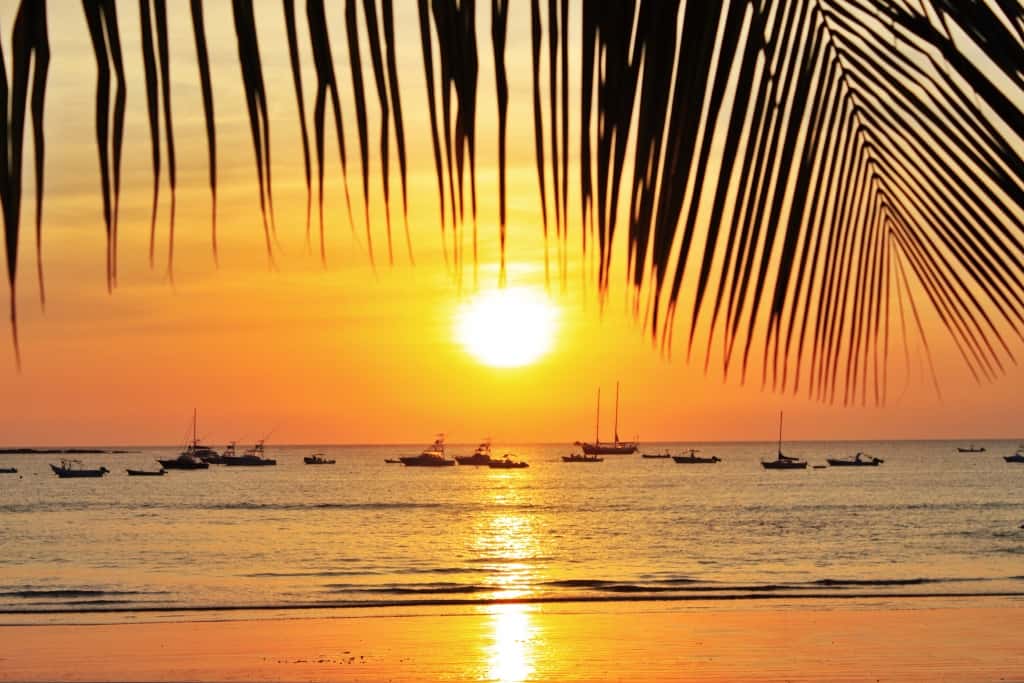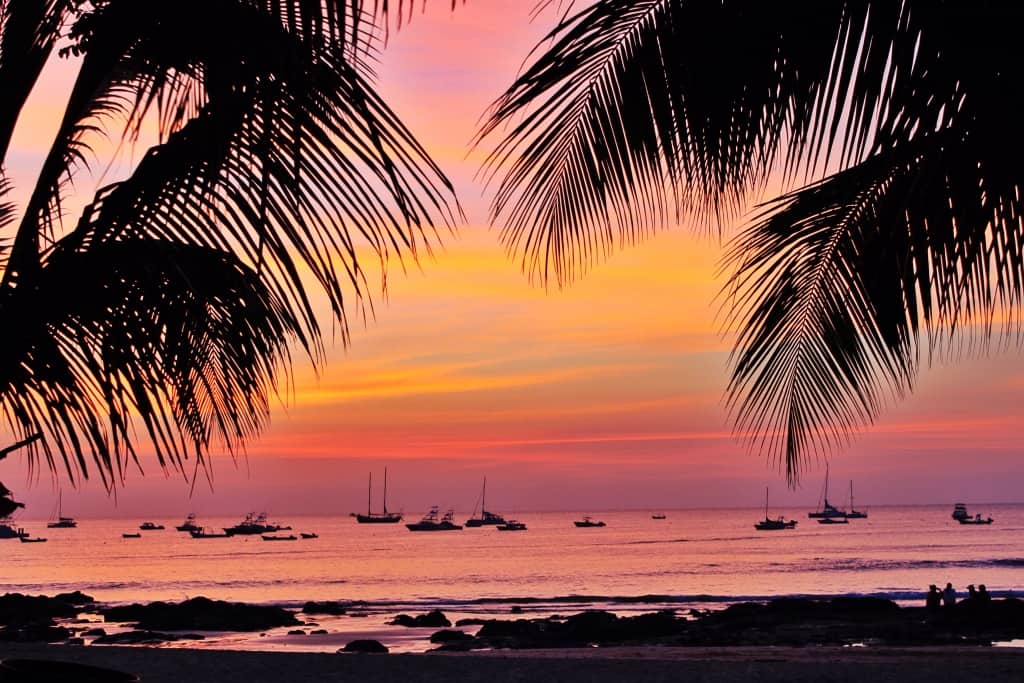 The Town
Tamarindo town is fairly small, and everything is within walking distance or a short bicycle ride away. There's one main road leading into town and along the beach. On that road, you'll find lots of restaurants, hotels and surf schools & shops. In the area, there are other side roads with residential buildings, but you'll probably want to spend your time along the main road.
Is Tamarindo Costa Rica safe?
Is it safe to swim in Tamarindo?
For the most part, swimming is safe, but you have to be careful of currents. Check the riptides before you go in the water (or ask the locals) and ask someone on the beach to look out for you. Some days there is hardly any undertow, other days it can be strong. It's safest to swim at the south end, from Langosta Beach Club south to Capitan Suizo hotel because it's sheltered by an island. Recently, a lifeguard station has been established at the north end of the beach to assist swimmers and surfers.
Are there shark attacks in Costa Rica?
There are different species of sharks in Costa Rica, but chances of being attacked by a shark are very low. You can always take some safety precautions, like:
Avoid swimming at dusk, dawn or night
Avoid entering the ocean with a bleeding wound
Do not surf, dive or swim alone
And if you're worried about Great White sharks, don't be. They tend to stay in cooler water than what we find in the tropical waters of Costa Rica's Pacific and Caribbean coastlines. So, you will not likely see the Great White Shark while visiting Costa Rica.
Are there crocodiles in Costa Rica?
Once in a while a crocodile does stray into public beach areas. But while there have been a few encounters in recent years, you have to keep the risk in perspective. The biggest risk on Playa Tamarindo (or any surf beach) is still the currents.
Things to do in Tamarindo, Costa Rica
Surfing
Surfing is big in Tamarindo, so if it's something you'd like to learn, this is the perfect place. Competition keeps prices low, and the weaves are ideal for beginners.
Advanced surfers can find more challenging surf spots at Playa Grande (north) or Playas Avellanas or Langosta to the south. Some of the best surf clubs are Banana Surf Club and Witch's Rock Surf Camp.
Fishing
If fishing is your thing, you've also come to the right place. The nearby and highly active fishing grounds offer year-round action with Tuna, Marlin, Snapper, Roosterfish and much more.
Leatherback turtle nesting
The season for leatherback turtle nesting runs from October 20 – February 15. If you're visiting during that time, you can arrange a night tour at Las Baulas National Marine Park for the rare opportunity to watch some of the turtles lay their eggs.
The total number of visitors is restricted to 30 persons per turtles, so you need to make a reservation in advance (8 days prior at the latest).
Sunset sailing
One way to enjoy the sunsets is from the shore with a beer in hand. Another is aboard a custom-built 66-foot catamaran. On one of these tours, you'll cruise along the coast, while enjoying an open bar with drinks, snacks and a light meal. You'll also stop at a secluded beach to swim. Book through GetYourGuide here: Sunset Sailing and Snorkeling Tour
Beaches in Guanacaste
Guanacaste is home to a spectacular variety of beaches. There's almost 300 on the Pacific side alone! You can spend days exploring the coast and finding secret beaches that you can have all to yourself! The best beaches in Guanacaste are:
Conchal beach (shell beach, although many of them are gone now)
Flamingo beach (beautiful sand beach)
Playa Avellanas (huge waves – great for surfing)
Playa Grande (great for surfing)
Playas del Coco (family friendly)
Samara (family friendly)
Playa Negra (black sand beach)
Going out
There's something for everyone when it comes to nightlife in Tamarindo. If you're looking for a cosy night out with healthy, organic food and drinks in a nice ambience, try El Mercadito. For a more fun and active night, try Sharky's (sports bar) or Pacifico Bar (Reggae Nights on Thursdays and Wild Nights on Saturdays are great).
Note: Going out in Tamarindo doesn't really start until 10 p.m. or 11 p.m.
Tamarindo Costa Rica weather
Best time to visit: November – December
The rainy season runs from May to November, while the dry season is from December to April. The hottest months are March and April with temperatures around 30-35 C, and the rainiest months are September, October and November.
I recommend visiting in the shoulder season, from Nov-Dec, when everything is still lush and green. Plus, it won't be overrun with tourists just yet.
Where to stay
You have lots of great options when it comes to places to stay in Tamarindo. Whether you prefer a hotel, hostel or an apartment.
Capitan Suizo is a popular luxury hotel in the south end of Tamarindo. This beachfront hotel has an outdoor pool, spa facilities and massage. It's rustic and such a lovely place. Click here to find the latest prices: booking.com
Hotel In the Shade is a mid-range hotel, also close to the beach. You've got room service, two restaurants and pool, and a grocery store just 3 mins walk away. It's for adults only, so perfect for couples and solo travelers. Click here to find the latest prices: booking.com
♥ If you decide to stay at an apartment, you can easily cook your own food. There are several supermarkets in town, including the local Super Combo, which has decent prices.
Best restaurants in Tamarindo
These are the top-notch restaurants in Tamarindo, and there's something for every taste bud and budget:
Surf Shack (burgers)
El Casado del Carro (Costa Rican)
Green Papaya (Mexican)
La Bodega (breakfast)
Seasons by Shlomy (Israeli)
Nordico Coffee House (A Danish/Guatemalan couple)
How to get to Tamarindo
By bus
Getting to Tamarindo by bus is easy and convenient. The bus from Liberia to Tamarindo leaves from the Mercado Municipal at 7, 8, 10, 11, 1PM, 2PM, 4PM, 5PM and 6 PM daily. It takes 1.5 hours and costs $3. The San José bus to Tamarindo leaves twice a day from Calle 14, Ave. 5 at 11 and 3:30. The trip takes 5.5 hours and costs $10.
By air
Tamarindo has a domestic airport, and you can fly in from both San José and Liberia. The most popular route though is to fly into Liberia and arrange transport from there. Tamarindo is only an hour's drive from Liberia International Airport.
By shuttle
From Liberia airport, you can take a one-way shuttle for $30 (min two people). From San José, a shared shuttle bus will cost you around $60 per person.
More posts from Costa Rica you might like
Pin it!