20 amazing things to do in Koh Tao you can't miss (2023)
Dreaming of turquoise waters and white sand? I've put together a complete list of things to do in Koh Tao Thailand that hits all the highlights! I've included all the information you need to plan your very own Koh Tao getaway!
Plan your trip to Koh Tao
👩🏻 Best guided tours in Koh Tao
🏡 Where to stay in Koh Tao
When you think of Thai islands, you might imagine young backpackers or crowded beaches. And that's what you'll get if you head to Phuket or Koh Phangan.
But if you're looking for an island that's more low-key and less packed with tourists, Koh Tao is a great choice. It's on the east coast with clear waters and less development and tourists.
I've been to Koh Tao several times, and I love it. I'm talking about soft, white beaches, amazing sunsets, and a relaxed, easy-going atmosphere.
Here's my guide to the best things to do in Koh Tao, Thailand.
Read next: 27 bucket list things to do in Thailand
This post contains referral links for products I love. Adventurous Miriam earns a small commission at no extra cost to you if you make a purchase through my links. Thank you for your support ♡ Learn more
About Koh Tao
Koh Tao is a small island in Thailand, really famous for scuba diving.
It's about 21 square kilometers and is nicknamed "Turtle Island" because of its shape and history with sea turtles.
The clear waters here are perfect for diving, with over 50 dive sites where you can see sharks, fish, whale sharks, and coral reefs.
Besides diving, Koh Tao has great beaches, like Sairee Beach, and some beautiful viewpoints.
Things to do in Koh Tao
1. Go scuba diving
Most people visit Koh Tao with one common goal: leave with a PADI open water certification.
The island is famous for diving because of the clear waters and rich marine life. Add to that the relatively inexpensive classes.
It's perfect for newbie divers but also for professionals who want to explore Koh Tao below the sea. You can find many great diving spots here.
Become a certified diver in 3 days – PADI Open Water Diver course on Koh Tao (⭐ 5/5)
2. Go snorkeling
Maybe you prefer snorkeling? Koh Tao is also great for that!
The sea is crystal clear, warm, and basically perfect for finding Nemo and spotting sharks, turtles, and corals.
I've taken a snorkeling trip around the island several times (one time it rained like crazy), and it has always been super fun!
Popular spots like Shark Bay and Mango Bay have lots of fish.
Book here: Full-day snorkeling adventure around Koh Tao (⭐ 5/5)
3. Relax at Sairee Beach
My absolute favorite place on Koh Tao is the beach, especially Sairee on the West Coast.
Sairee Beach is basically the heart of Koh Tao with beach bars and restaurants. It's also the biggest beach on the island.
The water is clear and turquoise and there's a restaurant nearby that serves the best fried rice with chicken and cashews I've ever had.
Sitting there on the beach, just looking over the water, watching the sunset later on, and daydreaming – that's paradise for me.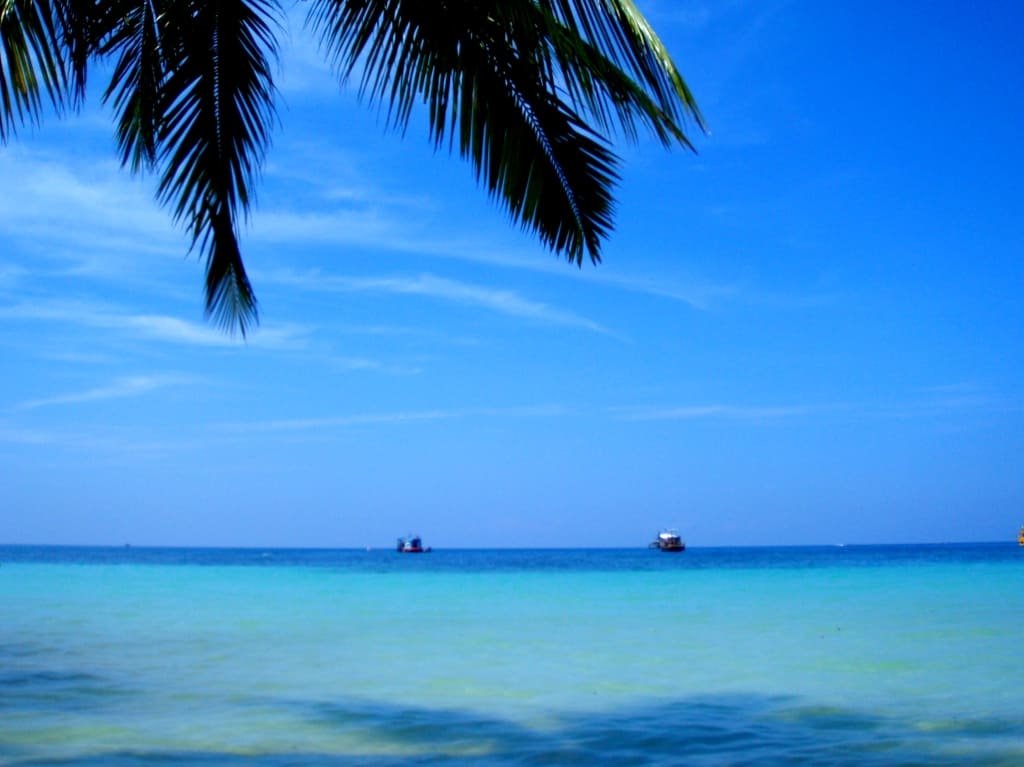 4. Join a movie night
One of the things I love about Koh Pha Nang and Koh Tao is the movie nights. You can watch movies in many restaurants – you'll see a sign out front that says which movies they'll play and when.
You can also head to Grumpy's Sports Bar, which has a cozy little cinema setup. It's got comfy sofas for just 24 people, so it feels really intimate.
The sound and screen quality are pretty good. Plus, you can order food and drinks from the restaurant and they'll bring it right to you in the beach cinema.
5. Hike to John Suwan Viewpoint
John Suwan Viewpoint is where you'll get the best view in Koh Tao (if we don't count Nang Yuan). The hike is not too tough, takes about 15-20 minutes to get up there.
The path is a bit rocky, though, so good shoes help.
Once you're up, the view is stunning – you'll see Chalok Baan Kao and Shark Bay. Totally worth the effort.
6. Join a yoga class
In Koh Tao, you've got several yoga studios with all sorts of classes.
Doing yoga with an ocean view? That's an amazing way to start the day. And if you're really into yoga, you can even train to be a teacher there.
For classes, Shambhala Yoga at Sairee Beach is cool, about 300 baht per session. Or try Ocean Sound – they mix yoga with scuba diving.
7. Fireshow on the beach
Maya Bar and Lotus Bar, along with other spots, have these fire-dancer shows every night that are really something to see.
They set up beach blankets and cushions to chill and watch the shows from 9 to 11 pm.
8. Visit Sai Nuan Beach
Sairee Beach is the most popular beach on Koh Tao. But if you'd like to find a more secluded beach, head to Sai Nuan Beach.
It's a bit off the beaten path, so you'll need to take a short boat ride, drive, or hike there. The beach has this laid-back vibe, perfect for just chilling and swimming.
Not a lot of facilities, so bring what you need (water, snacks, sunscreen, towel.
9. Go kayaking
Don't miss renting a kayak and going snorkeling in Koh Tao. You'll easily find shops to rent gear for a few hours.
Head out from places like Jansom Bay or Freedom Beach, just to name a few. Paddling and snorkeling in these bays is amazing, and you'll spot lots of marine life.
Book here – Snorkeling Trip Ko Tao & Nang Yuan with Meals (⭐ 5/5)
10. Watch the sunset at Sairee Beach
I've watched some of the most amazing sunsets in my life on Sairee Beach.
Imagine sitting on the beach with a cool Singha beer, listening to Jack Johnson in the background, a few people chatting at the restaurant nearby, and just feeling the peace.
That's how Koh Tao is. I never get tired of this scenery or the chilled vibe.
11. Take freediving lessons
Freediving is another fun underwater adventure to try in Koh Tao.
You can sign up with schools like Apnea Total or Blue Immersion. Beginner courses usually start from around 4,000 THB.
They'll teach you the basics of diving deep using just your breath and a snorkel.
Read next: What to pack for Thailand
12. Rent a scooter
Renting a scooter is a must if you want to explore the island. Also, there are a lot of hills on Koh Tao, so walking is not that fun.
The last time I was there, Thomas and I rented a scooter and headed out to explore the island. It's only 21 km long, so how lost can you get I asked myself rhetorically when we didn't buy a map at the rental store.
Well.. a lot apparently when your scooter goes on strike in the middle of I-don't-know-which jungle. The result?
We had to lift it for several kilometers until a passerby told us that it had self-locked as a safety precaution. Apart from that, Koh Tao is easy to explore and a scooter gets you from one side to the other in no time.
Miriam's tips:
If you decide to rent a scooter, remember to:
Look for defects so you won't get charged when you return it.
Ensure it has enough gasoline.
Never give the rental store your passport or driver's license as a deposit – bring a copy instead!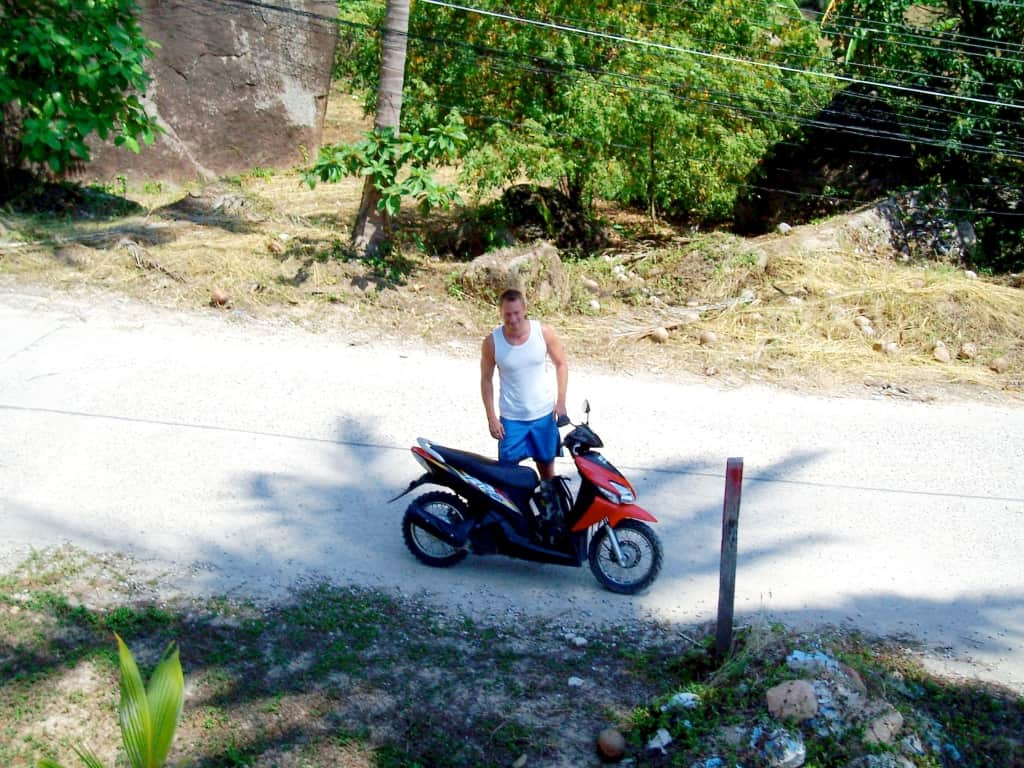 13. Visit Nang Yuan Island
Another reason I love Koh Tao is that it's so close to the national park of Nang Yuan, which is heaven on earth. Because it's protected, the waters are even clearer and beaches are even whiter than on Koh Tao.
It's so beautiful here, and there's a hill you can climb to get a panoramic view of the island and Koh Tao.
If you're in the area, take a trip there. That's all I can say.
Book here: Koh Tao and Nang Yuan Snorkeling & Lunch (⭐ 4.7/5)
14. Try local street food
If you're looking for a quick snack, you'll find lots of options.
There are stalls everywhere, serving up tasty, cheap eats like pad thai, mango sticky rice, pancakes, and fresh fruit shakes – the banana shakes are amazeballs!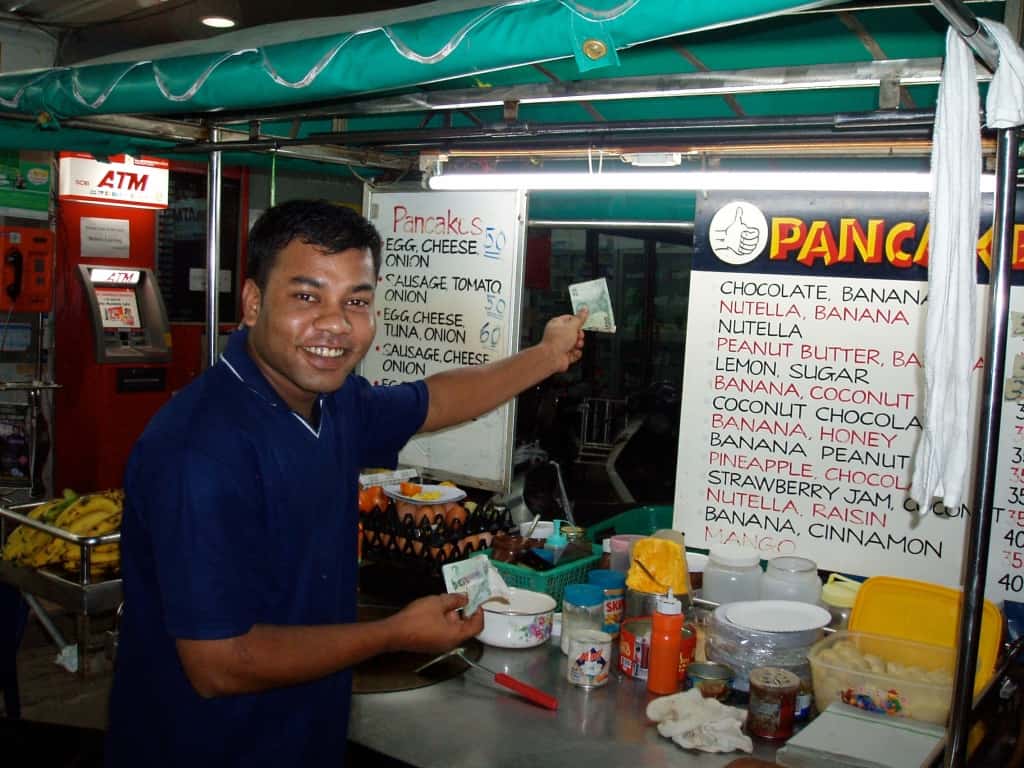 15. Get a Thai massage
Definitely, don't miss out on a massage in Koh Tao!
It's like the rest of Thailand – plenty of affordable massages all over the island. It's a great way to relax, especially on a rainy day – or any day, really!
Expect to pay around 200-300 THB for an hour. Totally worth it!
16. Sunset SUP
Looking for the best place to go for a stand-up paddle board? That's in Sairee Beach.
Getting a SUP for sunset is a fabulous Koh Tao activity when the sea is calm. Get some beers at the supermarket, rent a SUP for an hour or two, paddle out, and chill on the water while the sun is setting on the horizon!
17. Try night diving
You can also go night diving.
Loads of dive shops offer night dives where you can see the ocean in a whole new way, like bioluminescent plankton and nocturnal sea creatures.
Costs vary but expect to pay a bit more than a day dive.
18. Explore the jungle
Hitting the jungle trails in Koh Tao is pretty awesome. There are paths taking you to hidden beaches and amazing viewpoints.
It doesn't cost anything, but sturdy shoes and water are must-haves. Keep an eye out for wildlife, like lizards, snakes, and tropical birds.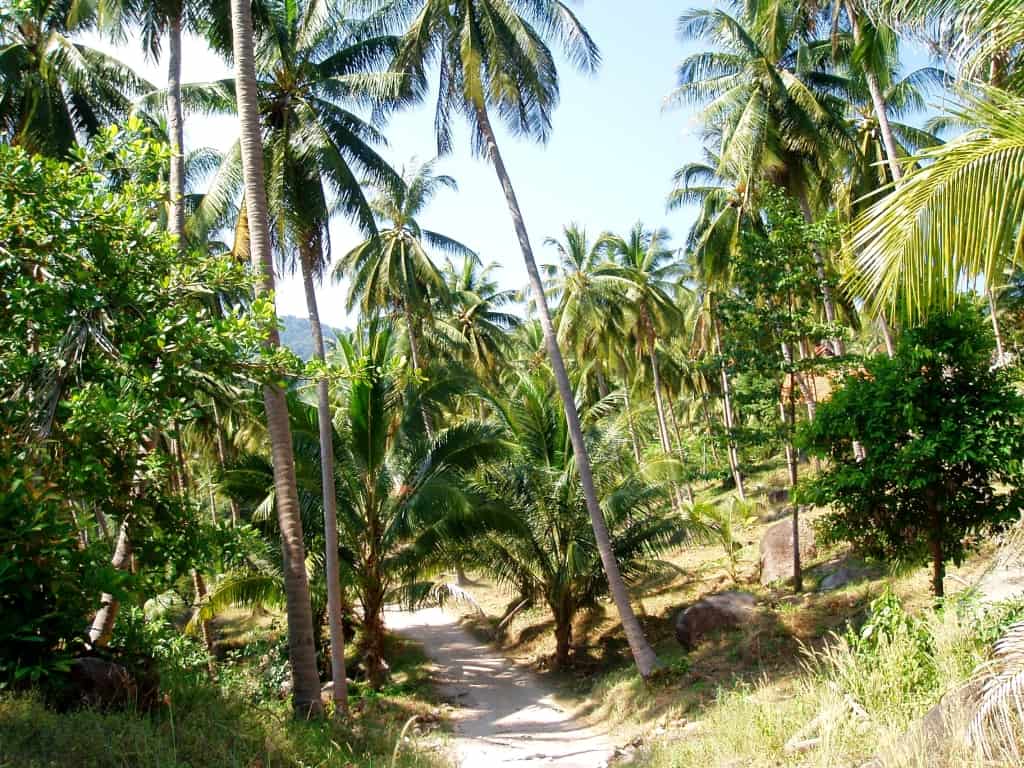 19. Try Thai Boxing
Want to try something fun? Take a Muay Thai class!
There are two main spots for it: Island Muay Thai and Monsoon Gym & Fight Club. It's a fun way to stay active, especially when the weather isn't beach-friendly.
20. Go clubbing till dawn
If you just came from Haad Rin, expect Koh Tao to be much more quiet in comparison. You won't see hordes of people here as it's mostly divers staying on the island.
The most popular things to do on Koh Tao is to play pool at one of the bars, check out a cabaret show, or go clubbing. Or all of the above.
You can find some really cool dance clubs, like the AC Bar Beach Club (They throw awesome pool parties at night) and Maya Bar (the perfect spot to catch the sunset and then dance the night away).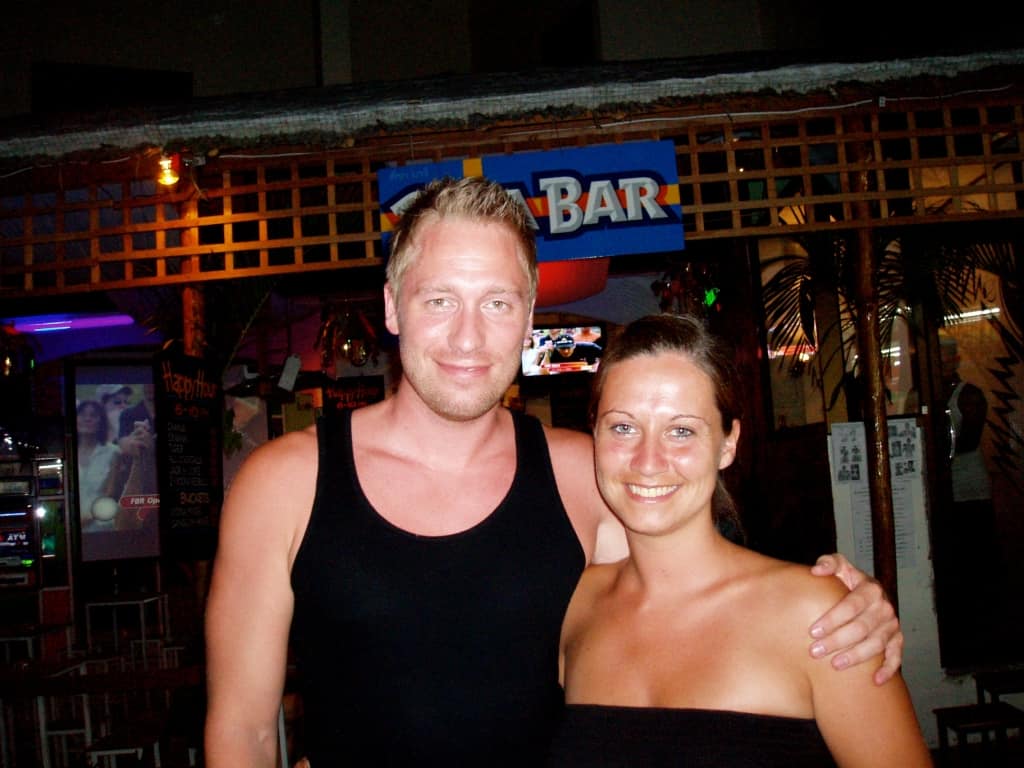 FAQ – Things to do in Koh Tao
Is it worth going to Koh Tao?
Absolutely, Koh Tao is worth visiting. It's a paradise for divers, and has beautiful beaches, great nightlife, and a relaxed vibe. Plus, it's not as crowded as some other Thai islands.
Is Koh Tao safe?
I understand why you might ask about safety in Koh Tao, especially after the tragic murders and series of suspicious deaths in recent years.
It's important to remember that these incidents were unusual and not reflective of everyday life on the island. Thousands of visitors have a safe trip to Koh Tao each month.
When that's said – you should always be cautious at night, don't walk alone, and always trust your instincts!
I can only say that I have always felt safe there, but if you don't want to risk it, there are hundreds of other great islands in Thailand.
How many days should I spend in Koh Tao?
Spend at least 3 to 4 days in Koh Tao to enjoy diving, explore the beaches, and soak in the island vibe.
If you're into diving or just want to relax more, a week would be ideal.
Is Ko Tao very touristy?
Koh Tao is touristy, especially for diving, but it's less crowded than islands like Phuket or Koh Phi Phi.
Is Ko Tao a party island?
Koh Tao has a lively party scene, especially around Sairee Beach, but it's not as intense as islands like Koh Phangan. It's more laid-back and balanced.
More posts from Thailand you might like
Save it!