Why you should visit an ashram in India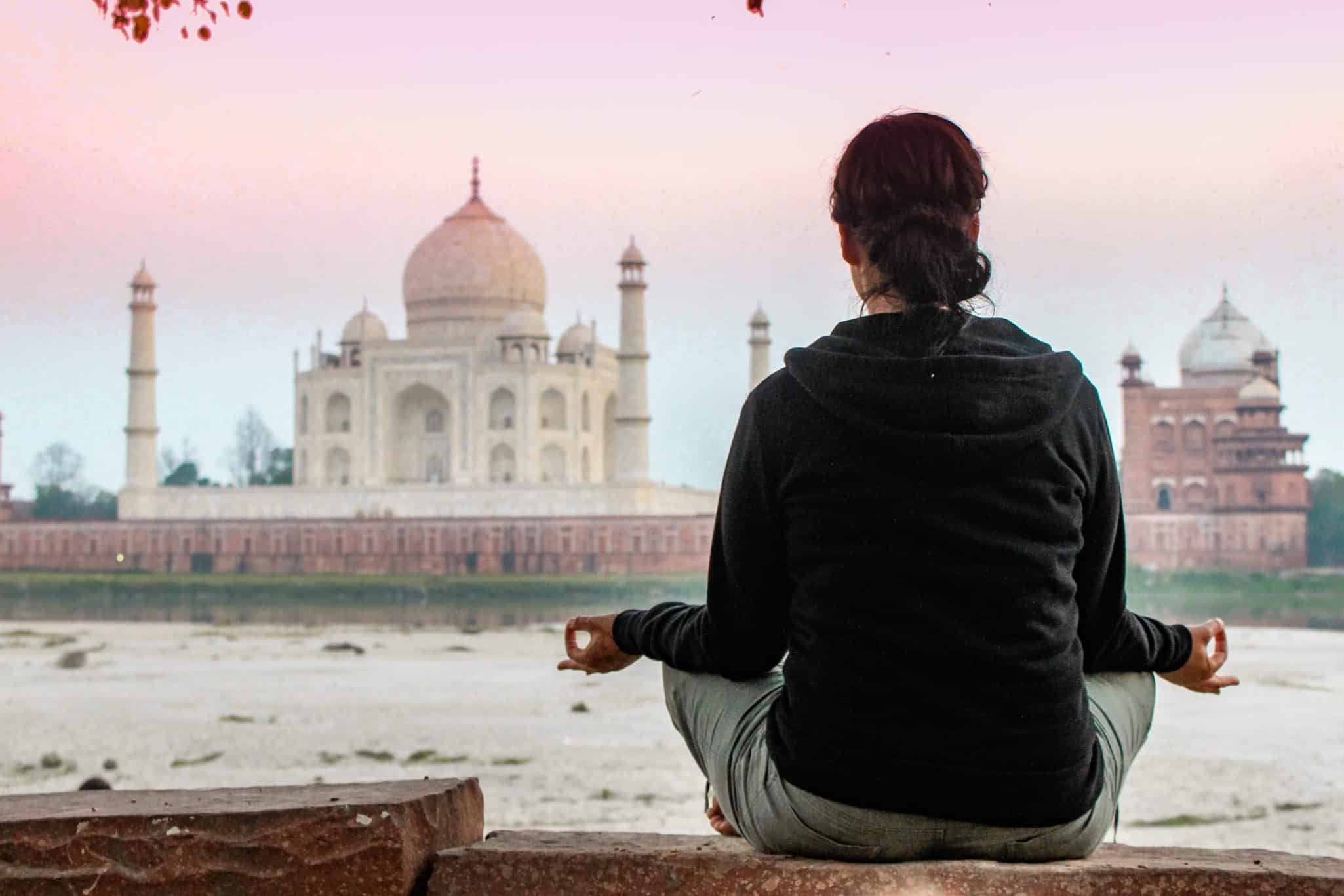 Well, I finally did it. I said I would — but truly wasn't sure I could — but I did it … I went to an ashram and I finally met the spiritual India I've been dreaming of for years.
Ashrams have existed in India for thousands of years, and since the Beatles went to an ashram in India in 1968, they have become a popular traveler's destination. I've wanted to visit one since as long as I remember. Although it's a cliche, the whole 'gaining personal enlightenment and inner peace' aspect was a major draw, at least for me.
So I visited an ashram and got a new perspective on life. In hindsight, it's one of the most challenging and mind-altering experiences I've had. I never thought I would enjoy the simplicity of eating from a banana leaf with my hands or not looking in the mirror for almost a week. But I did. And it taught me a thing or two about vanity.
If you're looking for a stress-free environment away from daily chaotic life, to spend some time on inner reflection and the bigger questions in life, an ashram is the place to go. Here's my experience and some of the benefits (and challenges) of visiting an ashram in India.
This post contains referral links for products I love. Adventurous Miriam earns a small commission at no extra cost to you if you make a purchase through my links. Thank you for your support ♡ Learn more
WHY YOU SHOULD VISIT AN ASHRAM IN INDIA
There are so many reasons why staying in an ashram is a great idea. For one, it's healthful. Not just for your body because you detox and eat healthy, but also for your mind. You will be challenged on a physical, mental, spiritual, psychological and emotional level. Ashram life will push your proverbial buttons, but it's rewarding in the end.
An ashram in India is also the perfect place to travel solo and meet new people. The crowd there is generally very open, outgoing and easy to talk to. Prepare to get lots of hugs and smiles!
WHAT IS AN ASHRAM?
An ashram is a religious community in India where a guru gathers his or her followers. It's typically placed in the woods or mountains, because the natural surroundings are believed to encourage spiritual guidance and concentration. There are both luxurious ashrams and more modest ones.
What to expect in an ashram
Despite the many upsides of going to an ashram, there are a few things you should prepare yourself for:
It's basic – Ashrams are very simple (although some are more well-equipped than others)
Dorm rooms – Ashrams may have double and single guest rooms available, but the standard is a dorm room.
No Internet – Most ashrams have limited internet hours. At our ashram there was no internet at all.
Vegetarian food – This may come as an unpleasant surprise for meat lovers (such as myself), but an ashram in India only serves vegetarian food.
You don't have to be Hindu or religious to stay at an ashram, but the term "ashram" means "spiritual retreat". You have to at least be open-minded.
PERSONAL EXPERIENCE AT YATHARTH YOG ASHRAM
I stayed at the Yatharth yog ashram in Allahabad. Normally, the ashram resides in Raipur, but they set up camp at the Kumbh Mela festival and this is where we met them.
The ashram had a relaxed vibe and the people there were extremely welcoming from the minute we arrived. I sometimes find it challenging to be chatty around new people, but here I was met with hugs and smiles, which broke the ice super fast.
Each day at the ashram I ate vegetarian food, lived without WiFi and awoke to the pounding tunes of Hare Krishna chanting from a nearby speaker. On repeat.
I very quickly started to realize two things:
One: I can actually survive without meat and the Internet, and I don't need to check Facebook 15 times a day. Who would have thought?
Two: I'm not a fan of Hare Krishna.
All ashrams have a guru, or spiritual teacher, who helps in the spiritual evolution of a student. Our guru was Radhe Baba (we called him Baba), and he was very down to earth. What an amazing person; always happy, mindful of others and caring – and he was a great cook, too.
In the evening, the group gathered around the fireplace for satsang (meaning 'to sit in a group or with a guru'). Bruno, who started the ashram together with Baba, played the drum. Some of the others started to chant and hum.
We stayed in a dorm tent with 10 other people. In all honesty, I was a bit skeptical at first, but it wasn't so bad when we got settled in.
Because this was only a temporary camp, the facilities were extremely simple. The toilets were basically a large hole in the ground surrounded by a tent, and the showers consisted of a bucket of water.
There was no pretty or elegant way to do this.
My time in the ashram was wildly eye-opening for me. I learned that I won't die without meat after all. And most importantly I learned that sometimes an uncomfortable experience (like the lack of a decent bathroom or the overall simplicity of the camp) helps you grow as a person.
It teaches you that to grow, you really need to step out of your comfort zone.
GREAT VEGETARIAN FOOD
If I had to name one of the most rewarding things about being in an ashram, it would be the food.
The ashram served three meals a day, all vegetarian. As a meat-lover and picky eater who doesn't like steamed vegetables, I thought: "Will I starve if I don't have my beloved meat or my raw vegetables!?" But I didn't. Food served as fuel and clean nutrition and I felt great.
Side note: I later sent myself to Bali for a yoga retreat and lived as a vegetarian for a whole month. Something I thought I'd never do!
Each ashram serves vegetarian, organic food called prasad. Prasad is holy food and believed to be better for the mind and body. In my ashram, it was served on a banana leaf. We sat on the ground and ate with our hands (though you're not supplied with utensils, you can bring them with you).
HOW TO FIND THE BEST ASHRAM IN INDIA
To find the best ashram in India for you, there's a few things you need to consider. For instance, are you looking for one with a fixed or tight schedule or do you want more time to yourself? Ashrams have differing styles and schedules. Some are focused on yoga and include several hours of yoga classes per day; others more on meditation; others have a more relaxed schedule. Here's a few other tips:
If you practice yoga already, ask your teacher for recommendations on ashrams in India.
Rishikesh is the yoga capital of the world and therefore the perfect place to find a great ashram. I haven't been there personally, but Indian-based blogger Mariellen from Breathe Dream Go recommends Aurovalley ashram.
Book well in advance. The popular ashrams are high in demand.
PACKING LIST FOR AN ASHRAM
Ashrams in India come in different styles, but they all tend to be very simple. Bring the bare minimum such as loose and lightweight clothes, ideally clothing that covers most of your body (many ashrams have dress codes). Here's a packing list for your visit:
Clothing
Yoga pants or Indian-style pants
Tank tops or t-shirts for yoga
Underwear
Socks
Towel
Sweater or hoodie for chilly evenings
Shawl for sitting in meditation
Lightweight rain jacket
Footwear
Comfortable walking shoes for sight-seeing
Flip flops or sandals
Toiletries
Shampoo and Conditioner
Deodorant
Toothbrush and toothpaste
Shaver
Hand sanitizer
Small plastic bags (for laundry)
Makeup
Hair ties or headband
Medicine (bring Imodium just in case)
Tech Gear
Camera
Phone and charger
Laptop
Adapter
Other
Diary and pen
Books
Snacks (you are usually fed twice a day at an ashram)
Flashlight
Would you visit an ashram in India?
More posts from India you might like
Save it!