Getting blessed by a Naga Sadhu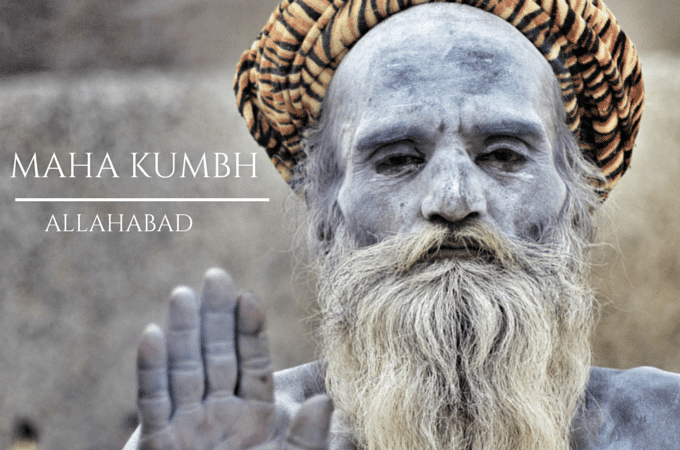 A while back I was online looking for inspiration for an article on rituals. As I glanced through Google Images, something caught my eye and practically dragged me in…
It was a man.
A naked man. With long furry dreadlocks, smeared in white paint, screaming and running ferociously through the Ganges river with a trident in hand.
That moment… That's when I knew I had to go to India.
The man in the picture was a naga sadhu attending the Kumbh Mela festival. Sadhus are the holy men of India, and the most fascinating and radical of them are called naga sadhus. These sadhus give up all possessions including their clothes to live in forests and secluded caves. They spend their days smoking marijuana and they cover their bodies with ashes.
Sadhus are greatly respected for their holiness, but also widely feared for their curses.
Read next: How to experience the Kumbh Mela
This post contains referral links for products I love. Adventurous Miriam earns a small commission at no extra cost to you if you make a purchase through my links. Thank you for your support ♡ Learn more
About a month later, I found myself sitting in lotus position eating vegan dal from a banana leaf. I was in an ashram at the Kumbh Mela and we were about to head out for the day.
We'd been chatting to a fellow traveler, Matt, who offered to show us around the camp. He had been there for some time so he knew where to go and who to talk with. He mentioned that he knew a sadhu at the camp and that he would gladly show us to him.
HEADING TO THE SADHU CAMP
The sadhu camp was in sector 4, which was close to the Sangam, but still several kilometres from our camp in sector 6. On the way there, we stopped to buy bananas and milk so we wouldn't come empty-handed.
As we walked through the camp, naked men dominated the streets and watched us from within their vivid tents. They followed us with their eyes. Some of them yelled and summoned us to their dens. The closer we got, the louder my heart pounded.
I kept looking straight ahead until Matt pointed at an open tent and a naga sadhu sitting in the shades.
"This is it," he said.
As soon as the sadhu saw us, he lighted up in a smile and waved at us to enter his tent. He seemed friendly. Genuinely happy to see us, as if he knew we were coming. He promptly got up and found a few blankets to hang up so we wouldn't get the sun in our eyes. You can see him choring around in the background in the picture below.
Read next: What to expect from a Ganga Aarti
After making sure that we were comfortable, he motioned for us to come closer in order to receive a blessing. To be honest, I didn't know what to think of it. I'm not a Hindu and I normally don't get blessed by others than protestant priests, but there was something about this man. I got up and went over to him. He smiled, bowed his head and then painted an ash dot in my forehead.
That was it.
After the blessings, he got up and served us chai.
Our new friend was from Nepal where he lived in the mountains. He didn't speak English so we communicated through sign language and sounds. He was very eager to know where we came from so I would demonstrate "The cold North" with shivers and brrr-sounds, and he seemed to know where Europe was.
While asking us how we liked the Kumbh Mela, something strange happened.
Another sadhu came to join us, and for some reason he seemed to irritate the other sadhus. It got to a point where they yelled at him, raised their arms in anger to get him to leave. Our naga friend tried to explain what had happened and I think it had something to do with the sadhu begging. It's the sadhu sitting across from me.
Read next: Things to do in Varanasi
MARIJUANA AND PENIS YOGA
During our visit we were offered marijuana as well. Sadhus smoke this a lot because it is believed to be a gateway to Nirvana. Before we left, the naga sadhu offered to perform a special kind of yoga called penis yoga. It looked rather painful, but he explained to us that it didn't hurt.
The aim of penis yoga is to mortify the flesh because it is seen as a obsticle in achieving Nirvana. Some sadhus attach a heavy weight which they drag around until the power of muscles and nerves is completely destroyed. This is both a form of penance and yoga; a way for them to not be led astray.
After the performance we said goodbye to our new friend and went back to the ashram. I was quiet all the way back, thinking about what I'd seen and experienced. I had a great week at the Kumbh Mela, but meeting this naga sadhu and getting a glimpse into his world was the ultimate highlight of the entire trip.
I was simply fascinated to my core.
SAFETY
Sadhus live alone most of the time without human interaction, so being in a crowded place like Kumbh Mela is a huge transition. During a prior Kumbh, there had been reports of rapes and attacks on tourists and so the Indian Government talked about closing the sadhu camp for visitors.
I would say that it is safe to visit the sadhus, but it is imperative to stay alert. Be careful when offered something to drink and eat, and do not sleep at the camp, which I know some travelers do.
Be sensible.
More posts from India you might like
Pin to Pinterest