How to attend the spectacular Ganga Aarti of Varanasi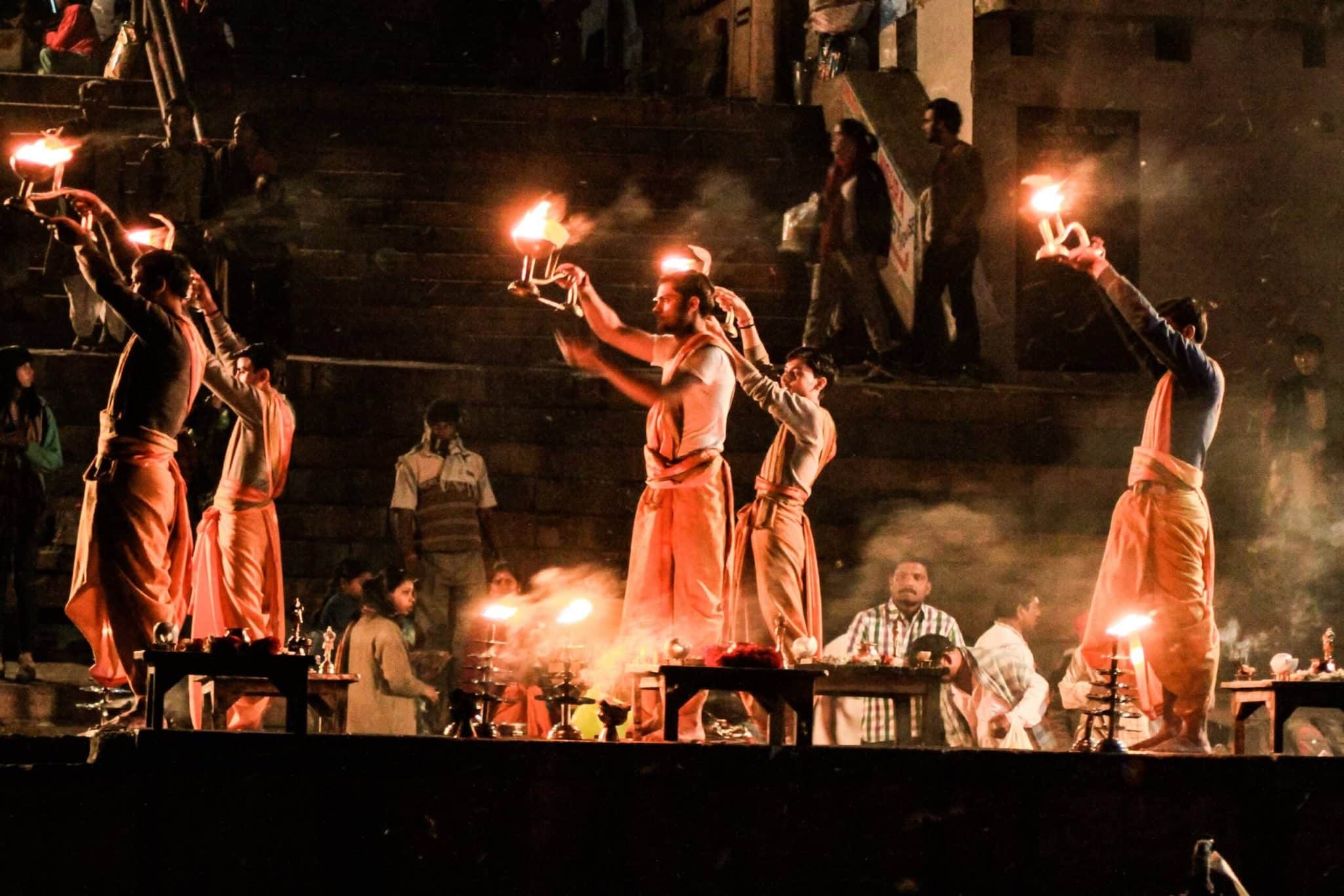 Ganga Aarti is a Hindu ritual where fire is used as an offering to the River Ganges. It's performed every evening in the holy cities of Varanasi, Haridwar and Rishikesh.
In this post, I'll tell you more about Ganga Aarti of Varanasi, how to attend the ceremony and other useful tips.
Read next: What to see and do in Varanasi
This post contains referral links for products I love. Adventurous Miriam earns a small commission at no extra cost to you if you make a purchase through my links. Thank you for your support ♡ Learn more
What is a Ganga Aarti?
India's holy River Ganges, locally known as the Ganga, plays a central role in the life of Hindus. An aarti is a fire ritual, performed to show gratitude to the river and ask for its blessings. It involves the chanting, bells, fire, flowers, and more.
Every evening around sunset, hundreds of people gather at Dasaswamedh Ghat to witness the Ganga Aarti of Varanasi. The aarti is performed on a stage by seven young priests. Each is dressed in saffron coloured clothes; a kurta and a dhoti, which is tightly bound with a long towel.
The ceremony begins with the blowing of a conch shell and ringing bells. The priests each wave an incense stick and hold up large flaming lamps while chanting mantras to the goddess Ganga. Their movements are synchronised and the crowd listens in silence while they perform the ceremonial acts.
A Varanasi aarti is a beautiful and majestic ceremony with a very precise choreography. And if you ask me, it's one of the best things to do in Varanasi. 
How to attend a Ganga Aarti of Varanasi
The Ganga Aarti of Varanasi is free to attend and it's performend every night at Dashashwamedh Ghat.
How to get there: Dashashwamedh ghat is one of the popular ghats. You can either walk there or hail a tuk-tuk. Some hotels can also help arrange transport. You can also take a boat there, but prepare to bargain for the price.
Watch from the river or the ghat: You can watch it from the ghat or from the waterside in a boat. While it's free open entry at the shore, a boat ride will cost from 50 – 150 INR. I highly recommend attending from the ghat as you won't have as good a view from the river, especially when it comes to photography.
Read next: Why you should do a Varanasi boat ride
Ganga Aarti timings
Ganga Aarti begins at 6.45 in the evening and it lasts about 45 minutes.
If you want a good seat – or any seat – you have to be there well in advance. The first time I saw the aarti was from the river in a rowboat. We left early, but unfortunately we didn't get close enough, so we could barely see anything. There are lots of boats and everyone wants front row.
The second time around we saw it from the banks. We got there at 5pm, which is a tad early, but we got the front seats and it was definitely worth the wait.
What to bring and wear
You don't need to take much to the evening aarti, but you should dress modestly (shoulders & knees covered) to show respect. This is what I recommend wearing and bringing:
A warm sweater and pants – Evenings are chilly in Varanasi, so bring a jacket or sweater to stay warm.
Mosquito repellent – They're most active at dusk and dawn, so come prepared.
Camera
Water
Highlight of the Varanasi aarti
Ganga Aarti in Varanasi is one of the most fascinating ceremonies I've ever attended and I recommend not to miss it – even if you're not religious. Here are some of the highlights of attending an aarti:
Witnessing the Aarti ritual at the Ganges river
Walk through the ghats
River glowing with floating lamps
Enjoy evening boat ride around Manikarnika Ghat
Watch the sunset over the River Ganges (if you arrive early)
Other tips for the Ganga Aarti ceremony in India
Behave and dress modestly. This is a religious ceremony and an important one to Hindus. While some people come here for the spectacle, others come to give prayers or pay respect.
Turn off your phone during the ceremony.
Street sellers will try to sell you candles and flowers (offerings) to put in the river, but they're polluting it. Keep that in mind.
The Ganga aarti is free, so if anyone is trying to sell you tickets, it's a scam. Don't fall for it.
Interested in pilgrimage places? Check out Sarnath – an important Buddhist pilgrimage site just 30 minutes from Varanasi.
More posts from India you might like
Pin it!