10 fun places to visit in Delhi in one day
Do you have a stopover and need a list of fun places to visit in Delhi in one day? In this post I'm sharing some of the most iconic attractions in Delhi that you can see on your layover.
I had 12 hours in Delhi before my connecting flight to Varanasi and I wanted to make the most of it. So, I had a list of things I wanted to see, and I booked a driver for the whole day ($22). The car company, Suri Car Hire, is a reliable Indian company and the manager spoke Danish – what are the odds? There are of course cheaper ways to get around town, but this was the most convenient, safe and fast way – and I'd do it again.
This post contains referral links for products I love. Adventurous Miriam earns a small commission at no extra cost to you if you make a purchase through my links. Thank you for your support ♡ Learn more
FUN PLACES TO VISIT IN DELHI IN ONE DAY
I love stopovers. They're the perfect way to explore a city, and if you do your research and plan in advance you can manage to see a lot in very little time. Here's a list of places to visit in Delhi in one day. I've listed a brief introduction and shared my personal tips, which I think you'll find useful.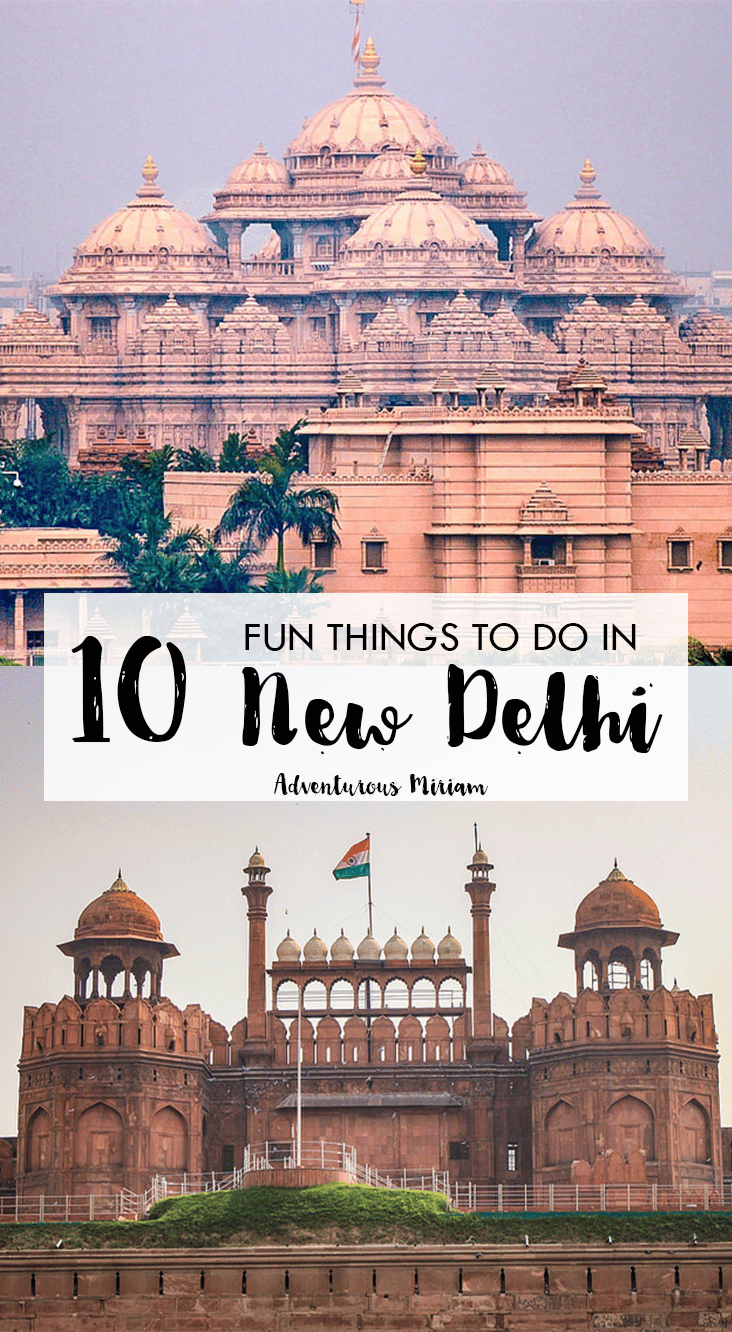 GENERAL TIPS
At most attractions you have to pay an extra fee to take pictures.
Temples are considered sacred, so you need to take your shoes off during your visit. If you can, then keep them in a locker or put them in your bag to avoid getting them stolen.
Beware of scams and remember to bargain when you're buying something at a market.
Dress modest and in loose clothing. Women should consider bringing a scarf.
HOW TO GET AROUND
Hire a driver (1.400 Rupees/$22 for the whole day) – I had a driver take me to all these sights. It's a safe, easy and the fastest way to get around, especially if you're traveling solo.
Metro – You can buy a one-day metro pass (100 Rupees) and get to all the attractions in Delhi. If the metro doesn't go all the way to the attractions, you can walk or take a rickshaw the rest of the way.
HOHO Bus (sightseeing bus) – You can hop on and off this bus after buying a 1 or 2 day ticket. It takes you to all the main attractions, and it comes every 45 minutes throughout the day, except Mondays where most Delhi attractions are closed anyway.
1. SWAMINARAYAN AKSHARDHAM MANDIR
Fee: Free
Opening hours: 9:30am – 6.30 pm – closed on Mondays
How much time to spend: 4-5 hours
The Swaminarayan Akshardham Mandir is a relatively new attraction from 2005. This massive hindu temple complex is carved out of pale red sandstone into 20,000 deities, saints and mythical creatures. It's dedicated to showcasing Indian culture and it's simply a must-see in Delhi. If you arrive on a Monday, go there anyway and see it from the outside. It's really something.
Things to see at Akshardharm Mandir:
Swagatam – The Welcome Gates
The Mandir – Main Temple
Abhishek – Ritual bathing
Exhibitions
Water show (after sunset)
Thematic gardens
2. BAHAI LOTUS TEMPLE
Fee: Free
Opening hours: 9:00 am to 5:30 (winter) 9:00 am to 7:00 pm (summer)
How much time to spend: 1 hour
The Bahai Lotus temple is shaped like a lotus flower and therefore often referred to as the Lotus Temple. It attracted more than 50 million visitors in the first 16 years, making it one of the most visited buildings in the world. The temple belongs to the Bahá'í Faith, which teaches the essential worth of all religions, and the unity and equality of all people.
It's particularly stunning in the evening when the temple is lit up.
3. QUTUB MINAR
Fee: 500 Rupees. Free for children under 15 years.
Opening hours: 10:00 am – 05:00 pm every day
How much time to spend: 1 hour
The Qutub complex is a UNESCO World Heritage Site to visit in Delhi. One of its best known monuments is the Qutub Minar, a 73 meter high tower situated in the southern part of Delhi. It is originally an Islamic monument and used as a watch tower. Right next to it are tombs and Alai Minar, which was intended to be a tower even taller than the Qutub, however it was abandoned at an early stage.
4. RED FORT
Fee: 500 rupees. Free for children under 15 years.
Opening hours: 9:30 am – 4:30 pm – closed Mondays.
How much time to spend: 2 hours
The Red Fort is in the center of Delhi, and it holds a number of museums. In 2007, it was designated a UNESCO World Heritage Site with its many structures that reflects a mix of Persian and Hindu traditions. On Independence Day (15th of August), the prime minister of India hoists the national flag above the Lahore Gate of the fort and gives a speech.
5. JAMA MASJID – LARGEST MOSQUE IN INDIA
Fee: Free (camera fee: 300 rupees). You'll also need to pay 100 rupees to climb the minaret tower.
Opening hours: 7am to 12pm and 1.30pm to 6.30pm every day. Tourists are not allowed during prayer hours.
How much time to spend: 1,5 hours
Jama Masjid is the largest mosque in India. It was commissioned by Emperor Shah Jahan in 1644, who also built the Taj Mahal and the Red Fort. The highly decorative mosque has three great gates, four towers and two 40 m-high minarets constructed of strips of red sandstone and white marble. Jama Masjid is located 1 km from Red Fort so it's easy to walk there.
6. CHANDNI CHOWK
Opening hours: 10 am – 7 pm, every day – closed Sundays.
How much time to spend: 1,5 hours
Chandhi Chowk is one of the oldest and busiest markets in Old Delhi, India. It's crowded with small shops and markets full of spices, fruits, perfumes, jewelry and colorful saris. This iconic street is a must-visit, also if you're not going shopping.
7. DILLI HAAT MARKET
Fee: Free
Opening hours: 10am-10pm every day
How much time to spend: 1 hour
There are now three Dilli Haat markets in Delhi, but the best one is the original, which is located opposite of the INA Metro Station (Yellow Line) in south Delhi. The Dilli Haat market is where people come to buy fruits, veggies and clothing.
8. RAJ GHAT – GANDHI MEMORIAL
Fee: Free
Opening hours: 5:30 am – 7 pm daily
How much time to spend: 30 minutes
One of the most famous attractions in Delhi is Raj Ghat. This memorial is dedicated to Mahatma Gandhi, who was well known throughout the world for his attitude of helping others and his philosophy of non violence. Raj Ghat is located in the place where he was cremated.
When you arrive, you leave your shoes at the counter for a small fee and walk into the park. The memorial is a black marble stone platform with a flame lit constantly.
9. HUMAYUN'S TOMB
Fee: 500 Rupees
Opening hours: 6:00 am – 6.00 pm, every day
How much time to spend: 1-2 hours
Humayun's Tomb was built in 1570, and houses the body of the Islamic Mughal emperor known as Humayun. There are other Mughal tombs in the building, and outside there's a beautiful garden.
10. LODHI GARDENS
Fee: Free
Opening hours: 6:00 am – 7:30 pm, every day
How much time to spend: 1 hour
Lodhi Gardens is just a short rickshaw ride from Humayun's Tomb, and it's the perfect place for a little peace and quiet. You'll probably run into jogggers, yogis and couples in the park.
COWS IN THE STREETS: THIS IS INDIA
Chaotic, loud, hot and crowded, India sure is an intense place. Some buses run with their doors missing. Rickshaws are crammed with people not only on the backseat, but on their roofs. And then there are the cows roaming freely in the streets.
Cars and motorcycles maneuver around the cows at high speed and come within inches of hitting them. You'd think they would scare the cows away, but they don't seem to care.
The cow is sacred in India and locals treat them with extra care. The ones I saw here in Delhi, Varanasi and Jaipur were harmless, but it can be intimidating when they walk towards you or you have to pass several of them. Most of the time they just mind their own business and so do the locals.
WHY YOU SHOULD GO TO DELHI
If you have a layover in Delhi, I highly recommend you to spend some time in the city. As you can see, there is much to explore and transportation is really cheap. Let me know if you need contact info for Suri car hire service. I'll recommend them in a heartbeat as they're both cheap and reliable.
Have you been to Delhi? What other sites did you visit?
More posts from India you might like