Traveling alone for the first time? Here's how to do it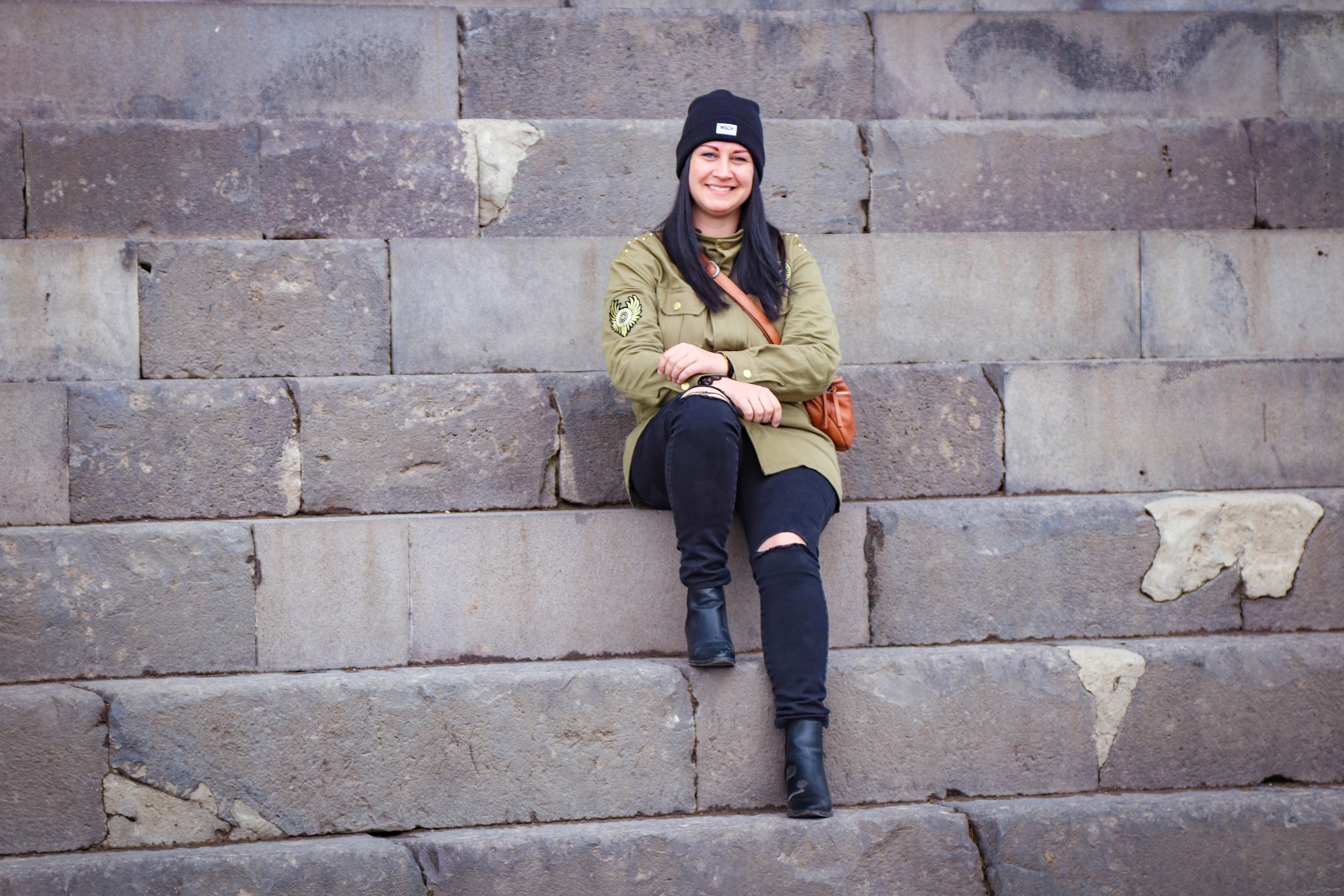 So, you're either thinking about traveling alone or you've already decided to go. That's great! You must have a million questions, like where should you go? And for how long? Will there be someone to talk to? How do you stay safe? And is it all right to travel solo?
The first thing you need to do is believe in yourself. Fear stopped me from traveling alone for a long time, but once I hopped on that plane, the fear went away. The thing with fear is that it's only in your head. Y
es, you need to take some precautions, but traveling alone is not as scary as it seems. I was terrified the first time and almost didn't go, to be honest. But now I've been to over 20 countries on my own, and it has made me stronger and more independent. You can do it, too. Trust me, you'll feel invincible afterwards.
Here are my best tips if you're traveling alone for the first time:
This post contains referral links for products I love. Adventurous Miriam earns a small commission at no extra cost to you if you make a purchase through my links. Thank you for your support ♡ Learn more
Book your flights through comparison sites
Now that you've chosen a place to go, you'll need to find flights. The easiest and cheapest way to do this is through comparison sites like Skyscanner, Kiwi and Momondo. These sites do all the work for you by comparing the best and cheapest flights and showing you the options. I always find great deals on Skyscanner, like my recent round-trip to Bosnia from Denmark for $45.
If you don't have the Skyscanner App yet, download it here! I's free and can help you find amazing deals all around the world.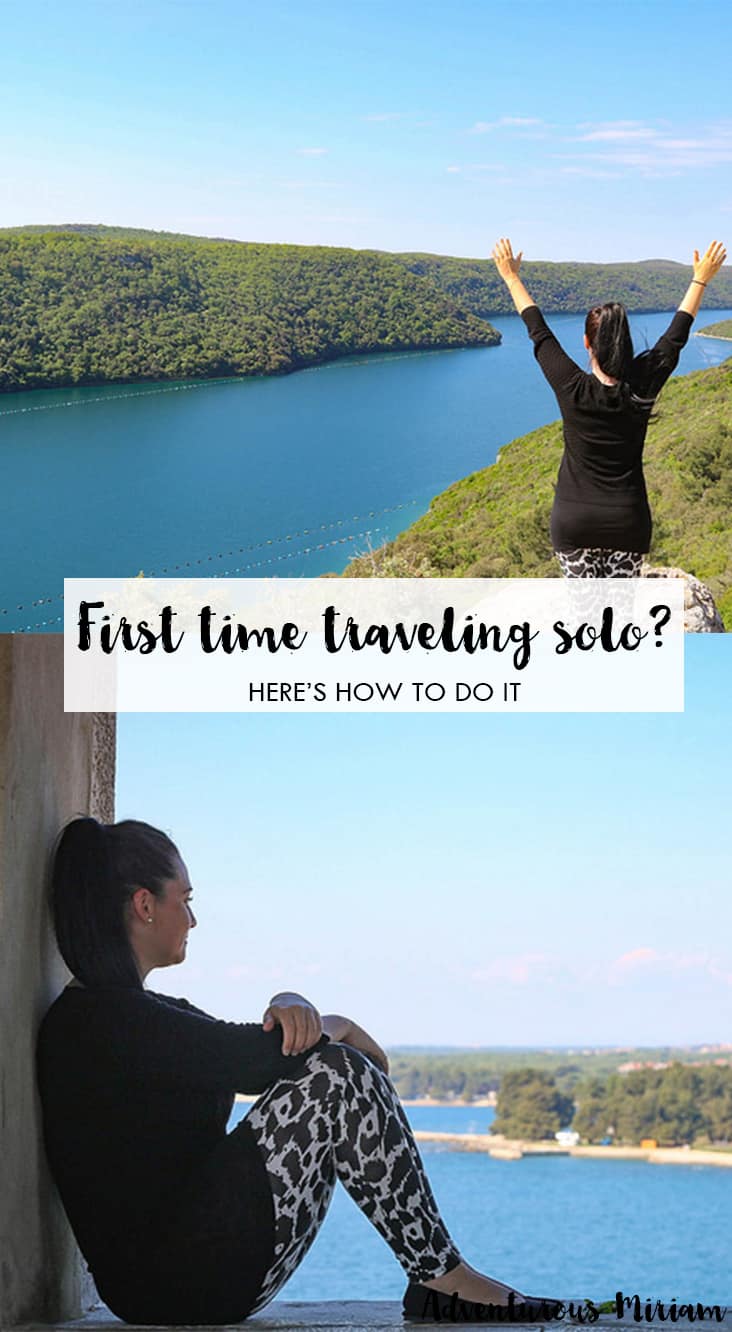 Choose a place where you feel comfortable and safe
Traveling alone for the first time can seem daunting. And truth be told, the first time is more about the experience of solo travel than the destination. So make sure to choose a place that you feel comfortable with.
It could be somewhere close to home or somewhere you've already been with friends. If you want to stretch your boundaries further, pick a new destination further away. It doesn't have to be on the other side of the world. But it would be best to pick a place where they speak English and are used to tourists, like Scandinavia and most other places in Europe or Southeast Asia.
Here is my pick of the 5 safest countries for solo travelers.
Make a plan (and a backup plan)
My best advice is to make a plan and always have a backup plan. That way you'll avoid stressing over where you're staying, what to see and how you're getting from A to B.
Plan ahead so that you arrive at your destination well before sundown. And always write down the name, address and phone number of the hotel you're staying at, just in case the taxi driver doesn't know the way. I also always carry my hotel's business card on me in case I get lost or need a taxi to take me back. You can get their card at the reception.
Read next: The ultimate guide to solo female travel
Book hotels in advance
Booking your hotel in advance can ease a lot of stress when you're traveling alone for the first time. You should also book airport transportation in advance. When you book your hotel or hostel, ask if they will send a driver to pick you up or if they have a shuttle service.
Go easy on yourself and spend a little extra money on a good accommodation. I prefer to stay at reputable hotels when I travel by myself, because they have great customer service and security and that makes me feel safe. I always book my accommodation through booking.com, which I find the cheapest and easiest to navigate.
Find the best hotel deals here: Booking.com
Talk to people
If you're going to a touristy place like Thailand, there are lots of other solo travelers. Most likely, they'll be easy to talk to and they'll want to make contact. If you're staying at a hostel or join organised day trips, you'll have someone to chat with and ask questions. Ask them where they're from and where they're going next. Or if they know a good restaurant nearby. They might ask you to join them for dinner or a beer. That happens a lot, especially if it's a group.
I always book my tours locally or through Get Your Guide, like this food tour here. Joining a day tour is the perfect way to get new friends and meet other people. I always do that when I travel solo.
This photo is from when I joined a Thai cooking class in Bangkok. I ended up hanging out with the girl to my left. She was also a solo traveler.
Let someone know where you are
As a rule of thumb, I always let my husband know where I am. Especially when I'm traveling around. I tell him the hotel name and address, and if I'm on a day trip I tell him where and with which company. On my first backpacking trip to Thailand, my mom worried sick because I was there during the Mohammad cartoons controversy, and some enraged muslim on TV swore to kill all Danes. The media didn't help one bit.
Your family loves you and probably worries about you every day, so text them and let them know what you're up to throughout your trip. That will make you (and them) feel more safe, and in case something did happen, they'll know where you are.
Read my 27 essential travel safety tips
Don't draw attention to yourself
Traveling alone is not dangerous, but you're always more vulnerable when you're by yourself. Try to blend in as much as you can and follow local customs. That means, dress modestly (especially in conservative countries) and hide flashy jewelery and expensive camera. That way you won't attract the wrong type of attention or scammers.
Go with your instinct
Last but not the least, always listen to your instincts. You know, the feeling something isn't right.
Two years ago, I took a trip to Russia on my own. After a few days of palace watching, the girl at the hotel reception asked me if I wanted to see the lightshow – something really famous in St. Petersburg and just a short walk away. But I had this nagging feeling that I shouldn't go out alone at night. "Oh, you'll be fine," she said. "Everyone goes to the lightshow." I wanted to, but couldn't shake that feeling off me so I stayed in. She shook her head like I was being silly. A couple of days later, I read that several people had been mugged by gangs in the neighborhood I stayed in.
While it's great to step out of your comfort zone, remember to trust your inner voice and follow your instinct at all times. Even in the face of seeming paranoid, awkward or rude. It's better to be safe than sorry.
Traveling alone for the first time?
I've talked to too many people who put off their travel dreams because they don't want to do it alone. If you dream of going to Europe or Asia or somewhere else but don't have a partner, try to find the courage to go anyway. You will meet people on the way, and you'll find the courage and confidence that comes with traveling alone. And if there's no one to talk to (I doubt it!), you can always chat with the staff at the hotel, bar or restaurant. There's always someone ready to talk and help you out. You're never really alone.
Are you thinking about traveling alone? What are your main concerns?
Read more posts about solo travel