Best solo travel tours when you travel alone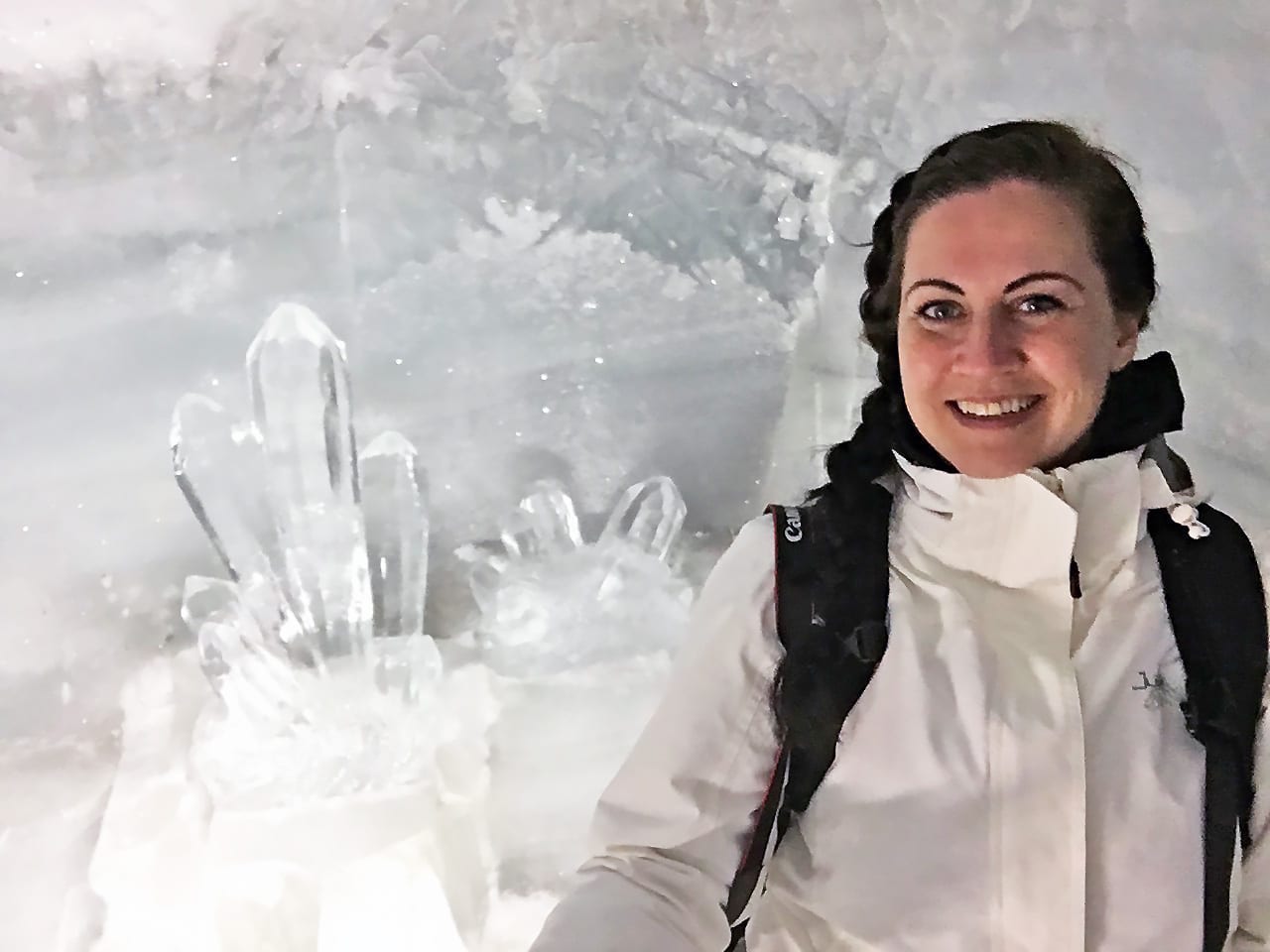 Are you a solo traveller? Maybe it's your first time travelling alone? If you're not completely comfortable travelling independently, or if you just want to avoid the hassle of planning every last detail, here's the perfect solution: Take a solo travel tour!
They're great for a number of reasons. For one, they guarantee you don't miss a thing when you're out on your travels; they show you only the best and most beautiful parts of any city or country. For another, they take all the stress and anxiety from your shoulders; they guide you around in total safety and comfort, so you don't have to worry about getting lost, feeling vulnerable, or feeling overwhelmed.
When it comes to solo female travel safety, tours are the best thing to do with your vacation. So, let's take a look at the best tours for every single kind of solo traveller. The perfect tour for you is in here.
Read next: The ultimate guide to solo female travel 
This post contains referral links for products I love. Adventurous Miriam earns a small commission at no extra cost to you if you make a purchase through my links. Thank you for your support ♡ Learn more
Solo travel tours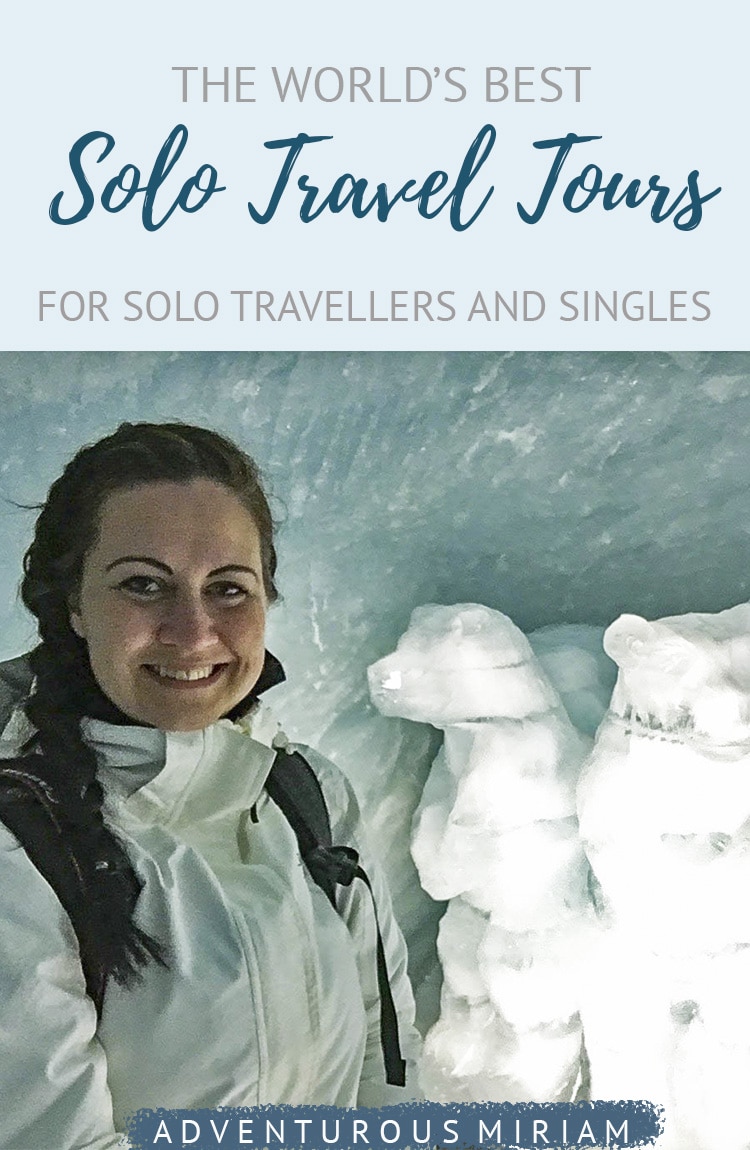 Intrepid travel is a fantastic catch-all tour company that offers something special for almost every kind of traveller. They cover an incredible number of cities and countries all across the world, and almost as many ways to tour and explore with their solo travel packages.
With Intrepid Travel, you'll hike, take buses and tuk-tuks, and even take food tours and cooking classes to see into the food culture of a country. If you're not sure what kind of solo travel packages you're looking for, take a tour of their website and you're guaranteed to find something suitable to your preferred way to travel and your specific interests.
They also offer travel tips concerning solo female travel safety, which is really heart-warming to see!
You can find adventure and excitement from solo travel tours, and this is where Exodus Travels delivers.
This tour company offers travel tours for singles and people of all types who are looking for that feeling of adventure and freedom. Exodus Travels take groups across the world, to some of the most exciting places to walk, hike, and cycle across mountains, coastlines, forests, and deserts from Peru to Costa Rica.
All of this is done with complete safety and security in mind, while still giving you that rush of adrenaline only a true adventure can offer.
Abercrombie and Kent offer tours and cruises across every continent on Earth, including Antarctica! If you prefer a more luxurious experience, taking a trip with this company is the smartest choice, especially if you can afford it.
Abercrombie and Kent are an award-winning tour company who offer incredible services that take you far and wide on breath-taking adventures, all while keeping your comfort as their number one priority. They even offer family tours if you want to give your children the experience of a lifetime.
Safaris are the kinds of travel experiences that dreams are made of. Every traveller has safaris on their travel bucket list. And the best of the bunch is Wilderness Safaris, who offer phenomenal experiences for solo travel.
Six countries across sub-Saharan Africa, including Kenya, Rwanda, and Zimbabwe, and all of which offer the most wonderful wildlife on Earth, can be explore with everything arranged for you. You can get up close and personal with the world's most fascinating creatures, without for a moment having to worry about where to spend the night or how to get around.
When it comes to having the best singles vacations, you cannot do better than a quality cruise. Taking a cruise also eliminates the question: what are the best places to travel alone?
On a cruise, you're never alone and neither are you really in a 'place'. You're free and on the open ocean, moving from place to place on a ship full of like-minded people and fellow solo travellers. Norwegian Cruise Line is a diverse cruise company who travel far and wide.
You can find cruises that take you from the Caribbean to New York, across the Inside Passage of Alaska, and around the islands of Hawaii. There's a wonderful breadth of adventure to be had with this fantastic cruise company.
With adventure tour companies like Overseas Adventure Travel, you get the best of both worlds: You get to take solo vacations while also being surrounded by fellow travellers. After all, the best places to travel alone are the places where you're out there solo but also not alone.
That's what this company offers, as well as guaranteed solo female travel safety. The adventures on offer here take you across mountains and deserts through odysseys and safaris where you can experience iconic place like the Nile and the Sahara on a raw yet safe and thrilling adventure.
What better company is there, when it comes to single travel, than being surrounded by your fellow solo female travellers? Taking a tour with Wild Women Expeditions is a great option!
Getting out into the wild world; horseback riding, kayaking, rafting, and hiking across the most beautiful landscapes on Earth accompanied by your fellow female travellers. The best travel tours for singles are those that take you on a wild ride with new friends that you'll make for life.
Best for Ages 18-35: Contiki
With a huge variety of exciting and varied tours across the entire world – but some particularly fantastic ones in Europe – Contiki offers the best experiences for younger travellers, especially if you're seeking the best places to travel solo.
Island hopping, unique cultural experiences, and winter journeys make Contiki one of the most unique and exciting tour companies around, and something that is perfect for solo holidays, providing you the best solo travel destinations.
Best for Ages 30-50: Flash Pack
Flash Pack is such a fantastic tour company. They really know what they're doing when it comes to catering to your needs. Travellers from 30 to 50 who prefer solo travel tours and finding places to travel alone can join small group tours of people who are of a similar age, looking for the same experiences and destinations.
Solo travel doesn't mean travelling alone. Especially when you're out on a tour across wild and rugged landscapes surrounded by new friends. Flash Pack offer everything from a wild jungle trek to wine-tasting and mindfulness retreats.
There's huge diversity to their tours, meaning that if you're within their age-range, there's a perfect tour for you to create great new memories.
Yes. Yes, they're already featured on the list. But Overseas Adventure Travel are the best when it comes to solo holidays for seniors. Simply because of their experience and their diversity.
Overseas Adventure Travel offer distinct and unique travel experiences that are catered so specifically and carefully to your needs and requirements as a single traveller. For anyone who prefers a more relaxed journey that's still full of excitement and new experiences, Overseas Adventure Travel offer incredible boat trips and cruises across areas like the French Riviera and the Mediterranean.
And if you'd prefer a women-only experience, they offer those as well, like a journey across the ancient landscapes of Sicily.
Six solo travel styles and small group, solos only, touring packages are what make Encounter Travel one of the best tour companies to use for solo vacations.
If you're a solo traveller who wants to experience the best solo travel packages; that means getting your ideal activities and your dream locations. Encounter Travel can deliver that, making them the perfect tour company that will help you get to the best places to travel solo.
Travel safety with Encounter Travel is a priority, meaning you are safe in their hands and you can relax, take the stress off your own shoulders, and leave it for them to worry about. All the while, you're still getting a proper adventure.
G Adventures are a healthy, positive, supportive, and friendly tour company who put you and the world first. They offer wellness tours, nature activities that do nothing to damage the places you visit, as well as local cultural experiences that educate and enlighten you – such as cooking classes.
They're the most wholesome and caring tour company around; the kind that you want to use because of their philosophy and their approach to travel. Their marine tours and wildlife adventures are all designed with sustainability in mind.
Read more posts about solo travel