First time flying alone? Here's how to do it
So, you're ready for your first solo trip? You've got all of your travel essentials, the perfect hotel, and your flight is booked. There's only one thing left to conquer: your first time flying alone. Perhaps you haven't even gotten this far because the idea of flying alone for the first time has put you off.
I know how you feel, trust me. We've all been there, and everyone is scared of flying before they've done it. The main thing to remember is to be prepared. This is my best advice for you! If you know everything to expect, from packing, to dealing with luggage restrictions and beyond, your first flight will be a breeze.
Here you'll find all the tips for travelling abroad first time and everything you need to be ready for your first time flying alone. It's time to get out there and see the world!
Read next: How to conquer your fear of flying
This post contains referral links for products I love. Adventurous Miriam earns a small commission at no extra cost to you if you make a purchase through my links. Thank you for your support ♡ Learn more
First time flying alone
Planning
Book your flight, arrange pick-up by your hotel and print your itinerary
First things first, make sure your flight and pick-up by your hotel is sorted. I always use Skyscanner to find the cheapest and best flights, and booking.com to find great and affordable hotels. Once you've picked your flight and booked your ticket and luggage, make sure you note down your flight details for your pick-up.
There's nothing worse than arriving at your destination, particularly for your first time solo travel, and not knowing where to go or what to do. That's how you end up spending a lot on an airport taxi.
This is what to do: Contact your hotel, give them your flight time and number and say you'd like to be picked up. They'll then tell you where they'll be and usually have a sign with your name on in the arrival hall.
Read next: How to find the cheapest flights
Book a seat
When you book your flight, you'll be prompted to book a seat. This will usually cost more if it's a budget airline. Since you're flying alone for the first time, you don't have to worry about not being sat next to your friend, so the main reason to book a seat is for personal preferences.
Do you want the window seat, or do you feel more comfortable in the aisle? Do you want to be near the bathroom or need extra leg room? These are all the things to consider for relaxing airplane travel. If you aren't bothered, then save the money and they'll randomly allocate you. In my experience, most airlines put solo travellers by the window by default.
Make sure to schedule enough time for stopovers
This is a big one: Your perfect flight has a stopover and I know when you're flying alone for the first time it can be a bit intimidating. But as long as you follow these tips for first time flyers, you'll be fine. When you're booking, you can see how long you've got between flights.
Never book if it's less than 1.5 hours, and book at least 3 hours for the US where there's extra security.
There is genuinely nothing more stressful than running through the airport not really knowing where to go with minimal time for your flight. Bear in mind if you're coming from a non-EU-country, you'll need to check in your carry-on bag again and there might be a long line so give yourself plenty of time. For instance, when I flew from Armenia (non-EU) with a stop-over in Warsaw, we got off the the plane and had to go through a security and passport check before we could head to our gate.
Before you arrive at the airport
Pack well in advance
While it may be tempting to leave all your packing to the last minute, don't make this when flying alone for the first time. It'll help relieve your general anxiety if you know you have everything you need ready. Make sure you've got plenty of things to distract you on the flight in your hand luggage.
Luggage regulations
Another reason for packing ahead of time for airplane travel is luggage regulations. Check what size case you can check-in and the weight. Don't forget to check your hand luggage as well because some airlines don't accept over a certain size. You don't want to incur extra fees at the airport.
All liquids should be in your check-in bag; you can bring small amounts on board with you as long as is it isn't over 100ml and fits inside the small clear plastic bag they'll give you. Bear in mind, tooth paste and some make-up will count as liquid.
Read next: What to pack in your carry-on
Check that your passport is still valid
This is a serious one. Make sure you've got at least six months left on your passport and renew as soon as you get close to that date. Most countries won't grant you access if it's less than six months. You don't want your first time solo travel experience to be quashed as soon as you reach the airport!
Check-in online 24 hours before
These days many airlines will actually charge you at the airport if you don't check-in online the day before, it'll also make your journey through the airport so much smoother. If you've checked-in then you can avoid those big lines at the airport, drop off your bag and walk on through.
If you've only got hand-luggage, then you'll be even faster. This is seriously one of the best tips for first time flyers who want a nice and relaxed experience.
Wear comfortable clothes
Yes, you've seen all those Instagrammers in their heels and tight skinny-jeans ready for take-off. And if you want to do that, that's totally fine but it's so much nicer travelling in your favourite comfy clothes. That doesn't mean you have to look sloppy but definitely avoid anything majorly tight or anything that has awkward buckles or buttons.
Leggings, a sports bra, an oversized knit and a pair of flexible sneakers is the way to go, if you ask me.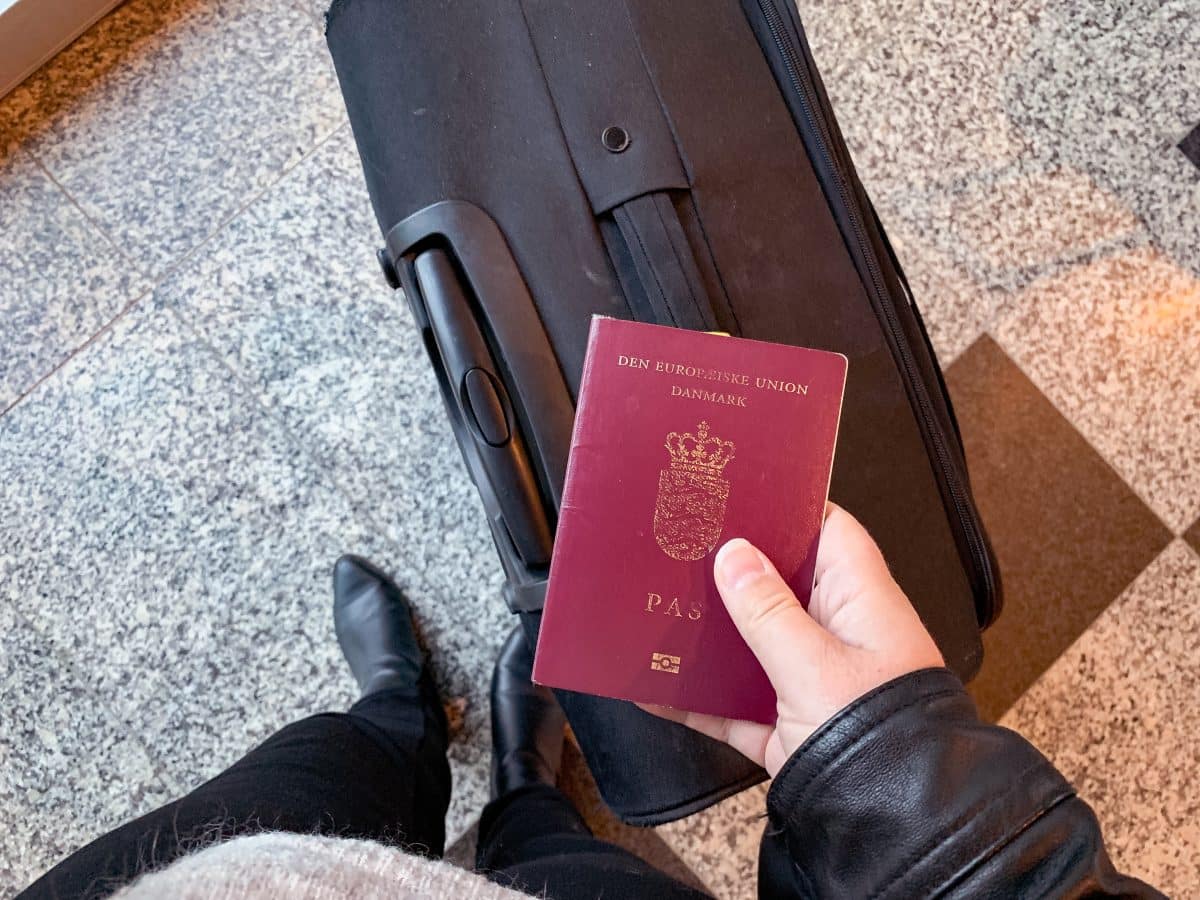 At the airport
Arrive early
This is one of my number one tips for first time flyers: The more time you have at the airport, the less stressful it will be. The golden rule is to arrive at least two hours before but with longer security checks these days and navigating the airport for first time solo travel, give yourself even longer.
When you arrive at the airport, check which terminal you're meant to be at. Most airports are divided into airline sections, so just pay attention when you arrive, and tell your taxi driver which airline you're going with. When you get out, there will be large screens right inside, and you just need to look for your destination and departure time. If for whatever reason you're at the wrong terminal, don't worry. Simply ask the information desk to point you to the quickest way to the right terminal.
Luggage check-in
If you've checked in online then go to the counter for your airline and flight and look for the sign which says, 'baggage drop-off'. Follow the instructions there. There's usually someone there to help out. If you haven't checked in online, then go to the counter with your luggage and check yourself and your bag in at the same time.
If you only have hand luggage and have already checked in, then just go on through; you don't have to go to the counter at all.
Going through airport security
Ah airport security, a necessary evil but it doesn't need to be as stressful as it first appears. Even though this is your first time flying alone, be prepared and approach the security team like a boss with these tips for first time flyers.
This is what you do: Pick up a tray and start putting in all your electronics, flat and not on top of one another.
You'll need to take your laptop and camera etc. out of its case. Send those things (and your phone) through the scanner and in the next tray put your belt, jacket, hat, shoes and place your bag. Make sure any liquids are in the clear bag they provide you and leave that on top. Send that through and go through the x-ray machine.
If it beeps, they'll then make you stand like a star and scan over you with a hand scanner, there's no need to worry; this happens all the time.
Keep an eye on your belongings
Keep your belongings handy at the airport. With all that security and with constantly getting your passport and boarding pass in and out, you'll want to store it somewhere convenient – like in a money belt or a zipped side pocket.
Have passport and boarding pass nearby at all times
Boarding
Get to the gate on time
While it may be tempting to hang around duty-free shopping, make sure you keep an eye on the clock and get to the gate on time. Boarding can sometimes be really quick, and you don't want the anxiety of running to your gate late – trust me!
Buy some water before boarding
It's so important to keep hydrated when you're flying and it's definitely something that can be easy to forget if it's your first time flying alone. It's really expensive to buy on the plane and will probably be a single glass so make sure you buy it before boarding; it's cheaper and you can choose your size.
On the plane
Pre-flight Procedures
Once you get on the flight to your allocated seat, you'll be waiting a while for people to get their luggage in and settle down. Before you take off, the staff will demonstrate the flight-safety tips and ask you to watch and refer to the flight safety card in the seat in front of you.
If you're seated next to one of the emergency-exits, you'll also be given a personal flight safety tutorial in case something happens so don't be surprised when they come over. Although it can seem scary, knowing how to handle an emergency can really help if you're scared of flying.
You can also let the staff know you're flying alone for the first time and they'll keep an eye on you.
During the flight
Let's be real. Flights can get boring, particularly if you're not prepared. You'll normally find in-flight entertainment on board but either way make sure you have some music, your favourite electronics, and a book or Kindle. It's really nice to bring some of your favourite snacks on the flight, too.
Read next: How to survive a long-haul flight
If you're scared of flying, then consider bringing anything that normally relaxes you, within reason. It's best to try and get some sleep on a long flight. There are various travel pillows you can buy, which can make it easier; you can also bring your own ear plugs and eye-mask. Bear in mind, airplane travel gets pretty cold so the blanket they give you might not be enough.
Landing
People often complain about pain as they're landing but don't let that make you scared of flying. It can be uncomfortable but one of the easiest ways to get around the situation is to chew gum to release the pressure.
Make sure you take a pack on with you. It can take a while to land; they'll usually announce landing about 30 minutes before you actually land and, in this time, you'll need to stay seated and have your seatbelt on.
Pro tip: Chew gum
Arrival
Pick up your luggage
And that's it. You survived your first time flying alone – yaay! Now it's time to pick up your luggage and enjoy your holiday. Come off the flight and go through immigration and passport control. Once you're through, follow the signs for 'baggage claim'.
There'll be screens with lots of flights and times on, find your flight and make note of the number it says. Find the carousel with the matching number and wait for your luggage to come around. This can sometimes take a while.
Do you have any questions for your first time flying? Let me know in the comments!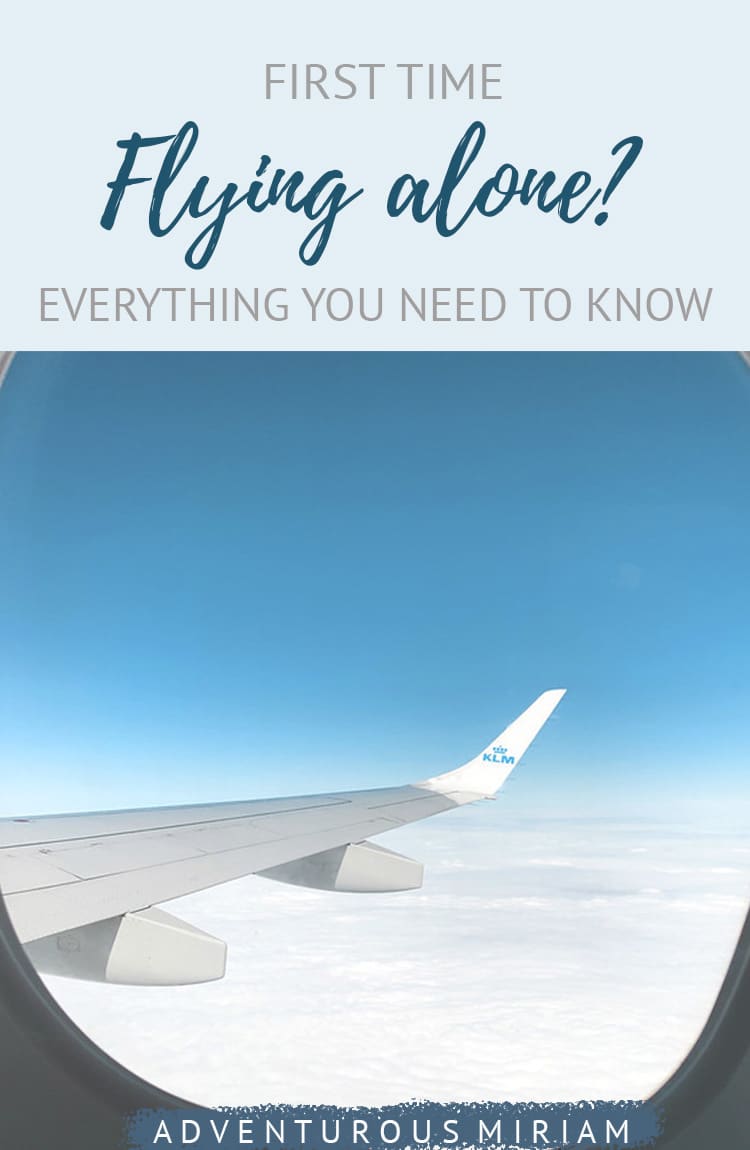 More solo post you might like: