15 amazing things to do in Armenia
Looking for the best things to do in Armenia? I've made this list with some of the most impressive attractions.
A few months ago, I went to Armenia and felt like I discovered a gold mine. Armenia is absolutely amazing, but you don't hear much about it. In fact, most people don't even know where it is or that it's even a country. But Armenia is very much a country with a lot of things to do and see.
Commercially, Armenia is mostly known for the celebrity connections: Cher, Andre Agassi and no other than the Kardashians, because yes – dad Robert was second generation Armenian. Historically, Armenia was the first country to adopt Christianity and they have the churches and Noah's Ark to prove it.
Although Armenia isn't the first country that comes to mind when people plan their vacation, I hope with these posts to convince you that it's a wonderful country worth visiting. I'd go back for the food alone!
Read on for the best things to do in Armenia. 
This post contains referral links for products I love. Adventurous Miriam earns a small commission at no extra cost to you if you make a purchase through my links. Thank you for your support ♡ Learn more
Things to do in Armenia
The main thing to do in Armenia is visiting monasteries and churches. And the second most important thing? Well, that's eating the amazing Armenian food!
Armenia has…. wait for it… 4,000 (!) monasteries and churches.
So, obviously there's going to be lots of monasteries in this post. But apart from that, Armenia is perfect to visit for the nature and beautiful mountains. Of course there are many other great reasons to visit Armenia, but monasteries, nature and Armenian food are the three main draws, if you ask me.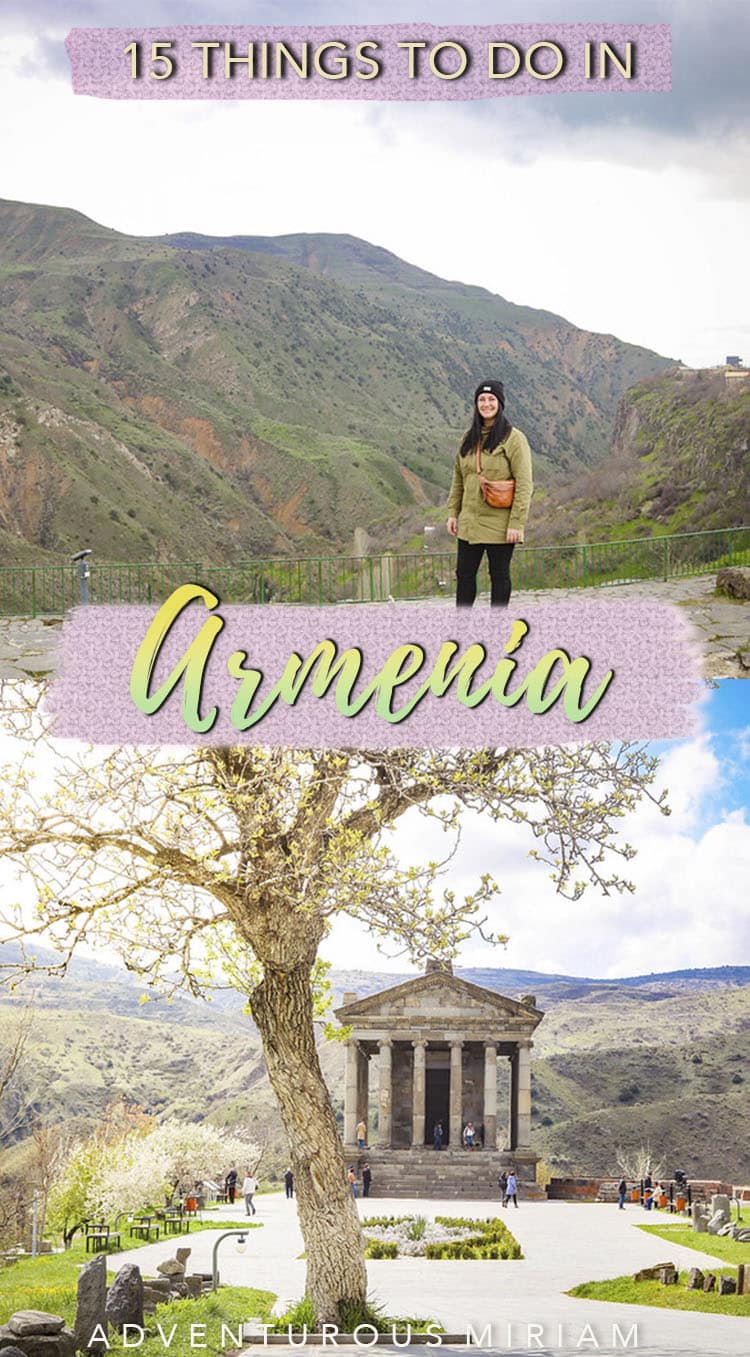 How To Get Around Armenia
My pick? Hyur Service
One of the things I always check first (besides where I'm going to stay), is how to get around. Most times we like to rent a car, but when I travel solo with Theo, I prefer to join organised day tours. Sure, I can take public transportation, but when you have a 2-year old in tow and the massive amount of extra baggage & gear that requires, you want it to be as easy as possible!
In Armenia, things are cheap. As in super cheap! This means that joining a full day trip to see several things on this list will cost you less than $25!
I joined a day trip from Yerevan to Garni, Geghard and Khor Virap with Hyur Service. They're probably the most popular and renowned tour operator in Armenia, and the staff is so nice (they give you cookies, bottled water and WIFI on the trip – need I say more?). They even helped set me up with an apartment, when my other hotel booking fell through. Armenians are really nice in general – always so warm, open and welcoming. I felt so safe in Armenia.
I worked with Hyur Service on this trip, but I would still go with them again when I return. Their professionalism, politeness and helpfulness all throughout was just amazing.
You can check out their services here: Great day tours in Armenia
1. Yerevan
Central Armenia
Your first stop in Armenia will most likely be Yerevan. Yerevan is a great capital with lots to see, and if you run out of things to do, you can dive into the amazing food scene. I'm telling you, Armenian food is AMAZING! And since this is like the third time I'm mentioning it, there must be something about it, right.
3 cool things to see in Yerevan:
Republic square
Yerevan Cascade
Armenian Genocide Memorial
2. Khor Virap
Southern Armenia
And now to the most impressive and scenic place in Armenia. I guess you can call Khor Virap (Armenian for "deep dungeon") the hallmark of Armenia, both because it shows the famous monastery where poor Gregory the Illuminator was held captive in its super creepy dungeon for 13 years. But also because you see the massive Mount Ararat in the background.
Ararat is very dear to Armenians and also the place where Noah's Ark was supposedly found. Armenians even have their national brandy named after this mountain, which is actually located in Turkey. But let's not go there. Armenia and Turkey are not on the best of terms since the Armenian genocide.
3. Noravank Monastery
Southern Armenia
Visiting Noravank is one of the more popular things to do in Armenia. And rightfully so! This UNESCO protected 13th century monastery sits in a narrow gorge made by the Amaghu River. Despite attacks by the Mongols, the Timurid dynasty and a massive earthquake in 1340, the monastery still stands.
4. Tatev Monastery
Southern Armenia
Tatev is the largest monastery in the country – and the sight furthest away from Yerevan. If you've got time, you should definitely go here. It's super impressive because it's strategically poised on the steepest edge of a deep gorge. There's a cable car at the scene, which is one of the longest in the world.
5. Geghard Monastery
Western Armenia
Geghard monastery is about an hour's drive from Yerevan. It's close to Garni, too, so you'll definitely want to see both when you're in the area.
What's so special about Geghard is that it's a UNESCO site and considered an important pilgrimage site. Inside the monastery, there's a holy spring that pilgrims and some visitors drink from. This is definitely a very different and unique monastery experience. I highly recommend visiting.
6. Garni Temple
Western Armenia
Garni Temple is believed to have been erected in 77 AD, and it's one of the only remaining pagan temples in the country. When Armenia adopted Christianity as its national religion in the 4th century, more of less all of the pagan temples were destroyed. Why or how the temple of Garni survived is a mystery.
7. Lake Sevan
Western Armenia
Another popular Armenia sight is Lake Sevan. At Lake Sevan, you'll find Sevanavank, a monastery from the 9th century. The lake is also a great place for water sports, swimming and relaxing.
8. Noratus Cemetery
Western Armenia
If you've been following for a while, you know that I have a thing for cemeteries. Not in a dark twisty way, but there's just something about them that shows the culture of a country. Just take the Jewish cemetery in Sarajevo, any cemetery in Guatemala or the bone house in Hallstatt, Austria.
But back to Noratus cemetery, which is interesting because it holds the largest cluster of cross-stones (khachkars) in the country. The oldest khachkars in the cemetery date back to the 10th century.
9. Armenian Alphabet Monument
Northern Armenia
Did you know that Armenia has its own alphabet? It does. The Armenian alphabet was created in year 405 AD by Armenian linguist Mesrop Mashtots and consists of 38 letters. To commemorate that fact, a monument was made of all the letters and their creator, Mashtots. You can find this sight north of Yerevan on the road towards Georgia.
10. Amberd Fortress
Northern Armenia
So, Amberd. This medieval fortress and connecting church is surrounded by deep gorges on both sides. Its isolated location makes it a bit difficult to get to – however if you do get there, you're rewarded with this view ↓
11. Goshavank Monastery
Northern Armenia
About 2 hours north of Yerevan you'll find Goshavank, a 13th-century Armenian monastery. Goshavank is interesting for two reasons. 1) It's home to one of the world's finest examples of a stone-cross, and 2) this Christian monastery has been restored by an anonymous muslim for reasons unknown.
Check it out if you're in the area. You can combine it with a day trip to the Armenian alphabet, Haghartsin and Haghpat monasteries.
12. Haghpat Monastery
Northern Armenia
Haghpat monastery is a UNESCO site and one of the largest and most impressive monastery complexes in Armenia. Here, you can see the most characteristic features of medieval Armenian architecture, like the cross-stones, chapel tombs and beautiful frescos.
13. Haghartsin Monastery
Northern Armenia
Haghartsin monastery is another gem, hidden in a valley. Haghartsin (Dance of the Eagles) was built between the 10th and 13th centuries and has three churches: one named for Virgin Mary; another for St Stephen; and the third for Gregory the Illuminator – the poor entrapped bishop at Khor Virap. Trust me, if you'd seen the creepy, claustrophobic dungeon way, WAY below the ground, you'd feel sorry for him, too.
You can combine this trip with a visit to Hagpat monastery or Lake Sevan.
14. Look for Brutalism Architecture
Oh, this is my favorite. And if architecture isn't really your thing, I don't blame you. It wasn't mine either until recently. But this thing – brutalism – is just something very, very different from anything you've ever seen. It's a raw, haphazard design style seen across post-soviet countries. I've already covered Brutalism in my post about Skopje and Tbilisi, but here are the best Brutalist buildings in Yerevan.
Some really great examples include:
Yerevan cascades
Cinema Rossiya
Yeritasardakan Metro Station
Cable car station
15. Eat Armenian Food
This! Before I visited I had no idea what the food was about. I knew the food in Georgia had a great reputation, but the Armenian food, too? It blew me away. It's the most delicious, tasty cuisine I've had. You know how much I love Croatian food and Thai food. Well, Armenian food gets a second place in the Food World Cup! It's that good!
So, what is it exactly?
Think grilled lamb barbecue and allspice-scented meat dumplings with tomato sauce and garlic yoghurt. Oh, and don't forget the amazing wine! The food here is YUUUM! This photo below is deep-fried khinkali by the way, which originates from Georgia. I preferred it deep-fried or boiled with sour creme on the side.
I'll have a full Armenian food post with you shortly. Brace yourself!
Read next: Food of Armenia: 14 dishes you must try in Yerevan
Have you been to Armenia? Let me know in the comments if you have any questions!
Don't miss these posts on Armenia