How to visit the legendary Khor Virap monastery
Armenia is home to one of the oldest Christian sites in the world: the Khor Virap monastery. Located just south of Mount Ararat near the Turkish border, this ancient monastery holds centuries of history while offering you breathtaking views of the Armenian countryside.
In this blog post, I'll cover all you need to know about visiting the Khor Virap monastery, including how to get there, what to see while you're there and what to bring.
Read next: 15 amazing things to do in Armenia
This post contains referral links for products I love. Adventurous Miriam earns a small commission at no extra cost to you if you make a purchase through my links. Thank you for your support ♡ Learn more
What is Khor Virap?
Khor Virap is an Armenian monastery. The name "Khor Virap" translates to "Deep dungeon", because there's a dungeon on site, which was used for imprisonment. In 642 CE, the monastery was built.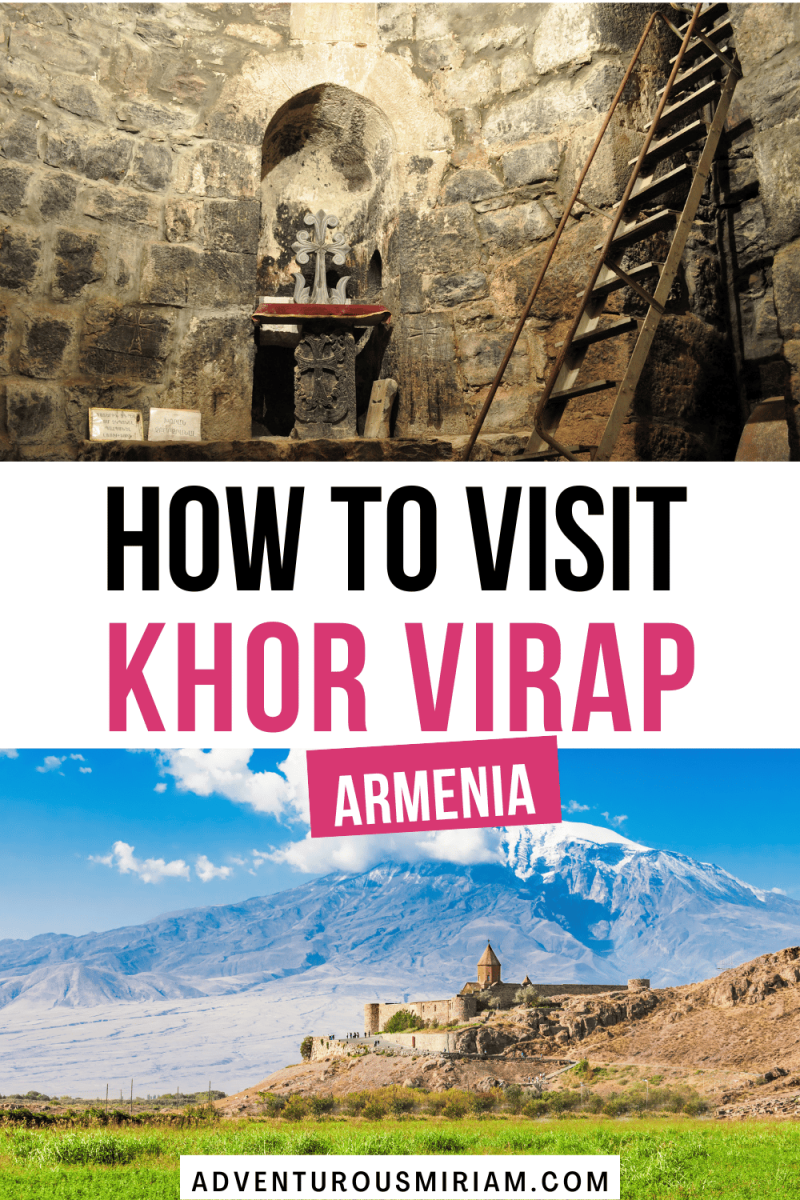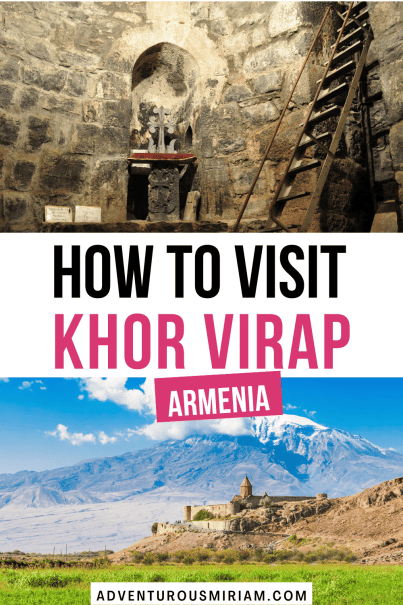 Where Is Khor Virap?
Khor Virap is located 43 km. southeast of Yerevan, just 100 m. from the Turkish border. It's proximity to Mount Ararat makes it an ideal spot if you're looking for amazing views but also willing to explore off beat!
History of Khor Virap Monastery
Khor Virap has been a pilgrimage site for Armenians since the 5th century when Gregory the Illuminator was imprisoned there for 13 years by King Tiridates III for his conversion to Christianity.
King Tiridates III believed in many gods and practiced Paganism. He was not happy that Grigor Lusarovich (who later became known as Gregory the Illuminator) openly defied the Armenian pagan religion and spread the word about Christianity and the one true God. So, the king trapped him in a burial pit beneath Khor Virap for 13 years while persecuting all Christians in Armenia.
After his evil treatment of the saint, the king was cursed with madness. Like a wild boar, he roamed the forest until St. Gregory was released and miraculously cured him. The king was so thankful that he converted to Christianity, and Gregory went on to spread Christianity throughout Armenia. In 301 AD., Armenia was the first country in history to adopt Christianity as its official religion.
The monastery was built around 301-303 AD. Although it has been rebuilt many times since then, it stands as a testament to Armenia's rich religious history.
Things to do at Khor Virap
Khor Virap is a popular spot for pilgrims and tourists who come here to take in its stunning views and explore its storied past. From exploring the dark dungeon and chapel to admiring the stunning views of Mount Ararat from atop its walls, there's plenty to do at Khor Virap.
You can visit Khor Virap all year round. In winter, you'll have snow or frosty skies, in autumn a myriad of colours, in spring the blossoms and in summer you're rewarded with hot days and a better chance of sunshine. We visited in April and the grass and trees were already blooming.
Here are the best things to explore when you're visiting Khor Virap, Armenia.
Explore the church
A monastery was established at Khor Virap in 301-303 AD, and it has been rebuilt over time. The current church was built in 1662, but you can see what remains of the old chapel, monastery and cells.
Admire Mount Ararat
The view of Khor Virap monastery is impressive for one particular reason: Mount Ararat in the background. The mountain is a main symbol of Armenia. You see, this is the mountain described in the Bible where Noah landed his Ark after the flood.
For Armenians, the mountain is their pride and history, which is why you'll see it depicted on their banknotes and coat of arms. Although Mount Ararat has been part of Turkey since 1923, Armenia consider it historically and legally a part of its country.
You can get a good view of the mountain from Khor Virap. At 5,137 m, it's hard to miss no matter where you're standing.
Climb into the dungeon where Gregory the Illuminator was held
Inside the chapel, you'll notice a stairway to the right of the altar. The stairway leads down to the pit where Gregory the Illuminator was imprisoned for 13 years. Pilgrims climb down the 27-step, narrow metal ladder where the saint was incarcerated. If you'd like to join them and don't suffer from claustrophobia, make sure to wear sturdy shoes.
The pit dungeon is 4.4 m in diameter and 6 m deep. It's also quite dark.
Explore the grounds
Just at the entrance, make sure to look for the carving of the saint curing the possessed King Tiridates III. It's on the eastern facade.
Get the iconic Khor Virap photo
To get the best photo of Khor Virap, you'll need Mount Ararat in the background.
On your way there, you'll be able to see the monastery long before you reach it. If you're traveling by car, make sure to stop at a distance to get both the monastery and mountain in the frame. If you're on a day tour, ask the driver or guide if you can stop for a picture. I'm sure, they'll let you take a few.
From the main road, you can get the perfect photo of the Khor Virap monastery with vineyards in the foreground and Mt. Ararat in the background.
How to get to Khor Virap monastery from Yerevan
The easiest way to get from Yerevan to Khor Virap is by car or on a tour. Taking public transportation will cost you $2 USD in total for each way.
You can also join an organised tour that includes roundtrip transportation from Yerevan and a guided tour of Khor Virap and other nearby temples and monasteries. This is a great option if you want someone else taking care of all your logistics so you can just focus on soaking up all that this historic site has to offer!
By bus
Getting from Yerevan to Khor Virap by bus is fairly straightforward. Simply head to the railway station in Yerevan and look for a marshrutka (minibus) that has an "Ararat" sign on it. Get off in Ararat and walk the 1.5 km to Khor Virap. The bus trip takes around 1 hour and costs $1.
Bus times changes, but now (in December, 2022), the bus runs three times a day from Yerevan to Ararat: 9am, 11am, and 2pm. I recommend starting early to make sure you can get a bus back to Yerevan.
By car
If you'd rather drive yourself, you'll be rewarded with much more freedom. You'll need to rent a car and head south on E117 for 30 km. Continue on H11 and drive up to Khor Virap monastery. You'll be able to see it all the way from the main road (E117).
On a tour
My personal choice of transportation is to join a tour. While having your own car is usually my preference, you'll just get much more out of this trip with a guide. There's history and inscriptions (in Armenian) to be told and explained, and a guide can help you with that. Plus, you can can choose a private day tour like we did and visit two more monasteries in one day. Win-win!
Opening Hours
From 9am-6pm daily
Khor Virap monastery is open daily from 9am-6pm with extended hours during peak seasons such as Easter and Christmas when it stays open until 8pm on some days. I recommend checking before planning your visit.
Also, it might be a good idea to avoid visiting on public holidays as more people will visit. Visit in the morning and you'll have it almost to yourself.
What To Bring To Khor Virap
Khor Virap is an outdoor destination, so make sure you bring sunscreen, sunglasses, a hat or anything else you might need while spending time outdoors. Also don't forget good walking shoes so that you can explore the grounds – especially if you're feeling adventurous enough to explore the dungeon pit.
Remember to dress appropriately
Khor Virap is the place where Christianity was formally adopted by the country, so it is considered sacred. Be sure to show respect for the locals and their beliefs by dressing appropriately and covering your shoulders and knees.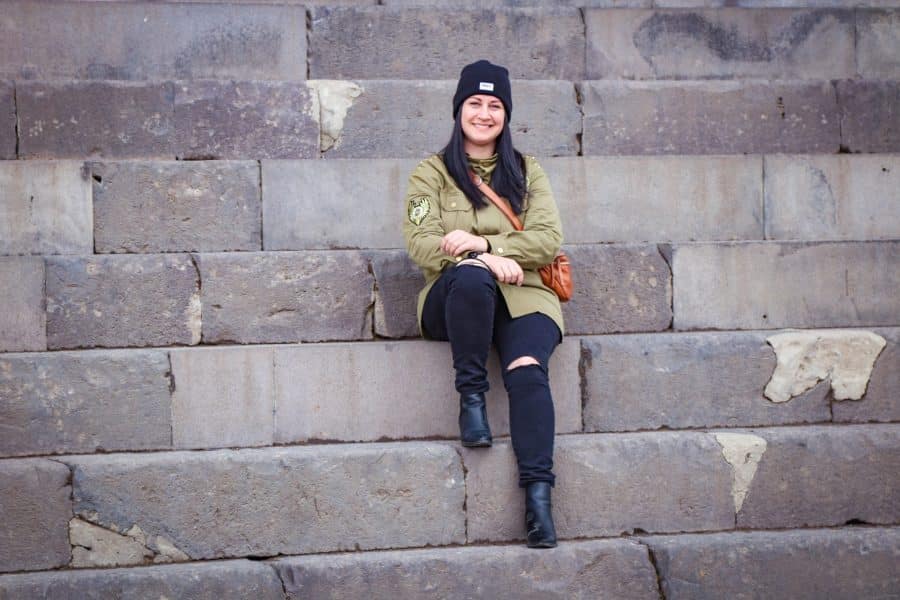 Got any questions? Ask me anything in the comments!
Read more about Armenia