Food of Armenia: 14 dishes you must try in Yerevan
Food of Armenia is dangerously good. In fact, it's some of the best food I've ever had. Until very recently I didn't know anything about it. I'd only heard a bit about the food in Georgia and that it was preeeetty amazing. But Armenian.. What, why or how? – no clue.
But then I came to Armenia and had my first order of manti. I randomly ordered what sounded good from the menu card and was served the most heavenly veal and lamb dumplings baked in tomato sauce with garlic yoghurt on the side. From that dish on, I was pretty much hooked on Armenian food.
This post contains referral links for products I love. Adventurous Miriam earns a small commission at no extra cost to you if you make a purchase through my links. Thank you for your support ♡ Learn more
Food of Armenia
Armenian food is a flavourful one. Think vegetables, meat and fish cooked with plenty of spice. The most popular dishes include lamb, eggplant and lavash (flatbread) – always served with a glass of wine or brandy.
The joy about the Armenian food is that it's a melting pot of so many cultures and flavours. You've got tabbouleh and tahini (Persian), potato salad (Russian) and dumplings that could belong in both Russian and Asian dishes. That's what so great about Armenian food. It boasts so many amazing flavours from some of the best cuisines.
Another thing is the prices. They're among the cheapest I've seen. We're talking Thai prices here – like $2 a dish, at least for the smaller main dishes. Obviously, if you order a huge steak you'll need to pay up. But traditional Armenian food and wine will not break the bank. Not by a long shot!
Foodie tip: Because dishes are so insanely cheap, you can order several at a time. That's what we did. We ordered, say, 4-5 dishes and got to try more of everything. I love these plates-to-share, but if you're not much of a food sharer, you can always just order several dishes for yourself. Just think of it as tapas.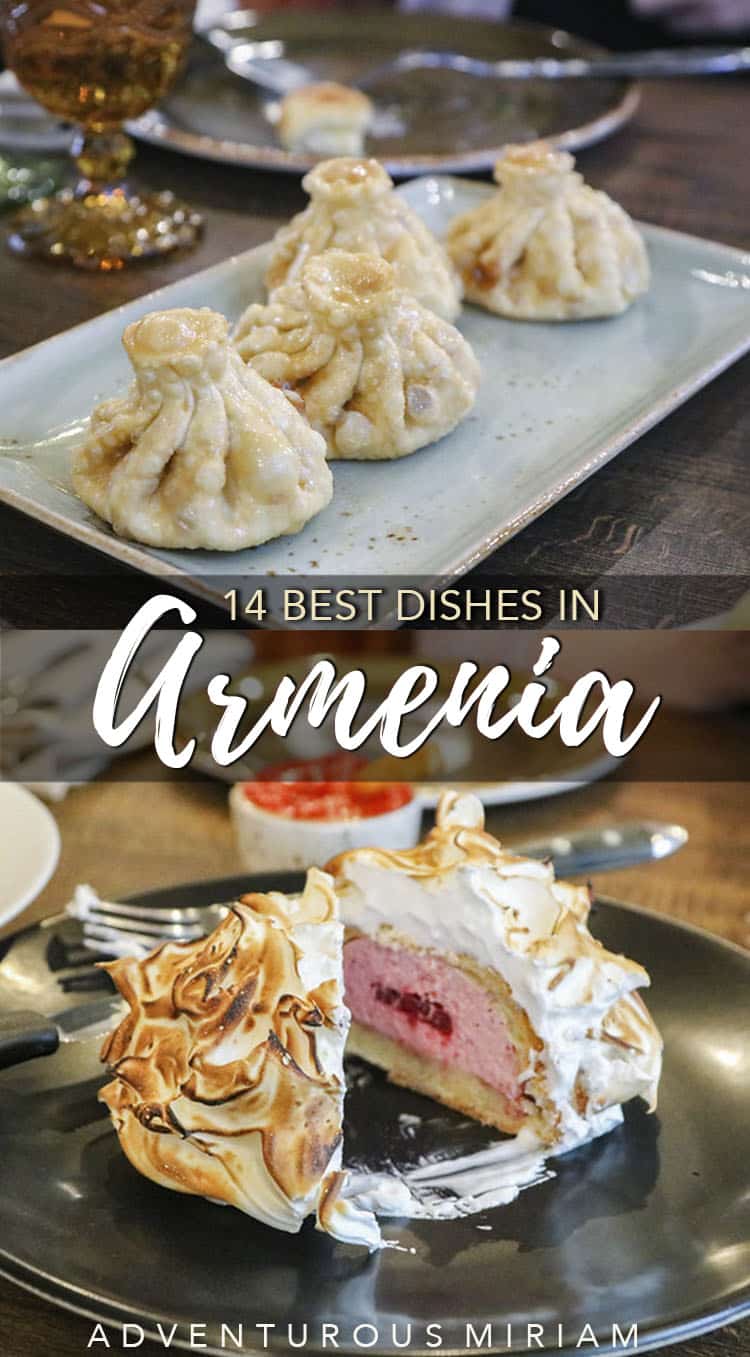 1. Manti
Meet the best Armenian dish ever:
Baked dumplings served in tomato sauce with garlicky yogurt on the side.
If you want to know what I've eaten more of less every day in Armenia, it's THIS EVERYDAY ESSENTIAL. We are kind of having a moment here.
These baked thumb-sized dumplings in spicy tomato sauce are out of this WORLD. A plate of manti only costs like $2 – you have to try it!
2. Dolma
Minced meat and rice! Oregano, onion and mint!
All wrapped in fresh, crunchy grape leaves!
AHHHHH!
Gang's all there, like all of it together in a wrap making dreams come true. Try it at Dolmama restaurant in Yerevan.
3. Herb-stuffed lavash
This yummy snack? Yes, snack. Some people might call stuffed lavash a meal, but I'm not one of those people.
Whatever it is, it's healthy and filling and yummy.
And cheeeesy.
Ok, I might have exaggerated about the healthy part, but this Armenian dish is amazing nonetheless. It's extra popular around Easter, which is when we visited.
4. Armenian kebab (Khorovats)
Another Armenian favorite, comin atcha!
The Armenian kebab (or khorovats) is one of the national dishes – delicious skewers of pork, but you can also try lamb, beef or chicken khorovats.
5. Lahmacun – The Armenian pizza
The Armenian pizza is like regular pizza, but without the cheese. It's a flatbread spread with spiced lamb meat, and the way to eat it is by folding your slice. You can have it served old-school (with lemon and parsley) or Syrian-style (with pomegranate molasses and Aleppo pepper).
Where to find great lahmacun in Yerevan? At Mer Taghe restaurant near Freedom Square.
6. Lavash (bread)
I'm not really a bread person. But Armenian bread? Hello, hi, I love you.
There's a whole art of making this famous flatbread. Traditionally, only women prepare and make it in a clay oven (a tonir/tandoor), and it requires great skill. I've seen it in action, and the women practically dived into the oven to get the bread.
Ask any Armenian about the pride of their cuisine and they'll mention that flatbread.
7. Armenian snickers (Churchkhela)
Armenian snickers!
Yep. It's a strange one, but also not, because the nuts + oh-so-smooth candy combo is never not a good one.
What is Armenian snickers like, exactly?
Actually… This is a Georgian invention. It's a long string of nuts dipped repeatedly in a sugary roux made from grape juice. Super sweet and deliciously good.
8. Khinkali
If I could eat this every day for lunch for ever and ever, I'd be a happy girl.
Khinkali is also Georgian, but it's very much served in Armenia, too.
Khinkali is a chunky dumpling with meat (lamb, beef or pork) or vegetarian fillings of mushroom, spinach and cheese. It has the most delicious broth inside. Eating khinkali (the right way) is all about extracting the hot juices in one bite, by slowly using the top knot of dough as a handy grip.
Read next: Georgian food you have to try
9. Pelmeni (Fried or boiled)
Pelmeni is MAGIC!
Soft, elastic but smooth, a classic meat flavour, and a subtle kick of spices.
Whereas khinkali is Georgian, pelmeni is Russian. The magic of these two different dumplings lies in the broth within. It's soooo incredibly tasty you won't believe it.
You can have your pelmeni egg-fried, which is a bit dry, though, for my taste. Or you can have it boiled (the traditional version) and served with sour creme.
Ohmygoodness. I cannot get enough. Take a little look:
10. Soups
You like soup? Great news for you. Soups reign supreme in Armenia, and they're like a warm hug in a bowl.
You've got the famous yoghurt soup, which is probably the most popular soup of them all. But there's also vegetarian soups and dumpling soup.
A few of the most popular Armenian soups include:
Kololik (with meatballs)
Spas (yoghurt soup)
Khash (made from cow feet)
Lentil soup (if you're a vegetarian. Or just don't like cow feet)
Qrchik (great for pregnant women)
11. Rice pilaf
Pilaf is a popular Armenian side dish with a great combination of textures.
Basically, pilaf is rich, buttery rice with broken-up noodles, often served with roasted lamb, pork or chicken. You can also have it sans meat if you're a vegetarian.
12. Basturma Omelette
The star of the show here is the basturma.
Basturma is highly seasoned, air-dried cured beef. It's powerfully flavored and although it's excellent on its own, it's also quite good in an omelette!
13. Lamb with tarragon
Well, well, well.
If it isn't lamb cooked with tarragon sauce. I have to be honest here and tell you, tarragon is not my favourite flavour. But in Armenia, this pungent licorice-like herb is used in several dishes. Even in lemonade.
14. Armenian desserts
The traditional Armenian desserts are super sweet and tasty. Among the most popular desserts, you'll find:
Armenian gata (sweet bread)
Honey Baklava
Dried fruits
The homemade snickers
Hshablit (almond biscuits)
Amazing drinks in Armenia
Apart from the amazing food of Armenia, there's also the drinks! Wine is the most popular drink along with brandy (Ararat is the national brand name). But you shouldn't leave without trying the lemonade and coffee, which is traditionally cooked a la Turc (boiled in a coffee pot on live embers).
Armenian wine
Although Georgia holds the title when it comes to the origin of wine, Armenian wine comes close. Armenia is one of the oldest wine producing regions of the world with 6000 years of producing. You can have wine at any restaurant or cafe, and it's super delicious.
For a great experience, you can taste and buy wine at In Vino in Yerevan.
Lemonade
Now, actually, this isn't traditionally Armenian, but it's found in most restaurants and it's great! This Georgian lemonade is a carbonated soft drink originally with tarragon. However, if tarragon isn't your cup of soda, you can try other flavours, such as pear, vanilla, lemon, or chocolate.
7 Best Restaurants in Yerevan
When I travel, I always do research and look for the best restaurants in advance. While it might be easier to just pick a restaurant when I'm there, I like to know what I get. Since I started doing that, I've had some of the best meals of my life and still at a great price.
These are some of the best restaurants that also rank high on Tripadvisor:
Sherep (my favorite in Yerevan)
Tavern Yerevan (try the manti!)
Lavash (great bread)
The Tolma
Dolmama (best dolma)
Picasso (super great service. They don't take credit card, though!)
In Vino (for wine tasting and a rustic setting)
So, what do you think? Would you try Armenian food?
Don't miss these posts about Armenia