13 best Georgian food (the ultimate comfort food)
If you've ever considered visiting Georgia (Caucasus) or ever wondered why anyone goes there, I've got one word for you:
Food.
Georgian food is like nothing else you'll ever taste. As a foodie, I know that I praise more or less anything edible, but this food? It's just different.
It's the best comfort food in the world. It makes you feel good. Like that favourite dish grandma always used to make on cold winter days. Hearty, flavorful and like a warm hug. It's downright satisfying!
Read on for the best Georgian dishes.
This post contains referral links for products I love. Adventurous Miriam earns a small commission at no extra cost to you if you make a purchase through my links. Thank you for your support ♡ Learn more
Traditional Georgian food
What makes Georgian cuisine so incredibly tasty and delicious is the flavours. You've got flavours from the Mediterranean, as well as Turkey and the Middle East. The most common ingredients are walnuts, pomegranate, kidney beans, cheese, honey, coriander and garlic.
In general, food in Georgia comes with a lot of bread, pastry and cheese, so it's not the most healthy cuisine. But the best ones usually aren't, amirite?
The thing I love the most about Georgian dishes – apart from the absolutely amazing taste – is the clay and iron pots they're served in. Like, when you order lobio (bean soup), you'll get it in this little witch pot. It's so rustic. I love it.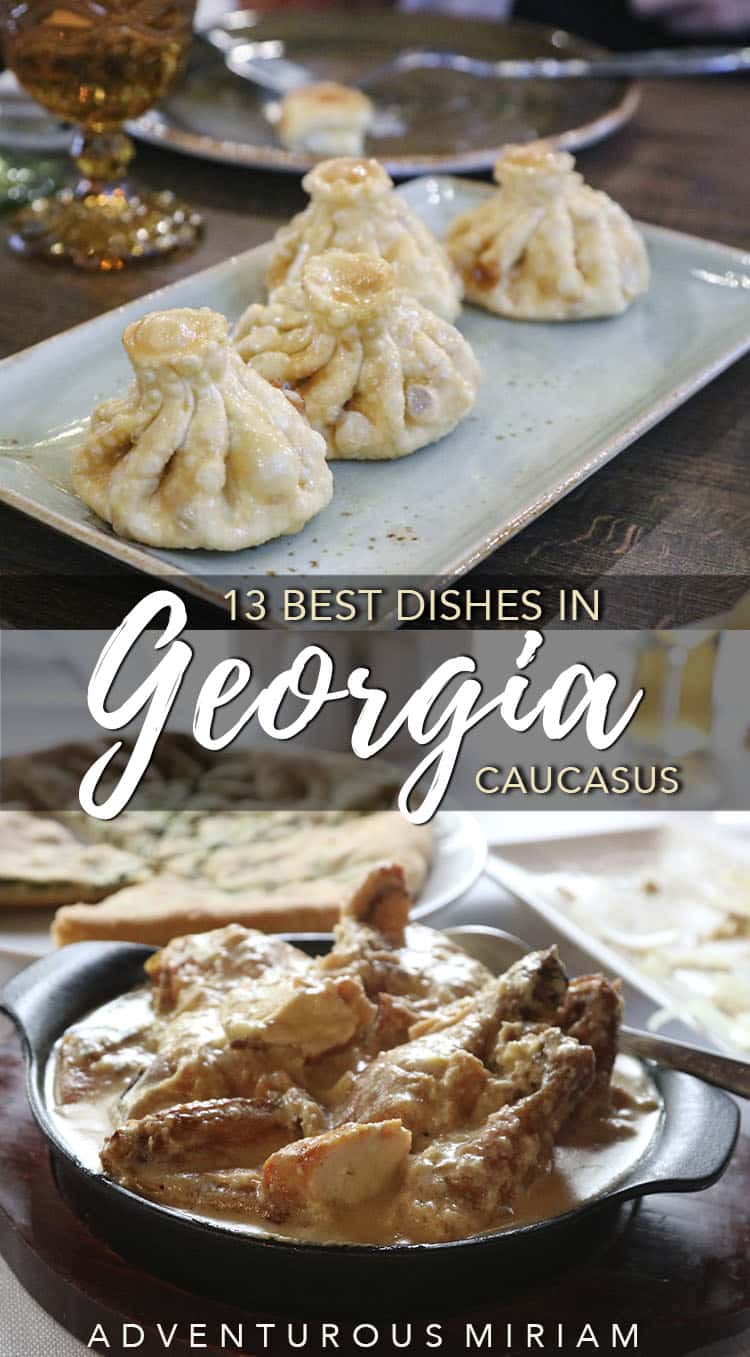 Eating out in Georgia
Before we dig into the dishes, here's a few things to be aware of when it comes to eating out in Tbilisi:
Breakfast is not really a thing in Georgia. This means you should find a hotel with a breakfast option, because you won't find breakfast or brunch in any restaurants. It also means that restaurants are closed until 11.30-12 noon.
Vegetarians will find lots of meat-less dishes to choose from, while vegans will have a harder time because of the heavy doses of butter and cream in most dishes.
Tipping is appreciated, but not required.
You can pay with credit card at most restaurants and cafes in Tbilisi.
1. Khinkali
If you could only taste one Georgian dish, it should be khinkali – the national dish. You know Chinese dumplings, right? Those small savory balls of dough with or without meat. Well, khinkali is dumplings on steroids.
You've got this chunky dumpling with meat (lamb, beef or pork) or vegetarian fillings of mushroom, spinach and cheese. It has THE most delicious broth inside. And there's a whole art to eating it right (find instructions below). I had khinkali every day in Georgia and Armenia, and while the original khinkali is boiled, my favourite was the deep-fried edition. Deliciousnesssss!
FYI: At restaurants, you have to order at least three-five khinkalis, and you can't mix and match the varieties. Good news is that they're so cheap – expect to pay around $0.17 per khinkali.
Deep-fried khinkali
Spinach khinkali
2. Shkmeruli (garlic chicken)
While khinkali is king in the Caucasus, my favorite dish, or one of them, was shkmeruli (garlic chicken). Here, you've got crispy chicken cooked in a creamy milk and garlic sauce.
It's a basic dish with very few ingredients, but I'm telling you… You'll want to try this.
3. Ostri
Another prime example of Georgian food is ostri. Ostri is a hot, spicy beef stew with garlic, parsley and coriander. Like most other dishes in Georgia, it's served sans side dish, although some rice could have been lovely!
4. Khachapuri
Another dish you're bound to hear about is khachapuri. And there's a LOT of different khachapuris in Georgia.
These cheese breads come in an array of shapes, sizes, doughs, and fillings. The most popular version is the adjarian khachapuri, which is shaped like a boat, stuffed with melted cheese and butter and topped with an egg.
Pro tip: If you go for a megruli khachapuri (a plain cheese bread), just know that it's kind of heavy – it's cheese overload! It's a big plate, so if there's two of you, you can split it and maybe order another dish on the side.
Adjarian khachapuri
Spinach khachapuri
Megruli khachapuri
5. Kharcho
Kharcho is a traditional Georgian soup with beef, rice, cherry plum purée and chopped walnuts. It's usually topped with coriander like most other local dishes.
6. Lobio
Oooh, the lobio. When I first heard about lobio, I honestly thought it sounded a bit meeh. But guys, there's nothing meeh about this dish.
Lobio is a slow-cooked bean stew with onion and herbs. A very flavoursome dish served in a little clay pot. There's the thin soupy kind and then there's the thick and creamy, which is the best. This is a great dish for a starter or if you're not that hungry.
7. Mtsvadi
Mtsvadi is skewered meat (pork, beef, lamb or chicken), cooked over an open fire. It's traditional Georgian barbecue tossed with raw onions and finished with freshly squeezed pomegranate juice. Sometimes it's also served with sour plum sauce or wrapped in thin bread.
8. Potato and leek soup
Soups are also big in the Caucasus. And one soup in particular is super delish – that's the popato and leek soup!
9. Georgian bread (puri)
Georgian bread is baked like Indian naan; in a clay oven with the dough stuck to the side. Almost every meal you order will be served with freshly-baked bread, perfect for dipping in soups or stews.
10. Salad
A traditional Georgian salad consist of tomatoes, fresh parsley, basil, green peppers, red onion and cucumber. It's sometimes served with cheese (imeritian) or chopped walnuts.
11. Tolma
Tolma is another Georgian traditional food consisting of minced meat and rice seasoned with oregano, onion and mint. All wrapped in fresh, crunchy grape leaves!
12. Churchkhela
Churchkhela is a popular, if not the most popular candy in Georgia. It's a string of nuts dipped in grape juice syrup. You'll see them hanging in markets and stalls around town, but the best ones are fresh and sold in small batches.
13. Georgian drinks
There are two drinks in Georgia that you have to try. First, the wine, which is absolutely amazing! Georgia is the birthplace of wine (next to Armenian wine), and they've had more than 8000 years to perfect their craft. What's unique about Georgian wine is that it's generally more rich, structured and tannic due to being aged in qvevris (clay urns) that are buried in the ground.
Three to try:
Mtsvane, fruity and aromatic white wine.
Rkatsiteli, lightly honeyed and very fresh white wine.
Saperavi, a plummy, savory red.
The other drink to try is the Georgian lemonade, which is a carbonated soft drink originally with tarragon. If tarragon isn't your cup of soda, you can try other flavours, such as pear, vanilla, lemon, or chocolate (pear is my favourite).
Best restaurants in Tbilisi
Quality is more or less the same no matter where you eat in Tbilisi. I've been to taverns, high-end restaurants and mid-range restaurants, and the service and interior was the only thing that differed.
These are some of the best restaurants in Tbilisi:
Pasanauri Rustaveli (best khinkali and ostri) close to the Sulphur Baths
Barbarestan (best traditional food)
Maspindzelo (try the shkmeruli!) next to the Sulphur Baths
Vinoground (for vine samples)
How to eat a khinkali (the right way)
There's a whole art to eating a khinkali, and it can quickly turn out messy if you don't bite correctly. Here's how to do it:
You hold the crown upside down (crown is usually not eaten)
Slowly bite a small hole in the khinkali
Drink the deliiiiicious broth inside
Then bite in and eat the rest
Georgian cooking class
One of the best ways to experience a new country and its cuisine is through a food tour or a cooking class. I always try to join one when time allows.
For a fun experience, you can take this food tour in Tbilisi. You'll visit a local family and make khinkalis, khachapuri and more, and as a bonus you'll sample Georgian wine. You can also take a full-day wine tour to Kakheti. Find out more here.
Explore Georgia
Tbilisi is just one of the places in Georgia to taste the amazing Georgian food. If time permits, do yourself a favour and explore more of Georgia to see what this beautiful country has to offer. It's easy to take day trips from Tbilisi or you could spend a few days in some of the best places, like Batumi, Svaneti or Tusheti.
Before you go – read more from Georgia
Do You Love Georgian Food, Too? Got Any Questions? Ask Away In The Comments Below.