The perfect 2 days in Granada itinerary (Spain)
Looking for the perfect 2 days in Granada itinerary? Find the best things to do in Granada here, from the magical Alhambra to flamenco shows and tapas devouring.
Long, long before I even planned this trip, I heard about a charming Andalusian town in the mountains with a major Arabian palace, orange-lined avenues and cheap tapas. Granada – one of the most beautiful cities in Spain.
So, I kept it on my radar until the time was right for a visit.
Well, this summer I finally got around to visiting Southern Spain for the first time, and Granada was the first place I put on my Andalucia road trip itinerary.
In this post, you'll find the best things to do in Granada in 2 days. You'll also discover how to get around, there to stay and where to find the most delicious tapas and churros.
Let dig in!
This post contains referral links for products I love. Adventurous Miriam earns a small commission at no extra cost to you if you make a purchase through my links. Thank you for your support ♡ Learn more
How to visit Granada Spain in 2 days
Granada is located in Andalusia, the south of Spain. Most people visiting this region come through Malaga, and guess what – Granada is only 1,5 hours drive away. You can easily combine it with a trip to Costa del Sol, which would balance out a seaside vacation really well.
Okay, so Granada has a lot to offer on several fronts. First and foremost, it's home to the majestic Alhambra palace, which I'll get to in a minute. But it's also a great place to unwind and relax.
Since it's located in the mountains, you get that fresh mountain air not to mention the views! You can spend oceans of time here, but if you only have 2 days, that will do, too. Here's how:
💃🏽 2 day Granada itinerary:
Day 1:
Granada Cathedral
The Royal Chapel
Madrasa Palace
Alcaiceria
Corral del Carbon
The Alhambra
Day 2:
San Jerome monastery
San Juan basilica
Carrera del Darro
El Banuelo
Cafe Futbol
Albaicin district
San Nicholas viewpoint
How to get around Granada
🚶‍♀️ Walk: Granada is a very walkable city. You can easily explore all the sights in this post on foot.
🚌 Tourist bus: If you prefer more comfort, you should opt for the Hop on Hop off Bus. With a full-day ticket, you can hop on and off at various stops, including the Alhambra, Albaicin, the Realejo district, or the Mirador de San Nicolas.
🔥 Tip: You'll appreciate the bus ride up to Mirador de San Nicolas as it's a steep climb (yet very much worth it!)
Get the Granada Card
The best way to explore the best things to do in Granada is with a Granada card. The card allows you to enter the main attractions easily, and you can even use it for public transportation.
You can't use it for the Alhambra, though. Visiting the Alhambra requires a separate ticket booked in advance, read all about it here.
Map of Granada
Below is a map of Granada with the tourist attractions in this post. I've numbered them in the same order as they appear here. The pink numbers are sights on day 1, while the yellow numbers are for day two.
Click the + and – in the corner to zoom in or out.
🍊 Day 1 in Granada
On your first day in Granada, you'll see the cathedrals, markets and palaces. You'll notice that The Alhambra is last on the itinerary, and there's a reason for that! Visiting in the late afternoon means better temperatures and less crowds. I'll explain more in detail below.
Granada Cathedral
The Cathedral of Granada (from 1523) is right in the heart of Granada, and if you're fascinated by Spanish history, this is a must see.
Two things set it apart:
For starters, it's the first Renaissance cathedral in Spain whereas the others built during this period are Gothic.
And second, two of the most notable historical figures from Spain, Queen Isabella I of Castile and King Ferdinand II of Aragon, are buried next door in the Royal Chapel.
Entrance fee: €5 for adults / €3 for studens / children free
Guided tour: Book here
Opening hours: Monday to Saturday: 10am – 6:15 pm / Sunday: 3pm – 6.15pm
The Royal Chapel
Just a few steps away from the Cathedral lies the Royal Chapel of Granada.
The Chapel was initially connected to the Granada Cathedral complex but now has a separate entrance that can be accessed from the Cathedral.
Apart from its stunning architecture, the Chapel is home to the tombs of Spanish Catholic Monarchs – Queen Isabella I of Castile and King Ferdinand II of Aragon, their daughter Joanna of Castile (also known as Joanna "the Mad") and her husband, Philip I (also known as Philip "the Handsome").
Entrance fee: 5€
Guided tour of the Cathedral and chapel: Book here
Opening hours: 10.30 am – 6.30 pm (opens at 11 am on Sundays)
Madrasa Palace
A few meters away from the Royal Chapel lies the hidden treasure of Madrasa Palace- the birthplace of Granada's first university.
Commissioned in 1349 by Yusuf I, the 7th Nasrid leader of the Emirate of Granada, the palace was designed in Nasrid style (like the Alhambra).
Throughout history, the palace has lost much of its original grandeur. You can still see the richly decorated Oratory, the semicircular niche, or mihrab, that indicates the direction of the Kaaba, and the octagonal dome with its original colours intact (unlike the Alhambra).
Entrance fee: 2€
Opening hours: Daily from 10:00 to 20:00 (summer time) and from 10:00 to 19:00 (winter time)
The shops of the Alcaiceria (Mercad)
The Alcaiceria has been the grand marked in Granada since the 15th century, although the original marked burned down in the 19th century.
You can buy souvenirs here or just soak up the vibrant colours and spices. Either way it's worth a visit.
Opening hours: 10 am – 9 pm
Corral del Carbon courtyard
Corral del Carbon de Granada built in the 14th century is the oldest monument in Muslim Granada.
The cobbled courtyard is surrounded by two storeys of brick galleries and was originally a warehouse of goods. Later, it was used as an inn for coal dealers, hence its name, Coal Yard (Corral del Cardon in Spanish).
The Alhambra
Alhambra is the one thing you cannot miss on a trip to Granada. It's reason alone to even visit the town – it's that beautiful.
I've written a separate post about how to visit the Alhambra, so I'll keep it short, guys.
The Alhambra is an Islamic fortress from the 13th century with beautiful gardens overlooking the snowcapped mountains and city of Granada. It has numerous ruins, gardens, rooms and pools, with the highlight being the Nasrid Palace.
My top tips are:
You MUST buy tickets in advance and reserve time at the Nasrid palace (the main attraction)
You should visit in the afternoon to avoid the crowds and high temperatures. We visited at 4 pm, and it was perfect!
You should schedule at least four hours for a trip to Alhambra. Visit Nasrid last.
🕌 Alhambra tickets: Buy them here
Opening hours: 8.30 am – 8 pm
Entrance fee: €19.05
🍊 Day 2 in Granada
On day two in Granada, you'll be visiting monasteries and churches, but there's also time for indulgence such as a hammam visit (Turkish bath and spa), tapas and churros.
Monastery of St. Jerome
Price: €3.5 per person / Children free
The monastery of St. Jerome was one of my favourite places in Granada. Maybe because it felt so authentic and untouched in a way.
For instance, a nun greets you when you enter and you see them walking peacefully around the convent. And it's not crowded, and that's always a plus in my book.
The chapel is really one of a kind, just see the photos below.
Entrance fee: €4
Opening hours: Monday to Sunday: 10:00 – 13:30 and 16:00 – 19:30
San Juan de Dios Basilica
For aficionados of Baroque architecture, this church is a must-visit. Adorned with intricate frescoes, it stands as one of the best examples of this style in Andalusia. I mean, just look at its detailing and exquisite craftsmanship!
Entrance fee: €6
Opening hours: Daily from 10 am – 7 pm
Carrera del Darro
Carrera del Darro is one of the most scenic walks in Granada, and should not be confused with the Acera del Darro (or Corral del Carbon for that matter). As a non-Spanish speaker these names sound confusingly similar in my ears 🙂
It's crossed by two brick and stone bridges, and the streets date back to the 17th century. Follow the Carrera del Darro and you're in for a picturesque stroll.
El Bañuelo (the Arab baths)
As you wander down Carrera del Darro, keep an eye out on your right-hand side for the Bath of the Walnut (Baño del Nogal) or Hammam al-Yawza, known locally as the Bañuelo. While the Bañuelo is smaller in size than the royal baths of the Alhambra, it has earned its place in history.
Constructed in the 11th and 12th centuries, the Bañuelo is one of the very few Islamic bathhouses that wasn't destroyed by the Catholic Monarchs. They considered such establishments as brothels and, therefore, were usually demolished.
The Bañuelo managed to survive perhaps only because a private building was constructed on top of it when Spanish troops recaptured the city.
It is now the oldest and best-preserved bathhouse (baño arabe) in Spain, representing the oldest architectural work of Muslim Granada.
Entrance fee: €5
Opening hours: 10 am – 5 pm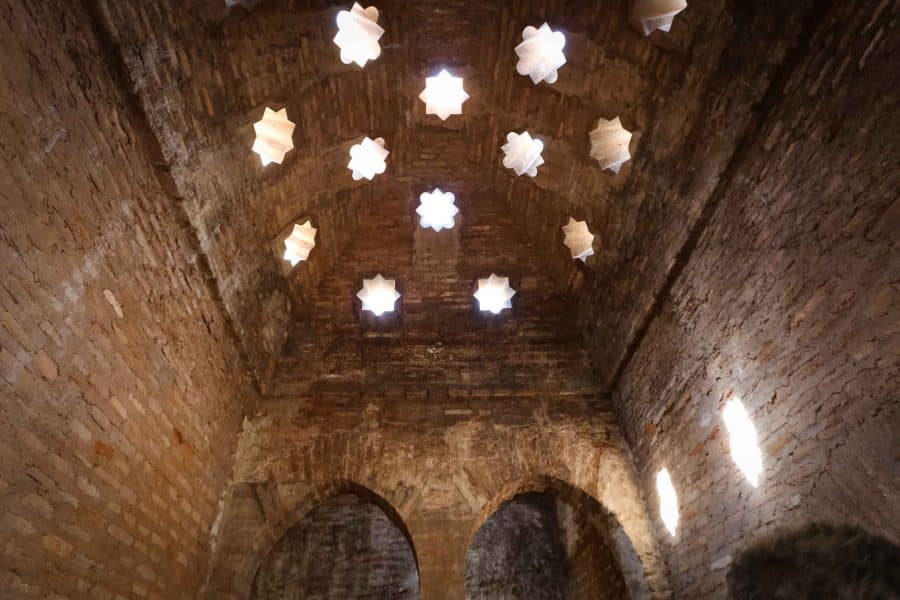 Visit a traditional hammam
Ever heard of a hammam? Well, if you like massages, warm baths and wellness, you're in for a treat. A hammam is an Arab bath – a hot steam bath followed by a massage.
One of the most popular hammams in Granada is Hammam Al Ándalus, which also offers traditional Arabian decor while you're sipping mint tea.
Go for tapas
Tapas is king in Granada because here, you get FREE tapas whenever you order a glass of wine. How excellent is that?
In Denmark, tapas are small snacks. And by small I mean stuffed olives or a petite plate of bacon-wrapped dates (omg, this is so good!!). However in the land of tapas, a single tapa can equal half a dish (media ración) or a whole one (ración).
Like here ↓ I ordered spicy chicken with fries and some sauce, and I still had three more dishes to go.
So be warned that tapas in Spain vary in size before you go ahead and order four of them like yours truly *face palm*.
Try churros at Café Fútbol
According to locals, the best place to enjoy chocolate con churros is Café Fútbol.
You can find this cozy café a 5-minute walk from Isabella the Catholic Square (Plaza Isabel La Catolica). Be sure to try this classic Spanish treat during your visit to Granada!
The maze-like streets of the Albayzin
Albaizyn (also spelled Albaicín and Albaycin) is the old Arab Quarter. 
This part of Granada is hilly with winding, narrow streets and it's a beautiful place to stroll around – you never know what you mind find.
San Nicolas viewpoint
The Alhambra is super beautiful from the inside, but it's also quite magnificent seen from afar (see the above photo of the Alhambra). The best place to see the palace is Mirador de San Nicolás and Placeta Cristo Azucenas, which are located in the Albaycin.
Experience a Flamenco show
Andalusia equals flamenco, right? Yes.
And in Granada you have plenty of options for experiencing a passionate and authentic flamenco show. Even if you don't understand the difference between a buleria and a fandango, it's a good place to enjoy the music and experience the emotional performance up close and personal.
This 1.5 hour Flamenco dinner show in a cave restaurant is very popular.
If you have 3 days in Granada
If you have more than 2 days in Granada Spain, these are the sights and places I recommend checking out next:
Plaza Nueva
The oldest square in Granada, Plaza Nueva, sits right between the Historical Center and the New city center – a perfect starting point for your exploration of the city.
Many Granada walking tours begin from this area, so it's always busy. The square is lined with restaurants and patios, offering plenty of options for refreshment before setting out on a day of sightseeing.
Palacio dar Al-Horra
Nestled in the heart of Albayzin lies a hidden gem that's missed by many. This mini palace was once the residence of Aixa, the mother of Granada's last Moorish monarch, Boabdil. With stunning panoramic views of Albayzin, a visit to Palacio de Dar Al-Horra only requires a short amount of time.
Entrance fee: €5 (includes Corral de Carbon, El Banuelo and others)
Opening hours: 10 am – 5 pm
Sacromonte Abbey
Up the path of Camino del Sacromonte lies the majestic Sacromonte Abbey. Home to a 17th-century Abbey and Seminary and an 18th-century college, the abbey offers many opportunities to explore history.
The Sacromonte Abbey hill also provides beautiful views of the Alhambra, so make sure to find it.
Hiking in Sierra Nevada
If you have a day or a half to spare and feel like stretching your legs, you could go hiking in Sierra Nevada mountains.
To get there, take the bus to Monachil (25 minutes) to reach the Hanging Bridges of Los Cahorros and a waterfall.
You can also join an organised day hike where a guide will take your through the glacial valley to summit whee you can see eagles and views of North Africa!
How much time to spend in Granada
We budgeted two days in Granada, which was enough to see all the sights in this post. I'd say 2-3 days is ideal because it gives you time to explore, relax and eat tapas aplenty.
Where to stay in Granada, Spain
There are numerous hotels and apartments to choose from in Granada. Here are a few of the best ones:
Marquis Hotels Issabel's (⭐ 8.4) is located in the centre of Granada. This fancy hotel with ultra-modern rooms and a spa is a great oasis where you can relax and rejuvenate after exploring the city and Alhambra. Click here to get the latest prices.
Siloe Plaza (⭐ 8.0) is another great option, also in the city centre. This is a self-catered apartment with a balcony and a stylish vibe. Click here to get the latest prices.
Many thanks to Granada Tourist Office for supplying me with a Granada card. As always, all opinions are my own.
💸 Spain travel insurance
I highly recommend having travel insurance because let's be real — the last thing you want on your trip is for accidents to get in the way.
I recommend Safety Wing — they offer affordable prices, great coverage, and a reliable 24/7 on-call service.
🙋‍♀️ 2 days in Granada FAQ
Is Granada worth visiting without Alhambra?
Absolutely! While the Alhambra may be the most famous attraction in Granada, the city has plenty of other sights and experiences. Granada is a historic town with a beautiful mix of Spanish and Moorish architecture.
From wandering the streets of the historic Albaicin neighborhood to visiting the royal chapel and cathedral, to enjoying a cup of hot chocolate and delicious churros at a local café, you'll find plenty of things to do in Granada.
What is the main tourist attraction in Granada?
The most famous tourist attraction in Granada is the Alhambra. The palace and fortress complex was built by the Moorish Muslim emirs during the 13th and 14th centuries and was later converted into a royal palace by the Catholic Monarchs in the 16th century.
You should visit the Alhambra for its Islamic architecture, beautiful gardens, and intricate mosaics, carvings, and tile work. It's one of the most visited sites in Spain, attracting millions of tourists from all around the globe.
How many days do you need in the Alhambra?
You'll need 4-5 hours at the Alhambra, but you can easily spend an entire day here. The complex is huge, and there are several different sections to explore, including the Nasrid Palaces, the Generalife gardens, and the Alcazaba fortress.
Also, during peak tourist season, the Alhambra can get quite crowded, so it may be worth to planning a longer visit because of delays or crowds. In short, while it is technically possible to visit the Alhambra in around 4-5 hours, most people choose to spend an entire day there.
Is 2 days in Granada enough?
Yes, two days in Granada is enough to explore the city's many cultural and historical highlights. During that time, you can visit the incredible Alhambra, tapas bars, a flamenco show, cathedrals and more.
While two days won't be enough to soak in all Granada has to offer, it will give you a good taste of what this charming city has to offer.
What to do in Granada in two days?
With two days in Granada, you can explore some of the city's most iconic sites and attractions.
Day 1: Spend the first day exploring the Alhambra Palace complex, one of the world's greatest architectural monuments.
On Day 2, wander through Calle Elvira, get a taste of authentic tapas bars, and enjoy a traditional flamenco show.
You should also visit local cathedrals, shop at the artisan markets or take a day trip to Sierra Nevada.
Is Seville or Granada better?
It really depends on what type of experience you're looking for. I personally preferred Granada.
💃🏽 Seville is the perfect choice for a vibrant nightlife and world-class flamenco shows. It's also home to some stunning sites, like its iconic gothic cathedral, Alcazar palace, and the grand Plaza de España.
🍊 Granada is steeped in history and culture and known for its beautiful Moorish architecture. Here, you can explore the incredible Alhambra complex, stroll along Calle Elvira, and enjoy traditional tapas bars.
More Spain posts you might like
Save it!