27 amazing things to do in Kyiv Ukraine
I was just in Ukraine, and I have to say: WAUW!
Besides the fact that the country is beautiful and very affordable, there's like a million things to do in Kyiv! And the best thing is that they're really unique to Ukraine!
You can visit some beautiful colourful churches, go shopping, see a war exhibition with nuclear missiles and sit in the cockpit of a bomber aircraft, eat at a secret underground restaurant where you need a password to get in, or even go to the beach. Kyiv has it going on, and there's not nearly enough hype about this amazing capital!
Brace yourself. There's gonna be A LOT of photos and info.
Read next: 25 things to do in Lviv 
This post contains referral links for products I love. Adventurous Miriam earns a small commission at no extra cost to you if you make a purchase through my links. Thank you for your support ♡ Learn more
Things to do in Kyiv, Ukraine
How to get around
Kyiv is HUGE. Like, it has almost 3 million inhabitants, and you instantly get that feeling. Luckily, many of the things to do in Kyiv are located in clusters, so you won't need to run all over town.
As for how to get around, I recommend Uber! That's what we did, because it's convenient, super easy and very affordable. A trip through Kyiv costs around $2 (no matter where you go), and your Uber car arrives – squeaky clean and sometimes serving snacks – within minutes. You can, of course, take the bus, the metro or regular taxis. But trust me, Uber is the way to go.
Kyiv or Kiev
It's Kyiv. And while you might not think it's such a big deal, it matters to Ukrainians. "Kiev" comes from the Russian way of pronouncing Ukraine's capital name – and as you know, they're not on the best of terms! Many Ukrainians associate "Kiev" with Russian suppression back when the Russian empire banned the use of Ukrainian language in print. So, if you go to Kyiv, do locals a favour and spell their capital the right way – Kyiv.
How much time do you need
We spent three days in Kyiv, and I could easily have spent more. When that's said, you can see everything on this list in three days. Although you'll need a full day if you're going to Chernobyl. I'll dedicate a post to Chernobyl soon with all the info you need to visit, so stay tuned.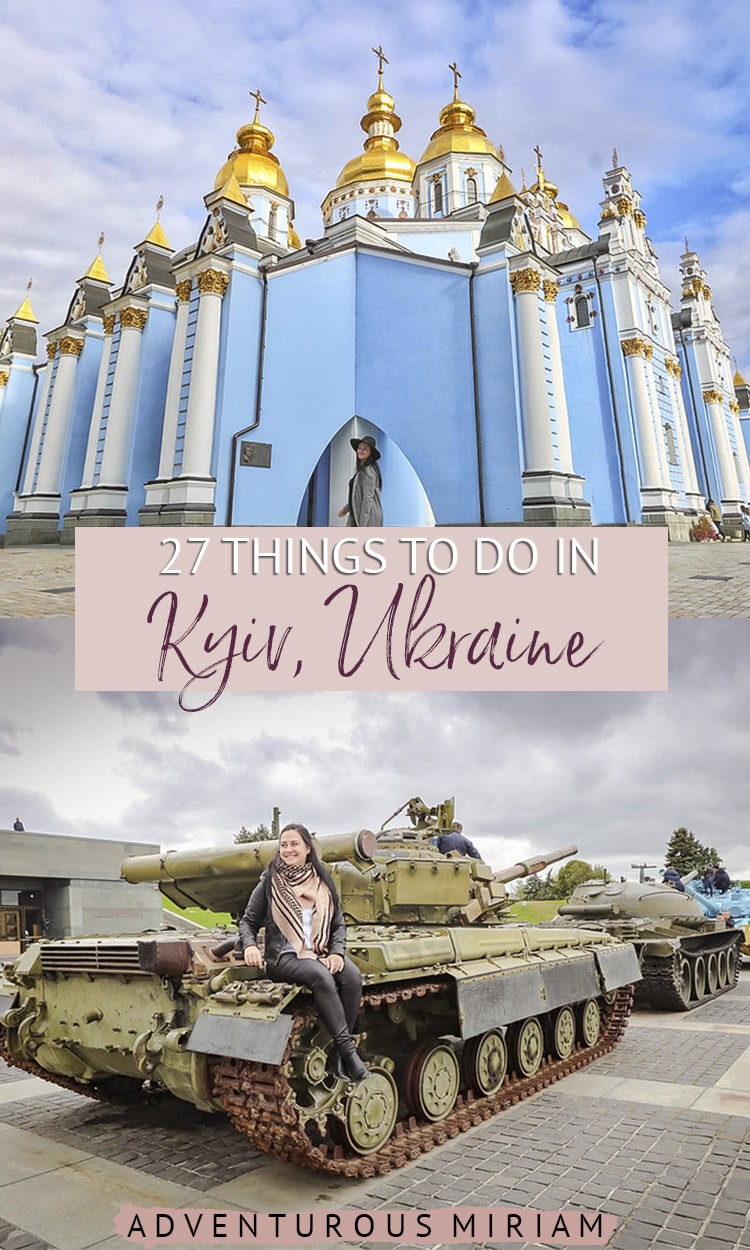 Is Ukraine safe?
The short version: YES!
Lots of people have asked and still ask me if it's safe to visit Ukraine.
This is a valid question.
Yes, part of Ukraine is occupied by Russia and troubled by political turmoil, but it has little direct impact on the rest of the country. If you avoid the current hot spots – Crimea in the south, and the Donetsk and Luhansk regions of Eastern Ukraine – you will be fine! Remember, Ukraine is a huge country, about the size of Texas, and the war with Russia affects only a small part of it.
I traveled through Ukraine with my friend, and we visited Kyiv, Chernobyl and Lviv. Not once did I feel unsafe or just a little exposed. Quite the opposite, actually. The Ukrainian men I met were very gentlemen-like, locals were kind and trusting, everything ran on time, it's much more upscale than I thought, and the atmosphere was positive and friendly. Like, people just randomly walk into restaurants from the street to use the bathroom, and no one bats an eye. The WiFi is also open at most hotels, cafes and restaurants for everyone to use. Ukraine hasn't been corrupted by tourism, and that's a huge reason to visit now.
I told my mom several times that I felt more safe in Kyiv than I do in some parts of Paris or other European capitals. I wouldn't think twice about going here alone as a solo female traveller or bring Theo. And tourism is on the rise – much more so than you'd think.
Now, with that question out of the way, let's take a look at all the fun and unique things to do in Kyiv. Because there's a whole bunch!
1. St. Michael's Golden domed monastery
Entrance: free
Kyiv has a lot to offer when it comes to sightseeing. And one of the first things you'll notice there are the golden domes and vibrant churches.
St. Michael's Golden domed monastery, named after Kyiv's patron saint, is one of the most colourful churches. It's a new copy of the original church from 1108, which was torn down by the Soviets in 1937. From the outside, it's super beautiful, but it's just as impressive on the inside.
2. St. Sophia's cathedral
Entrance: Grounds (20 UAH), cathedral (80 UAH) bell tower (40 UAH)
At the opposite end of the street, you'll find St. Sophia's cathedral; a UNESCO world heritage site.
St. Sophia is Kyiv's oldest standing church. Inside, you'll find original frescos and mosaics, dating back to 1017 when the cathedral was built. You can climb the bell tower to get a great view of Kyiv.
3. St. Volodymyr's Cathedral
Entrance: Free
Another colourful church is St. Volodymyr's cathedral. It's not one of the most popular churches in Kyiv, but it does have some of the most beautiful art nouveau interior. There was a service when we visited, so I didn't get any pictures inside. But I highly recommend visiting, so you can see for yourself!
St. Volodymyr's cathedral was built in the late 19th century to mark 900 years of Orthodox Christianity in the city. The yellow exterior and blue domes are very typical Byzantine style.
4. Golden Gate
The Golden Gate is a reconstructed medieval gateway dating back to 1037. It was built during the reign of Yaroslav the Wise (I love those names of the Ukrainian and Russian rulers).
It might not look like much, but it's in fact included on the list of UNESCO World Heritage Sites. Back in the day, it was an almost 10-meter high stone fortress tower, used as the main gate to the town. And part of it still stands today.
5. National Opera House
Just down the street from the Golden Gate, you'll find Kyiv's national opera house. I love visiting opera houses when I travel. They're so pretty and grandeur (especially on the inside).
6. Kyiv university
We drove past this building one day and I was like: WHOA! We need to go back there so I can photograph it! Then the day after, we were meeting our Chernobyl tour group, and guess where the meeting point turned out to be? Iiii'm so lucky, lucky!
Anyways, this super red building is the University of Kyiv. I just think it's super cool and unique to the former USSR.
7. St. Cyril's Monastery
Another beautiful green-roofed church is St. Cyril's monastery and church. This 12th century monument has some really stunning frescos, icons and paintings by Mikhail Vrubel inside. It was built in 1139 and is one of three buildings in Kyiv still remaining from the Tatar Mongol conquest.
8. Maidan Nezalezhosti
In the heart of Kyiv, you'll find Maidan Nezalezhosti. It's also known as Independence Square, because it's the nation's meeting point. This is where pro-independence protests happened in the 1990s and the Orange Revolution in 2004. And it's also here that the Euromaidan Revolution took place in 2013–14, when the square was transformed into an urban guerrilla camp besieged by government forces.
Today, it's very peaceful. And during the weekends, there are fountain shows and concerts.
9. House with Chimeras
Not far from Maidan Nezalezhost, you'll find a really cool Art Nouveau building: House with Chimeras. It was built by architect Vladislav Gorodezhkii for his family in 1901-1902. Inside and outside, the building is decorated with quaint sculptures, like fish, elephants, antelopes, and snakes. It's worth visiting!
10. Ukrainian House
The Ukrainian House, also known as The International Convention Center, is the largest International exhibition and convention center in Kyiv. It's located between Maidan Nezalezhost and Friendship of Nations Arch, so make sure to notice if you walk by.
11. Friendship of Nations Arch
We visited the Friendship of Nations Arch on a Sunday, which means it was bu-sy! Yep. You can't see it on this picture here, because everyone was either right behind me or behind the arch. There was a huge barbeque serving delicious kebabs, a concert and a Red Bull truck serving all kinds of fun drinks. So, with drinks in hand, we joined the festivities and enjoyed the views (see below).
12. Glass Bridge
Right next to the Friendship of Nations Arch, you'll find the Glass Bridge. As you can see, it was very crowded when we visited. We drove under it a couple of times during our time in Kyiv, though, and it wasn't so crowded then!
13. Museum of the Local Conflicts
So, everything on this list up until now can be seen in one day. The war museums and sights, we're now going to look at, are located in another part of town, so it makes sense to see them together.
We took an Uber to the sight furthest away – the Museum of the Local Conflicts.
This museum is a huge collection of military artillery and vehicles. The collection is split in two. The first one is free to access and includes a few classic Soviet tank designs, rocket launchers and an attack helicopter Mil Mi-24.
The second one is just around the corner and costs a few hryvnia to enter. You'll find aircrafts, including a Lisunov Li-2 (a license-built Soviet copy of the Douglas C-47, where you can enter to sit in the cockpit – I highly recommend it!). Also on display is a tactical nuclear missile, a few aircrafts, cannons and even a submarine and an armoured train. It's a really cool exhibition!
14. Museum of Great Patrotic War
If you walk a little further, you'll reach The Museum of Great Patriotic War (as World War II is known in Ukraine). The museum was built in 1981 as a memorial to the defenders and victims of WWII – a war that killed more than 8 million Ukrainians.
In front of the museum (which is located under the Motherland statue), you'll find some interesting sculptures and statues commemorating the soldiers and the victory of the USSR in the war.
15. Mother Ukraine
Right next to the museum, you'll find the iconic Motherland statue – one of the youngest WWII memorials of the USSR. Remember seeing these motherland statues in my posts from Georgia and Armenia?
The Mother Ukraine statue was built in the 1980s under the then-Soviet leader Leonid Brezhnev.
16. Resurrection of Christ Church
I don't have much info on this church. But you'll find it walking from the war museums towards Pechersk Lavra. It's got a little memorial inside the gate, just before you enter the church.
17. Pechersk Lavra
A few hundred metres further up the road, there's Pechersk Lavra – one of – if not THE – most stunning sight in Kyiv. In Ukrainian, a lavra is a senior monastery, while pecherska means 'of the caves'. And caves, you shall find!
In fact, just beneath the large complex is an underground labyrinth lined with mummified monks! The tunnels are dark and narrow, and you'll make your way through them with a small candle in hand (pictures are not allowed).
The Monastery of the Kiev Caves are a UNESCO World Heritage Site, and it's easy to see why! Located above ground, you can find some really beautiful buildings, which include several churches (with VERY impressive interior), and a bell tower (that you can climb). Pechersk Lavra should be at the top of your list of things to do in Kyiv!
18. Holodomor Genocide Museum
When you're done exploring the Lavra, walk a little further up the road to Holodomor Genocide Museum. It's not really a museum. It's a monument to the victims of the Holodomor Genocide in 1933. This was a famine, intentionally caused by Stalin in 1932-33, on the Ukrainian peasantry who resisted Soviet policies.
The brutal artificial famine – which during the Soviet Union era was denied, dismissed and hidden from world scrutiny for over six decades – is one of the worst famines in European history. It killed millions of Ukrainians.
19. The eternal flame and obelisk
Next to the monument is a 26m high obelisk with an eternal flame. It was installed in 1957 and encloses a grave of an Unknown Soldier. The Eternal Fire is also a reminder of the heroic deeds during WWII.
20.Hotel Salyut
Last stop on the road is the Hotel Salyut. You might not find this particularly interesting, but you know how I feel about Brutalist architecture style! So, naturally, I had to include a photo of this weird beauty.
21. St. Andrew's Cathedral
On day three, you can see the rest on the list.
Price: Platform 10 UAH
This baroque masterpiece was built in 1754 by Italian architect Bartolomeo Rastrelli, who also designed the Winter Palace in St Petersburg. You can't enter the church, but trust me, St. Andrew's Cathedral is amazingly beautiful from the outside!
22. Get a Thai massage
Yes. Sometimes, a Thai massage is just the perfect remedy – particularly when you've walked 10 kilometres in a day and really need to relax. Plus, massages are dirt cheap in Ukraine! We went to the best rated massage place on Tripadvisor – Elephant Spa – which is close to Independence Square. And it was seriously just like being in Thailand. From the sawadee kaaa when we entered, to the scent of incense sticks and the very authentic oil massages. I loved it!
23. Arsenalna metro
Did you know that Kyiv has the deepest metro in the world? Well, they do. It's called Arsenalna metro, and an escalator will lead you 105.5 m into the underground for a metro ride.
24. Go to the beach
And maybe even more puzzling – did you know that Kyiv has beaches? Not one or two, but several! Though Kyiv is hundreds of kilometres from the sea, the city has 75 kilometres of sandy beaches. The best beaches include:
Jeans Beach Club in Hidropark (jet ski rental, swimming pools and bars with waiters)
Molodizhnyi Beach in Hidropark (play volleyball and swim)
Trukhaniv island (with small bays)
25. Lesnaya market
Lesnaya market is a flea market, conveniently located just next to Lisova metro station (15 minutes from the city centre). Also known as 'the holy grail of Kyiv second hand wares', Lesnaya has been hyped by magazines like Vogue for the mountains of Soviet apparel, where you might find a rare Gucci or Chloé item for just a few hryvnias.
Other fun markets in Kyiv include:
Petrovka Flea Market (mostly electronics and books)
Vladimirsky Market (food)
Bessarabka (food)
Kurazh Bazar (the largest flea market in Kyiv)
26. National Chernobyl Museum
Price: 10 UAH. Photos: add 30 UAH to the admission price.
Another of the most interesting things to do in Kyiv is visiting the National Chernobyl Museum. Here, you can find an extensive collection of artefacts, mutated plants and trees, a mommy of a mutated animal, and photographs of similar subjects. They all document the catastrophic nuclear disaster that occurred in Chernobyl on 26th April 1986. The small museum includes three exhibit halls. It's closed on Sundays.
Read next: How to plan a safe Chernobyl trip
27. Visit the real Chernobyl
If you have the time and interest, I highly recommend that you visit the real Chernobyl. You can visit the site of the disaster, see Reactor 4 and the rest of the power plant, and visit the ghost town of Pripyat. It's safe to enter today, and I'll write an in-depth guide on how to visit very soon. In the meantime, you can check out my stories from Chernobyl on Instagram.
What to eat in Kyiv
So, while I absolutely loved Ukraine. And I really do. I can't stop talking about it. I did not love the food there. Maybe it was just us being unlucky with the restaurants (that we found, highly rated, on Tripadvisor). Or maybe Ukrainian food is just not my cup of tea. Either way, I found it rather bland and tasteless.
We had one great and very pricey dish at a steakhouse, but that's about it. And the Georgian food (which you'll find a lot of) was disappointing – especially after having tasted the real deal in Georgia.
When that's said, there are some dishes you should try in Kyiv, like:
Borsch (beetroot soup)
Chicken Kyiv (breaded chicken)
Deruny (potato pancakes)
Varenyky (Ukrainian dumplings also known as «pierogi»).
And when you're in Kyiv or Lviv, you MUST try one of the secret restaurants where you need a password to enter. It's such a fun experience and very typical Ukrainian! I recommend visiting the nationalistic-themed Last Barricade restaurant in the Globus shopping mall at the Independence Square (the password is: "Boritesya-poborete"). The food is not the best I've had, but the experience was more than worth it!
Where to stay in Kyiv
We stayed at Independence Square, and it was the perfect spot! Close to everything – attractions, shopping, restaurants, metro. Podil is also a popular place to stay, a bit more quiet. But I really loved being at the heart of it all.
We stayed at Khreschatyk City Center Hotel, an upscale hotel with beautiful rooms and the nicest concierge, Alexander. He helped us book massages and tables at restaurants. Find the latest prices here.
Are you going to Kyiv and have questions? Let me know in the comments!