Psst! This post probably contains affiliate links, which means I earn a commission (at no extra cost to you) if you click through and make a purchase. As always, I only recommend products and services I trust.
If you read my last post, you already know that I LOVE Ukraine. Ukraine pretty much sums up everything I love about Eastern Europe, being so authentic, beautiful and rustic. And what's more, both Kyiv and Lviv (the two most popular cities in the country) has a million things to see and do.
So, whereas Kyiv is huge and mostly about WWII and religious sites, Lviv is pure charm and culture. Ukrainians call Lviv 'the heart of Ukraine' and not without reason.
In this post, I'll share the best things to do in Lviv. Although it counts 25 attractions and is suuuuper long (I couldn't help myself), the list is not complete at all. It includes the most important sights, though.
Let's get started.
Things to do in Lviv
As I mentioned, you won't be bored in Lviv. You've got churches (and they're really beautiful!), the best of European architectural styles, fun themed restaurants, museums, alchemy and elixirs, downtown market where old women in scarves sell flowers and vegetables from the countryside and much, much more. Lviv centre is a Unesco World Heritage site with a medieval vibe that reminded me of Tallinn, Riga, Vienna and Rome at the same time.
So, yeah. There's a lot going on, and you'll find plenty of things to do in Lviv.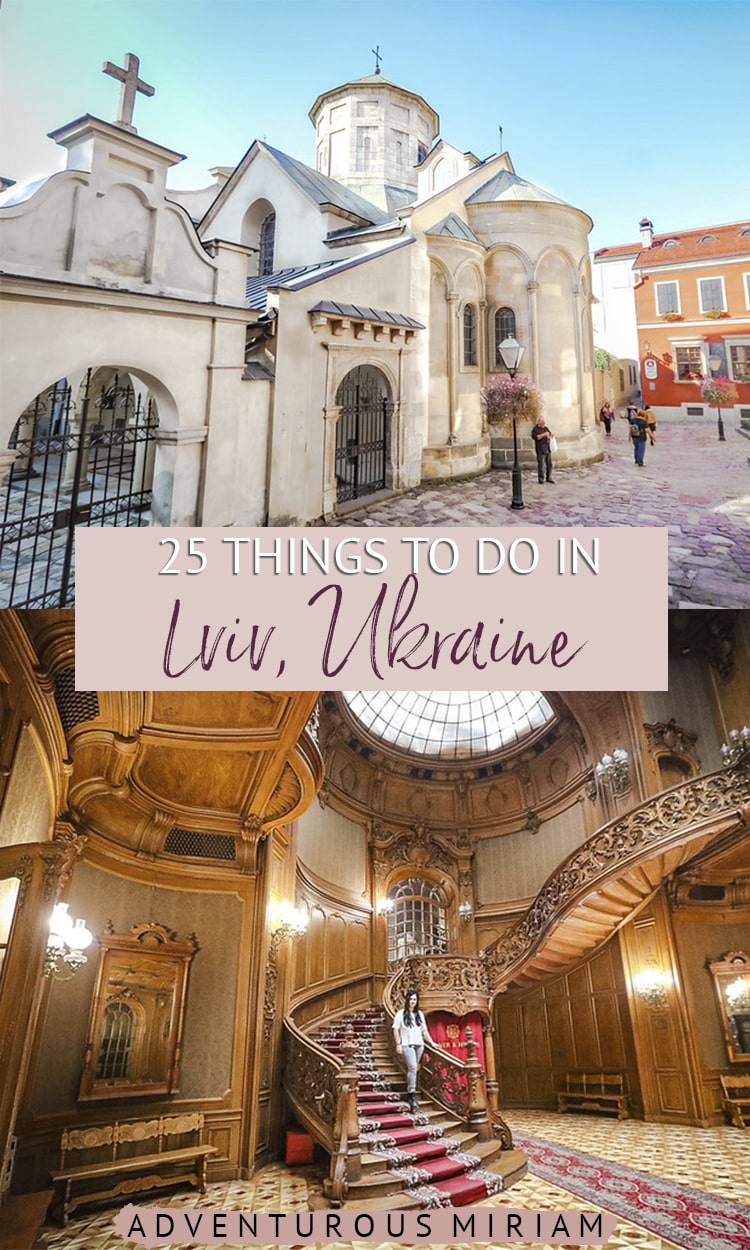 What is Lviv known for?
Lviv is famous for its chocolate, coffee and lions – a traditional symbol of the city. Some say there are 4.500 lion statues around town, for instance on houses, benches, doors and on the coat of arms. Try noticing, they're really everywhere.
And then there's the local chocolate and coffee houses. The chocolate is handmade, and you can visit Lviv chocolate factory and try some of its 39 varieties. It's located in the historic centre on Serbskaya Str., 3.
Coffee is also huge in Lviv. You'll find lots of coffee-houses, some of them highly atmospheric and others traditional. These are some of the best coffee cafes in Lviv:
The Blue Bottle – looks like a cave (near Rynok square)
Lviv Coffee Mine – located in underground tunnels (across the street from The Blue Bottle)
Fixage – a camera-themed coffee house featuring hundreds of cameras from different eras (close to Bernadine church)
Is Lviv and Lvov the same?
Lviv is also known as "Lwów" (Polish), "Lvov" (Russian), and "Lemberg" (German). So, yes. It's basically the same although the correct spelling is Lviv.
Is Lviv safe to visit?
Absolutely, yes!
I covered safety in Ukraine in my post about Kyiv, and the same applies for Lviv. Maybe even more so because it's a smaller city. It's a quaint city with nice people. Streets are clean. They're used to tourists. The atmosphere is very relaxed. And I felt very welcome, both as a traveller and as a woman. I highly recommend visiting Lviv – it's perfect as a weekend trip and for kids, too. A bit like Kraków or Tallinn, only better!
1. Rynok square
One of the first things to do in Lviv is to visit Rynok Square, also known as Market Square. This is the heart of the old town.
Here, you'll find the 64-meter-tall Town Hall and fountains with statues of Greek gods and goddesses in each corner of the square. Rynok sqaure is ringed by 16th-century Baroque, Gothic and Renaissance buildings in charcoal and earth tones that were once town houses for wealthy merchants.
There's free WiFi here as well, and you can find lion statues on the benches and waste bins.
2. Town hall tower
Price: 20 UAH
The town hall is at the centre of the market place. You can climb the town hall tower and get the best view of Lviv. It's a steep way to the top, but there's a cafe with drinks and water on the way up.
3. Dominican Cathedral
Just a stone's throw away, you'll find the beautiful 1764 Dominican Cathedral. The Dominican Cathedral is considered to be one of the best monuments to late baroque architecture not only in Lviv, but all of Europe. And it's also included on UNESCO's list of World Heritage Sites.
4. Italian yard
Price: 2 UAH
The Italian Yard was a bit hard to locate. You'll find it on Rynok square 6, towards the Dominical Cathedral, hidden inside a museum. And it really is worth finding.
Inside is a beautiful spacious courtyard in Italian Renaissance style with 3-storeyed opened galleries. In the evening, there's live music under open skies, but the views are particularly stunning in the daytime.
5. Boim chapel
Price: 30 UAH
Just a few metres from the market place, you'll find the Boim chapel. You can't really miss it if you just look out for an ornate facade exterior. It was constructed from 1609 to 1615 for the Boim family. The interior decoration is from the first half of the 17th century. And it's definitely worth going inside!
The chapel is among the examples of mannerist architecture in Central Europe. It's similar to the Sigismund's Chapel at the Wawel Cathedral in Kraków (which I'll introduce you to soon).
6. Virmenska street
Around the market place, you'll find several quaint streets worth checking out. One of them is Virmenska Street, a narrow pedestrian street that encapsulates both old — the 1363 cut-stone Armenian Cathedral, for instance — and new. Walking down it, you'll pass elixir-serving cafes, statues and medieval displays.
7. Armenian Cathedral
The Armenian Cathedral is among the top things to do in Lviv!
Built in 1363–70, it's one of the city's oldest buildings. And you definitely get that sense. Stepping into the courtyard feels like entering another era, and the entrance to the church is paved with old tombstones (Armenian khachkars) with inscriptions.
Read next: 15 things to do in Armenia
8. Transfiguration Church
By luck, we stumbled upon this church and I decided to look inside. I think it's one of, it not the most beautiful church in Lviv. How often do you see pink, purple and light blue interior in a church?
The Transfiguration church was originally built between 1703 and 1731 in French classicism style with a Baroque interior. It's really impressive.
9. Yard of Lost Toys
So, the Yard of Lost Toys is probably the most unique and quirky place in town.
The story goes that Vasily Petrovich​, a local, found two toys near his home in Lviv. Hoping that the child would return and claim them, he placed them on a shelf in his courtyard. Unfortunately, the child never came back.
But then something else happened. Other toys began to mysteriously show up in Vasily's courtyard. Some were placed by neighbours, others by strangers and bywalkers – who knows. And today, it's home to hundreds of plush animals, dolls, musical instruments, figurines, and bicycles.
Everything is neatly arranged rather than being carelessly tossed into a pile in the corner. The Yard of Lost Toys really is special, and I encourage you to visit.
10. High Castle Hill
Uphill from the Yard of Lost Toys, you'll find the High Castle Hill. There's little evidence of the 14th-century ruined stone fort, but you'll get a fantastic view of Lviv from the top.
11. St. George's Cathedral
St. George's Cathedral is a baroque-rococo cathedral from 1744-1760 and a sacred centre of the Greek Catholic Church in Ukraine.
St. George's Cathedral is impressive from the outside. But the inside is not as stunning as many of Lviv's other churches (for instance the Transfiguration church or Bernadine church). But it's still worth visiting.
12. House of Scientists
Price: 15 UAH
Not far from St. George's Cathedral is a quintessential Lviv experience: The House of Scientists.
This neo-baroque building is the most impressive place in Lviv. Hands down. It has housed a casino and, according to locals, the city's most popular brothel, until it became the House of Scientists in 1948.
It should definitely be on your list of things to do in Lviv.
13. Opera house
Entrance fee:
In the heart of the city, you'll find Lviv Opera house; a majestic building with a richly decorated, neo-Renaissance facade.
The opera house was constructed at the beginning of the 20th century and designed by architect Zygmunt Gorgolewski. Its beauty has been compared to the Paris and Vienna opera houses, and it's proudly printed on the 20 Hryvnia banknote. Definitely worth seeing. And while you're at it – why not see a live opera, too?
14. Museum of Ethnography and Arts
Price: 20 UAH
On the opposite side of the opera house, there's a beautiful building. Inside, you'll find the Museum of Ethnography and Arts. Its exclusive interior is reason alone to visit, but you can also feast your eyes on the 90.000 exhibits that include Ukrainian art masterpieces and a clock collection.
15. Golden Rose Synagogue monument
At the other end of the Old Town, you'll walk past the Golden Rose Synagogue monument.
The Golden Rose synagogue from 1582 was the oldest synagogue in Ukraine until it was destroyed. Until WWII, Lviv had a Jewish community of 150,000 people (40% of the population). By 1943, most had been murdered by the Nazis. Lviv's Jewish community is now down to 2,000.
Today, the site of the Golden Rose Synagogue is occupied by a very moving monument to those who died in the Holocaust. Each stone is engraved with a story from the war. One of them is told by a boy who lost his mother, and he describes how his dad ran after her, to no avail, when she was taken away. Such an evil time.
16. The old city wall
Next to the Jewish memorial, you'll find the old city wall.
Hidden inside the old city walls is the Meat and Justice restaurant – one of the most impressive places to grab a bite.
This restaurant has grilled meats on the menu, a host dressed as an executioner and an interior designed as a medieval torture dungeon. The highlight of the experience is when they bring you the bill – I won't ruin the surprise for you, but let's just say it involves an axe and maybe some screaming. I screamed a little.
17. Markets
Lviv has several markets scattered around town. One of the more obvious ones are located at the main square where you'll find all kinds of souvenirs. Next to the Transfiguration church there's another less touristy market with blankets, paintings and other fun things.
18. Lychakiv cemetery
Grab a taxi to Lychakiv cemetery, 2.4 km from the market square.
What makes Lychakiv cemetery special is that most tombstones are decorated with sculptures or writings. Many famous or wealthy people, like poets, politicians or composers, are laid to rest here. There's also a section dedicated to soldiers of the Ukraine/Poland war during 1940s and Russia/Ukraine war in Crimea from 2017-2018.
19. Museum of Folk Architecture and Life
Price: 30 UAH
Not too far from the cemetery, you'll find the Museum of Folk Architecture and Life. It's an open-air museum that displays different styles of farmsteads, churches and schools.
20. Bernadine / St. Andrew's church
Bernadine Church, also known as St. Andrew's Church, is one of the most beautiful churches in Lviv.
It's decorated with frescos in Renaissance and Mannerist style, and completed with Baroque ornaments and gilding. So beautiful!
21. Parks
Lviv is quite the green city. There are several parks throughout the city where you can spend some time strolling along the many routes with lakes, greenhouses, squirrels and birds everywhere.
Ivan Franko Park is the oldest park in Ukraine, named after an important Ukrainian poet. It's located on the hill between St. George's Cathedral and The House of Scientists.
22. Look for Art Nouveau
Along with Baroque, Gothic and Renaissance style, there's a lot of Art Nouveau architecture in Lviv. It's really beautiful when you start noticing it on the exteriors. The Armenian church is an exceptional example – look inside for beautiful Art Nouveau wall paintings. You can find a list of other main Art Nouveau buildings in Lviv here.
— What is Art Nouveau? —
Art nouveau is a design style, originated in Europe around 1890. It's a French term meaning "new art" and is characterised by sinuous lines and flowing organic shapes based on plant motifs.
23. Pharmacy museum
Price: 15 UAH
This is a must-visit if you're looking for unique things to do in Lviv. The Pharmacy museum is located on Market square and consists of 16 rooms with antique pharmaceutical prescriptions, medicines, a library and a reconstructed alchemy workshop. There's even a dungeon with early 18th century interior. Very atmospheric!
24. Eat at a themed cafe or restaurant
Lviv loves themed cafes and restaurants. And they all show some aspects of Lviv's history, kind of like a museum. There have different themes, and the most well-known are listed below.
Secret restaurants
The secret restaurants require a password to enter. You can often find the password on the wall, the Internet or by asking people that enter or leave the restaurant. These restaurants are mostly hidden underground, in tunnels, basements or behind walls. They often look like bunkers and have a nationalistic or military theme. Oh, and they're difficult to find. If you do find one, it's a really unique and super-fun experience.
Best secret restaurants:
Dim Legend (a seven-storey restaurant)
Kryjivka (an underground bunker – you give the password to a guy with an AK-47 assualt rifle). Food and service wasn't the best, but the experience made it worth it!
The Most Expensive Galician Restaurant – You'll need to bang on an apartment door and convince the gatekeeper that you're worthy of entering the restaurant through his kitchen. He'll probably try to turn you away so be persistent. It's worth it. When you get the insanely high bill (it's their thing), you simply ask for a "90 percent discount", and you'll get it.
Fun theme restaurants
Other restaurants and cafes are just themed for fun. These are some of the best ones:
The Gas Lamp Pub (on Virmenska street)
Drunk cherry bars (serves traditional cherry wine)
Meat and Justice (my favorite – inside the city walls)
25. Discover charming buildings
No matter where you go in Lviv, you can't help but notice charming buildings. The most beautiful and historic ones, though, are located in the Old Town, near and around the market square. If you go there during spring, summer and autumn, just notice the many flower decorations and entrances. It's really something.
Where to stay in Lviv
While our hotel, Taurus Hotel & SPA, was very lovely, it was located in a quiet neighbourhood, a bit of a walk from the old town. Obviously, it depends on what you prefer, but I like to be able to walk outside the door and them bam, I'm in the city centre.
I've heard really great reviews of George Hotel, so this is definitely where I'll be staying the next time I visit. It's very classy and elegant, and it's located just two minutes walk from the Opera House (city centre).
Want to visit Lviv? Ask me anything in the comments!