How to spend awesome 2 days in Krakow
This 2 days in Krakow itinerary will make you fall in love with Krakow. In addition to the affordable prices and amazing Michelin star food, there are charming sights available that are nothing short of magical.
You can use this Poland guide for any season but there's nothing like the shoulder seasons. We visited Krakow in mid October and were blessed with amazing weather (22 degrees and sunshine), which only made the trip more awesome.
Two days in Krakow allow you to do the trip as a weekend getaway with enough time to see so much of the city's beauty.
Ready to discover what to see in Krakow in 2 days? Let's dig in!
This post contains referral links for products I love. Adventurous Miriam earns a small commission at no extra cost to you if you make a purchase through my links. Thank you for your support ♡ Learn more
Is 2 days in Krakow enough?
The million dollar question: how many days in Krakow is enough?
Well, while you can spend several days just soaking in the vibe of Kazimierz and feasting on amazing Polish food, two days in Krakow is enough to experience the main sights. If you've got three days, I recommend spending the last day on a day trip to Auschwitz-Birkenau and Wieliczka Salt Mine.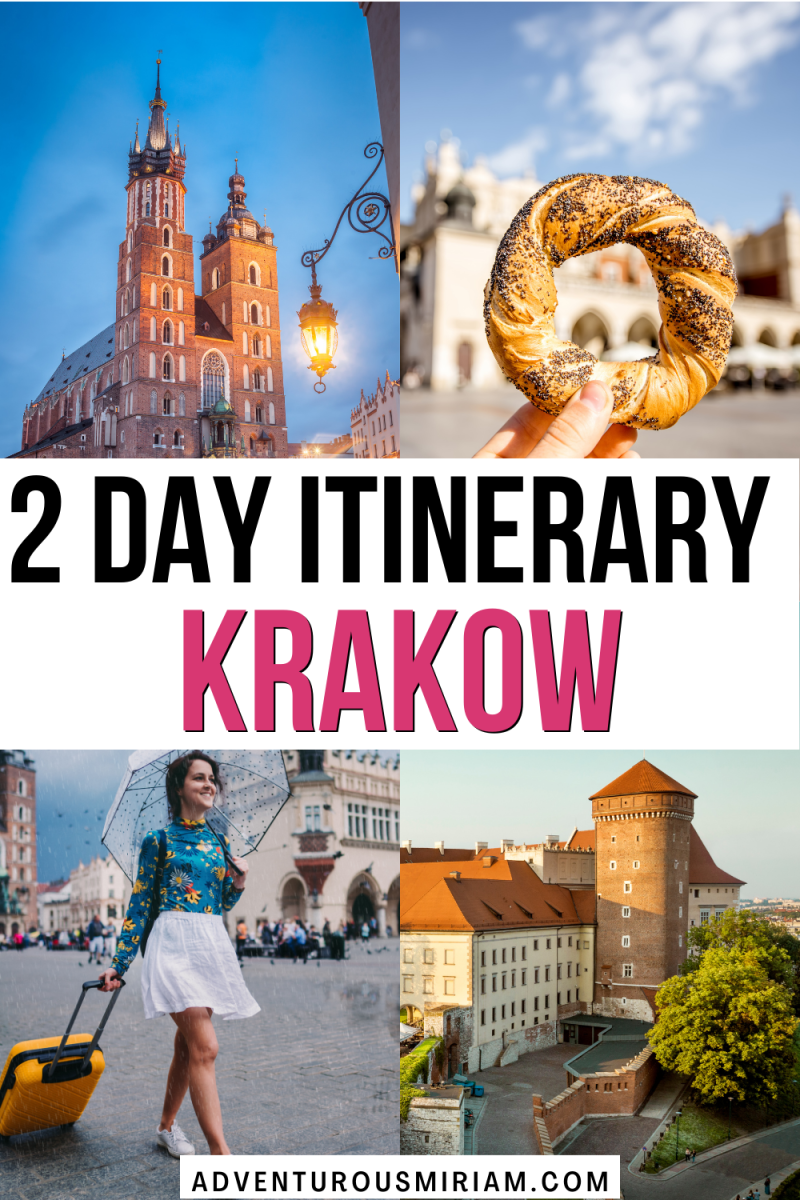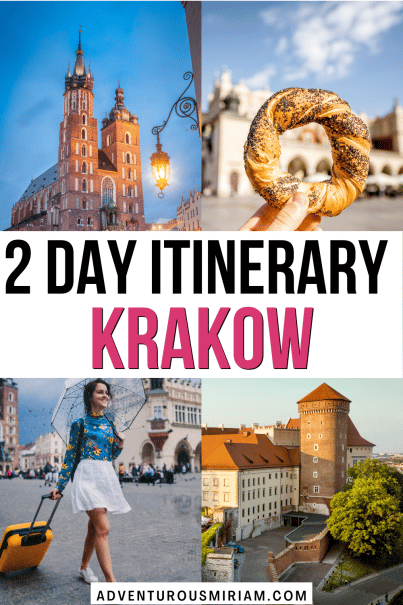 Where to stay in Krakow
Krakow has five main neighbourhoods with great hotels.
I recommend Kazimierz. The famous Jewish quarter is home to lots of pubs, clubs, cafes, and restaurants, and it's a fantastic place to shop and get to know the local history. If you prefer to stay closer to the centre, pick a hotel in the Old Town (Stare Miasto) or find more amazing hotels in my post about where to stay in Kraków.
We stayed at BC7 Apartments in Kazimierz. It's a New Yorker style apartment with a super-nice host. We loved staying here as a family, and there were even toys and a baby crib for Theo. Check the latest prices: booking.com

Best restaurants in Krakow
The food is reason alone to visit Krakow.
Honestly, I was surprised to learn that there are 18 Michelin recommended restaurants in Krakow and that the food is so amazing. I was expecting stews and bland potato and meat dishes, but was surprised by DELICIOUS pierogies and gourmet dinners at very affordable prices.
Do yourself a favour and add Polish meals to your 2 days in Krakow itinerary. You won't regret it!
These are my favourite places to eat in Krakow:
Starka restaurant (the best one!)
Pod zlotym karpiem
Czarna kaczka
Gaska polish restaurant
Amarylis (fine dining)
Bar mleczny gornik (a traditional milk bar)
Day 1
In 1978, Krakow became the world's first UNESCO World Heritage Site. It covers a historic old town with an abundance of sights, attractions and buildings, so there's so much to do. Day 1 is the perfect time to explore the historic centre.
To get around the historic centre, you can simply walk. Krakow's various tourist offices are scattered around town if you want to stop by to get a map or some advice for your visit.
Stroll Through Rynek Glowny
First stop is Rynek Glowny, Krakow's main square.
Rynek Glowny is the largest medieval market square in Europe, and it's surrounded by beautiful architecture, including St. Mary's Basilica and the Cloth Hall (Sukiennice). In the centre of the square stands a statue of Adam Mickiewicz, Poland's national poet.
The Town Hall Tower
Make sure to also see the Town Hall Tower. It's the only remaining section of Kraków's 13th century town hall and the city's answer to Pisa's leaning tower (and Bologna's twin towers).
The Cloth Hall Sukiennice
Right next to the tower is the Cloth Hall Sukiennice.
It dates back to the 13th century and was, as the name implies, originally used as a market for trading cloth and other fabrics. Today, it's filled with shops, cafees and galleries.
St. Mary's Basilica
The most iconic landmark in Rynek Glowny is St. Mary's Basilica.
Surrounded by fascinating myths and legends, it dates back to the 14th century and features stunning Gothic architecture. Climb the stairs to the top of the tower for panoramic views of Krakow's Old Town.
Underground Museum of Krakow
And now it's time to head below ground to the Underground Museum of Krakow. The museum consists of excavated remains of the original buildings on the market square. The entrance to the museum is just next to that in the Market Hall.
The museum is popular and limited to only 300 people at a time, so you should buy a ticket in advance.
St. Florian's Gate
St. Florian's Gate is part of Krakow's royal route. You'll get there by following Floriańska Street towards St. Florian's Gate. On the other side is Barbican – a fortified outpost once connected to the city walls.
Discover the old city walls
Once you're done exploring St. Florian's Gate, take a closer look at the old city walls.
They're some of the oldest city walls in Europe, dating back to the 13th century. Similar to the defensive walls in Tallinn, they add a fairy tale touch to the city.
Visit Wawel Castle
Now, head to Krakow's impressive castle.
The Wawel Castle is a must-see if you like fairy tales, history or just beautiful architecture. The castle dates back to the 14th century and was the home of Polish kings for centuries. Today, the castle is open to the public and houses a number of museums, including the Crown Treasury and Armoury.
St Francis of Assisi church
St Francis of Assisi church is Kraków's most colourful church, and my personal favourite, thanks to the gorgeous Art Nouveau interior.
The church has stood since it was established in the late 17th century and it's not as visited as St. Mary's Basilica, which means less crowds.
Day 2
As you can probably tell, Krakow is a history buff's dream. There are plenty of churches, history and that unique medieval vibe that you can only find in European towns. What's more, Krakow is home to an entire Jewish quarter, and that's what day two is all about.
Personally, I recommend starting your day with a walk through the district.
Take a walk through Kazimierz
Kazimierz was once a separate city, home to a vibrant Jewish community. In 1941, this all changed when the German Nazis relocated the Jews of Kraków into the nearby ghetto in Podgórze. Most of them tragically did not survive the war, leaving Kazimierz and its communities forever changed.
Today, Kazimierz is one of the major tourist attractions of Krakow with numerous synagogues, kosher restaurants, and cafes.
Be sure to visit Szeroka Street, the main street lined with shops and cafes.
Remu'h synagogue
Remu'h synagogue was built back in 1553.
Named after the legendary Rabbi Moses Isserles, this beautiful synagogue is considered a monument to rabbinical culture and has become an important symbol of respect for Judaism in Krakow. It's located on Szeroka Street.
Schindler's Passage and factory
Kazimierz is also the same neighbourhood where much of Schindler's List was filmed.
Though it may not look like much today, the history that lies beneath its streets makes it a must-visit destination. Explore its hallowed grounds and connect with the past while experiencing the film's iconic scene firsthand.
You should also visit the famous Schindler's factory, a museum dedicated to covering the Nazi occupation of Krakow during WWII. It's located in Podgórze.
Book your tour of Schindler's factory here.
Eat street food at Plac Nowy
Your visit to Kazimierz isn't complete without trying the local delicacy – a zapiekanka. This delicious street food is served in a half open sliced baguette, topped with mushrooms, onion and cheese or many other toppings such as bacon or vegetables. I had a delicious one that was topped with fried bacon, garlic sauce and cheese.
Plac Nowy is the place to get one of these tasty treats – although on Sundays, only one shop is usually open. Best part? They're an absolute steal at just 7-10 PLN (roughly € 1.60 – € 2.30) depending on your topping choice.
Uni targ flea market
If you're anything like me, you love local markets. And in Eastern and Central Europe, you can find all sorts of old and fun bargains.
Krakow's Uni targ flea market is full of everything from traditional Polish clothing to handmade clay pottery, old cutlery, vintage items, and much more. It's a great way to experience the culture in Krakow while also picking up some souvenirs. You never know what you'll find.
Ghetto heroes square
Next, walk to Ghetto Heroes Square in Podgórze. Ghetto Heroes Square is a memorial for the victims of the Holocaust.
70 empty metal chairs represent the site of mass murders of Krakow's Polish Jews by the German Nazis and where thousands were transported to Auschwitz and Plaszow concentration camps.
St. Joseph church
In the heart of Podgórze, you'll find St. Joseph's Church. A beautiful and historic Roman Catholic church. It was built in 1844 as part of the neo-Gothic movement and is definitely worth a visit.
Love locks at Bernatka bridge
On your way back to Kazimierz, you'll cross the iconic Bernatka bridge. Notice the thousands of love locks attached to railing.
Day trips from Krakow
If you've got more than 2 days in Krakow, I recommend heading out of town. You can visit both of these places separately or combine them – I recommend the latter to get the most out of your day.
Auschwitz-Birkenau
Auschwitz-Birkenau is a sobering reminder of the horrors of the Holocaust. The former Nazi concentration camp is now a museum and memorial dedicated to those who perished during World War II.
Book your trip from Krakow to Auschwitz here.
See the Wieliczka Salt Mine
Close to Auschwitz lies the Wieliczka Salt Mine, a UNESCO World Heritage Site and one of Poland's most popular tourist attractions. The mine dates back to the 13th century and features salt sculptures, chapels, and underground lakes. I recommend booking a combined trip to Auschwitz and Wieliczka Salt Mine.
More stuff you'll love