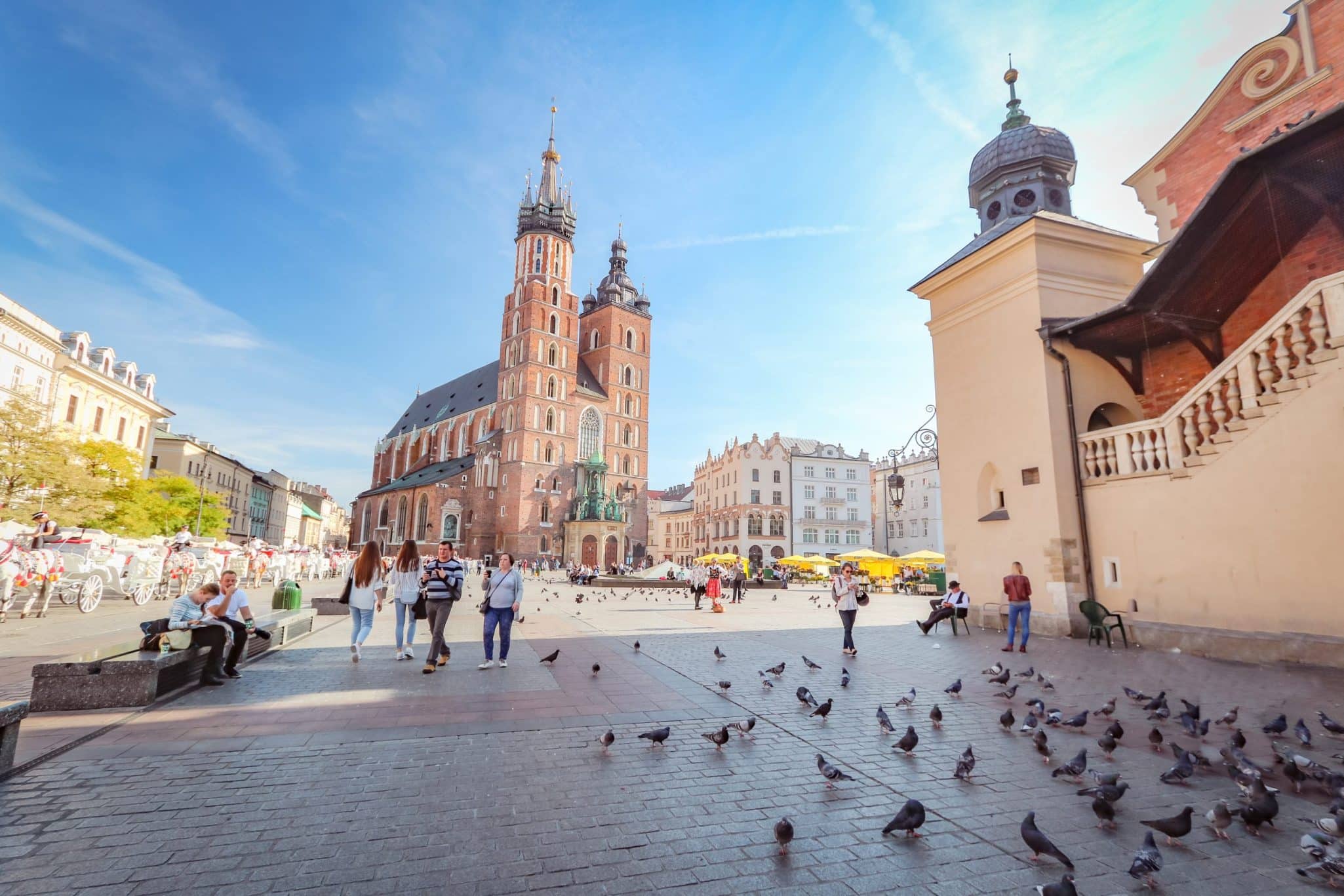 Welcome to Poland
Medieval cities, delish food and beautiful mountains
Poland is a vibrant and deeply historic nation of impassioned people, wholesome and warming food, and some incredible medieval and gothic architecture. Poland is defined by how rugged it is, and that goes for its landscape of hills and mountains, its historic and religious architecture, and its deep, often dark, history. Here are some of the unmissable things to see and do when you visit Poland.
Amazing experiences in Poland
Charming cities
The cities of Poland have an incredible sense of size and scale. Almost every city, from Warsaw to Krakow to the smaller port town of Gdansk, has its own splendid old town district. In these old towns, you'll find bustling and historic market squares, phenomenal churches and cathedrals, and bright, colourful houses of gothic and renaissance designs. It's these incredible buildings that really embody the creative and historic beauty of Poland.
Beautiful nature
Poland is a fantastic country to visit in both the height of summer and the depths of winter. This is thanks to how its landscape transforms from season to season. In winter, Zakopane is a winter wonderland of a town that's perfect for skiing. In the summer months, locals and tourists alike enjoy hiking across the Tatra Mountains which divide Poland and Slovakia, with all their peace and quiet.
Amazing food
Polish food is traditionally made to warm you up and fill you up in equal measure. That means lots of soups, vegetables, and carb-heavy dumplings. These speciality polish dumplings (which hugely resemble Chinese dumplings) are known as pierogi. They're delightfully cheap, filled with fresh meats and vegetables, and they do a wonderful job of filling and warming your belly.
Auschwitz and other WWII sites
Poland's war history is upsettingly dark and frightening. But visiting the WWII memorial sites and museums, including the infamous remains of Auschwitz outside of Krakow, serves as a sobering reminder of what so many thousands endured, and what none of us should ever have to endure again.
Best sights in Poland
Warsaw (capital)
Warsaw is an exciting city with some of the best and cheapest food in Europe. The city's old town is enormous, full of churches and cafes and medieval stone walls. And make sure to visit the central Palace of Culture and Science – the best-known and tallest building in the city.
Gdansk (339km from Warsaw)
This stunning little port town is well-known across Poland for its café culture and laid-back locals. People here love their food and coffee, and the extensive restaurant and café options really reflect that.
Kraków (229km from Warsaw)
Poland's second city is almost as large and expansive as Warsaw and is perhaps most famous for being the city closest to Auschwitz, which can be easily reached by heading west from Kraków by bus.
Wroclaw (354km from Warsaw)
The medieval city of Wroclaw is best known for its stunning and gothic architecture, which you can see surrounding the Market Square, as well as in its Gothic Old Town Hall and the city's Royal Palace.
Tatra mountains (459km from Warsaw)
This enormous and very green mountain range is what naturally separates Poland and Slovakia. It's a place of sharp peaks, rolling hills, rivers and lakes, and is a favourite place for locals and tourists to go hiking.
Poznan (310km from Warsaw)
This city close to the German border is a famous Polish university town with a slew of amazing buildings in a renaissance style of architecture. There's the Historic Museum, Market Square, Town Hall, and even more besides!
How to get around
I always use Rome2Rio for traveling Europe. This site/app is so easy to use. It quickly comes up with a variety of transport options to suit your time and budget. All costs are shown, even taxis.
Best time to visit
There really isn't a bad time to visit Poland. The summers are never super hot, and the winters aren't deathly cold. There's always something fun to do, no matter the season. For example, the winter months offer some fantastic skiing opportunities in and around the town of Zakopane – a winter wonderland of cabins and snow-covered hills. In the summer, you can hike the Tatra Mountains for miles and miles as far as the eye can see. The spring and autumn months provide just the right weather and temperatures for extended strolls across the old towns of Warsaw and Krakow.
Practical info
Language: Polish
Currency: Zloty
Plugs: Poland uses European two-prong plugs at 220V and 50Hz. Get yourself a universal adapter before you travel!
Population: 38 million
Important telephone numbers: 112 for all emergency services (as in all EU nations)
Visa: As an EU country, anyone from any other EU country can stay in Poland indefinitely, visa-free. US citizens can stay in Poland for up to 90 days without a visa needed.
Rough Budget
Hotel: $30-70 for a mid-range hotel
Food: $5-15
Activities: e.g. $22 to explore the Wieliczka Salt Mines
Transportation: $5-20 for a train
Basic Polish Phrases
Hello: Dzien dobry (literally 'good day')
Thank you: Dziekuje
Yes: Tak
No: Nie
Bye: Do widzenia
Cheers: Na zdrowie
Posts from Poland