High Tatras Slovakia. The awesome place you're overlooking but shouldn't
For any of you readers considering visiting a cheap hiking destination with alpine views and shimmering clear lakes that basically no one knows about, I've been researching and testing and I have advice for you:
Go to the High Tatras Slovakia.
The High Tatras Mountains (Vysoké Tatry) is like the Swiss Alps, only cheaper and much less crowded. Want to know how they look like? Picture thundering waterfalls, towering pine forests and crisp snow-capped mountains – that's the High Tatras.
This post contains referral links for products I love. Adventurous Miriam earns a small commission at no extra cost to you if you make a purchase through my links. Thank you for your support ♡ Learn more
Tatra mountains Slovakia
So where exactly are those Tatras or Tatra Mountains? Well, they're actually a mountain range along the border of northern Slovakia and southern Poland. The Tatras are divided into:
The High Tatras (majestic peaks, turquoise glacier lakes, waterfalls)
The Low Tatras (caves, waterfalls and forests)
You can do fun activities like hiking, cycling, bungee jumping, paragliding and skiing in both Tatra regions, but the landscape varies depending on where you go.
Where to stay in the High Tatras
The good part about visiting a hidden gem is that you have it almost to yourself. The bad part is that it's more difficult to find information online, especially in English. One of the things I struggled most with was 1) figuring out what to see in the Tatras, and 2) where to base myself.
Since I only had little time in the area, I ended up basing myself in Košice, which is reached by train (1,50 hours each way). Although Košice is a lovely city, you'd probably want to avoid the commute, so I've rounded up some suggestions for where you can stay.
Semi-big cities:
If you want to base yourself in a semi-big city, I suggest Poprad (the gateway to the High Tatras), which is what most hikers do, or Tatranska Lomnica; one of the biggest settlements in High Tatras.
Poprad – Hotel Mamut has comfortable rooms, free parking, and a restaurant. Everything you need right in the heart of Poprad. Find the latest prices here.
Tatranska Lomnica – Penzión Vila Park has very nice owners and is located right in the city centre. There's also an ATM machine on site. Find the latest prices here.
Small mountain villages:
If you like a small mountain setting better, you could stay in Štrbské Pleso (a small lake town) or Ždiar, which is a lovely little alpine village.
Štrbské Pleso – Apartman Panorama 1001 is all about the VIEWS! Drink your morning coffee on the balcony while you enjoy the scenic surroundings. Find the latest prices here.
Ždiar – Stonegallery offers a modern furnished apartment (which is a rare sight in small alpine villages). Friendly and welcoming staff. Find the latest prices here.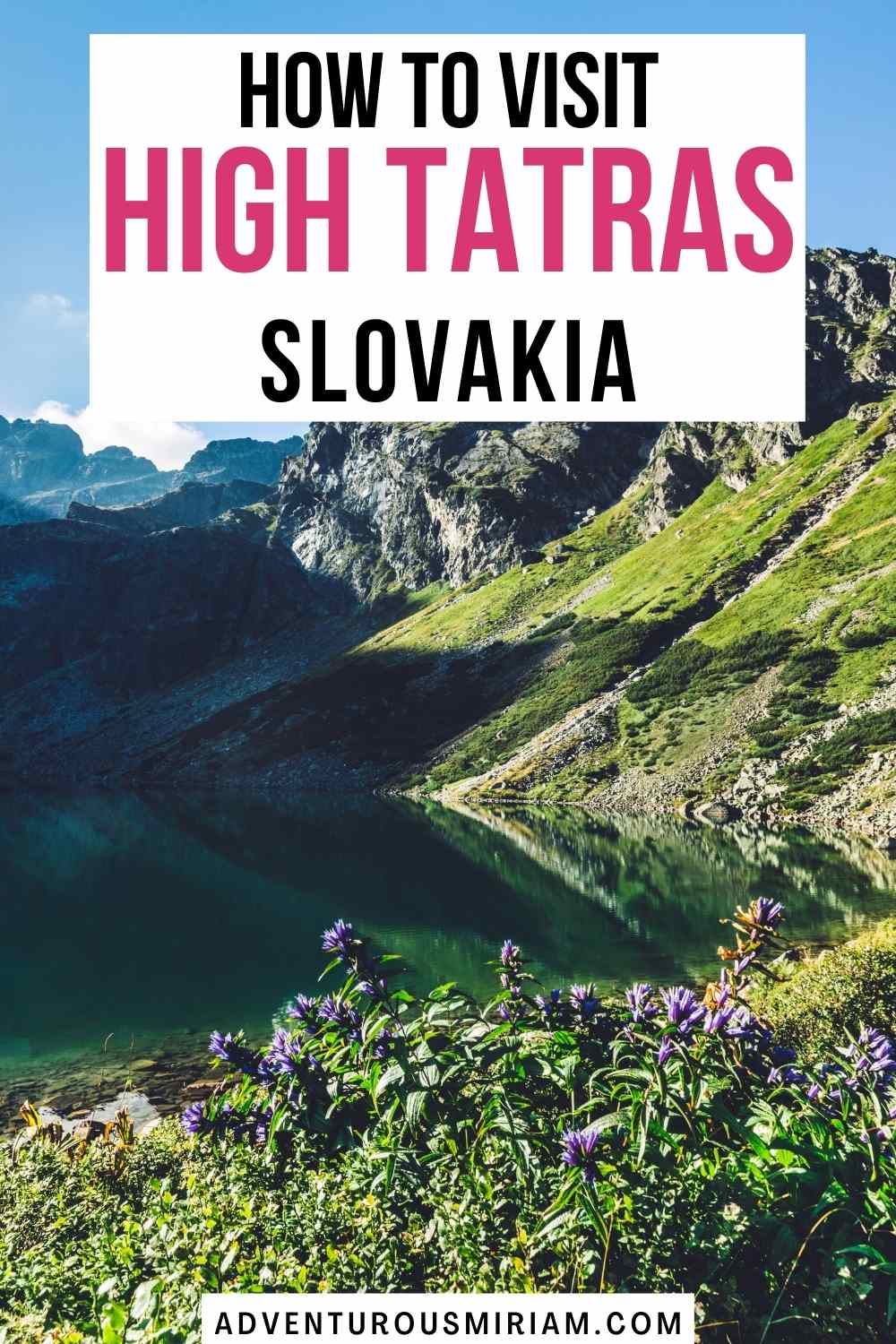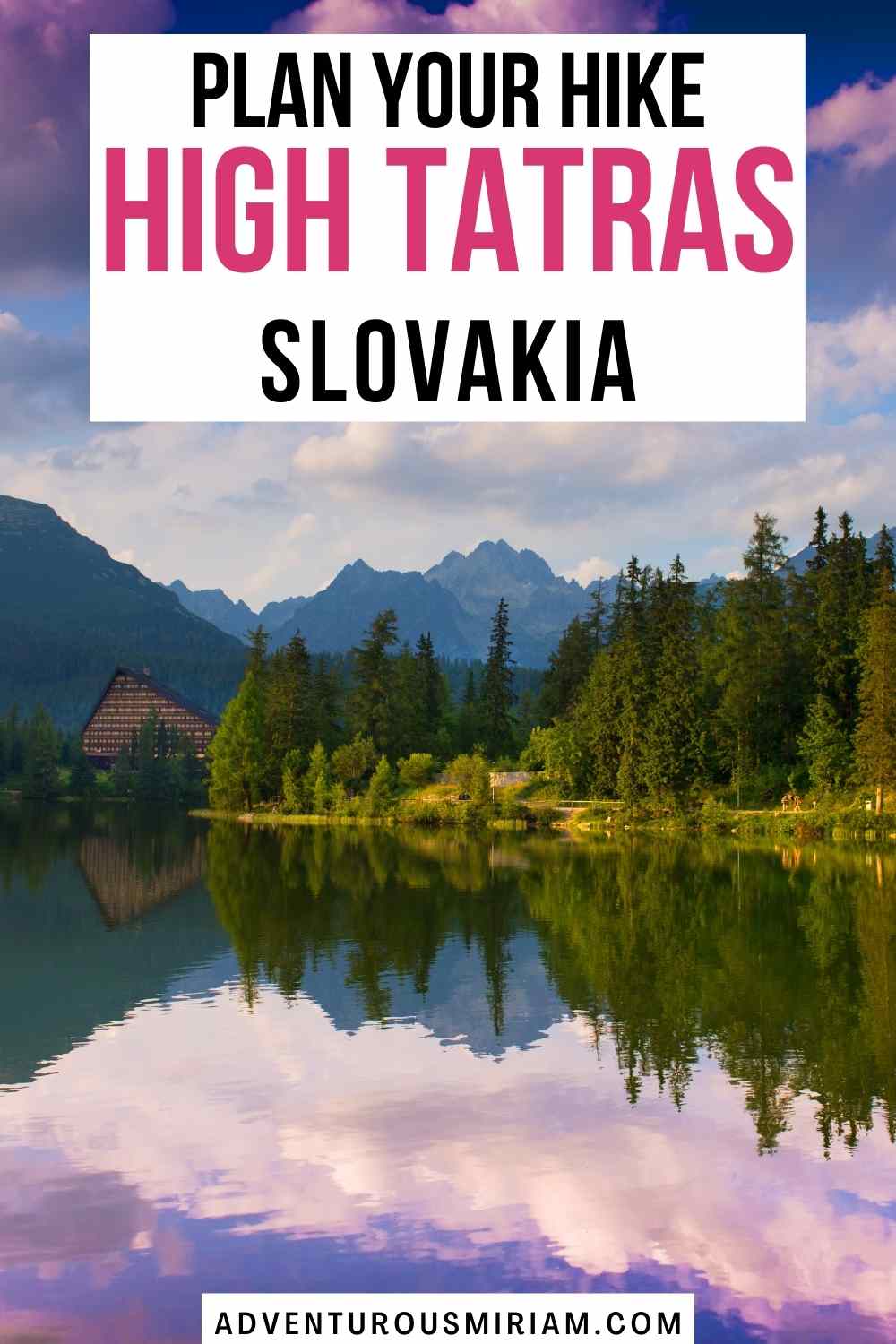 Strbske Pleso
Altitude: 1,346 m
I arrived at Štrbské Pleso ready to conquer the world or, er, a mountain. After lunch and cake with Martin from Košice Tourism Office, we said goodbye, I laced my trusty sneakers and headed towards the lake.
Štrbské Pleso is a lake at the foothill of the High Tatras. It takes about 1-1,5 hour to walk around it, but I spent that time taking pictures of the lake instead. It's really beautiful, so it's easy to spend hours here.
Štrbské Pleso is a glacial mountain lake and it seemed like a perfect starting point for hikers. Also, it's a great destination for bungee jumping, paragliding, freestyle skiing and 16 km of cross-country track.
Hiking in the High Tatras
I'd heard from reliable sources (hi Google) that the hike from Štrbské Pleso to Popradské Pleso was easy… like a walk in the park.
I found that not to be the case.
I wouldn't say that it's difficult, but it's certainly not easy either. Part of this is because the path is paved with spiky rocks, tripping tree roots and is pretty darned steep at several stretches. And for the sake of disclosure then yes, I might not be in the shape of my life, and yes I was outpaced by three grannies and a family with a two-year-old, all on foot. But they were all local. People who live in mountainous areas are used to hiking and they're generally in better shape because of it.
My defence? I live in the flattest country in the world.
The hike is 4km long and it includes 14 signs that explain details about the forest, the Tatras, animals and plants. It's almost impossible to get lost since the route is marked by signs all the way → take this from someone who gets lost a lot.
I wasn't in a rush to reach Popradské Pleso so I took time to photograph and admire the alpine views that were in front of me. And wow, they were neat!
Now, I was aware that Slovakia has wild animals like wild-boars, lynxes, wolves and bears, but I wasn't prepared to almost step on a snake on the trail. I had no idea if it was poisonous so I counted my blessings and used the zoom to photograph it.
Popradske Pleso
Altitude: 1,494 m
After 1,5 hours (ok fine, almost 2) I finally made it to Popradské Pleso. Slovaks and people in decent shape should be able to do the hike in 1 hour, not including photo stops.
Popradske Pleso is this beautiful glacial lake in the mountains. I actually liked it better than Štrbské Pleso, maybe because I had to work hard to see it. It also felt closer to the mountains and much more serene.
I had made my goal for the day and after walking around the lake, it was time to head back down.
I'm so, so happy that I got to do this hike. The view was absolutely breathtaking, and the two lakes were gorgeous. If you're in the area, I highly recommend going here.
Tips for hiking in Slovakia
You can visit the Tatra mountains all year around. They're very popular for skiing
Many trails are closed due to snow from November to mid-June
June and July are especially rainy, while July and August are the warmest and most crowded
Other top hiking destinations: Zelené Pleso (green lake), Lomnicky Stit (peak), Krivan (peak)
Wear hiking boots, dress in layers, bring water and band aids and check the weather forecast before you go
Bring walking poles if the hike is particularly steep or you have knee problems
If you wander off on your own, bring a map and tell someone where you're going
A thousand thanks to Martin from Kosice Region Turizmus for showing me around Kosice Region. I was a guest, but all opinions are my own as always.
Ask me anything about hiking High Tatras Slovakia!
Before you go – don't miss out on these posts: