17 brilliant things to do in Košice Slovakia (you'll have lots of fun)
Looking for the best things to do in Kosice, Slovakia? Košice is one of my favorite cities and it's also extremely underrated.
Plan your trip to Kosice – Quick tips
🏡 Where to stay in Kosice
Today, I'm introducing you to Košice Slovakia (pronounced Ko-shi-tse), one of the hidden gems and most underrated cities in Europe. With a population of over 250,000, Košice is the second largest city in Slovakia, and in 2013 it was the European Capital of Culture.
It's fairly small and easy to get around, especially if you're staying in the centre near the pedestrian street, which I recommend.
Here's my list of the 17 best things to do in Kosice Slovakia.
This post contains referral links for products I love. Adventurous Miriam earns a small commission at no extra cost to you if you make a purchase through my links. Thank you for your support ♡ Learn more
Things to do in Košice Slovakia
Kosice Slovakia is the perfect city break destination for anyone who's interested in history and culture and loves the Central-Europe feel.
It's a fairly small and walkable city, yet there's plenty of things to do in Kosice. Stroll down Hlavna street (the main pedestrian street) and you'll pass dozens of colourful houses, city mansions, bustling cafes and stylish shops. It's an active city during the summer, yet it's never crowded by tourists. As far as I could tell, I didn't see a single tourist there.
Aside from that, Košice is just beautiful. Prepare yourself for a stunning mix of architectural styles, from Gothic, Renaissance and Baroque to Art Nouveau, Cubist and Classicist. If you're an art and history lover, you'll have a field day here!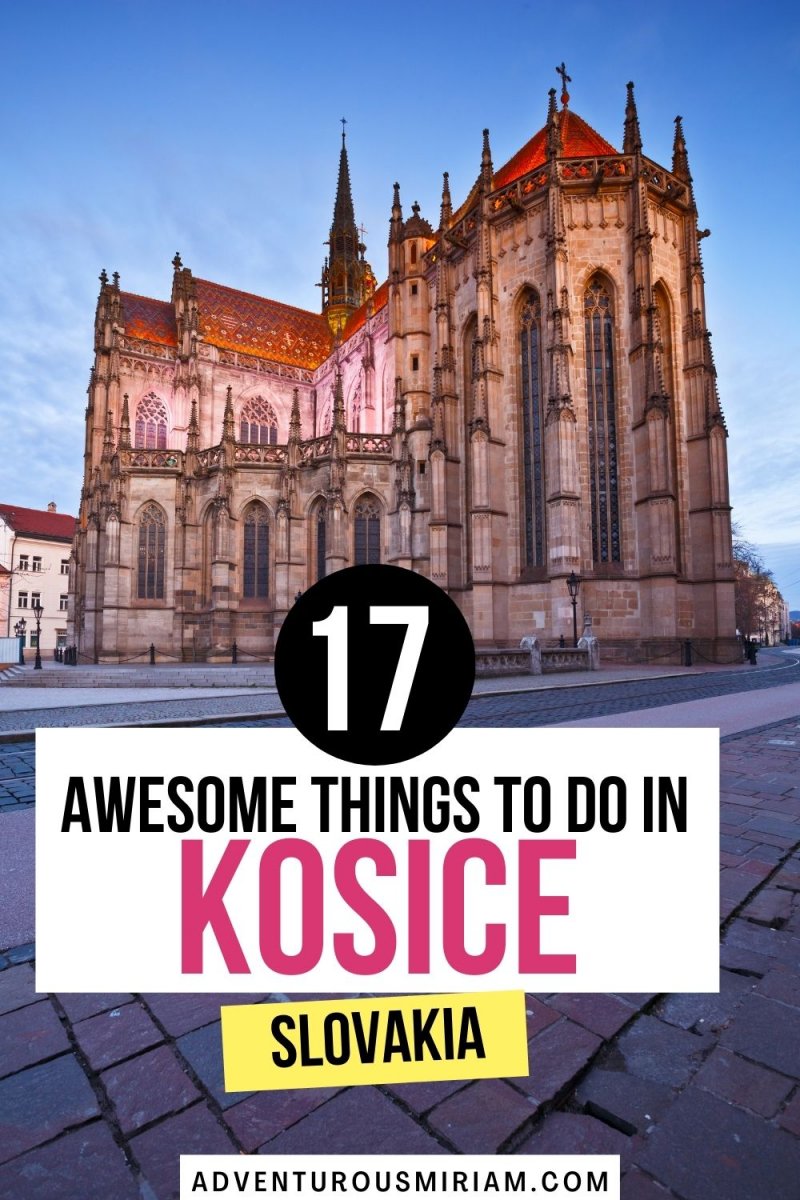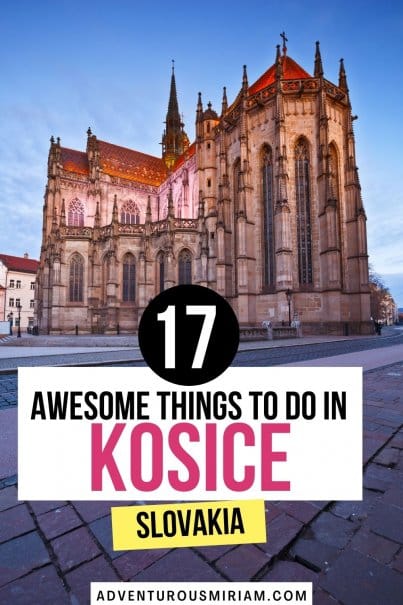 Introduction to Kosice
Košice is the second-largest city in Slovakia, after the capital Bratislava.
Compared to Bratislava, Kosice gets way less visitors, which is a huge plus! You get the chance to explore this hidden gem of Central European history and you have Kosice tourist attractions more of less to yourself.
Still, the town is geared towards tourism with hotels, restaurants and attractions. And best of all – locals like visitors; they're kind and welcoming, and they will make you feel like home. That's how I experienced Kosice.
To me, it's one of the best off-the-path destinations in Europe. It's almost as good as Lviv in Ukraine (my favourite European city), but ONLY almost 🙂
Where is Košice Slovakia?
Kosice is located in East Slovakia, close to the borders of Hungary and Ukraine. It's easy to get to by train, bus or plane both within Slovakia and from other countries.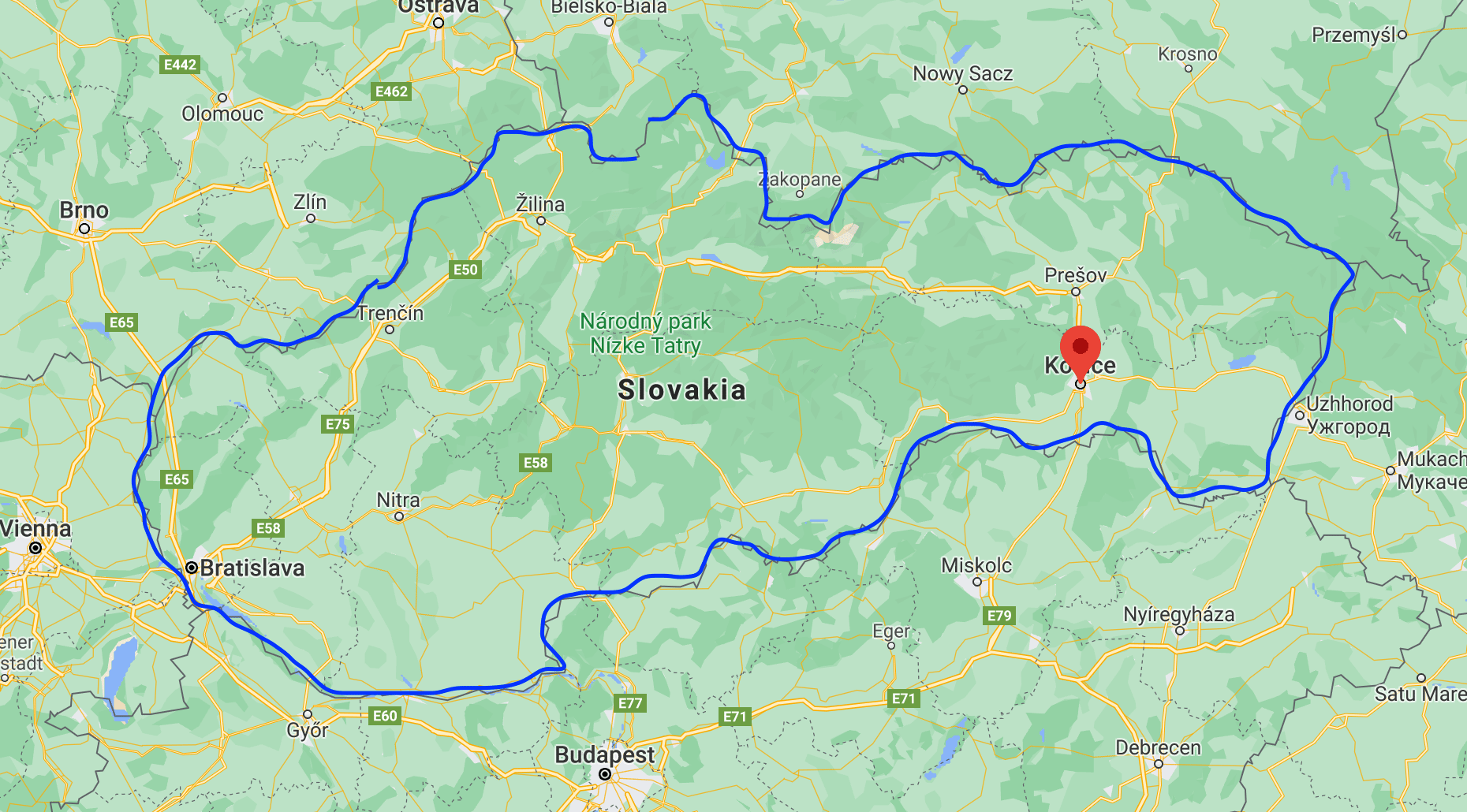 Is Kosice worth visiting?
Absolutely! Kosice is definitely worth visiting.
You'll get that off-the-beaten track feel, yet it's not like people aren't used to tourists. There are lots of things to do in Kosice, great restaurants and hotels, and it's a historically and culturally interesting city. Tourism is well-balanced and in that way, it's actually a perfect destination.
Is Kosice safe?
Yes!
I visited as a solo traveler and felt very safe. I'll give the same advice I would anywhere in the world and that is to not wander alone at night especially in dark alleys or deserted areas.
Other than that, just use your common sense. Don't drink yourself senseless, watch your belongings and you'll be fine.
Read my general travel safety tips here: 27 essential travel safety tips everyone should know
1. The plague pillar
Located right in the middle of Hlavna street is the so-called Plague Pillar, a 14m tall Baroque plague column. It was created in the 18th century as an expression of gratitude to Virgin Mary at its top for ending the plague epidemic from 1709 and 1710.
2. Church of the Holy Trinity
On your way down Hlavna street, you'll pass the Church of the Holy Trinity, also commonly known as the Premonstratensian church or the Jesuit church.
The Baroque church was commissioned in 1641 by princess Sofia Bathory of Transylvania to make amends for the execution of three Jesuit priests in 1619.
Soldiers of George I Rákóczi, her father-in-law, had accused the priests of treason and given them a death sentence, which shocked the local population and the princess. Less than 100 years later, in 1773, the Jesuits were expelled from the city during the suppression of the Society of Jesus. The church has been administered by the Premonstratensians since 1811.
3. Hrnčiarska street
Hlavna street is home to many interesting buildings, but the most charming street in Košice is Hrnčiarska – the crafts street.
This little alley has a craftsman shop, bakery, bars, metalworkers and more. It's also home to the Executioner's flat; the town's former hangman, which reminded me of the Swedish Gate in Riga.
4. St. Elisabeth Cathedral
Close by is St. Elisabeth Cathedral, the one thing you HAVE to see in Košice. Completed in the 16thcentury, it's the biggest cathedral in Slovakia and the easternmost Gothic church in Europe.
There's also a bell tower if you're interested in seeing Košice from above. It was closed when I got there so I just saw it from inside instead.
5. St. Urban Tower
Standing next to the Cathedral is St. Urban's Tower. It was erected in the 14th century and was originally a Gothic prismatic campanile with a pyramidal roof. On the ground there's a church bell, which was dedicated to Saint Urban, the patron of vine-dressers.
6. St. Michael's Chapel
To the south of the Cathedral of St Elizabeth is the 14th-century St. Michael's Chapel. St. Michael is the patron saint of the dead, and the Gothic style chapel was built as a cemetery chapel inside the town walls.
7. The singing fountain
If you need a break, here's the perfect place for it.
Right between the Cathedral and State Theatre is a little park with benches and a singing fountain and carillon that chimes every hour. It's a nice place to relax for a bit and wait for the sun to set.
8. The State Theatre
At the other end of the singing fountain you'll find the State Theatre, which dates back to 1788. This Renaissance building is home to drama, ballet and opera.
9. Coat of arms – the oldest in Europe
Kosice was the first town in Europe to get its own coat of arms. It was granted in 1369 by King Louis I the Great of Hungary and features an angel that, as the protector, holds the Košice coat-of-arms in its hands.
You'll find it at the front of the park around St Michael's Chapel.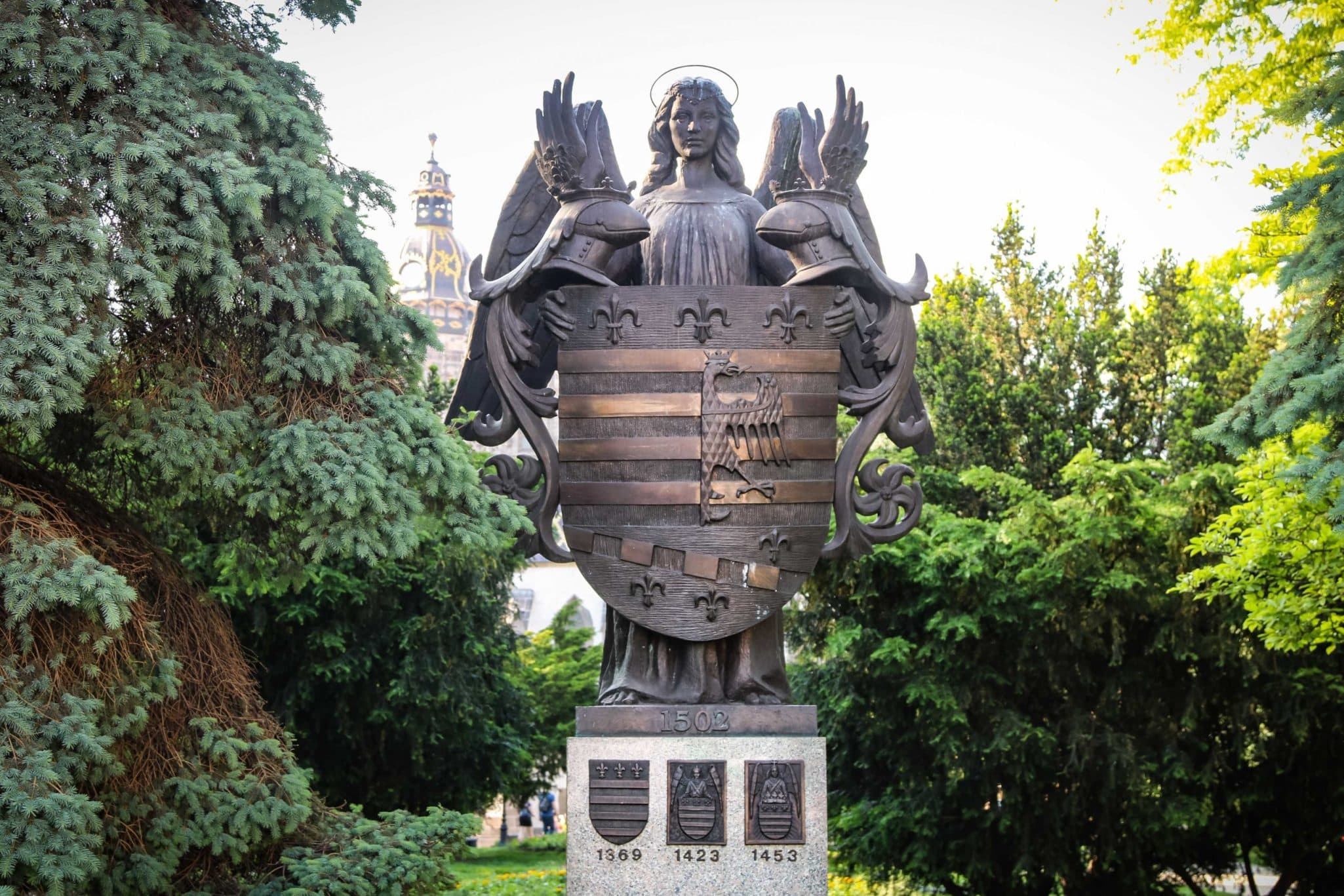 10. Rodošto & Mikluš prison
Opening hours: 9am-5pm Tuesday-Saturday / 9am-1pm Sunday
Entrance fee Bastion: adult/child €3/2
Entrance fee Prison: adult/child €2/1
The Rodošto bastion, whose walls date back to the 15th century, gives you an insight to Kosice's history. View the many medieval weapons like cannonballs before you move on to Mikluš prison to watch an introduction video and explore the city's former prison and torture chamber.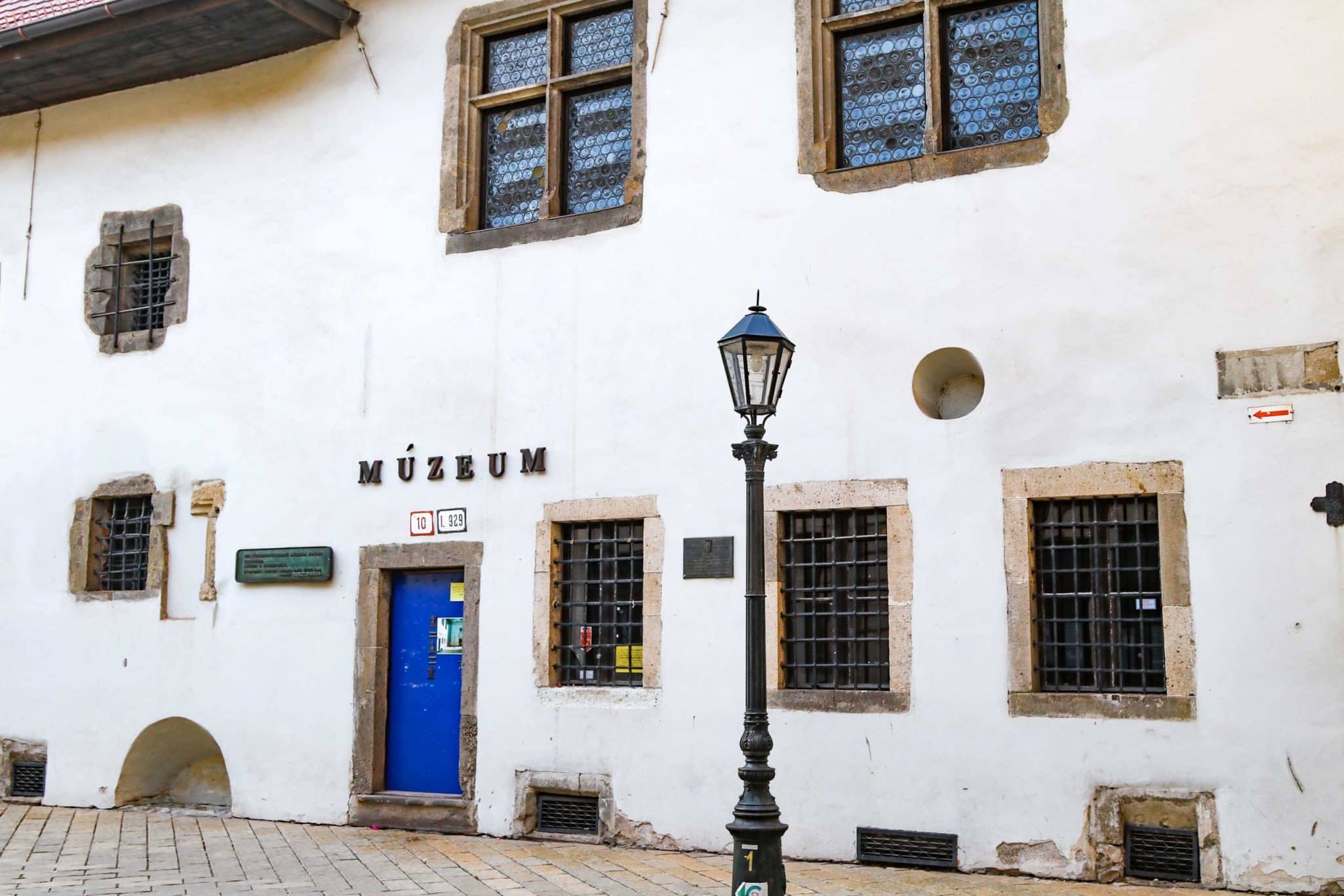 11. Jakab's palace
The very first thing I saw when I arrived in Košice was the Neo-Gothic Jakab's Palace.
It's right next to the train station and I remember wondering what it was. After a little googling, I found out that it was built in 1899 as a private house but later served as the residence of the president of the Czechoslovak Republic, Edvard Beneš.
It kind of looks like a fairytale castle, don't you think?
12. New Orthodox Synagogue
Before WWII, Košice was home to one of the largest Jewish communities in Slovakia. To have a gathering place for the city's more than 11,500 Jews, the New Orthodox Synagogue was built in 1926–1927.
You can find it on Puškinova Street near the historic centre of Košice.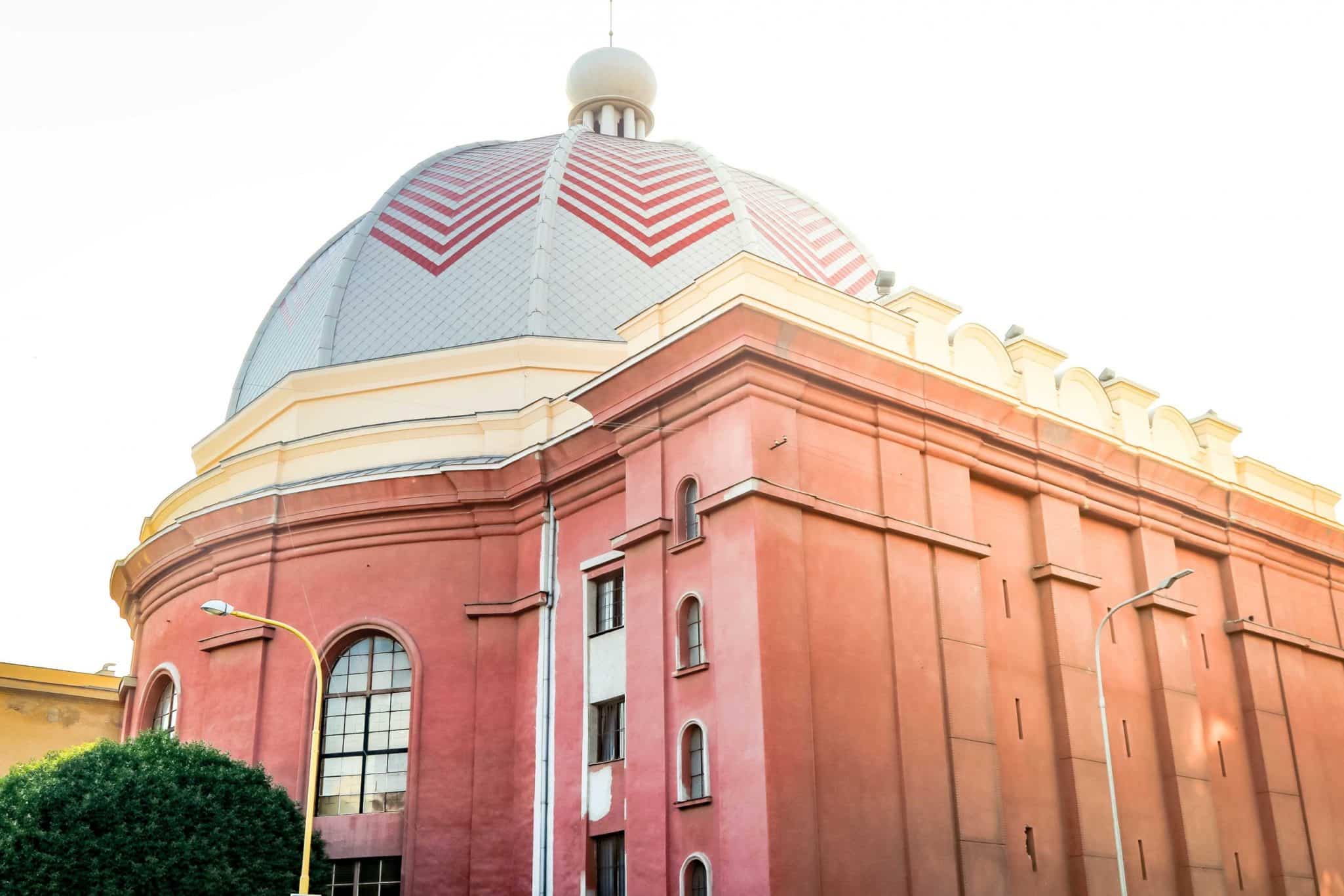 13. Kulturpark and Steelpark
Kulturpark is a group of former army barracks that has – under the European Capital of Culture project – been turned into a museum and cultural centre. It's like a creative sector for contemporary culture and art like music, visual arts, literature, film, theatre and dance.
14. The East Slovak Museum
Opening hours: 9am-5pm Tuesday-Saturday / 2-6pm Sunday (reduced hours from Nov-April)
Entrance fee: Adult/child €2/1
One of the interesting things to do in Kosice is visiting the East Slovak Museum. The museum houses more than 500,000 objects and provides you with an insight into the history of Eastern Slovakia.
15. Discover small alleys
Kosice is one of those cities that are fun to explore by simply walking around. You'll find small alleys, enigmatic statues, street art or a great little cafe to have a cup of coffee.
16. Košice street art
And speaking of street art…. That's one of the things that struck me about Košice. It wasn't just the colourful murals, but also sculptures, art installations and plaques. The city is almost like an urban arts exhibition.
Košice hasn't always looked like this, but when it was chosen as the European Capital of Culture in 2013, it became a hotspot for wall art and attracted mural painters from Europe and Latin America. At first you don't notice the murals, but the more you look, the more you'll see.
By the way, did you know that Andy Warhol was Slovakian? He was born in the US, but his birth name was Andrej Varchola and his parents were from Eastern Slovakia. To honour him, Košice city has placed a series of Andy Warhol style high-heel shoes around town. This is one of them ↓
17. Experience cool alternative restaurants
During my time in Košice I was so lucky to be shown around by a local from the Tourism Board and she took me to some really fun, alternative places – places I would never have found had I been on my own.
Read next: 10+ Slovakian dishes just like grandma makes them
Tabačka Kulturfabrik
The first place she brought me was the very hipster Tabačka Kulturfabrik. Tabačka is one of the cool hangouts in town, with a buzzy atmosphere, an industrial feel and laid-back vibe. If you're up for a Pilsner Urquell (around 1.50 euros), the local Opre' cider, or events like music, movies, workshops or presentations (which happens most days) this is the place to go.
Republika Východu
Another alternative hangout is Republika Východu, a cafe with local dialect signs and menus that sound funny and describe locals' characteristics. You might need to be local to get the humor, but they have their own laws, manifesto and constitution. You get the drill.
I just had a soft drink, but there were healthy, gluten-free and vegan options, craft beer and desserts. Plus, they had an English menu as well.
Where to stay in Kosice
I've stayed at some lovely hotels around the world, and one of the best places is right here in Kosice. It's an apartment with a reception and they SPOIL you. Welcome drinks, snacks when you get home late from sightseeing and an amazing breakfast served in front of the TV in the courtyard with a blanket to keep warm.
City Residence Apartment Hotel – I stayed at this wonderful apartment hotel and I cannot recommend it enough. It's in the city centre, the food is fresh and service is beyond amazing. Plus it has a sauna! Click here to see the latest prices.
Day trips from Kosice
Košice is not just a great weekend destination, it's also a practical anchor for nearby attractions. Closest by is the towering Spis castle (1,30 hour by car) or hiking in the High Tatras mountains (1,5 hour by car). You could also visit one of the 9 national parks, like Slovak Paradise National Park (1,25 hour).
Trains are pretty frequent, check timetables here.
A thousand thanks to Visit Kosice for hosting me and to Nika for showing me around Košice. I was a guest, but all opinions are my own as always.
Before you go – don't miss out on these posts: