How to visit the beautiful Matka Canyon from Skopje
Matka Canyon is home to 10 caves, several monasteries, and the largest artificial lake in North Macedonia. I spent a day there with Thomas and Theo, and it was the perfect amount of time to discover the area, take a boat ride and hike through the canyon.
I got to discover Matka Canyon, so I thought I'd share with you the best tips and how to get the best out of a day trip to Matka Canyon from Skopje.  
Read next: Things to do in Skopje
This post contains referral links for products I love. Adventurous Miriam earns a small commission at no extra cost to you if you make a purchase through my links. Thank you for your support ♡ Learn more
Tips for visiting Matka Canyon
If you're in a hurry, here's a few tips on how to visit Matka Canyon from Skopje. All the details are covered in this post below.
Get there by bus, taxi, car or organised tour
It's free to enter Matka Canyon
You can swim, but it's cold
There are restaurants and bathrooms at the beginning of the canyon
You can rent kayaks, boats and hike
When you get past 6km in, the path gets more overgrown and there are no railings in some rather high risk areas
How to visit Matka Canyon from Skopje
Visiting Matka Canyon from Skopje is very straight-forward. It's just a half hour's drive from Skopje, so it's not that far away. We had a car, so we drove from our apartment in Skopje city centre out to Matka Canyon. It was super easy to find.
These are the ways to visit Matka Canyon from Skopje:
By car – Drive southeast towards Matka Canyon (use Google Maps). It takes around 30 minutes.
By bus – Take public bus 60 from Skopje bus station. It takes 45-50 minutes one-way and costs $1.5 (cheapest)
By taxi – $11 – $14 one-way
By organised tour – I recommend GetYourGuide (most convenient)
Matka Canyon, North Macedonia
The main reason I wanted to visit Matka Canyon was the views. I mean, it's pretty incredible to find nature like this so close to a capital city.
Inside the canyon you'll find the beautiful Matka Lake, a handful of ancient monasteries, Vrelo Cave, and lots of hills to hike. You can even go fishing and swimming in the river and lake.
We arrived before noon, and other visitors had already arrived. Most of the them were locals; high-school kids taking selfies at every turn. But they stayed around the entrance and St. Andrew's monastery.
We parked the car and got out. There were some restaurants right at the entrance, but some of them seemed a bit unsanitary, so we decided to keep walking towards St. Andrew's monastery. It's a 10-15 minutes walk, but an easy one.
Once we reached the monastery, we grabbed a bite to eat before venturing further into the canyon. Food is decent but prices are high for North Macedonia, so you're better off just having lunch in Skopje before or after your day tour.
Read next: How to visit Macedonia for the first time
Things to do at Matka Canyon
Visiting Matka Canyon from Skopje is a great idea for several things. Most people come here to relax at St. Andrew's monastery and enjoy the lake views, but the canyon offers much more than that. Like, this:
Hiking
Kayaking
Boat trip
Cave exploring
Spend the night
Hiking
If you like hiking, you're in for a treat! The canyon boasts several routes, from short 30 minutes to 4-5 hour treks. The most popular hike is to the church of Saint Nikola. You can get there by following the Green or the Yellow trail.
The most direct route is the Yellow Trail. Simply cross the river by boat ($0.5) and then hike straight up. It can be a bit steep, and there's nothing up there except the monastery, so bring water!
You can also follow the path from St. Andrew's monastery at the entrance. It continues about 6-10 km into the canyon and once you get past the first km, very few of the local people go any further. After around 3 km, it starts to get overgrown. The path isn't difficult, but it's not that safe in parts. I wouldn't recommend to take kids, elderly or anyone with wheelchair or walking issues.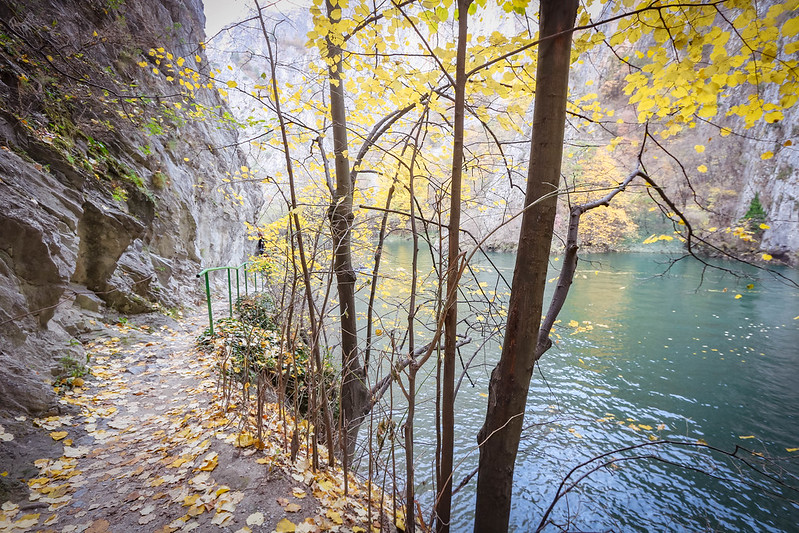 Kayaking
Another fun thing to do in Matka Canyon is kayaking. It's a beautiful way to see the canyon, and getting around is easy since there's hardly any current. Prices (as of 2018) are:
Single Kayak:
30 minutes – $2.6
60 minutes – $5.3
Double Kayak:
30 minutes – $4.4
60 minutes – $9
Boat tour
30 mins – $3.6
If you'd rather take a boat trip through Matka Canyon, this is a relaxing way to spend some time. You sit quietly in the boat and just enjoy the mirroring scenery and the beautiful flora and fauna of North Macedonia.
A boat trip takes 30 minutes and costs $3.6 per person.
Read next: Why you should visit the serene Lake Ohrid
Cave tours
2 hours – $7.1
The canyon also has dozens of caves – the most popular of which is Vrelo cave. It's known for a huge stalactite and has two lakes inside. The water inside Vrelo cave is 212 m deep, which makes it the deepest cave in the Balkans, the second deepest in Europe, and the 14th deepest in the world – so it's worth visiting!
The cave tour takes around 2 hours in total. You get to the cave by boat (20 minutes) and you'll see the beautiful canyon, kayakers, climbers and small cottages on your way there. Once you get there, there's a walkway through the cave where you can see stalagmites, stalactites, the two lakes and dripstone pillars.
A Matka cave tour costs around $7.1, which includes boat transport and life-vest, entrance to the cave and a guide, who will share lots of stories and legends about Matka canyon.
Spend the night
Once you're done exploring for the day, you can spend the night at Matka Canyon hotel for a rustic setting – now that would be an adventure.
You'll get the canyon all to yourself, and you can watch the sunrise and sunset over the lake. Enjoy some peace and quiet before people arrive.
Find the latest prices here: booking.com
If you're in the area and looking for things to do in Skopje, Matka Canyon is a great day trip or overnight trip. It's so close to the capital and super easy to reach. Go, go, go – I highly recommend!
Planning a trip to Matka Canyon? Ask me anything in the comments!
Before you go – don't miss out on these posts:
Save for later