Psst! This post probably contains affiliate links, which means I earn a commission (at no extra cost to you) if you click through and make a purchase. As always, I only recommend products and services I trust.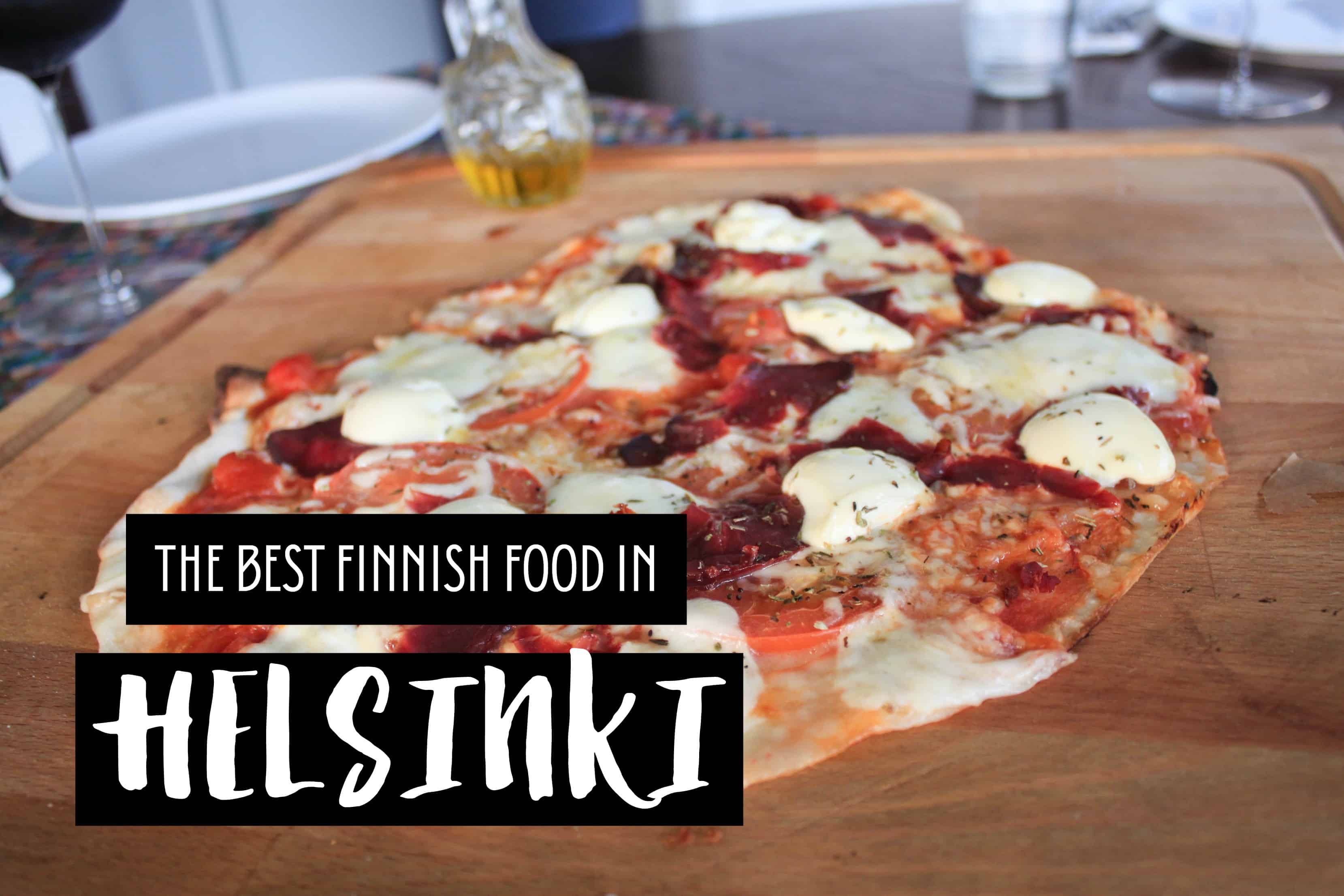 Do you know Nordic cuisine? It's innovative, simplistic and rustic, and the food we have in Denmark, Sweden and Norway is very similar. Finnish food also falls under the Nordic theme, but it comes with a twist –  an interesting combination of East and West. Helsinki is a great place for foodies, and the capital has no less than six Michelin stars that has been awarded to four restaurants (Chez Dominique, Demo, Carma and Postres).
I found some great food stops during my trip to Helsinki this summer, and I'd love to share them with you. Here's an introduction to the best Finnish food I had in Helsinki.
Read my post about the best free things to do in Helsinki.
BREAKFAST: KARJALANPIIRAKKA
Where to get it: At bakeries and most cafes
For breakast I mostly had Karjalanpiirakka, which is a Finnish rice pie from the Karelian region. It has a thin rye crust with a filling of rice and butter mixed with boiled egg. Good stuff!
BRUNCH: FAZER CAFÈ
Do you know Karl Fazer? Oh, he's just the KING of candy! Among other things, he's the mastermind behind Marianne peppermint crisps, Dumle soft chewy toffee and smooth chocolate, and the most important one: salmiakki liquorice. He's so popular that he has a café named after him, right in the heart of Helsinki. It's a great place for brunch, deserts or sweets. The prices are a bit high, but the experience is well worth it.
LUNCH: GARLICKY PASTA PENNE
Where to get it: Ristorante Il Siciliano
During my first day of sightseeing, I ended up at Ristorante Il Siciliano. And before you say anything, I know it's not Finnish as promised
. However, it is a really nice restaurant with relatively cheap prices, located just a few blocks from the Helsinki Cathedral. If you're in the mood for comfort food, this is where to go.
STREET FOOD
Where to get it: Street Gastro
This street food is tasty, and the setting is really cool and hip. Street Gastro focuses purely on sandwiches, and the menu is easy with just four different kinds: Kana (chicken), Härkä (beef), Possu (pork), and Vege (vegetarian). Go here for the experience. They're based at three different locations around Helsinki.
DINNER: REINDEER PIZZA
Where to get it: Restaurant Manala
"But… but it's Rudolf!" was the first thing Thomas blurted out when I told him I'd had reindeer pizza. Yeah, well, it was just so delicious. Very dark, strong flavored and salty. Reindeer meat (poronkäristys) is quite popular in Finland and according to recent studies it's one of the healthiest foods you can eat. It's high on B-12, omega-3 and omega-6.
I had this reindeer pizza at a friend's house, but you can get reindeer meat at many restaurants in Helsinki or even at the supermarket.
SNACKS: FRESH VEGETABLES 
Where to get it: Market Square
Right next to Helsinki Cathedral and the harbor, you'll find the market square. It's an excellent place to find local food, vegetables & fruits, and souvenirs. As you might have picked up, I love European fresh peas, and guys, the Finnish peas did not disappoint! I went to get fresh peas every morning during my stay → what an excellent habit.
DINNER: THE BEST BURGER IN HELSINKI
Where to get it: Kuja Bar and Bistro
I was recommended this bar for the burger so my expectations were sky high upon arrival. I had the Kuja burger with beef steak, bacon, fried egg, Emmental and cheddar, pickles, mixed salad and garlic mayo. And. I. Loved it! If I were to recommend you one food stop in Helsinki and only one, this would be it.
DINNER: FINNISH GOURMET
Where to get it: Chef & Sommelier
Chef & Sommelier ranks high among Helsinki's best restaurants. The flavors are superb and the presentation is a work of food-art! They're devoted to organic ingredients and offer five fixed menus of three, four, five, seven or nine courses.
SALMIAKKI – THE WORLD'S BEST LIQUORICE
Where to get it: In every kiosk and supermarket
As a Scandinavian, I was born and bred to love liquorice. Finland invented it, and they're known especially for their salmiakki;  a very salty liquorice. Up until this summer there was a whole kiosk in Helsinki devoted to Salmiakki products and you could get things like salmiakki coffee, chocolate and ice cream. But it's closed now unfortunately.
Tip: If you're in Finland and want to try liquorice, start with the sweet kind (Pepe and Panda). It's not as salty as salmiakki.
Many thanks to Visit Helsinki for generously hosting me in Helsinki and helping me find these restaurants via this brochure. I paid for my own meals and salmiakki, and all opinions are my own, as always.
Have you tried Finnish food? What's your favorite?
Pin to Pinterest