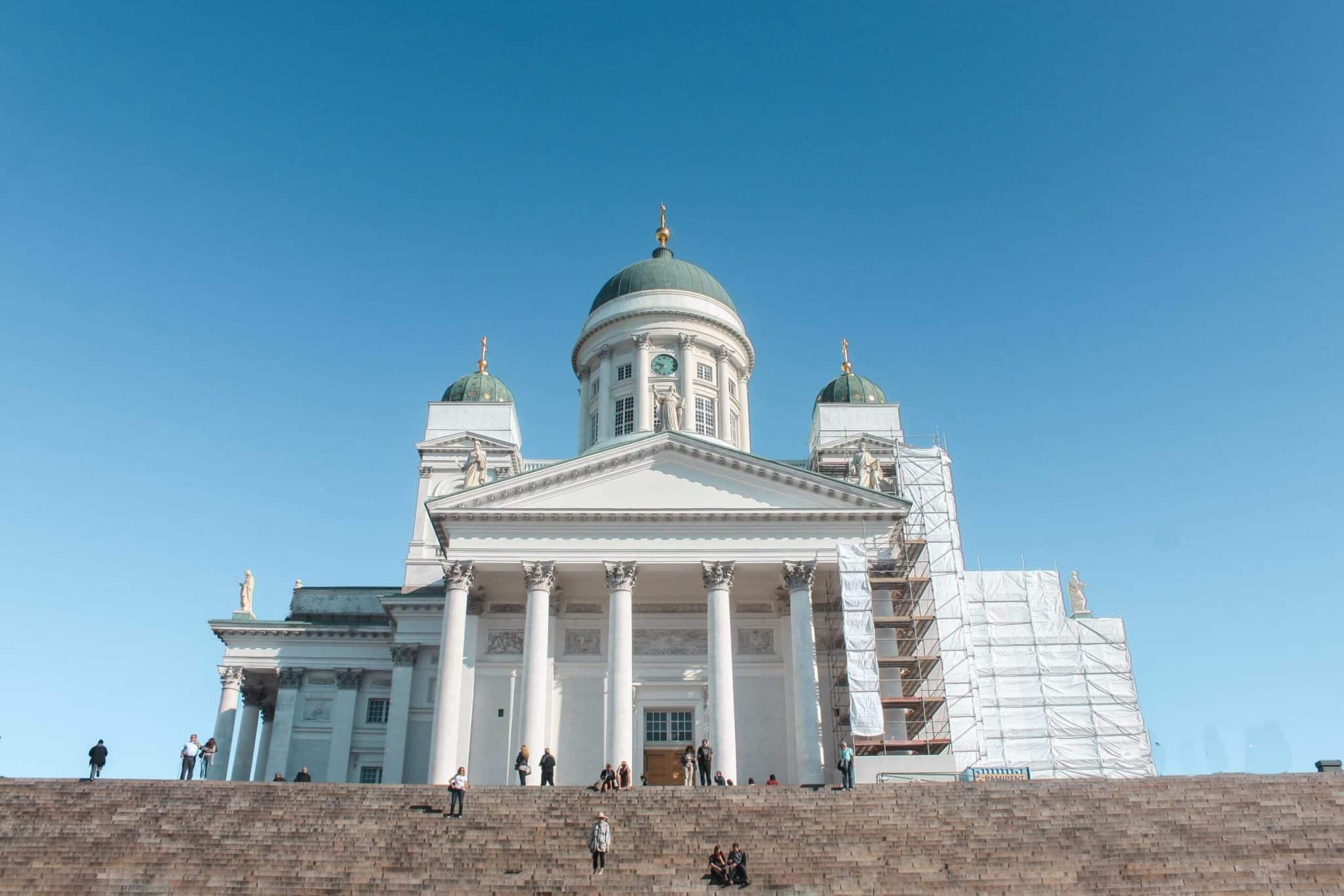 Welcome to Finland
A land of endless evergreen forests, Moomins, brutalist architecture, and Lapland – home of Santa Claus. Finland is, in many ways, a magical fairy tale land itching to be explored. Its people are good, healthy, helpful, and kind. Its landscape is a blend of green and blue – a thousand lakes and forests to get comfortably lost in. And Finland is a draw for travel no matter the time of year. Summer is warm with plenty to do, and winter has Lapland, skiing, and the Northern Lights.
Amazing experiences in Finland
Home of Santa Claus
It's no secret that Santa hails from Finland, but despite him being busiest at Christmas, he's actually happy to be visited on any day of the year. In the northern town of Rovaniemi, children and adults alike can come to meet Santa at his workshop!
The land of a thousand lakes
Finland is pretty huge, and so much of its land isn't actually land at all, but lakes! As you travel north from Helsinki, you'll find yourself deep in a quiet and idyllic wilderness of nothing but forests, lakes, and a brisk, chilly breeze. Most of Finland's lakes are in the appropriately named Lakeland area, which takes up the geographical heart of the country.
Moomins and Marimekko
Finland's most adorable export, its cute mascots, are the Moomins. Created by Tove Jansson in the '40s, they have become a staple part of the Finnish identity. Then there's of course Marimekko, the legendary design and fashion company based out of Helsinki, who have helped define the aesthetic and style of Finland.
Northern lights in Finnish Lapland
Finland is the home of Lapland, the northernmost region of the country and a place that children and adults alike flock to every winter for its miles of snow-covered forests and mountains. Lapland is regarded by almost everyone as the ultimate winter wonderland holiday location. It's also perfect for skiing and catching a glimpse of the Northern Lights.
Best sights in Finland
Helsinki (capital)
The capital of Finland is a blend of baroque and brutalist architecture, and full of some of the friendliest people you'll ever meet. The range of good Finnish food and coffee available is wonderful.
Rovaniemi (Santa Claus Village) (810km from Helsinki)
Rovaniemi is the only place on Earth where you can actually meet Santa Claus while he's busy working away in his workshop. It's also a great place to see the Northern Lights.
Nuuksio National Park (42km from Helsinki)
Finland has 40 national parks, and Nuuksio is one of the best. It's not far from the capital and is made up almost completely of forests and lakes. A quiet wilderness paradise.
Suomenlinna (4km from Helsinki)
An incredible sea fortress spanning six islands within the area of Helsinki. Suomenlinna is a UNESCO World Heritage site and also an ideal place to explore and take a picnic.
Savonlinna (334km from Helsinki)
A gorgeous little town in the very heart of Finland's Lakeland. Savonlinna is home to Olavinlinna, a fortress which dates back to the 15th century and is full of historic museums.
Turku (167km from Helsinki)
A dynamic city which sits on the Aura River. At the mouth of the river is a medieval fortress simply known as Turku castle. It's also a great town for foodies, with its massive range of restaurants.
How to get around
I always use Rome2Rio for traveling Europe. This site/app is so easy to use. It quickly comes up with a variety of transport options to suit your time and budget. All costs are shown, even taxis.
Best time to visit
When to visit Finland very much depends on what you like getting up to. April-August is ideal if you like longer days and warmer temperatures, and the city comes to life in the summer when locals make the most of the weather in outside cafes and bars.
However, if you love seeing cities covered in snow or getting stuck in to winter activities then December-March is ideal.
Practical info
Language: Finnish
Currency: Euro
Plugs: Standard voltage of 230V (I recommend buying a universal adapter)
Population: 5.5 million
Important telephone numbers: 112 for all emergencies
Visa: Members of the EU can stay indefinitely in Finland without a passport. US citizens can stay visa-free for up to 90 days.
Rough Budget
Hotel:

$30-70

Food:

$5-25

Activities: e.g.

$90 for a husky sleigh ride

Transportation:

$2-8 for a bus
Finnish Phrases
Hello: Hei
Thank you: Kiitos
Yes: Joo
No: Ei
Bye: Hei, hei
Cheers: Kippis
Posts from Finland