How to spend a perfect one day in Helsinki
Spending one day in Helsinki and wondering what to do?
The Finnish capital is flecked with beautiful architecture, delicious Nordic cuisine and iconic Finnish designs like Marimekko and the Moomins. And the best part is that everything is in super close range. Most of Helsinki's major attractions are easily visited on foot.
In this article, I'll share the best things to do in Helsinki, Finland, the top restaurants and where to spend the night.
Let's get started.
This post contains referral links for products I love. Adventurous Miriam earns a small commission at no extra cost to you if you make a purchase through my links. Thank you for your support ♡ Learn more
Introduction to Helsinki Finland
Helsinki (Helsingfors in Swedish) is a green seaside capital with a laid-back vibe. It's home to 1.4 million people and world-famous design, Nordic cuisine, and a plethora of beautiful islands. The Helsinki Archipelago consists of over 300 islands! 
Although it's located in the far North, Helsinki is easy to reach by flight or ferry from St. Petersburg, Sweden, and Tallinn. 
Once there, you'll find six national parks less than two hours away from Helsinki. Plus, the capital is surrounded by interesting neighboring cities such as Espoo, Vantaa, and Porvoo. So, if you have more than a day in Finland, you won't run out of things to do.
How to get around
Helsinki is compact enough to explore on foot, so sightseeing is easy. If you're based in the historic center, you can walk from one attraction to the next. You can also rent a bike, and take the metro or bus around town. 
Is one day in Helsinki enough?
Yes, one day in Helsinki is enough to see the main sights. It's such an easy day trip from Tallinn (just a one-hour ferry ride). So, if you have the chance of spending a day here, do it.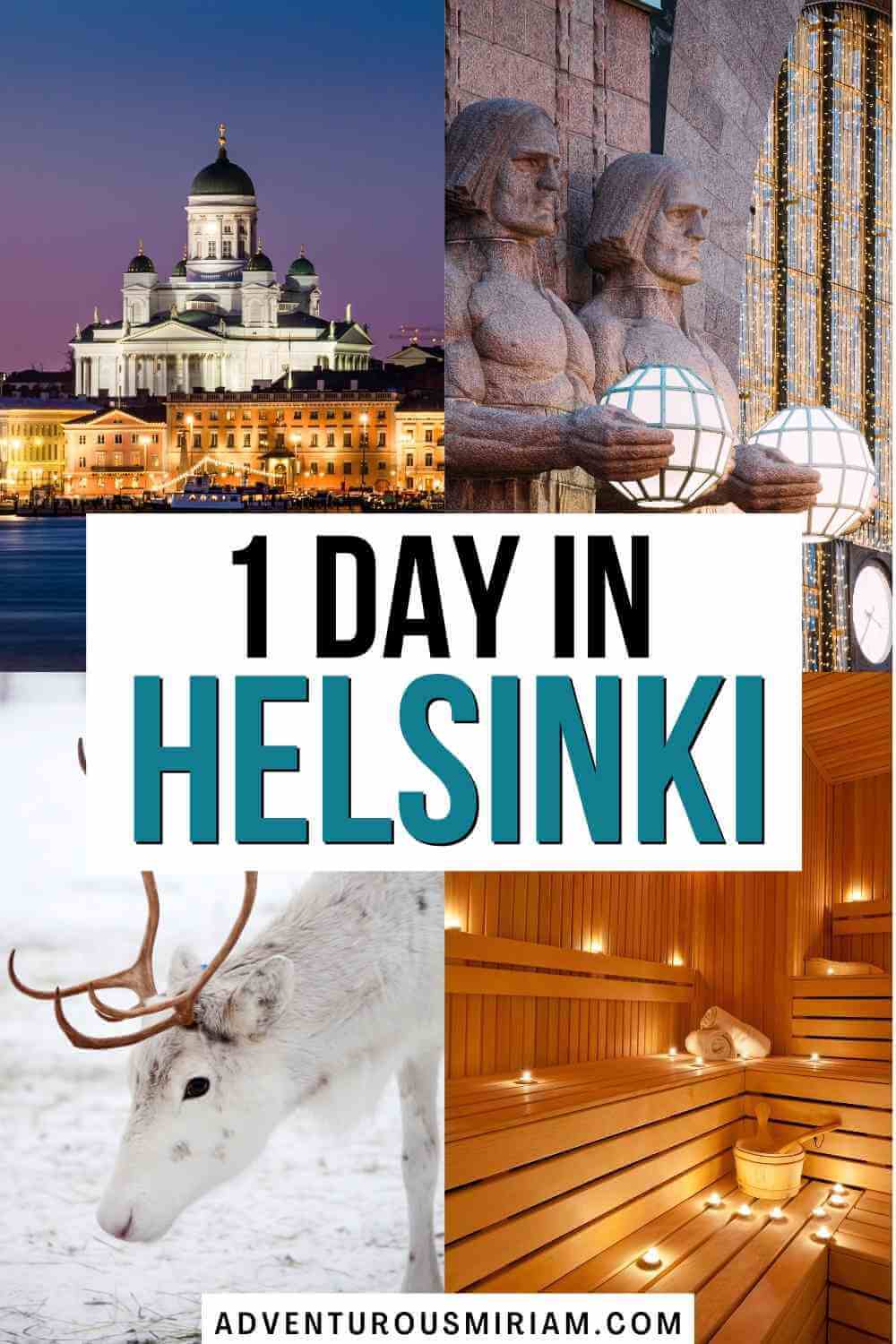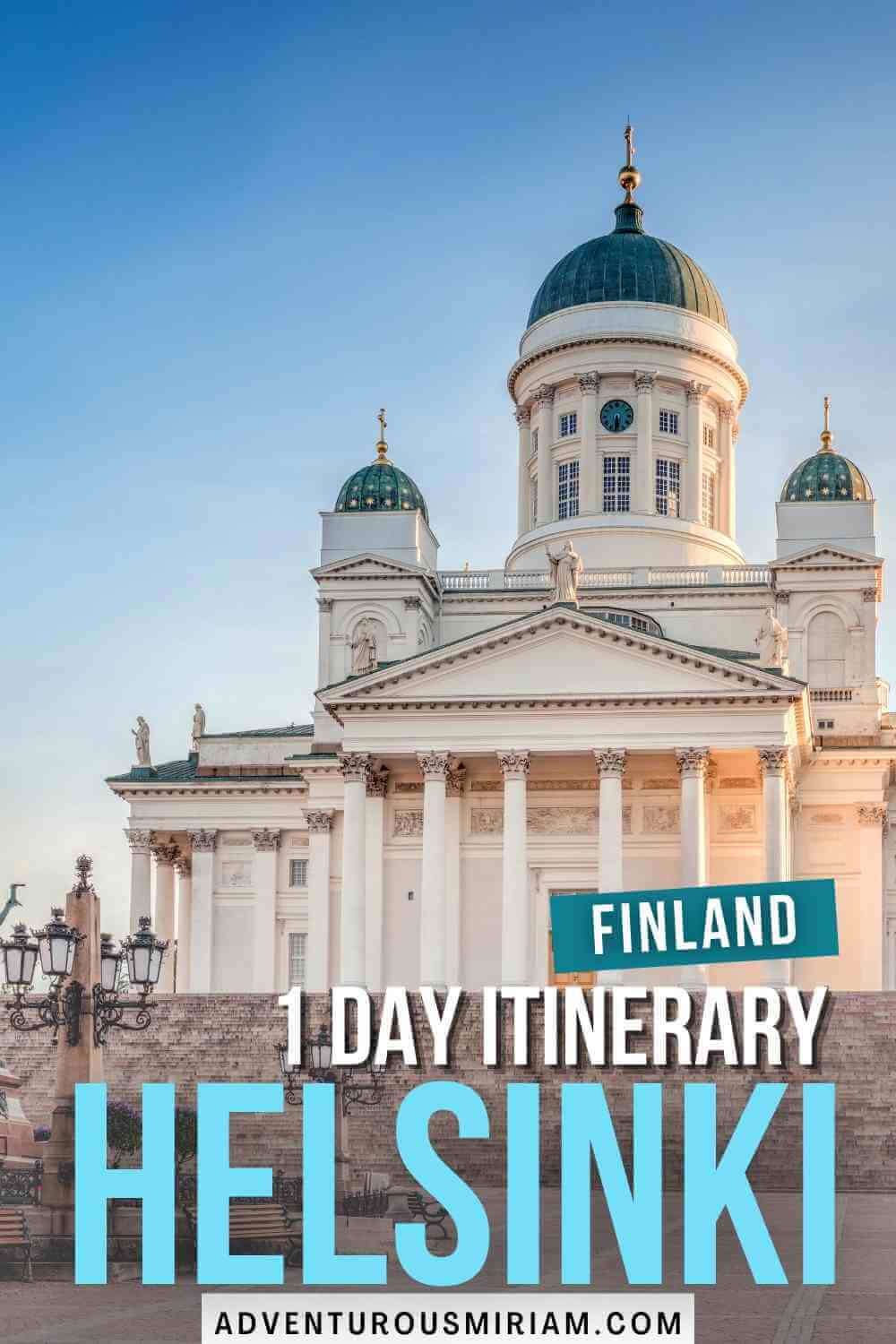 Where to stay in Helsinki
Helsinki is an expensive city, but the selection of accommodation is vast and high quality.
Splurge: Scandic Grand Central Helsinki – Amazing location right in the city centre. Cosy atmosphere and interior, wonderful staff. Breakfast is included. Find the latest prices here.
Mid-range: Omena Hotel Helsinki Lönnrotinkatu – Easy self-check in hotel in a great location. Simple rooms with fridge and microwave. Find the latest prices here.
Where to eat
When in Helsinki, you have to taste Nordic cuisine. Some of the classics to try are reindeer, Karjalanpiirakka (a traditional Finnish rice pie) and liqurice! These are some of the best restaurants in Helsinki:
Breakfast: Cafetoria Roastery is a cosy little place for coffee enthusiasts. They have pies, croissants and sandwiches for breakfast.
Lunch: Green Hippo Punavuori is great for lunch. Go there for the fresh and very Instagram-friendly food.
Snacks: Try the liquorice (salmiakki). It's world-known, and Scandinavia is where to get the original and best kind.
Dinner: Restaurant Lappi serves authentic Finnish Lappish food, like reindeer. A unique place.
Things to do in Helsinki
Admire Helsinki Cathedral
Map | Opening hours: 9AM-6PM
The majestic and powerful white Helsinki Cathedral is a major landmark of the city. Earlier called St. Nicholas Church and Great Cathedral, it was built from 1830-1852.
The cathedral is busy. If there's a wedding or funeral when you visit (speaking from experience), you can't go in.
Go to Helsinki's Market Square
Map | Opening hours: 8AM-4PM
Helsinki Market Square is another of the city's main tourist destinations. Here, you'll find charming market stands with a wide variety of items, like fresh fish, vegetables and fruits, souvenirs, local arts and crafts.
Discover the Rock church
Map | Opening hours: 10AM-5PM
Are you familiar with Temppeliaukio, the Church in the Rock? Get familiar.
It's built in a rock. Under ground!
I've only seen this kind of architecture once before and that was a monastery carved in a mountain cliff in Montenegro. What a design!
Try visiting on a Sunday during service and spend an hour inside, just listening to the gospel choir. It's a very unique experience.
Notice the Chapel of Silence
Map | Opening hours: 8AM-8PM
At the city centre, you'll notice this interesting building.
It's known as Kamppi or Chapel of Silence, and it really stands out with its oval shape and shiny copper colour. It was created as a place to take a break from the city's hustle and bustle, and it's placed in one of the busiest streets in Helsinki.
Find St. John's church
Map | Opening hours: 12AM-15PM
On your one day in Helsinki, walk past St. John's Church and peak inside. The Gothic architecture is quite typical for Scandinavia.
Admire the historic city centre
Most things to do in Helsinki are conveniently located in or around the city centre. But the architecture makes the centre an attraction by itself.
The area houses several Neoclassical buildings, including the Senate Square (at Helsinki Cathedral), Art Nouveau at the railway station, and then of course we have Modernism, which is represented by the Rock Church.
Go shopping
If you have time, do a little shopping.
You'll find a wide range of sustainable and unique fashion and interior design around town. Try the stores, flea markets, shopping centres and boutiques on the walking streets.
Uspenski Orthodox Cathedral
Map | Opening hours: 9.30AM-7PM
If you're interested in churches, let me give you a travel tip:
If there's a Russian church – go! It's always impressive.
Uspenski Orthodox Cathedral (1868) is the largest orthodox church in Western Europe. It was designed by Aleksei Gornostajev and based on a 16th-century church near Moscow. I was really surprised how magnificent it was. It reminded me of St. Isaac Cathedral in St. Petersburg , which is the most beautiful church I've ever visited.
Don't let the exterior fool you. Once you get inside, you'll see what I mean.
Helsinki's bridge of love
Right beneath the Uspenski cathedral is Rakkauden Silta, which is a small bridge with love locks. So cute, although it's easy to miss because it's small.
Find the Pub on wheels
Price: €8 | Opening hours: 10AM-5PM
One of the best things about Helsinki is that it's walkable and easy to get around. While I was walking from the cathedral to the marina, I stumbled upon the strangest thing… a pub on wheels.
Finns call it Spårakoff and it's the tipsy alternative to getting around town. It's a tram that has been converted into a bar, and even though it's not the cheapest way to get a drink, it's certainly a different way!
Pro tip: The pub tram departs from Mikonkatu, east of the train station and takes you past Helsinki's major landmarks for an hour.
Day trips from Helsinki
If you have more time to spend, why not take a day trip from Helsinki.
The most popular day trip from Helsinki is Tallinn. It's just a few hours away by ferry, or you can take a weekend trip to St. Petersburg without visa within 72 hours. If you'd like to experience more of Finland, visit one of the national parks or check out the nearby villages like Loviisa, Porvoo or Espoo.
We went to Nuuksio National Park, just 35 km from Helsinki, where we had a picnic by the lake. It's easy to reach.
Ask me anything about your one day in Helsinki!