How to spend an amazing one day in Strasbourg (France)
Wondering what to do with one day in Strasbourg? Follow my Strasbourg itinerary, as I'll show you precisely what to do in Strasbourg.
When people ask me what to see in France, I always recommend Alsace. Sure, there are other amazing parts, the riviera, Normandie, Paris. But Alsace is just special.
The fairy tale vibe, the half-timbered and to-die-for amazing cuisine are just some of the reasons you should visit. And Strasbourg – well, that's the capital of this dreamy French region.
In this post, I'll introduce you to Strasbourg and share tips on what to see, where to taste some of the amazing food and where to spend the night, if you decide to do so.
Let's get to it!
This post contains referral links for products I love. Adventurous Miriam earns a small commission at no extra cost to you if you make a purchase through my links. Thank you for your support ♡ Learn more
Introduction to Strasbourg
Strasbourg is famous for several things. First of all, it's the largest city in Alsace with a population of roughly 300,000 inhabitants (as of 2021). Strasbourg is also a business hub and the seat of several European institutions such as the European Parliament, the Council of Europe, and the European Court of Human Rights.
Strasbourg has been under German and French dominance for the past six centuries. You sense it clearly in the architecture and (fabulous, might I add) cuisine. Although Strasbourg today is completely French, the city has one of the best well-preserved German cities with its medieval and early modern architecture.
Strasbourg has a modern area and a historic area, which is located at the Grand Ile. This is where the main attractions are.
Is one day in Strasbourg enough?
Yes, one day in Strasbourg is enough to experience the best sights. As mentioned, the main attractions are in close range at the Grande Île; a small peninsula close to the train station.
If you plan your day and sample some great Alsace food, I'd say you can have a fantastic day here!
Plus – the best part is that Strasbourg, France is cheap (compared to European prices). Every sight I went to and all places mentioned in this post were free, so the only thing I paid for was food and accommodation. It's possible to visit Strasbourg for €36 per day.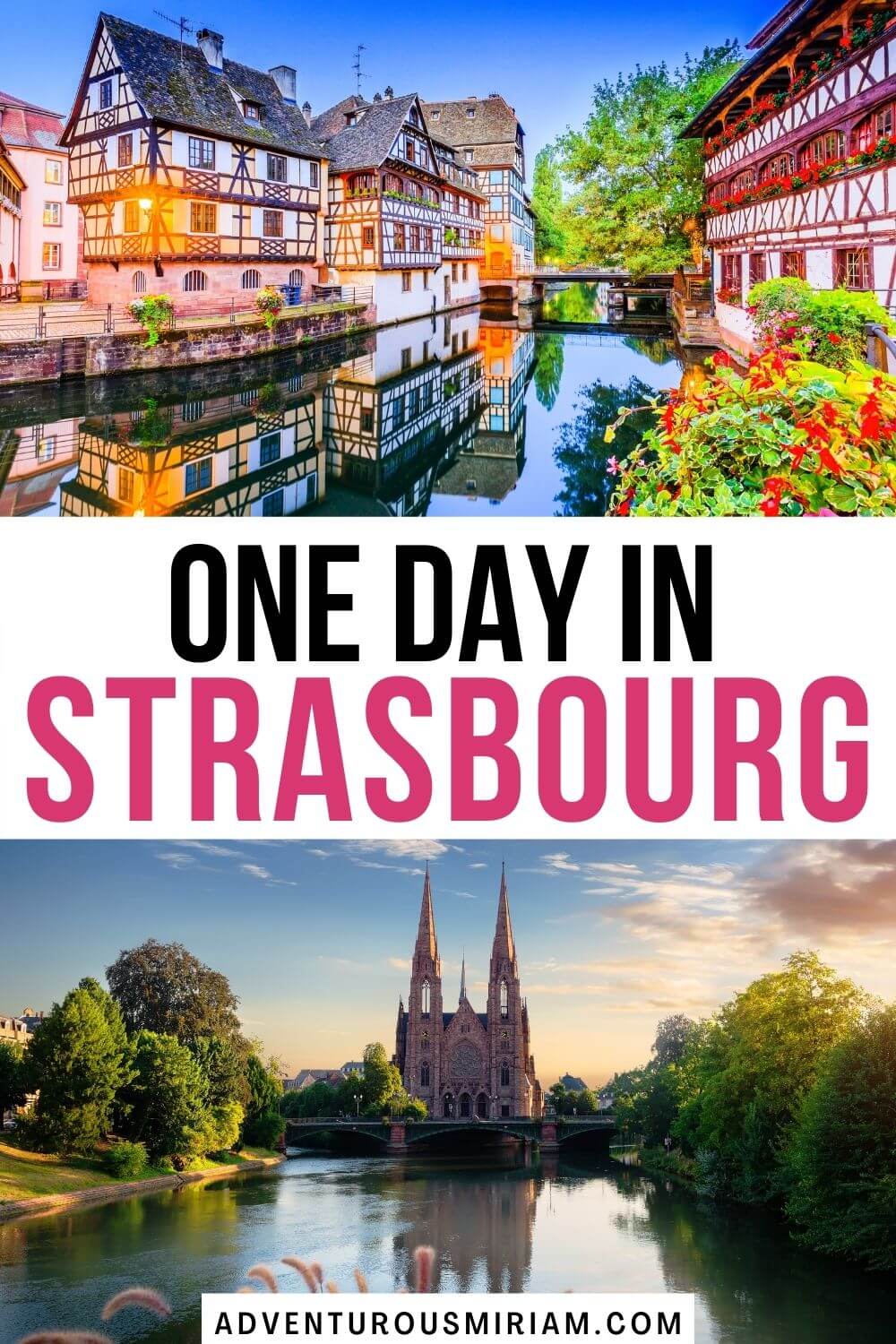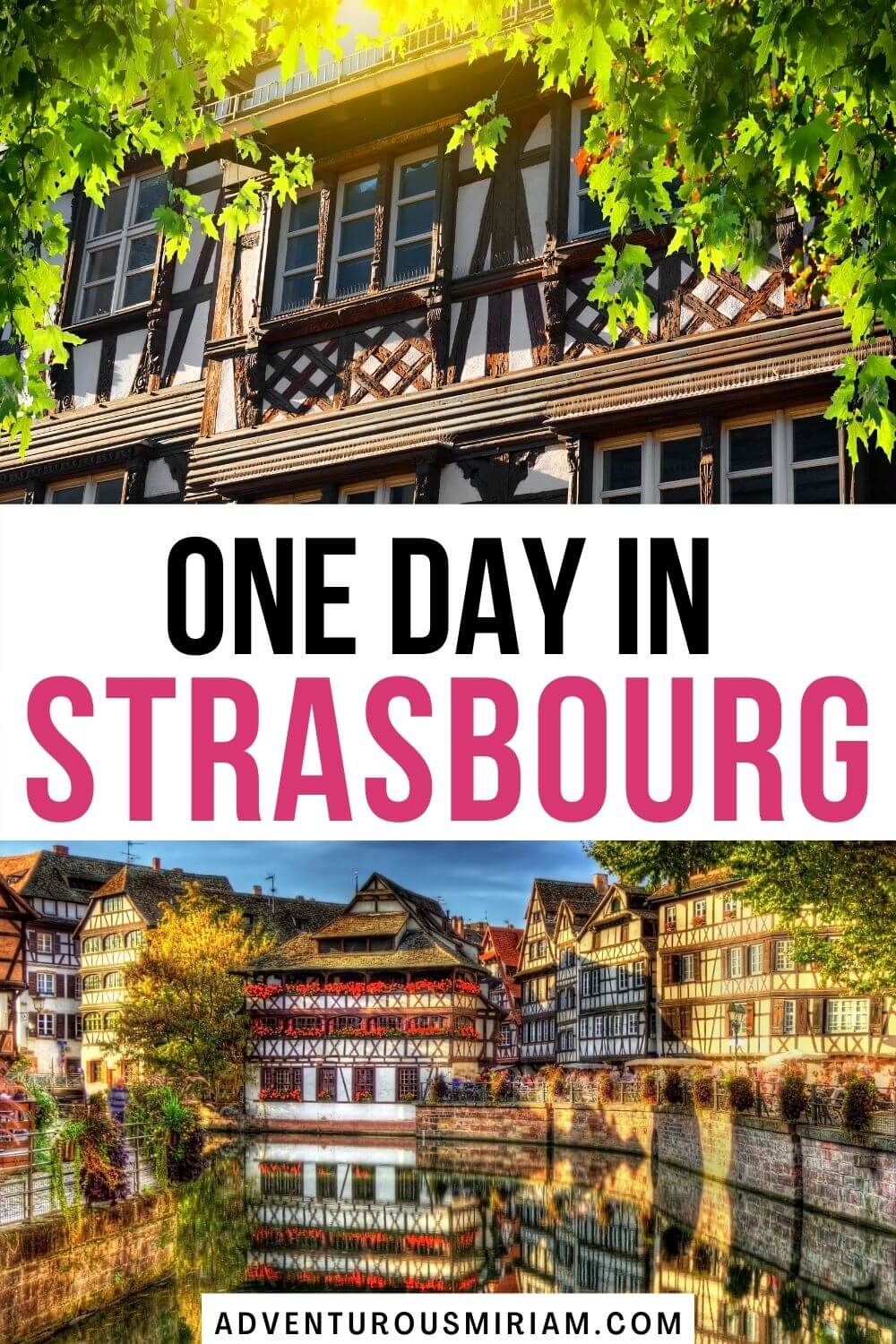 Where to stay in Strasbourg
If you decide to spend the night, I recommend staying close to the Grande Île. Preferably near the train station or the cathedral. My personal tip is this lovely hotel:
Hotel des Vosges BW Premier Collection – this hotel comes with spacious rooms and an amazing breakfast. It's located very centrally, right next to the train station. Find the best prices here.
How to get around
The main sights are all located at Grand Ile and it's easy to walk. If you're visiting other parts of Strasbourg, you can buy a ticket with unlimited tram and bus trips valid for 24 hours (€4.30). You can also rent bikes (vélhop) for $5 per day.
Things to do in Strasbourg France
Grande Île Island
On my first day in Strasbourg, I was pretty much lost. It's not the easiest city to visit if you don't speak French, and there aren't many signs, at least not in English. But as soon as I found out that the historical part of town, which is where all the main sights are, is located on an island (Grande Île), it was much easier.
Grande Île is a UNESCO site with several beautiful attractions.
Pro tip: Use the 142-meter high spire of Strasbourg Cathedral as your compass and you'll have an idea of where things are located.
Strasbourg Cathedral
Opening hours: 7am-7pm
Notre Dame cathedral is one thing you can't miss seeing in Strasbourg as it towers above the city. With 4 million visitors a year, it's the second most visited cathedral in France after the Notre Dame in Paris. I've been to the one in Paris and this one is just as beautiful, maybe even prettier if you include the historical Alsace houses and Rue de Maroquin surrounding it.
Strasbourg Cathedral was built in 1439 and it's an outstanding masterpiece of Romanesque and late Gothic art. Inside you'll find 12th-century stained glass windows, one of the world's largest astronomical clocks and the 66-meter high viewing platform. It's touristy as can be expected, but definitely worth the visit!
Another nearby sight is the Palais Rohan, an iconic monument of Strasbourg. Its beautiful architecture was inspired by Parisian townhouses with strictly aligned windows and harmonious proportions.
Petite France
The number one attraction in Strasbourg is Petite France ("Little France"), which is the historic part of town. What makes it special is the half-timbered houses that reflect in the water along the canal.
The houses date from the 16th and 17th centuries and were originally built for millers, fishermen and tanners, who once lived and worked in this part of town.
Today, Petite France is a UNESCO site.
Église Saint-Thomas
Close to the Petite France district, you'll find the beautiful St. Thomas church. This Romanesque and Gothic church is unique for its shape and two bell towers. Inside, you'll find the monumental mausoleum of Marshal Maurice de Saxe, which was created by 18th-century master sculptor, Jean-Baptiste Pigalle.
Place Kléber
Place Kleber is the largest square in Strasbourg. It's named after Jean-Baptiste Kléber (1753 –1800), a general from the French Revolution, whose ashes are kept in a crypt under his statue.
If you visit during Christmas, there'll be a huge Christmas tree here.
Neuberg
On Place Gutenberg Square, you'll see a stunning symmetrical building, which is a stark contrast to the half-timbered houses. This is the Alsace Eurométropole Chamber of Commerce and Industry, built in the 16th-century.
Visit a museum
One of the popular museums in Strasbourg is the Musée Alsacien or Musée Historique de Strasbourg. It's dedicated to all aspects of daily life in pre-industrial and early industrial Alsace, like exhibits of clothing and other household artefacts.
Batorama Boat Tour
Strasbourg's charm has a lot to do with the many canals running through the city. The canals and the River Ill surround the Grand Ill island where Petite France is located.
It's a beautiful walk around the canals, especially in the spring when flowers are blooming and everything is green and lush.
Saint-Pierre-le-Jeune Church
Free entrance
This Gothic church was consecrated in 1053 by the Alsatian Pope Leo IX. It's a little gem with a beautiful courtyard.
Don't miss the 14th century frescoes, tribune and the cloister.
Barrage Vauban
Barrage Vauban is a bridge and defensive work erected in the 17th century on the River Ill. But more importantly, it's a probably the best viewpoint in Strasbourg.
From the top, you get a panoramic view reaching from Petite France to the Notre Dame Cathedral. spire.
Photography tip: Get there at sunset or after sunset for the best light. Overcast or rain create reflections in the water. Get more photo tips here.
Ponts Couverts
Just across from Barrage Vauban, you'll see the Ponts Couverts. Originally erected as a defensive work in the 13th century, they're a set of three bridges and four towers.
Beautiful Alsace houses
Aside from the half-timbered houses you find here and in countries like Germany and Denmark, the Alsace architecture has its own style. Think French balconies or decorated balconies, colourful shutters and endless avenues of green, trimmed trees. It's a sight for sore eyes.
Best restaurants in Strasbourg
For dinner, I recommend making a reservation. Especially at the good restaurants.
You might think that Petite France or Notre Dame is the top attraction in Strasbourg, but it's not actually. The real attraction is the Alsace food, and if you have yet to try it, you have something to look forward to!
French cuisine is excellent, including their deserts, pastry and cakes. So when I got to France, I had a list of things I wanted to taste while I was there. Although I didn't get to the frog legs or snails, I had delicious meals like coq au vin, creme brulee and crepe suzette. The most known dish in Alsace is Flammkuchen (tarte Flambée in French), which is a French version of pizza with creme fraiche and it's a must if you're there. But in the cuisine you'll also find sauerkraut, pork and baeckeoffe.
Daily food budget
French food is fairly cheap compared to standard European prices. But if it's possible, try at least one good restaurant because the French food is amazing! Budget meals cost €6-9, mid-range are €10-15 and high-end cost anywhere from €15-40. See my restaurant and food tips below.
Where to eat in Strasbourg
Flamme & co: Go there for the flammkuchen
La Corde á Linge
Gurtlerhoft: Amazing food and service! It's easily the best restaurant in Strasbourg
Patisserie Kubler: Great strawberry tarts
Would you visit Strasbourg? And do you LOVE French food, too?
More stuff you'll love