How to spend a magical one day in Colmar old town
Spending one day in Colmar old town and wondering what to see? Here's everything you need to know.
Old town Colmar, France is the most enchanting little fairy tale town in the world. I mean, just look at those colourful houses and cobblestone streets.
Colmar is also known as the real 'Beauty and the Beast town'. While it's unconfirmed if this dreamy provincial French town was the inspiration for the Disney movie, I think the photos speak for themselves.
Here's everything you need to know to plan your one day in Colmar, including what to do, where to eat and where to spend the night.
Let's dive in.
This post contains referral links for products I love. Adventurous Miriam earns a small commission at no extra cost to you if you make a purchase through my links. Thank you for your support ♡ Learn more
Is one day in Colmar enough?
Yes, one day in Colmar is enough to see the main attractions.
If you want to soak up the fairy tale vibe and Alsatian food, you can easily spend a few days here too, though. Colmar is also eminent as an anchor for day trips to other villages on the Alsace wine route.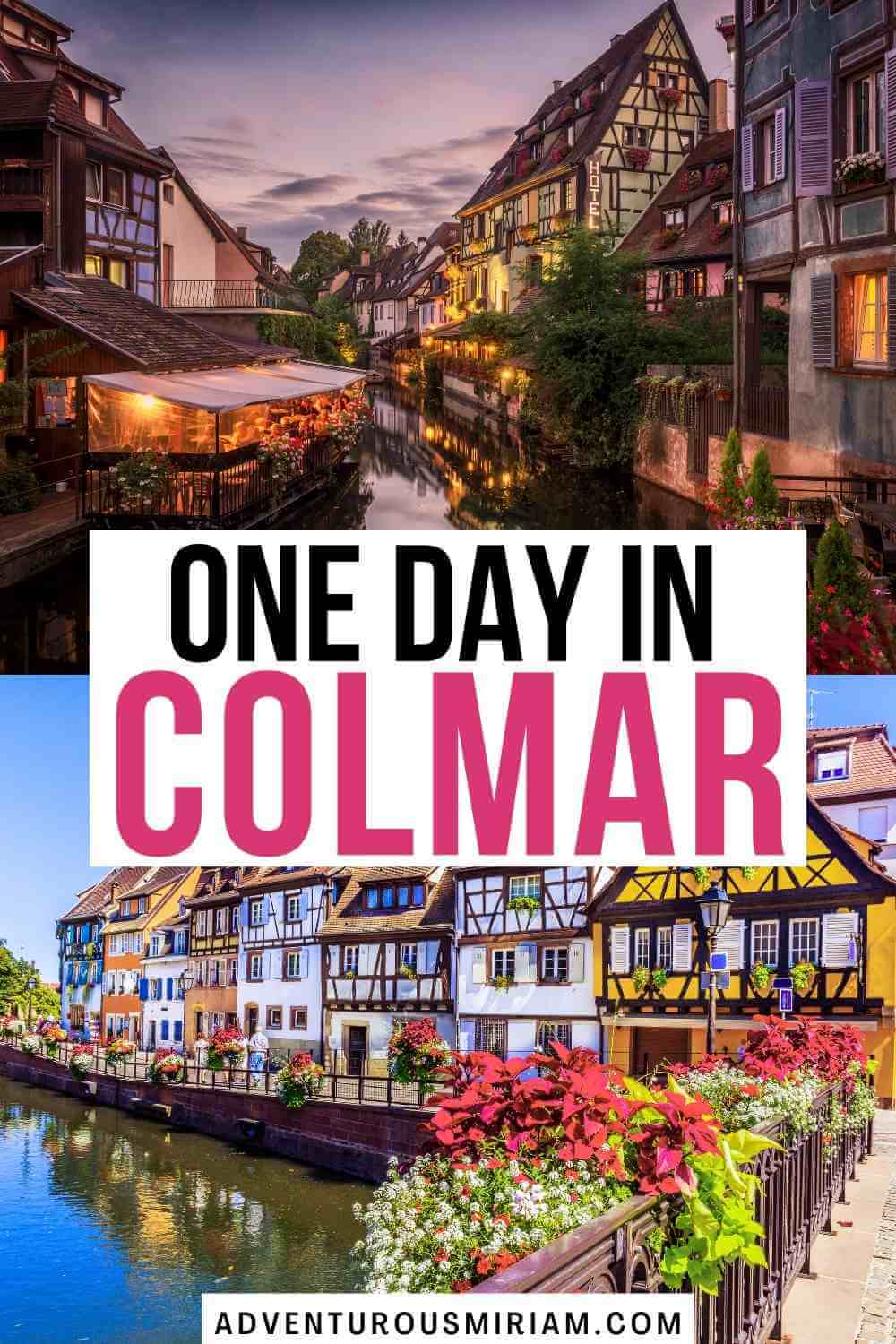 Introduction to old town Colmar
Colmar is a medieval town from the 13th century, located in Alsace. It's one of the many picturesque villages on the legendary 170-km-long Alsace Wine Route.
Colmar has nearly 70,000 inhabitants. For a medieval town, it's surprisingly big, but you can get around Petite Venice (the main attraction) on foot with ease.
Once upon a time, the canals were buzzing with butchers, tanners and fishmongers, and Petite Venice was a centre for art and learning. The town's half-timbered houses are typical Alsace architecture, from the colourful fishermen's houses on Quai de la Poissonnerie to the lovely old burghers' houses of the 16th century.
How to get to Colmar
Colmar is easily visited as a day trip from Strasbourg (1 hour by train), Zürich, Switzerland (1,5 hours by train) or Paris (4 hours by train). Petite Venice is 15-20 minutes walk from Colmar train station.
Renting a car is the best way to explore Alsace. There are so many charming villages to see, and it's not super easy with public transportation.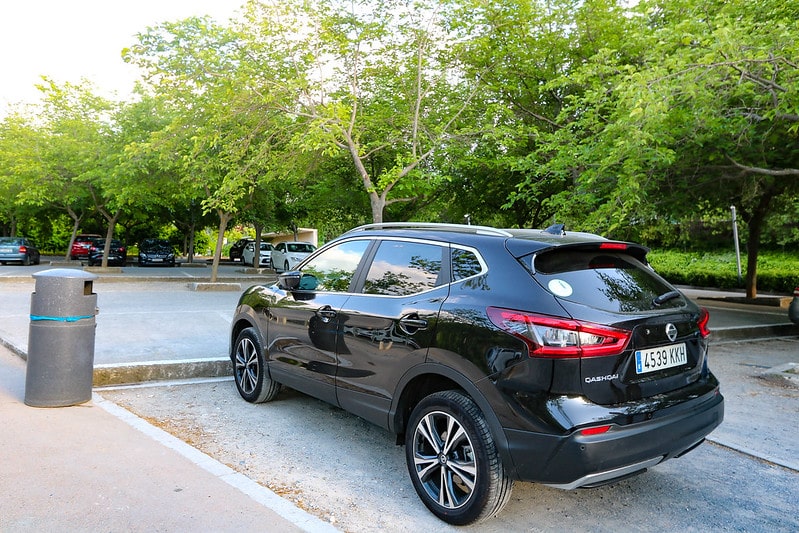 Best Car Rental Company:
DISCOVER CARS
When booking your car rental online, I recommend Discover Cars. They compare prices at car rental agencies all over the country to get you the best deal.
How to get around Petite Venice
You can walk through Petite Venice in less than 15 minutes if you're not stopping for photos. If you don't feel like walking, you can take a canal boat trip (30 minutes – €7 per person). It's very popular and seats get sold out quickly in the high season so make sure to go in the morning or make a reservation.
You can also take the Little White Train (runs every 30 minutes – €7 per person).
You can also join an interactive walking tour with Viator where you'll navigate through the city, take quizzes and discover Colmar's buildings, heroes, legends and secrets.
12 things to do in Colmar
Here's a list of my favourite things to do in Colmar – everything is located in a close distance from each other (a few minutes walk). If you're looking for fun activities while you're in town, check out these highly rated tours below.
1. Walk around Colmar old town
My favourite thing to do in Colmar was wandering the cobblestone streets, especially around the canals. There are so many beautiful alleyways with small shops, restaurants and winstubs (wine lounges).
There are of course some showstoppers around town. But make sure to also just walk around town and admire the colours and little alleys.
2. Krutenau Quarter (Petite Venise)
The Petite Venise is the most picturesque area of Colmar. These typical Alsatian half-timbered houses are located along the riverbanks (hence the name, little Venice).
This area starts behind the Koïfhus, goes through the fishmonger's district and to the bridges Saint-Pierre and Turenne.
3. Fishmonger's district (Quai de la Poissonnerie)
In Petite Venice, you'll find Quai de la Poissonnerie, also known as the fishmonger's district. This is where most of the professional fishermen and boatmen of Colmar lived and sold fish in the 17th and 18th centuries.
It's also the most iconic place in the city. A must-visit!
4. Tanners Quarters
The tanner's quarters or tanner's district is an area with half-timbered houses and high wood framing houses dating back to the 17th and 18 century.
The tanners created leather products here, and they would dry out the skins on the upper floors. The must-sees in this area are the streets, Petite Rue des Tanneurs and the Rue des Tanneurs, and the Maison des Chevaliers de Saint-Jean (House of the St. John's Knights).
5. House of Heads
The house of Heads was built in 1609, the German renaissance. It's embellished with 106 grotesque heads on the facade and along the windows and it was originally a wealthy private house. Definitely worth finding!
6. Saint Martin Church
Saint Martin's collegiate church, built between 1235 and 1365, is an important example of Gothic architecture in Alsace. Notice the lantern bulb on the top of the dome. It's quite unique.
7. Old customs house (Koifhus)
Built in 1480, the Koifhus (old customs house) has had several functions.
Originally, the ground floor was used as a warehouse and the first floor for the Alsace federation meetings, which was created in 1534. Since then it's been a theatre, bank and several schools.
8. Former guard house
It was originally a chapel, but converted into a guard house in 1575. Notice the Renaissance loggia from 1582 and its decorative repertoire and portal. It's very beautiful.
9. Unterlinden museum
The Unterlinden museum houses the famous Issenheim Altarpiece. The museum was first located in the 13th century convent, but was connected with the next building in 1906.
10. Dominican church
Entrance fee: 2 Euro
The Dominican church dates back to the first half of the 14th century. It's an important piece of mendicant orders architecture, which was a new approach to sacred space.
11. The Pfister house
The Pfister house was built in 1537 for the hatter Ludwig Scherer, and it's the first example of architectural renaissance in Colmar. It got the name from the family who restored it in 1892.
Notice the murals and wood gallery.
12. Take a boat trip
Colmar old town is walkable and easy to get around. You can, however, also take a boat trip on the canals. It's a different and fun way of exploring the town.
The departures are at the foot of the bridge Saint Pierre and the tour lasts 30 minutes.
Tickets: 7 € per person (sold at the dock)
Free for children under 10
Best restaurants in Colmar old town
Colmar prides itself of being the capital of Alsatian wine; a white delicious variety. It's really, really good.
So is the food! Some of you good people might not be delighted with French food and right now you're thinking about snails and frog legs and you're tempted to run straight for the hills.
But this is not your average French food. No sticky animals.
With Alsace food, we're talking about a whole different beast: rich and buttery French-German meat (mostly pork or chicken) that is bathing its little self in a sizzling hot pan of Riesling or truffle sauce. And don't get me started on the creamy, handmade and beyond BEAUTIFUL pastries. If there was ever a place to try French food, Colmar would be it.
Excellent restaurants in Colmar (make a reservation).
Kuifhus restaurant (next to the former guard house)
L'Epicurien (Michelin)
Restaurant La Soi
La Nouvelle Auberge
Le Stam
Les Racines
Le Petit Bidon
Le Comptoir de Georges
Tips for visiting Colmar old town
Make a reservation for dinner
Get there in the morning to avoid the crowds
Colmar is prettiest from May to August when the flowers are in bloom
Where to stay in Colmar
If you're spending the night, I recommend staying in Colmar old town (remember, Colmar is a big city and you'll want to be near the attractions and restaurants).
Hotel Le Marechal – Les Collectionneurs (⭐ 8.6) is a four-star hotel from 1565, located in Little Venice. Reasonable prices for air-con rooms overlooking the canal. Find the latest prices here.
Day trips from Colmar
Colmar Region has several nearby villages that are also ultra-charming. If you have a car, you can drive to nearby Ribeauvillé (17 km from Colmar), Riquewihr (14 km), Kaysersberg (11 km), and Eguisheim (8 km) all in one day.
On this half-day tour with Viator, you'll see the best villages in one day. It's a great way to explore Alsace if you don't have a car.
You can also visit Strasbourg, which has a beautiful old town. Strasbourg itself is a large town without the little-fairy-tale-village charm, though.
Now, over to you! What's the cutest town you've visited? Is it as charming as Colmar old town?
Colmar old town FAQ
Is Colmar France worth visiting?
Absolutely! Colmar is definitely worth visiting.
Colmar is a charming and picturesque town located in the Alsace region of northeastern France, known for its fairytale half-timbered houses, canals, and fantastic Christmas markets.
The town has a rich history and culture, with several museums, galleries, and historic landmarks. Colmar is also famous for its gastronomy, with a wide variety of local Alsace dishes and wines.
Is Colmar nicer than Strasbourg?
Yes, Colmar is better (sorry, Strasbourg).
Colmar is smaller and less crowded than Strasbourg, with a more intimate and charming atmosphere. It's known for its colourful half-timbered houses and canals, which give it a fairytale-like ambiance.
On the other hand, Strasbourg is larger and more cosmopolitan, with a rich history and culture, and it's home to several iconic landmarks, such as the Strasbourg Cathedral and the Petite France neighbourhood. It also has more museums, restaurants, and cultural institutions than Colmar.
What is the prettiest street in Colmar?
The prettiest street in Colmar is the Rue des Marchands (Merchants' Street). This street is located in the heart of the old town and is lined with colorful half-timbered houses, flower boxes, and charming shops and cafes.
The street dates back to the 13th century and is one of the oldest streets in Colmar. It is also home to several historic landmarks, such as the Pfister House, which is one of the most famous and well-preserved examples of Renaissance architecture in Colmar.
What is the famous place in Colmar?
One of the most famous places in Colmar is the Little Venice (La Petite Venise), a picturesque neighbourhood located in the heart of the old town.
The neighbourhood stretches along the Lauch River and is characterised by its colorful half-timbered houses, flower boxes, and charming cafes and restaurants.
More posts from France you might like
Save it!