How to spend amazing 3 days in East Bohemia Czechia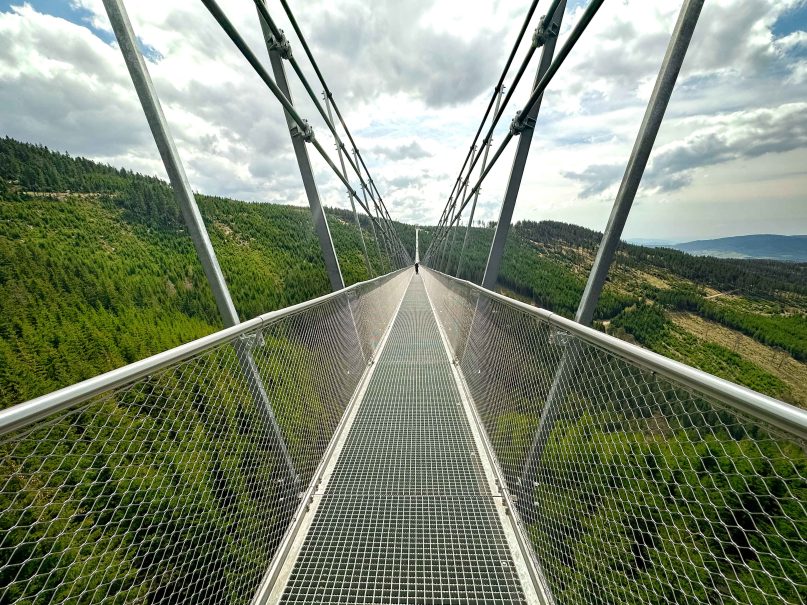 Have you heard of East Bohemia? The Eastern part of Czechia is a beautiful, nature and adventure-packed region that is still a hidden gem.
And it's only 1-2 hours drive from Prague.
A week ago, I got on a plane to Prague and went east to see what this undiscovered part of Czechia had to offer.
I discovered that not only can you walk on the longest hanging bridge in the world, but you can also find unesco world heritage sites and stunning castles.
Here is how to visit East Bohemia in 3 days including how to get around, where to stay, and the best places to visit.
Read next: The ultimate Dolni Morava itinerary, Czech Republic
This post contains referral links for products I love. Adventurous Miriam earns a small commission at no extra cost to you if you make a purchase through my links. Thank you for your support ♡ Learn more
3 days in East Bohemia
East Bohemia has a little something for everyone – awesome nature spots, artsy towns, historical areas, lots of castles, the highest mountain in Czechia (Sněžka), the huge Krkonoše mountains, and even a cool walled city!
There a lot to see in East Bohemia, and 3 days is the perfect amount of time to explore the best parts.
What is East Bohemia?
Okay, so first of all.. What is East Bohemia and where is it?
If you didn't know, Czech Republic is formed by 3 lands:
Bohemia
Moravia
Czech Silesia
These 3 lands are split into 13 regions (+ Prague), and one of them is East Bohemia.
Where is East Bohemia?
East Bohemia shares its eastern border with Poland and is located to the east of Prague, the country's capital. Pardubice is the largest town in East Bohemia.
On this map below, you can find the places and cities I've mentioned in this post. Simply click on the numbers and you'll see the destinations.
Use the + and – sign in the left corner to zoom in or out.
How to get around
The best way to get around East Bohemia is by renting a car. Roads are well maintained and signed, and there's no more than an hour or two between the sights.
However, if you prefer public transportation, you can also catch a train from Prague or rely on local buses. It might be less convenient and take a bit more time, but hey, if that's your style, just sit back and enjoy the ride!
As for car rentals, you might find some options in other locations, but your safest bet is probably to rent one in Prague.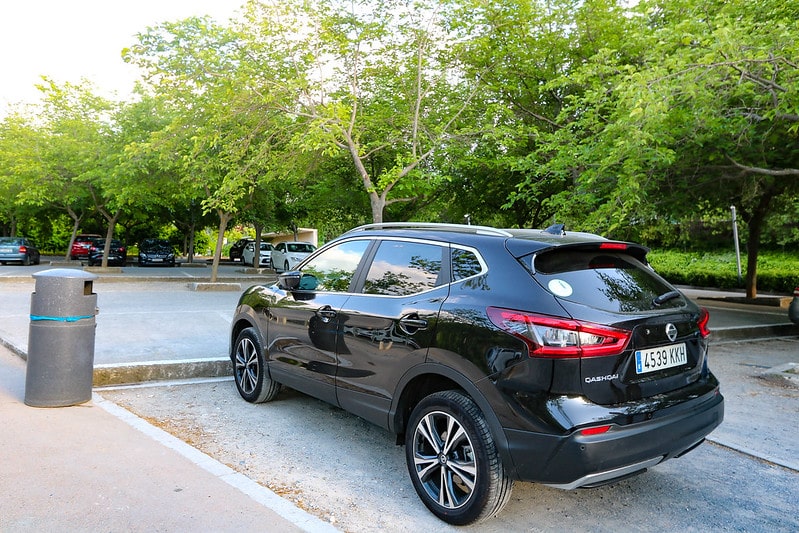 Best Car Rental Company:
DISCOVER CARS
When booking your car rental online, I recommend Discover Cars. They compare prices at car rental agencies all over the country to get you the best deal.
Day 1 in East Bohemia
Kladruby nad Labem
Kladruby nad Labem is one of the oldest horse studs in the world and it specialises in breeding the majestic and rare Kladruber horses.
The white and black Kladruber breed is almost 400 years old and is used for royalty and the imperial court (including the Danish royal family).
You can join a tour around the stud if you're interested in horses and there's also a 5 km walking route.
One fun fact I learned during the tour of the stud farm is that the white horses are all born brown. They turn grey around the age of 2-3 and then white when they're 4-5 years old. That way you can always tell how old the younger horses are.
They also get quite old, around 30 years.
Opening hours: Tuesday – Sunday (Monday closed). Open from April to October
Pardubice
Half an hour's drive from Kladruby lad Nabem is Pardubice, the largest city in East Bohemia.
Pardubice is known for its gingerbread, sports, and love for horses – you can even spot a silver horse on the city's emblem. This over 700-year-old city sits where the Labe and Chrudimka rivers meet.
As you wander around the city centre, you might notice that the beautiful architecture has a touch of Vienna to it, thanks to the influence of the noble Pernštejn family when they ruled the city.
One cool thing about Pardubice is the Velká pardubická (Great Pardubice) steeplechase, which they say is the toughest horse race in Europe. If you get a chance to see it, it's definitely an exciting event to check out!
The two must-visit places in Pardubice are the castle and Pernstynske Square.
At Pernštýnské square (old town square), you'll find the Town Hall, Marian Column, and houses with gothic and baroque styles.
If you walk out from the southwest corner of the square, you'll bump into The Green Gate. It's a pretty big deal in Pardubice since it was part of the city's fortification from way back in the day.
Now, it's a cool spot for tourists and an exhibition centre for local art. If you're up for it, you can climb the stairs, like 60 meters up, to get some amazing views of the city.
Read next: How to spend one day in Pardubice, Czech Republic
Pardobice castle
The castle of Pardobice is located around 450 m from Pernštýnské square.
I quite liked the castle and interior. If you end up near the castle, look for the peacocks wandering around.
Where to stay in Pardubice
Penzion Víno Hruška Pardubice (⭐ 9.2) is a lovely place with historic character and a wine cellar. Located just 300 m from the city centre, you'll be in the heart of Pardubice where all the sights are. Check latest rates and availability here.
Day 2
Litomÿsl
Litomyšl might actually be my favourite place in East Bohemia. It's a small town full of contrasts, from a beautiful romantic castle and pianos on the street to an eccentric museum with a devilish vibe.
Litomyšl has character and it's unique in so many ways.
While it's only a 2-hour drive from Prague, most people find it out the way when they visit Czechia. But give Litomyšl a chance, it might surprise you.
Read next: The perfect one day in Litomysl itinerary
Litomÿsl museums
Litomyšl is brimming with artistic flair! Famous Bohemian musician Bedřich Smetana was born across from the castle in 1824, and his house has been transformed into a museum.
Another museum that is worth visiting is the Portmoneum, an exhibition by painter and graphic artist, Josef Váchal (1884–1969).
It's weird, scary and strangely intriguing at the same time. A very odd experience.
Litomysl castle
Litomyšl Castle is one of the coolest Renaissance buildings in Czechia, and it's even on UNESCO's world heritage list.
The two main reasons to visit the castle are the beautiful arcades in the courtyard and the sgraffitos (exterior decoration).
The castle's walls have over 3,000 sgraffitos that look like huge envelopes, and each is unique and handmade.
The Litomyšl castle is not only stunning from the outside but also beautiful inside. Each room has its own theme, and there's also a theatre with only five of its kind in Europe.
You can visit from June to September, but the hours vary a little:
June and September: Tuesday – Sunday, 9:00 am – 5:00 pm
July and August: Monday – Sunday, 9:00 am – 6:00 pm
Tours cost 190 CZK ($8)
Try beer tasting
The Czech Republic is known for its awesome beer and breweries, and lately, they're popping up faster than ever.
All over the country, tiny towns and villages have microbreweries that are becoming local legends by brewing most of the beer people drink there.
Litomyšl's got one too, so why not spend the evening at Microbrewery Veselka? They've got classic Czech grub and beer brewed right in the same building. You can't beat beer that fresh!
There's also a micro brewery in Jablonneho nad Orlici, which is where we went. You can visit on your way to or from Dolni Morava.
Read next: Czech food: 24 delicious dishes in Czechia you should try
Where to stay in Litomÿsl
Hotel Aplaus ( ⭐ 9.0) I loved staying here. The rooms are homely, and the restaurant serves the best food we had on the entire trip. Plus, it's located in the centre, which is so convenient. I highly recommend it. Check rates and availability here.
Day 3
Dolni Morava
Your final day in Eastern Bohemia is all about adventures.
Dolní Morava is the second largest mountain resort in Czechia where you can try:
The world's longest pedestrian suspension bridge!
50 km of hiking trails for various skill levels
25 km of bike trails (4 bike trails)
11 km of ski slopes
The Sky walk
Bob sleighing (super fun!)
.. and much more
With a wide range of activities, Dolní Morava isn't just a seasonal resort – there's plenty to do all year round. So whether you're into biking, skiing, or hiking, Dolní Morava has something for everyone.
If you visit during the summer, be sure to check out the Adrenaline Park for some exciting outdoor fun on your first afternoon.
The Sky Bridge
The top attraction is Dolni Morava is the newly opened Sky Bridge. It's seriously cool, and you've got to check out these facts about it:
It's the longest suspension footbridge in the world, coming in at 721 meters
The highest point of the bridge is 95 meters off the ground
It's located more than 1.1 km above sea level
With 66 ropes, it's got plenty of support and protection from the wind
The construction took 2 years to complete
Just a heads up for those who aren't fans of heights: this might not be your cup of tea. When you're in the middle of the bridge, it can feel pretty open, and it takes a while to get to the other side.
The Sky Walk
Next on the list is the Sky Walk – a funky mix of spiralling walkways, nets, and a massive 100-meter-long slide. The wooden path stretches over 700 meters as you slowly make your way up.
There's this net you can step on, with a crazy 50-meter drop right below you. It's not for everyone, that's for sure (not me, anyway!).
And there's a net tunnel that lets you skip a few levels, but crawling above that scary drop will definitely get your heart racing.
The Alpine coaster
The most fun experience in Dolni Morava was the Alpine coaster (bobsleigh). Racing down through the trees with just the coaster and the slim track in front of you – it's SO much fun, I laughed all the way down.
You can hit speeds of about 30 mph (50 km/h), which feels pretty quick when the ground is zooming by right below you. There's a break, though, so you can control the speed yourself.
Biking
I also really liked biking. We got bikes at the hotel and attached them to the chair lift all the way to the top.
From there, we followed one of the trails that took us on a panoramic 15 km route down the mountain. It was really fun and the views were just wow!
Where to stay in Dolni Morava
Wellness Hotel Vista ( ⭐ 8.6) This 4-star is the largest hotel in Dolni Morava, and if you're visiting with kids, this is the place to stay. Check rates and availability here.
Many thanks to Visit Czechia and Visit East Bohemia for hosting me in Czech Republic. Whenever I travel, there will always be full disclosure about whether my stay was hosted by a tourism board. And even if I'm on a press trip, my view will never be swayed one way or the other.
More posts from Czechia you might like
Save it!