The perfect one day in Litomysl itinerary (2023)
One of the best places in Czechia is Litomysl. This quiet, little town in East Bohemia lies just a few hours drive from Prague, and though it's small, there's plenty to see and do.
You can visit on a day trip from Prague, on a Czech road trip or stay overnight and explore Litomysl at your own pace.
I recommend spending the night here to get the most out of your stay. That's what we did.
Read next: How to spend amazing 3 days in East Bohemia, Czechia
This post contains referral links for products I love. Adventurous Miriam earns a small commission at no extra cost to you if you make a purchase through my links. Thank you for your support ♡ Learn more
Is one day in Litomysl enough?
Yes, you can see everything Litomysl has to offer in one day.
You can explore the UNESCO Renaissance castle, follow in the footsteps of Bedřich Smetana, the famous musician who was born here in 1824, and visit the Portmoneum, a painted museum that's unlike anything you've ever seen before.
Whether you visit Litomysl on a day trip, road trip or stay a few days, you'll get a good sense of the city in one day.
Why visit Litomysl?
Litomysl has been a hub for Czech notables since it was founded in the 13th century, hence its nickname "the Montmartre of the Czech Republic."
Today, the east Bohemian town of Litomysl is still a centre for arts and design, which you can see in the charming streets, cafes, and shops throughout the town. And even if you're not into arts or design, it's still worth visiting because of the artsy, bohemian vibe.
With a population of 10,000, Litomysl is a small town, so I was really surprised to see how much there is to do.
There's a UNESCO castle, unique churches, just as unique museums and a charming old town square. It's a city of contrasts, and for me, that's what makes it stand out.
Read next: Czech food: 24 delicious dishes in Czechia you should try
How to get to Litomyšl
Getting to Litomysl from Prague is simple, either by car (2 hours), bus (3 hours), or train (3 hours).
The easiest way to get to Litomysl is by renting a car. Roads are well maintained and signed, and you can follow the freeway most of the way.
Taking the train is another good option. From the Czech capital, you'll need to change trains in Chocen and then on to Litomysl.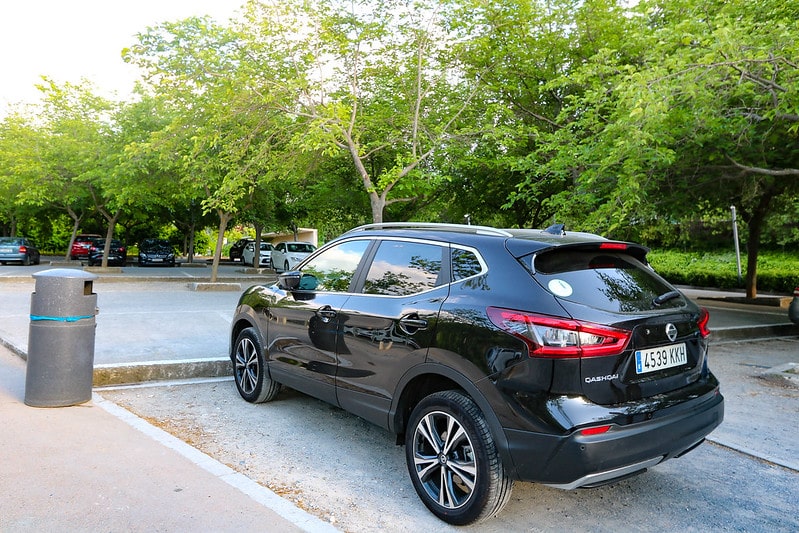 Best Car Rental Company:
DISCOVER CARS
When booking your car rental online, I recommend Discover Cars. They compare prices at car rental agencies all over the country to get you the best deal.
Where to stay in Litomyšl
Hotel Aplaus ( ⭐ 9.0) I loved staying here. The rooms are homely, and the restaurant serves the best food we had on the entire trip.
Plus, it's located in the city center near the main square, which is so convenient. I highly recommend it. Check rates and availability here.
one day in Litomysl
🏰 The best things to do in Litomyšl
1. The old town square
Your first stop in Litomysl should be the old town square/historical centre. It's the longest in the country and part of a thousand-year-old trade route from the orient to the Baltic coast.
The square is the beating heart of the old town and is filled with shops, cafes, museums, and galleries.
It's a great place to soak up the atmosphere of Litomyšl and enjoy the unique blend of medieval town and modern architecture.
The Baroque houses and the Classical and Empire-style buildings surrounding the square are nearly 1,000 years old. While older structures were destroyed by several city fires, the town of Litomyšl has always managed to rebuild.
Tip: Watch out when you cross the street. It might feel and look like a pedestrian walkway, but it's actually the main road.
2. Stroll through Josef Vachala street
On a side street to the old town square, you'll find the Josefa Vachala Street. I'll tell you more about Czech writer Josef Vachal later, but if you visit his museum (which I recommend), this street will make more sense.
The street features sgraffito paintings that illustrate scenes from Vachal's work, "Bloody Novel."
The text is in Czech, but you can still get a good idea of what it's about by looking at the images. Our guide translated some of the text for me, and the messages are powerful; Vachal's personal words of wisdom.
3. Piarist Church of the Discovery of the Holy Cross
One of the Litomysl highlights for me was the Piarist Church.
From the outside, it might look like an ordinary church, but it's anything but.
The church was built between 1714-1722 by the Italian architect Giovanni Battista Alliprandi, and it has several exhibitions, a light installation, an interactive program "Up to the Angels" for kids and the best viewpoint in the city.
In the centre of the church, near the altar, there's a contemporary glass exhibit that catches the light coming through the windows (se photo below).
You'll find the church right across from the castle, it's hard to miss.
4. Litomyšl casle
The main sight in Litomysl is the castle, a 336 year-old chateau that has been a UNESCO World Heritage site since 1999.
Inside the castle, you'll find some beautiful Baroque-style decor with vibrant colours, fancy layered walls, big fireplaces, and huge paintings. Also, don't miss the 220-year-old chateau theatre, which is an impressive sight.
Litomyšl Castle is the dominant feature of Litomysl and a must-visit for two main reasons:
the beautiful arcades in the courtyard
the stunning sgraffitos
On the guided tour, I learned that the castle walls feature over 3,000 sgraffitos that look like huge envelopes, and they're each unique and handmade.
Most people come here and only visit the chateau garden, and that's a shame. This UNESCO site is worth seeing.
You can visit from June to September, but the hours vary a little:
June and September: Tuesday – Sunday, 9:00 am – 5:00 pm
July and August: Monday – Sunday, 9:00 am – 6:00 pm
Castle tours: 190 CZK ($8)
5. Castle brewery
Litomysl castle is full of secrets and it would take a whole day to discover them all.
In the basement, there's a wine cellar, which doubles as an art exhibition hall. It's a bit chilly down there, so bring a warm jacket.
You can taste wines from Moravian vineyards and see eerie artwork by sculptor, Olbram Zoubek (1926-2017).
The wax heart exhibit is made from half-burnt candles used in a death commemoration for Vaclav Havel, the first president of the Czech Republic.
6. Vachal museum
Portmoneum, also known as the Josef Váchal museum is a unique and peculiar attraction. I dare say, it's like nothing you've ever seen before.
Imagine the Sistine Chapel and Dante's Inferno, all rolled into one!
Back in 1920, Josef Portman, a retired accountant and art lover from Litomyšl, asked his friend Josef Váchal, a painter, graphic artist, book maker, and part-time demonologist, to decorate his house.
What he got was a psychedelic labyrinth of devils, gnomes, and ghosts, as well as classic Christian motifs and references to Hinduism.
Vachal used to isolate his kids here when they were sick. He seems insane to me.
This small museum is heavy stuff. But I recommend a visit, even if you're not the artsy type, because this is such an odd and hidden gem.
7. Bedřich Smetana museum
Another must-visit museum is The Smetana House, a beautiful Neo-renaissance building and birthplace of Bedřich Smetana, the famous composer.
Today, the building serves as a theatre and cultural centre for the city, so you can catch a show or event while you're there.
8. Enjoy an amazing meal at Aplaus Restaurant
During my week in Czechia, I had the best meal at Hotel Aplaus. It was fantastic!
Make sure to have lunch or dinner here – I highly recommend the duck with potato pure.
9. Relax in the monastery gardens
Once you're done at the museums, head to the monastery gardens, which are right next to Aplaus Hotel. This is the perfect place to relax and enjoy a beautiful view of the historic centre.
The gardens are open all year round and located higher, so you can get a great panoramic view of the city.
Don't miss the fountain with sculptures of Olbram Zoubek.
10. Stairs with poem
Not far from the monastery gardens, you'll find a tunnel.
On the stairs, there's a poem written in Czech on each step. It was added a few years ago during a festival.
BONUS: Smetana's Litomyšl Festival
Did you know that Litomysl hosts the oldest opera festival in the Czech Republic? The Festival Smetanova Litomyšl been going on for 65 years and is held in honour of the town's famous person, the composer Bedřich Smetana.
The festival takes place from the end of June to the beginning of July and features operas in the arcaded castle courtyard.
You can also find gala concerts, oratorios, cantatas, and song evenings in the town's many churches, parks, and promenades.
TIP: Make sure to book accommodation well in advance!
Where to next in Czech Republic?
So, after your magical visit to Litomysl, you're probably wondering where you should go next?
East Bohemia is particularly stunning and you will have plenty of choices. Here are some amazing things to do near Litomysl.
⛰️ Dolni Marava
Dolni Morava is a small village with a unique blend of natural beauty and exciting activities.
It's a popular ski resort in the winter and a great spot for hiking and biking in the summer.
You can also try fun attractions like the Mammoth Alpine Coaster (this was the highlight for me) and the Sky bridge and Sky Walk, or relax at the Wellness Hotel Vista ( ⭐ 8.6).
🏇Pardubice
Pardubice is the largest town in East Bohemia, known for its gingerbread and Velká Pardubická steeplechase horse race.
Here, you can explore the historic centre with beautiful architecture like the Green Gate and the Pardubice castle.
🏰 Prague
If you're in Czechia, you cannot miss Prague!
This city is famous for its stunning architecture, like the Charles Bridge and Old Town Square.
You can also explore the Prague castle, which is the largest castle complex in the world – it's seriously impressive.
But that's not all – Prague also has a vibrant nightlife, delicious food, and a rich history that you'll love learning about.
Many thanks to Visit Czechia and Visit East Bohemia for hosting me in Czech Republic. Whenever I travel, there will always be full disclosure about whether my stay was hosted by a tourism board. And even if I'm on a press trip, my view will never be swayed one way or the other.
FAQ about one day in Litomysl
What is the history of Litomyšl?
Litomyšl has a long and rich history dating back to the 10th century. It was once a major trading hub and has been home to many notable figures throughout the centuries.
What are the famous landmarks and attractions in Litomyšl?
Some of the most famous landmarks and attractions in Litomyšl include the Litomyšl castle, the Smetana's Litomyšl Museum, and the Portmoneum museum.
What are the best restaurants and cafes to try in Litomyšl?
There are many great restaurants and cafes to try in Litomyšl, including the U Rybníka restaurant, the Café Kino, and the Aplaus Restaurant.
More posts from Czechia you might like
Save it!