Czech food: 24 delicious dishes in Czechia you should try
Wondering what food to eat in Czechia? This is a list of the most popular traditional Czech food, including the must-try drinks like Kofula.
Let's talk Czech food.
It's a mix of what you might know from Central Europe: sauerkraut and dumplings from Germany, and then there's the schnitzel and goulash, thanks to Austrian and Hungarian influences.
In this post, I'll share the 24 most traditional dishes in Czech Republic and introduce you to the best food tour in Prague (⭐ 5/5) where you can taste all the best flavours.
Let's dig into this Czech food guide.
This post contains referral links for products I love. Adventurous Miriam earns a small commission at no extra cost to you if you make a purchase through my links. Thank you for your support ♡ Learn more
First of all, what is Czech food?
Czech cuisine is hearty and comforting, dominated by meats like pork, beef, and duck.
It's usually paired with fluffy potato or bread dumplings (knedliky) that are perfect for soaking up rich sauces.
Pickled foods, from cucumbers to sausages, are a favourite, and cabbage, especially sauerkraut (made with sour cream), is a staple.
And to wash it all down? Nothing beats Czech beer, better known as Pilsner Urqell.
Join a food tour in Prague
The best way to experience and discover food in Czech Republic is on a food tour.
On food tours, your guide will show you all the best dishes and where to find them. If you're traveling in Prague, this is the best food tour with almost 3,000 5-star reviews! 👉 Check availability here.
And if you're wondering where this photo is taken, it's from Mlýnec Restaurant in Prague. It's a must-visit restaurant if you're looking for a unique fine dining experience.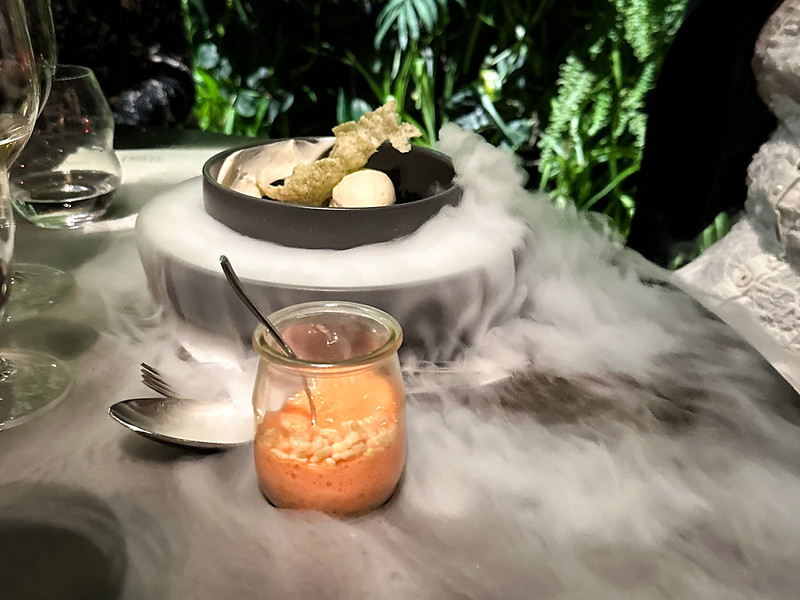 🇨🇿 What is the Czech national dish?
The Czech national dish is Vepřo-knedlo-zelo, which translates to roast pork with dumplings and sauerkraut.
And – it's always washed down with a pint of Pilsner Urqell.
My favourite Czech dish
The dish I ate the most in Czechia was roast duck.
It's like this: Germans know their pork, Japanese know their sushi and Czechs…. well, they know their poultry!
I had a lot of delicious chicken, but the roast duck was the best!
My favourite side dishes were potato pure (so smooth!), fried gnocchi and krokety. This stuff is amazing.
Traditional Czech cuisine
The best Czech food you should taste
Below, I'll take you through the best Czech dishes that you can taste in the Czech Republic.
Let's take a look.
1. Czech goulash soup (gulášová polévka)
Goulash is a classic dish in Eastern Europe that you probably already know.
This thick, hearty soup made with beef, onions, and spices, is similar to Hungarian goulash but with a distinct Czech touch.
2. Goose pate
Czech pate is a rich, creamy spread made from goose liver and various spices. It's often served with bread.
3. Fried cheese (Smažený Sýr)
Smažený Sýr is basically the Czech take on fried cheese.
It's a slab of cheese, usually Edam or Hermelín, breaded and deep-fried until it's golden and melty.
Served with tartar sauce and a side of fries or salad, it's a guilty pleasure you'll find in pubs and diners across Czechia.
4. Trout
Fish isn't big in Czechia since it's a landlocked country, but trout is popular on special occasions like Christmas.
Often grilled or pan-fried with herbs and served with a side of vegetables or potatoes.
5. Bohemian roast duck (Pečená kachna)
This is my favourite Czech dish!
And it's all about that crispy-skinned roast duck, complemented perfectly with gravy and a side of braised red cabbage and Czech dumplings.
6. Filled potato dumplings (Bramborové knedlíky plněné uzeným)
Potato dumplings stuffed with smoked meat and served with sauerkraut are a true comfort food in Czech cuisine.
7. Roast chicken with dumplings
Roast chicken is one of the most traditional Czech dishes.
Often seasoned with simple spices like garlic, marjoram, and caraway seeds, the chicken is roasted until it's golden outside and juicy inside.
It's typically paired with traditional sides like dumplings or creamy sauerkraut.
8. Garlic soup (Česnečka)
Česnečka is the go-to soup for garlic lovers.
Made primarily from garlic and potatoes, it's like a warm hug in a bowl. It sometimes comes with some cheese, ham, or sausage, giving it a bit more oomph.
9. Gnocci with cheese and bacon (Brynza gnocchi)
Soft potato gnocchi served with a sauce made from brynza (a type of sheep cheese) and bacon.
This dish, known in Slovakia as Bryndzové halušky, is originally a Slovak dish. It's made with potato dumplings and sheep cheese (bryndza).
Read next: 10+ best dishes in Slovakia
10. Deep-fried doughnuts (koblihy)
Koblihy (or just kobliha if you're having one) are Czech deep-fried donuts stuffed with strawberry or apricot jam.
Once they're cooked to perfection, they get a sprinkle of icing sugar before hitting the plate.
11. Chimney cake (Trdelník)
Now, while trdelnik is not traditionally Czech, it is a street food you'll see all around the country.
Trdelnik, also known as chimney cake, is made from rolled dough that's wrapped around a stick, then grilled and topped with sugar and walnut mix.
You should always get it fresh from the oven!
12. Marinated beef with dumplings (Svíčková na smetaně)
Svíčková na smetaně is one of the most popular dishes in Czechia.
Imagine tender beef draped in a rich, creamy sauce, all cosied up next to fluffy dumplings.
That's Svíčková for you.
13. Mushroom soup (houbová polévka)
Czech mushroom soup, known locally as "houbová polévka," is like a hug in a bowl.
It's whipped up using wild mushrooms, usually handpicked from nearby woods, giving it that real earthy kick.
Throw in some onion, garlic, and a few herbs, and you've got yourself a hearty soup.
One of the Czech classics
14. Roast pork with dumplings and sauerkraut (Vepřo knedlo zelo)
This is Czech comfort food at its finest. Juicy roast pork paired with hearty dumplings and tangy sauerkraut.
Vepřo knedlo zelo is like a Sunday family dinner on a plate, also known as the Czech national dish.
15. Czech potato pancakes (bramboráky)
Bramboráky are Czech potato pancakes, and they'e so good.
Grated potatoes mixed with garlic, marjoram, and a bit of flour get fried up till they're crispy on the outside and tender inside.
You can get this traditional food as a quick snack from street vendors or as a side dish at restaurants.
16. Pork stew (Moravský vrabec)
Moravský vrabec translates to "Moravian sparrow," but don't let the name fool you; there are no birds in this dish.
Instead, it's a comforting pork stew, the kind that sticks to your ribs and keeps you full. Paired with mashed potatoes, it's a hearty meal.
17. Tatar (Tatarák)
A treat for the adventurous – finely chopped raw beef, seasoned just right. It's typically spread on toast and enjoyed with a cold beer.
I tasted it on my last visit to Prague and it wasn't half bad (if you can abstract from the fact that it's raw meat).
18. Czech lentil soup (čočková polévka)
Czech lentil soup is a hearty classic, whipped up with green lentils as the star.
It's got bits of fried smoked sausage, garlic, onions, and occasionally carrots or potatoes thrown in.
And don't forget the marjoram, that distinct Czech touch that gives the soup its signature flavour.
19. Bread pudding (Žemlovka)
Bread, cream, and fruits come together to create this dessert.
It's kind of like what grandma would make if you gave her leftover bread and some apples – homey, sweet, and satisfying.
20. Open-faced sandwich (Obložené chlebíčky)
Obložené Chlebíčky are like the Czech answer to open-faced sandwiches.
Small slices of bread loaded up with all sorts of toppings: ham, egg, pickles, salami, or even potato salad.
They're colourful, tasty, and a hit at parties or starters at a restaurant.
21. Czech caraway soup (kmínová polévka)
Kmínová polévka is Czech caraway soup.
Usually thickened up with some potatoes and occasionally a dash of cream, it's the kind of soup you crave on a chilly day.
It's all about those caraway seeds, giving it a unique, homey flavour. Do not confuse caraway with cumin, though! They might look alike but they're not the same.
22. Potato cones with poppy seeds (Šišky S Mákem)
The perfect dessert: Small pastries filled with a mixture of ground poppy seeds and sugar.
Made from potato dough and rolled in poppy seeds, they're sweet, slightly nutty, and so delicious.
23. Czech cabbage soup (Zelňačka)
Zelňačka is a Czech cabbage soup.
It's a blend of sauerkraut, potatoes, and sausage, with a touch of spices like garlic and caraway seeds.
Hearty and tangy, it's a bowl of comfort that's deeply rooted in Czech culinary traditions.
24. Fruit dumplings (Kynuté Knedlíky S Ovocem)
Soft dumplings hiding a sweet surprise inside – fruit.
Whether it's juicy berries or plums, biting into one of these is like finding a little treasure.
Local drinks you should try
There are also a few great Czech drinks that are worth tasting while you're in the country.
Kofula
Kofola is Czechia's answer to cola drinks.
Brewed from a mix of herbal ingredients and fruit extracts, it has a unique taste that's a different from the typical cola.
Less sweet and with a herbal kick, it's been a favourite in Czechia and Slovakia for many years.
Czech beer
Czech beer, often known as "pivo," is central to Czechia's culture and pride.
This country is the birthplace of the world-renowned Pilsner Urquell, setting the gold standard for lagers everywhere.
More posts from Czechia you might like
Save it!