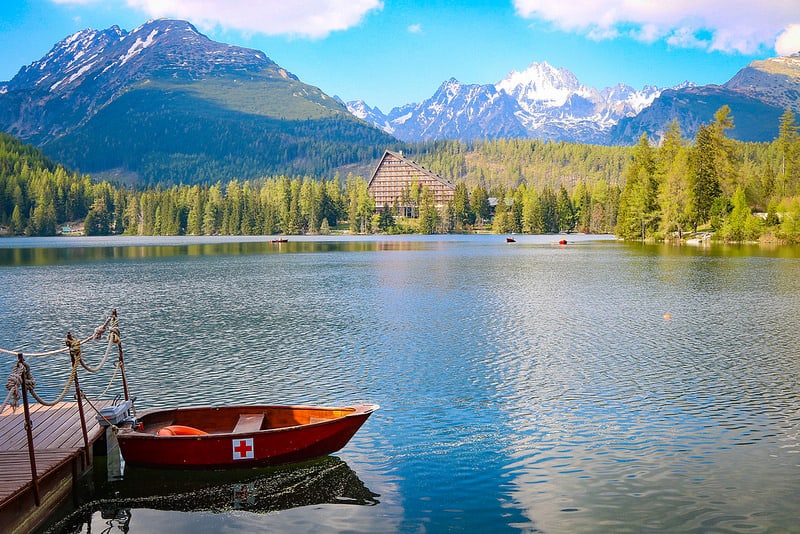 Welcome to Slovakia
Land of national parks and mountains
Slovakia is a country that's often overlooked when traveling Europe. After Czechoslovakia split in two back in 1993, the newly formed Czech Republic kept the city of Prague, which to this day remains its greatest pull for tourism and travel. That left Slovakia becoming overshadowed, but you should absolutely not ignore the natural beauty, hiking trails, national parks, food, and overall affordability of this beautiful country.
Amazing experiences in Slovakia
Hiking in the Tatra Mountains
The Tatras are a lesser-known mountain range in Europe, and make up a section of the larger Carpathian chain of mountains. Slovakia is the place to hike and explore this amazingly untouched area of rugged and untamed wilderness in the heart of Eastern Europe. If you'd prefer to go skiing, the Tatra Mountains are also a great place to do that.
8 amazing national parks
For such a small country to have eight national parks is rather incredible, and this fact only gets more unbelievable when you see them for yourself. The wild and untouched beauty of these parks is enough to keep your eyes happy for life. Take Slovak Paradise, for example – a rather fitting name for a place of high cliffs, waterfalls, and lush green forests.
The underrated city of Kosice
Kosice is an eastern city in Slovakia which is so often ignored by people taking a trip around the country. But it's definitely worth a visit, with its deep and rich history that goes way back to the medieval period, as well as its incredible gothic churches whose stark beauty defies belief.
A very affordable country
Always a bonus when taking a trip in Europe. Most of our countries are on the pricey side, but Slovakia offers fantastic food, transport, and hotels for very affordable prices. Nothing in Slovakia is any lesser in quality than any other country in Europe – it's simply cheaper! Meaning you have more money to upgrade your hotel, eat out more often, or travel further.
Best sights in Slovakia
Bratislava (capital)
A city bordered by vineyards and mountains is a fairy tale city indeed. The old city is all bars and cafes, with no cars allowed. Atop the hill, overlooking the city, you'll find the powerful-looking Bratislava Castle.
Kosice (403km from Bratislava)
Kosice is a city of medieval history, cobbled streets, and gothic churches. It's every Eastern Europe fan's fantasy come true, and a far more quiet and off-the-beaten-path city than the capital.
High Tatras (320km from Bratislava)
A national park of epic proportions! In the High Tatras you can ski in the winter, hike in the summer, and bask in the endless beauty of these mountains and high lakes: nothing but green and blue for miles.
Bojnice (183km from Bratislava)
Slovakia has some amazing castles, but none are better than the one in Bojnice. This fairy tale castle of high stone walls, narrow windows, and pointed green towers is surrounded by lush green forest.
Spis Castle (366km from Bratislava)
While not a perfectly maintained castle, the historic ruins of Spis Castle are what remains of one of the largest castle ruins in Europe. And is now listed as a UNESCO World Heritage Site.
Bardejov (444km from Bratislava)
A darling little historic town in the hills of the Beskyd Mountains, with a town centre so medieval you'd swear you had been thrown back in time. A beautiful, idyllic place that's a must-visit.
How to get around
I always use Rome2Rio for traveling Europe. This site/app is so easy to use. It quickly comes up with a variety of transport options to suit your time and budget. All costs are shown, even taxis.
Best time to visit
Slovakia can get pretty cold in the winter months, and there's a lot less for you to do during this time. Fortunately, the warmer months go on for quite a while, giving you a very large window in which to visit and explore Slovakia.
From the start of April to the end of October, Slovakia is warm enough to guarantee the whole country is open for you to explore to your heart's content.
Practical info
Language: Slovak
Currency: Euro
Plugs: Standard voltage of 230V (I recommend buying a universal adapter)
Population: 5.4 million
Important telephone numbers: 112 for all emergencies
Visa: Members of the EU can stay indefinitely in Slovakia without a passport. US citizens can stay visa-free for up to 90 days.
Rough Budget
Hotel:

$50-100

Food:

$8-20

Activities: e.g.

$300 for a speedboat ride

Transportation:

$5-20 depending on distance
Slovakian Phrases
Hello: Ahoj
Thank you: Dakujem
Yes: Ano
No: Ziadny
Bye: Zbohom
Cheers: Na zdravie
Posts from Slovakia