Food in Slovakia: 10+ delicious dishes just like grandma used to make
So, what exactly is Slovakian food?
I asked myself that question before arriving in Košice and found out that it packs a punch of cabbage, potatoes, dumplings and stews.
It reminded me of dinner at my grandma's, which was high-fat, but very down-to-earth.
In this post I'll share some of the Slovak dishes I had in Slovakia (North and East regions). I didn't specifically look for national dishes when I traveled around, but I simply ordered what I felt like.
So, this is just an introduction to give you a better idea of what you should eat in Slovakia.
🍲 Read next: Czech food: 24 delicious dishes in Czechia you should try
This post contains referral links for products I love. Adventurous Miriam earns a small commission at no extra cost to you if you make a purchase through my links. Thank you for your support ♡ Learn more
Food in Slovakia
The food in Slovakia is wholesome and rather heavy. Potatoes, meat, sheep cheese and dumplings make the basis of many dishes and are often accompanied by cabbage (sauerkraut), which is sour and salty depending on how it's been cooked.
The most popular meats in Slovakian cuisine are pork, beef and chicken. A blood sausage "krvavničky" and spicy smoked sausage "klobása" are also common along with game meats like boar, rabbit and venison.
What is the national dish of Slovakia?
Bryndzové halušky – potato dumplings with sheep cheese and bacon is considered the national dish of Slovakia.
Prices on food in Slovakia
The food in Slovakia is extremely cheap. More of less everything is cheaper compared to the rest of Europe, but the food in particular. Depending on the restaurant, a meal costs between 1-6 EUR, and a bowl of soup can cost as little as 1 EUR.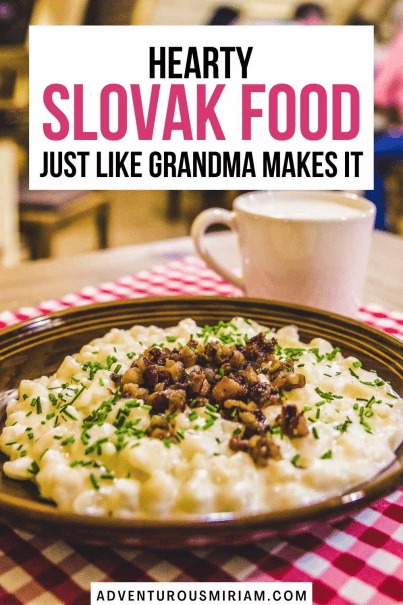 Traditional Slovak cuisine
Normally, I shy away from traditional food in my home country Denmark because it's generally heavy and high-fat. But I liked the traditional food in Slovakia. They eat a lot of dumplings and sweet deserts, and though it is a bit fat it has an interesting flavour.
Here is some of the most traditional Slovak food:
Bryndzové halušky – potato dumplings with sheep cheese and roasted bacon
Zemiakové placky – potato pancakes with flour and garlic fried in oil
Fried cheese and sheep cheese
Lokše – potato pancake
Soups – chicken noodle soup, sauerkraut soup and bean soup
Parené buchty – steamed dumplings filled with jam, sweetened poppy seeds, cheese or chocolate
Šišky – fried dumplings with marmalade and sugar
Contemporary Slovak food
The contemporary Slovak cuisine takes its inspiration from its neighbours and now most recipes are the same or very similar for Slovaks, Czechs, Hungarians, Austrians and Poles.
The modern food is not all new dishes, actually many of the dishes are traditional meals that have been adjusted so the taste remains, but the look changes.
Food tour in Slovakia
The best way to be introduced to a new cuisine is by taking a food tour or a cooking class. I always do this when I travel and have time.
On this food tour in Bratislava, you'll get to taste locally produced wine and craft beer to sweet pastries and delicious Slovakian dishes.
Here are the best Slovakian food dishes
1. Bryndzové pirohy
My favourite dish in Slovakia was the sheep cheese dumplings (bryndzové pirohy), which is the Slovak national dish. This heavy meal consists of potato dumplings (similar to gnocchi), filled with sheep cheese and topped with sour cream, spring onion, fried onion and crispy bacon pieces.
2. Zemiakové placky
Zemiakové placky is a traditional Slovak potato pancake with garlic. A crispy snack or side dish served with Slovak stews and other hearty main courses.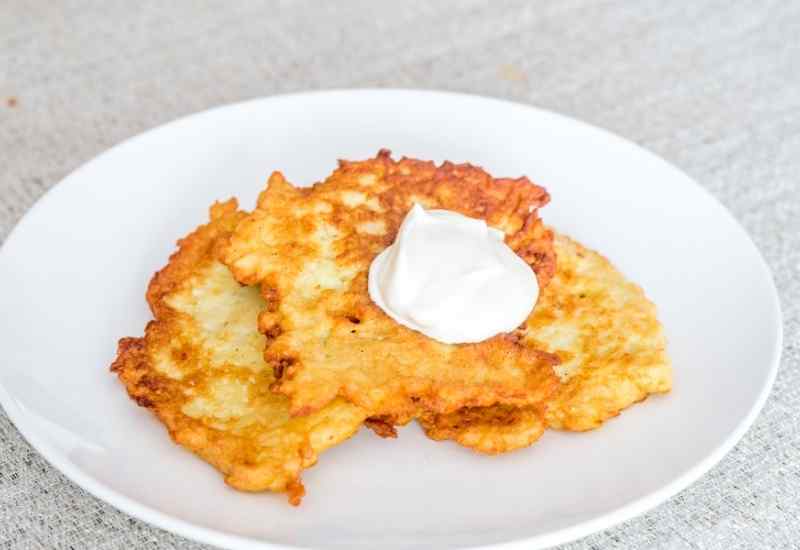 3. Sulance
Behold – delicious potato dumplings bathed in poppy seeds. I've seen it as side dish and desert, and you can also have it for breakfast.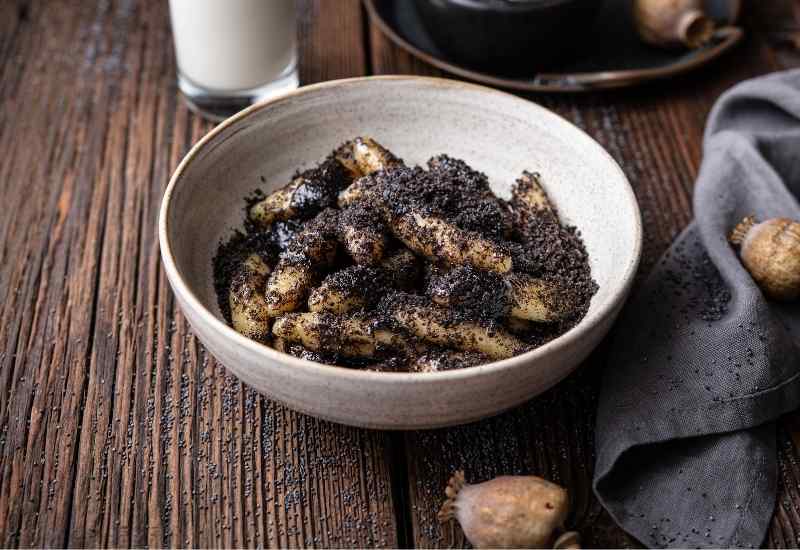 4. Slovak goulash
A traditional Hungarian dish, Goulash or guláš has become one of the most common Slovak meals. This rustic meat stew is made with beef or game meat in a dark red sauce with heavy doses of paprika.
Traditional guláš is served with the most popular Slovak side dish: Knedle yeast dumplings.
5. Fried cheese
Smažený sýr or vyprážaný syr is deep-fried breaded cheese made with Edam, Swiss, or Gouda cheese.
It's common Slovak street food for anyone who loves gooey cheese. Often served with mayonnaise or tartar sauce.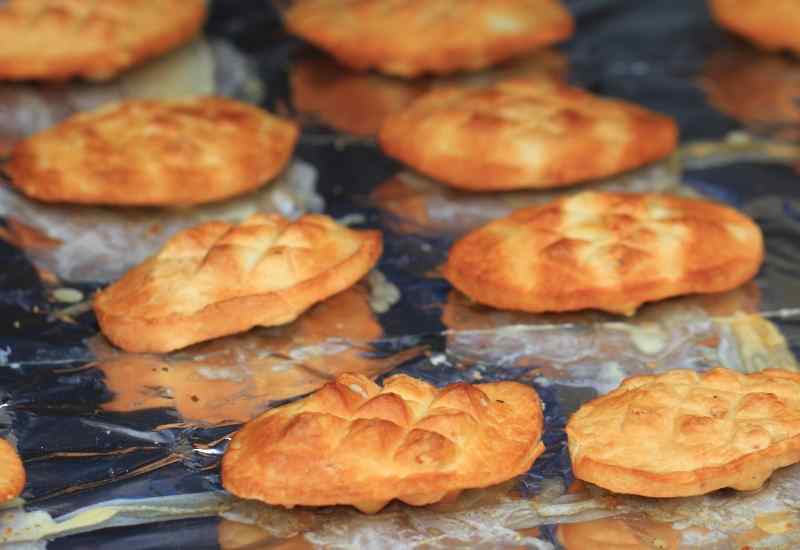 6. Sauerkraut soup
Kapustnica – also known as Slovakian sauerkraut soup – is a wintertime favourite. Made with smoked pork, sausages, and dried mushrooms, it's very rich in flavour.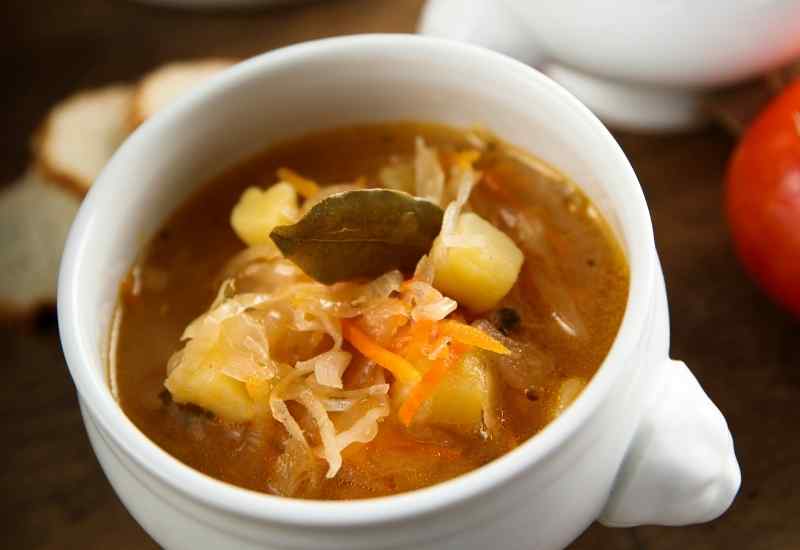 7. Lokše
This savoury, thin potato pancake, known as Lokše in Slovakian, is popular around Christmas and Lent. It's made from a soft potato dough, rolled into a circle and dry-baked until golden and deliciously crispy.
Cake and desserts
My sweet tooth wasn't totally neglected as I had my fair share of Slovak cakes and ice cream, too. Here are some of the most popular Slovakian deserts:
Ryžový nákyp – rice pudding
Orechovník – sweet walnut roll
Makovník – poppy-seed roll
Parené buchty – steamed dumplings filled with jam, sweetened poppy seeds, cheese or chocolate
Šišky – fried dumplings with marmalade and sugar
8. Parené buchty
Parené buchty is steamed yeast dumplings filled with jam, sweetened poppy seeds, cheese or chocolate. The soft dough and sweet filling makes this is a popular dessert.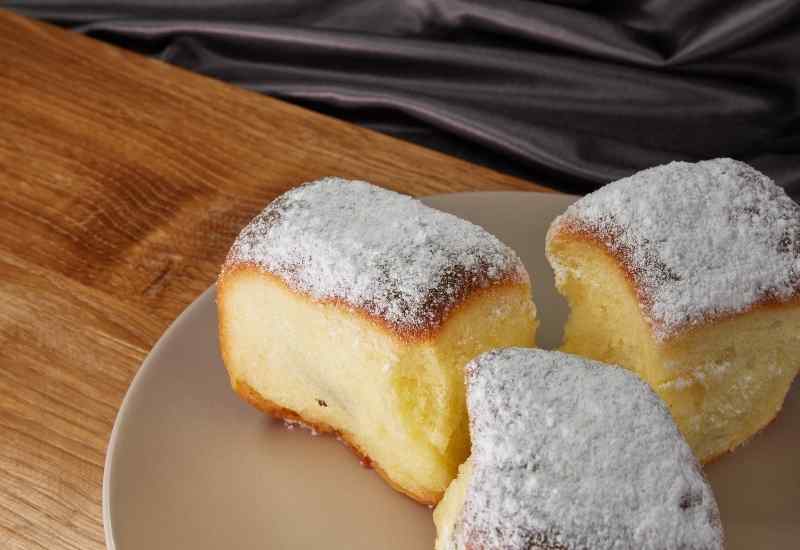 9. Šišky
Traditional Slovak food deserts also include Šišky – a fried dumpling with marmalade and sugar. These fried dough treats are delicious!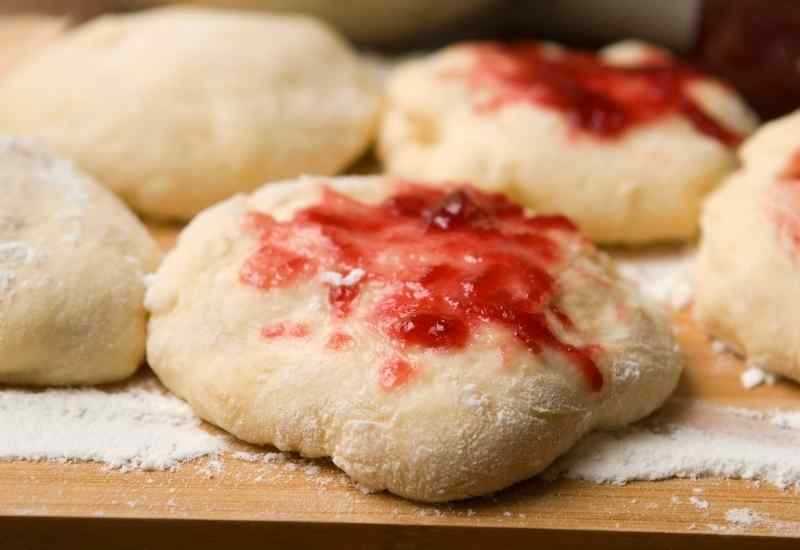 Slovak street food
Slovakian street food is also worth trying when you're sightseeing. It's similar to the street food you'll find in Hungary so expect to find great dishes like langos and chimney cakes (in Slovakia, they're called Trdelník).
10. Langos
Langoš is a lightly fried flatbread topped with cheese, sour creme and onion or garlic. The crust is thin and crispy, and you can eat it folded or pull it apart.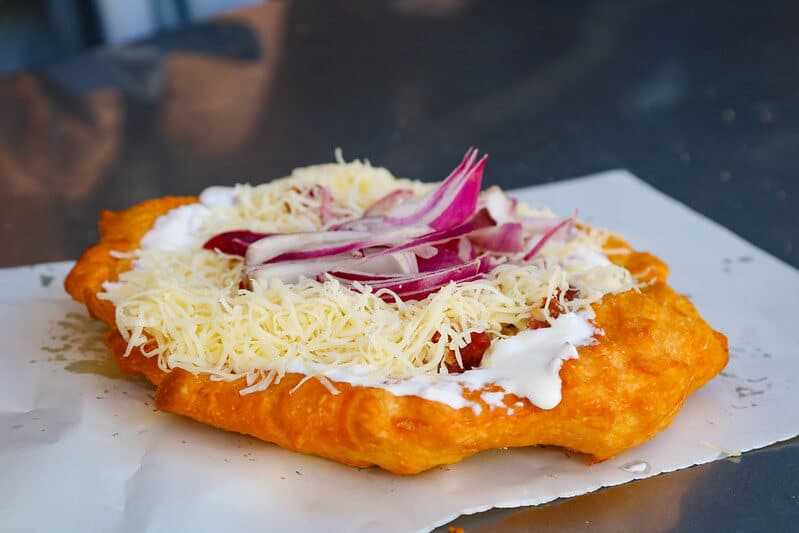 11. Chimney cake (Trdelník)
Trdelník is a traditional chimney cake baked on a rotating spit over open fire. SO yummy. It comes with different toppings like cinnamon, sugar or nuts.
Try one, but ALWAYS get it fresh. It needs to be fresh and warm.
Delish Slovak drinks
In Slovakia, I was quite impressed by the drinks. I'd already tried Urqell beer on a trip to the Czech Republic many moons ago, and it's still good today not to mention cheap (1 EUR).
Local beer
Slovakia has different beer brands depending on what region you're in, but I quite liked the Mustaz, which is local for Košice.
Slovak lemonade
Another drink that caught my eye (and taste) was the lemonade. It's not something I would order from the menu card – I'd normally go for a smoothie or fresh juice – but I was recommended to try one and they're really, really good. They reminded me of lemonades in Georgia (YUM!)
The chilled, refreshing fruit drinks come in many different flavours like coconut, elderflower (LOVED it), grape, orange or raspberry.
If you're in Slovakia, you have to try one!
Kofola
The most popular drink in Slovakia though is Kofola, a soft drink that kind of tastes like Coca Cola with lemon and a bit of coffee. I know it doesn't sound super delicious, but I still gave it a go and it wasn't bad. I just think you need to get used to the taste.
Opre cider
Opre cider is a Slovak classic that I really liked (especially the one with perry). It also comes with blueberry, raspberry and other great flavours. Made by fermentation of apple juice in the traditional way, it's one of the first ciders made in Slovakia.
Tokaj
Another popular Slovak drink is Tokaj wine – you might remember I mentioned it in one of my food posts from Budapest. Tokaj is a famous Hungarian and Slovakian white wine, and the wine region is only 1 hour's drive from Košice. I particularly loved the Tokaj Muscat, which is sweet and fruity.
Seasonal fruits and berries
I love fruit & berries and I had the most delicious selection in Slovakia! Like in any other country, production is seasonal, and during late spring and summer the fruit is simply outstanding. I had amazing fruit bowls for breakfast or snacks, and really good smoothies.
A+ to Slovakia!
Best restaurants in Slovakia
These are the best restaurants in Bratislava and Kosice:
Best restaurant in Bratislava
I recommend visiting these restaurants in Bratislava for a great Slovak food experience:
GLOBO Restaurant & Wine Bar – Excellent fine dining in the centre of Bratislava. The food is very tasty and the price range is between €70-€140.
Koliba Kamzík – Large portions and delicious Slovak food. I highly recommend!
Best cafes and restaurants in Kosice
Kosice has several unique restaurants with delicious food and lots of charm and character. I've written about them in my Kosice post, which you can read here. Here are the best ones:
Villa Regia – Traditional Slovak restaurant with a nice atmosphere and hearty dishes. Try their Bryndzové halušky.
Tabačka Kulturfabrik – Cool hangout with an industrial feel and laid-back vibe. Great place for a drink.
Republika Východu – A must-visit cafe with tasty food and HUMOUR – they have their own laws, manifesto and constitution.
Hostinec – Local brewery and the oldest restaurant in Kosice (several hundred years old). Amazing Slovak food and beer!
Food festivals in Slovakia
The food in Slovakia intrigued me and I wouldn't mind going back for more. There are also several food festivals or events during the year in Bratislava (capital) and Košice (second largest city) that are worth checking out:
Food in Slovakia FAQ
What is Slovakia famous food?
Slovakia is famous for its traditional dishes, which tend to be simple and cheap, consisting of ingredients such as milk, potatoes, carrots, onions, and cabbage.
Some traditional Slovak dishes that are popular include bryndzové halušky, a type of dumpling made with grated raw potatoes and flour, and oštiepok, a type of sheep cheese.
Other popular Slovak dishes include goulash, kapustnica (cabbage soup), and potato pancakes
What is the national food of Slovakia?
The national dish of Slovakia is bryndzové halušky, which is a type of dumpling made with grated raw potatoes and flour, mixed with a special type of sheep cheese called bryndza.
The dish is often served with bacon or sausage and is a staple of Slovak cuisine.
What is the most popular Slovak dish?
There are several popular Slovak dishes, but one of the most popular is bryndzové halušky, a type of dumpling made with grated raw potatoes and flour, mixed with a special type of sheep cheese called bryndza.
The dish is often served with bacon or sausage and is a staple of Slovak cuisine.
What do people in Slovakia eat for breakfast?
Most people in Slovakia eat a simple breakfast consisting of different types of Slovak bread with butter, ham, cheese, boiled or fried eggs, salami, vegetables, sausages, and either jam or honey to round the meal off.
Some people prefer cereals of various choices or yogurt. In the past, Slovak breakfasts were made up of what people grew themselves in the fields and from domestic animals.
The most common meal for breakfast was various porridges, such as oatmeal or milk.
Another traditional breakfast dish was bread with ointment, butter, vegetables, eggs, or bacon
Before you go – don't miss out on these posts: