10 best cheap eats in Budapest
Looking for the best cheap eats Budapest has to offer? I'm sharing 10 best-value, traditional dishes in the Hungarian capital.
Let's just begin by saying that the food in Budapest might surprise you.
You can expect paprika and goulash and lots of stews. But are you prepared for the mouthwatering cakes, the vast International food or the horse salami and beef tongue?
I don't know about you, but as a foodie I looove discovering new food stops around the world – and Budapest… oh, you can add it to the must-visit list!
This post is a round-up of cheap eats in Budapest. If you're interested in traditional Hungarian food, read my review of this amazing Budapest food tour. I really enjoyed the tour and food, and it provided me with lots of knowledge of local, traditional food + where to find it.
Ok, let's dive in. 
This post contains referral links for products I love. Adventurous Miriam earns a small commission at no extra cost to you if you make a purchase through my links. Thank you for your support ♡ Learn more
Best cheap eats Budapest
Budapest is generally affordable to visit. Like most Eastern European countries, prices are at the lower end, especially when it comes to food.
Budapest isn't considered a major food stop in Europe, and I think that's an oversight. I mean, there's so much food to choose from, even if Hungarian cuisine isn't your thing. From Budapest street food and tapas bars to traditional food, there's something for everyone.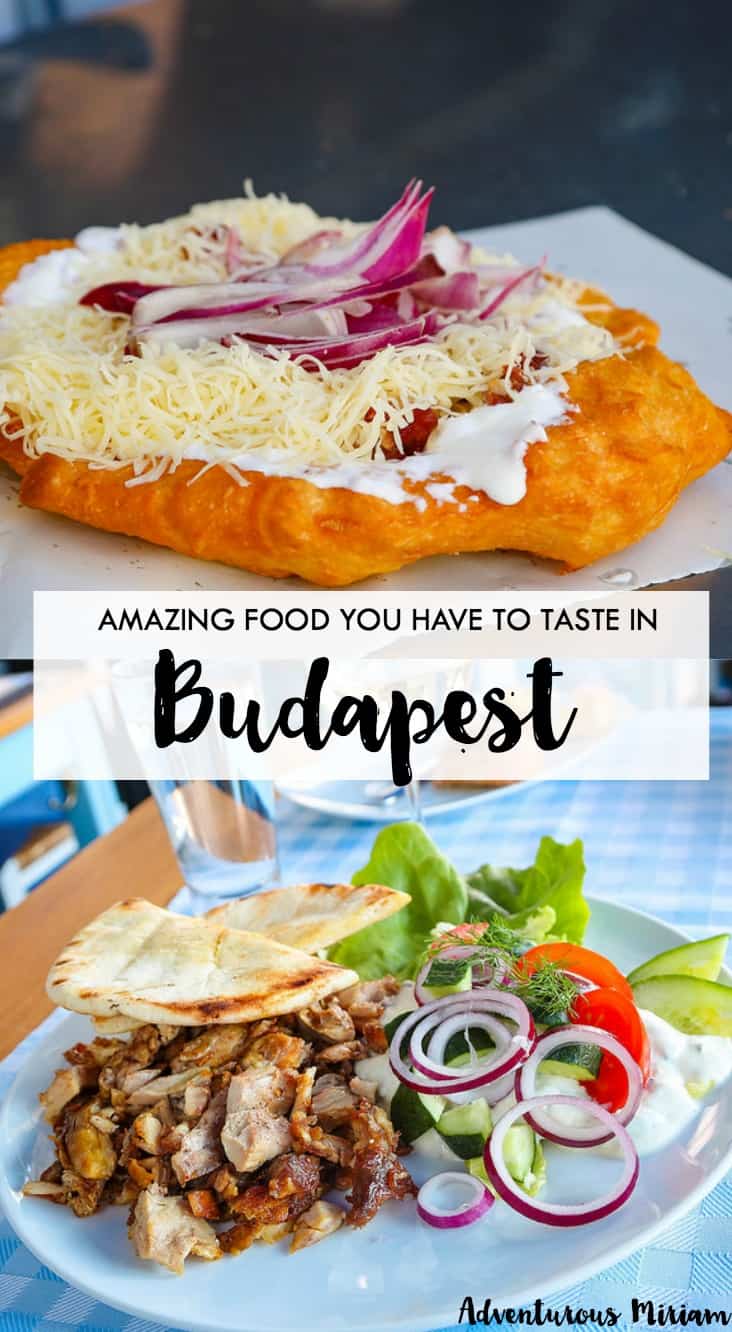 How much does a meal cost in Budapest?
Prices can vary, but an average meal in a restaurant costs around $7 per person. Breakfast is most often included in accommodation unless you stay at an Air BnB. If you're eating out, a breakfast meal will be around $3.
I spent around $15 per day on food in Budapest.
Breakfast: $3-4
Lunch: $4-5
Dinner: $7
Cake/beer/wine: $1.50
1. Chimney cakes
That's soft homemade chimney cake with sugar + cinnamon you're gazing at ↓ I'd never seen one before, but everyone seemed to walk around with one of these sugar-coated bread thingeys, and it got me intrigued.
So, chimney cakes (aka Kürtőskalács) can be found in corner stands around Budapest and basically it's a strip of dough baked around a wooden cylinder and then topped with sugar and sprinkled with all sorts of delights like cinnamon, nuts, chocolate or sprinkles. Oh. my.
A chimney cake costs like 1000 Forint (about $3.72) and it must, MUST be hot and fresh out of the oven.
2. Lángos
Another very Hungarian specialty is lángos (pronounced lan-gosh). It's basically flatbread dough that is deep-fried until golden brown and traditionally covered in sour cream, garlic and cheese. This pizza-looking enjoyment goes for just 140-160 HUF (about $0.77) on the street and it's worth a try, friends.
3. Chicken with paprika
Although it would have been super easy, I didn't live off street food completely. I was so fortunate to find a new favorite restaurant on my first day in town. It's called Pest-Buda Bistro and it serves REALLY delightful Hungarian food. The restaurant is located right next to Mattias church and it makes the best Chicken with paprika!
Lovely. Juuust lovely.
4. Traditional Goulash soup
A must-try when in Budapest is goulash. This traditional Hungarian dish comes in various editions around the world, but it's traditionally from Hungary. I had the best goulash soup at Belvárosi Disznótoros, a local and affordable food stop that's worth checking out!
5. Modern Goulash
Goulash with egg barley is another version, served with mashed and fried potato balls. Also a great dish at great value.
6. Central food market
The Central Food Market is the largest and oldest indoor market in Hungary. It's also where you can find LOTS of the best cheap eats Budapest.
Here, you'll find all kinds of foods. From traditional Unikum (the national drink) to mouthwatering strudel and beef tongue!
7. Instagrammable ice cream
I also had the most good-looking, intensely rich Italian ice cream. It was PURE awesomeness, and people on the street randomly stopped me to ask where I'd bought it.
So I'll give it to you straight: I got it at Gelarto Rosa, right next to St. Stephens Basilica, and it was worth every 600 HUF / $2!
8. Greek food
One of my favourite dishes in Budapest was the super excellent, big-time Greek food I had at a restaurant called Taverna Dionysos. The flavors were a delight for my little gyros-loving heart. And it was affordable (around $12) considering it was International.
Like anywhere else, International food is always a bit pricier than traditional or local food. So, expect to pay a little extra.
9. Thai food
Another quick and cheap eat is a bowl of spicy Thai. You'll find Thai food dotted around Budapest, but I quite liked the food at Padthai wokbar.
10. Cake at traditional coffee houses
As a sweets-lover in a country of sweet-lovers, Budapest was sort of a paradise. They have these Hungarian cake & coffee houses, like a konditorei in Austria and France, with sweet, spongy and inappropriately delicious cakes that just look beautiful on a plate.
Amiright?
A slice of cake will cost you around $1-2.
Have you tasted the food in Budapest? What's your favourite?
Before you go – don't miss this