Winter in Denmark: 12 fun cold-weather activities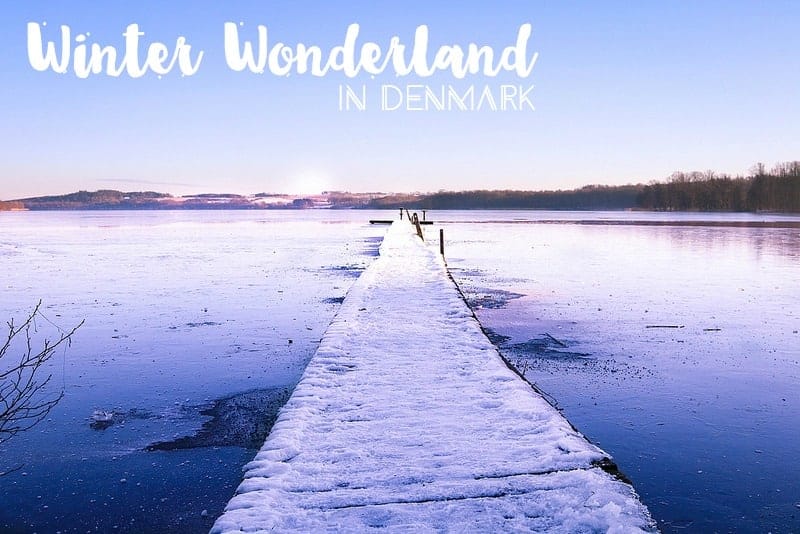 Winter in Denmark is here and it's time to look at some fun things to do in winter around here. While most Danes hibernate in the cold, dark winter months, there are plenty of enjoyable activities to do with your family or on your own in Denmark – both indoors and out.
Let's take a look.
Read next: 25 best places to visit in Denmark that'll give you wanderlust
This post contains referral links for products I love. Adventurous Miriam earns a small commission at no extra cost to you if you make a purchase through my links. Thank you for your support ♡ Learn more
1. Christmas market in Aarhus Old Town (Den Gamle By)
One of the best way to enjoy winter in Denmark is visiting the Christmas market in Aarhus Old Town. Known locally as "Den Gamle By", this open-air museum features 75 historical buildings from the last 500 years of Danish history and it houses a big Christmas Market in December.
All the traditional shops are open in the winter period and the streets are packed with locals in medieval clothing. It's similar to the Old Towns in Tallinn and Riga.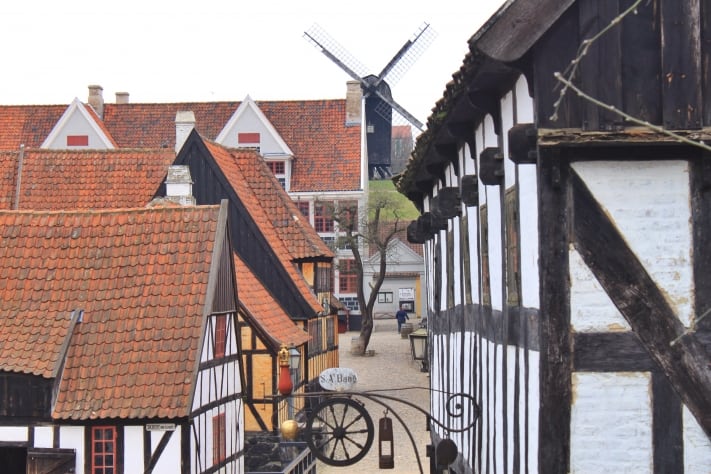 2. Go winter swimming
If you're feeling adventurous, hop on the winter trend here and go winter swimming. I've never done it, but several of my friends do it every winter and love it. You basically jump into the ice-cold lake or ocean wearing nothing, spend a minut or two in the water and ideally head to a sauna right after, like at La Banchina on Refshaleøen in Copenhagen.
Winter swimming will boost your immune system and make you burn more calories, because swimming in cold water makes your body work twice as hard to keep you warm.
It all sounds dandy and super healthy, right? Brr. I'm still going to pass.
3. Go ice skating
Ice skating equals winter, don't you agree? Well, in several cities around Denmark, outdoor skating rinks are being set up for free use for kids and adults. You can bring your own skates or rent them at the spot. The ice skating rink in Randers, where I live, is open from December to the end of February.
4. Christmas in Tivoli
For Danes, this is a must, and there's a good reason for it. It's so hyggeligt!
We have two tivolis (theme parks) in Denmark: one in Copenhagen (Tivoli Gardens), which is the largest, and one in Aarhus (Tivoli Friheden). Christmas is a season of magical adventure in both tivolis, and inside you'll find plenty to keep you occupied while keeping the cold at bay.
5. Rent a hot tub on the canals in Copenhagen
I bet you've never tried this one before.
With Copenhot, you cruise the Copenhagen canals in a spa boat or chill out in a fire-heated barrel spa at the harbour. The 40-degree warm water will ensure you're warm and toasty no matter the weather, and you can always step into the ice-cold barrel shower to cool down.
6. Taste fastelavnsboller
Fastelavn is a carneval tradition in Denmark. Kids dress up and everyone eats fastelavnsboller: a sweet puff pastry filled with custard and marzipan, jam or cream, topped with icing.
While Fastelavn is celebrated on the Sunday before Ash Wednesday, you can find fastelavnsboller in bakeries the week up till Fastelavn. Try one. They're delicious.
7. Visit castles
Denmark is a fairy tale land with castles around every hilltop, or so it seems. In December, you can experience how Christmas used to be celebrated at some of the castles back in the day. Christmas trees and tables are set, and the halls and chambers are beautifully decorated. Several of the castles host Christmas markets with reindeer, camp fires and æbleskiver (sweet, puffy pancake balls).
Some of the most beautiful castles in Denmark are:
Egeskov castle (on Funen)
Frederiksborg castle (close to Copenhagen)
Rosenborg castle (in Copenhagen)
Gammel Estrup manor (on Djursland)
8. Experience hygge
Hygge is the epitome of winter in Denmark. Hygge is found everywhere, from the Christmas exhibitions at the old castles to the candle lit cafés in every city. Hygge is easy to find or create, no matter where you look.
9. Join the Copenhagen light festival
Denmark in winter can get dark, but if you visit Copenhagen in February, you can experience the festival that lights up the capital.
The annual Copenhagen light festival presents a wide range of installations, architectural lights, art and more created by both established and upcoming light artists. The festival lasts for three weeks of February.
10. Try skiing in the city
Skiing isn't typically connected with Denmark seeing as the country is rather flat. But if you're spending winter in Denmark, you shouldn't cheat yourself from experiencing skiing at Hedeland Ski Centre. It's Denmark's largest ski slope and ski resort, served by three lifts (two adult lifts and a children's lift).
Just to keep expectations realistic: This is NOT like skiing in Norway, Austria or Switzerland. It's much smaller. But it's a fun way to spend a day near Copenhagen, if you feel like skiing. You can rent gear on site.
11. Visit the North Sea (Vesterhavet)
The roaring North Sea is always a wonderful place to visit, whether you're spending summer or winter in Denmark. I recommend heading to Blokhus or Løkken, which are on the West Coast. Jutland's West Coast stretches from Skagen in the north to Ulfborg in the west and it is by far the coldest, windiest and most rugged place in Denmark!
I love it there. It's so wild and untamed.
Read next: Top 12 things to do in North Jutland, Denmark
12. Your rainbow panorama
Last but not least, you can see the world in colours from the roof of ARoS – Aarhus Art Museum. Your rainbow panorama is an elevated 360-degree walkway, glazed with rainbow-coloured glass. From here you can walk around on a 150 metre long, circular path with panoramic views of Aarhus.
Opening hours: 10:00 – 17:00 / 10:00 – 21:00 (from Sep-Dec)
Spending winter in Denmark? Ask me anything in the comments!
You'll also love
Pin to Pinterest