10 Amazing Danish Christmas Foods You Have to Try
Lord knows I love food, and December is by no means an exception when it comes to yummy Danish Christmas Foods. Every family have their own traditions for Christmas Eve, and while some eat pork roast or chicken, others prefer duck or goose. Most food on this list is general for Danes, but there are a few family dishes as well.
Here goes:
This post contains referral links for products I love. Adventurous Miriam earns a small commission at no extra cost to you if you make a purchase through my links. Thank you for your support ♡ Learn more
1. Julefrokost (Christmas lunch)
If you're in Denmark in December, you're bound to hear the word julefrokost (Christmas lunch/party). This Danish tradition typically involves plenty of food and alcohol, and it's held on weekends. The party starts with herring, shrimps, smoked salmon and deep-fried plaice filet with remoulade on rugbrød (Danish whole grain bread). Next is fried meat balls, followed by cold rice pudding. Every half an hour or so, someone calls out "SKÅL" to make a toast, and everyone stands up to drink. This is where snaps comes in.
Read next: 20 amazing dishes you must try in Denmark
This awful drink is served ice-cold and has a 40-45 percent alcohol level. We have a tradition of singing dozens of drinking songs during the night – each requiring a snaps, of course.
Most companies will arrange a Christmas party for their employees, families will have a Christmas lunch on the 25th or 26th, and friends will meet for yet another Christmas party. It's not unusual to attend Christmas parties every weekend of December with some even beginning in November and others stretching into January.
2. Risengrød (Rice pudding)
A less alcoholic dish during December, is risengrød; or rice pudding. It's served with butter, sugar and cinnamon for dinner during December.
*Most Danish kids are taught to leave a small dish of risengrød on the attic or outside on the porch for the Christmas Elf or Santa.
3. Christmas goodies
And now to the extra calorie filled food – the goodies. Danish Christmas cookies are made and eaten throughout December, including various types of ginger bread biscuits, vanilla cookies, brown cookies, marzipan and oatmeal balls with pearl sugar. In my family, we gather one whole day and make all these goodies while listening to Christmas music. It's one of my favourite days of the year.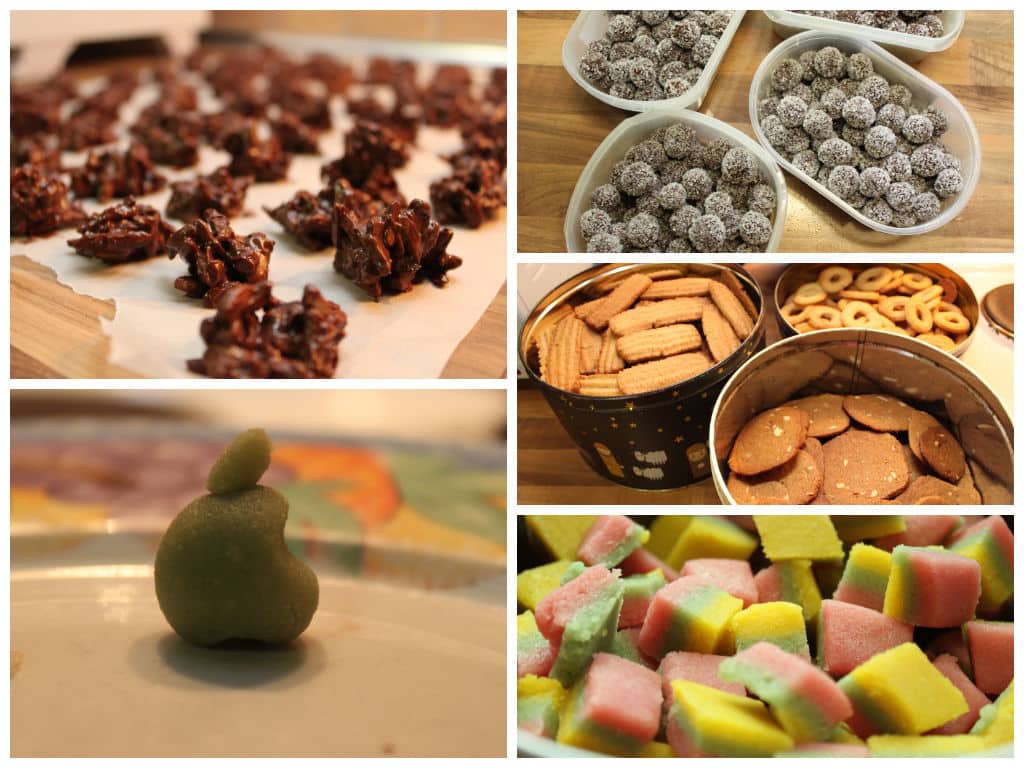 We bake a lot of cookies and store them in boxes – no wonder everyone always gains a few pounds.
4. Fåsselår – my personal favourite
This dish is specific for my family. I have never heard of anyone making this other than my relatives from North Jutland. Every year in November, dad buys a lamb leg, puts it in a brine of salt and water for 30 days before hanging it up to dry. After three weeks, the result is as shown below. The (extremely) salty meat is served with toasted white bread.
Read next: More traditional Danish Christmas food
5. Homemade rolled sausage
Another family tradition is the rolled sausage. This is actually eaten all year around, but we only make it ourselves at Christmas time. When it's homemade, we put lots of thyme, pepper and onion in it, which only makes it that much tastier. Mhhmmm.
6. Gløgg & æbleskriver (mulled wine and apple slices)
From the very salty and spicy meat to a sweet dish called: æbleskiver (apple slices) and gløgg (mulled wine). Despite their name, 'apple slices' have nothing to do with apples. They are baked round cakes made of pancake dough, sprinkled with powdered sugar and served with strawberry jam.
Æbleskriver is sometimes served with mulled wine; a traditional Nordic drink consisting of red wine, spices and raisins. Not one of my favorites, but æbleskiver, however, is.
7. The healthy snacks
For some of us, all that Christmas food leaves us panicking about weight gain, so the healthier alternative is dried figs and dates, walnuts and hazels.. oh and clementines. The oranges from Israel (Jaffa) are also especially good this time a year.
Read next: How we spend Christmas in Denmark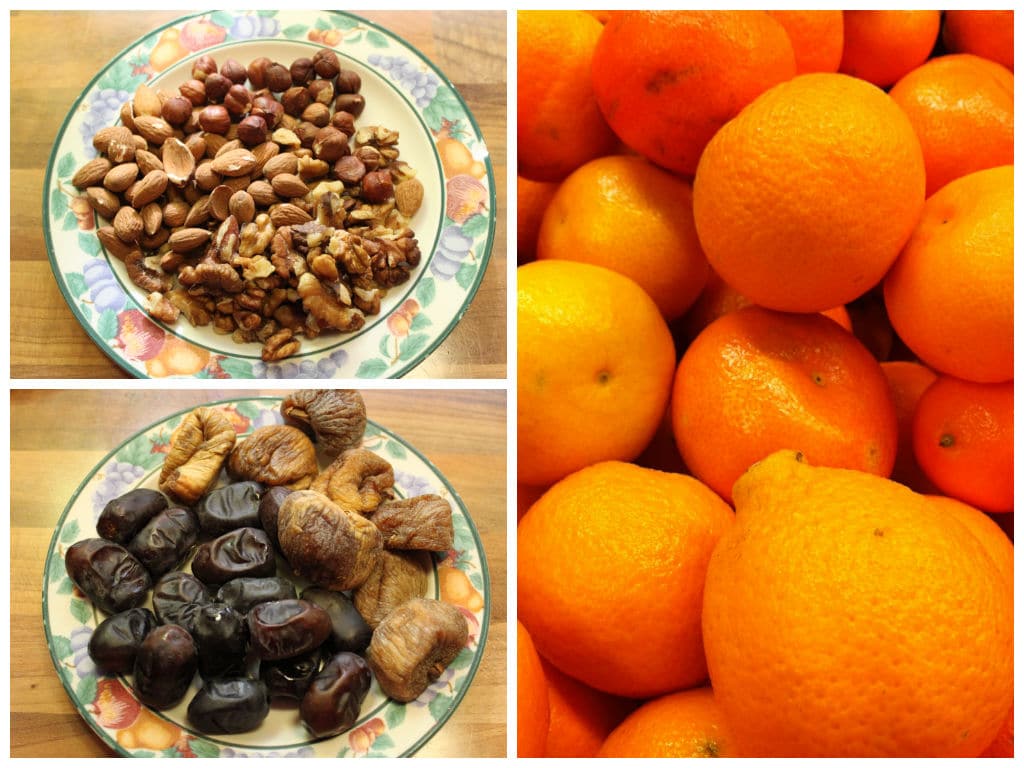 Figs, nuts and oranges can be bought year around, but they're more popular during Christmas.
8. Klejner
Klejner are a Nordic type of fried pastry made of sugar, egg yolks, margarine and flour. They're rolled out and cut into strips, deep fried in oil and sometimes sprinkled with sugar. They're a very common Christmas goodie. In Denmark you can buy klejner in almost any store, but homemade are simply the best.
9. Risalamande (cold rice pudding)
Ah, the risalamande. This dish is by far one of the biggest highlights for me, and it would not be Christmas without it. Risalamande is a rice pudding made from rice, sugar, vanilla, whipped cream and chopped almonds, served with cherry or caramel sauce (it's very similar to risengrød, but this is served cold on Christmas Eve).
According to tradition, a whole almond is added to the desert, and the person who finds it wins a present. Now, the finder is supposed to conceal his discovery as long as possible, so the rest of the family is forced to eat the entire bowl of risalamande while trying to guess who found it. Danish culture at its best.
10. Christmas duck
Roast duck. The creme de la creme. This is what I'm looking forward to all of December, and mum's cooking always cease to amaze! Some Danes eat flæskesteg (pork roast) at Christmas Eve, but we always get duck with caramelized potatoes and gravy. If there is such a thing as Christmas Food Heaven, this would be it.
What's your favorite Christmas food?
You'll also love
Save for later