23 cozy things to do in Copenhagen in winter (2023)
As a Dane, I've visited Copenhagen many times over the years. In this post, you'll discover the top things to do in Copenhagen in winter.
Plan your trip to Copenhagen
👩🏻 Best guided tours in Copenhagen
🏡 Where to stay in Copenhagen
Copenhagen is a city that people flock to from all over the world, especially in the summer months. But winter is also a great time to visit the Danish capital.
This guide uncovers the best things to do in Copenhagen in winter, including hidden gems that only locals know about.
At the end of the guide, I also answer some frequently asked questions about Copenhagen in winter – and give you an idea of what the weather is like in Denmark during the winter months.
Let's get started.
Read next: Winter in Denmark: 12 fun cold-weather activities
This post contains referral links for products I love. Adventurous Miriam earns a small commission at no extra cost to you if you make a purchase through my links. Thank you for your support ♡ Learn more
The best things to do in Copenhagen in winter
Winter weather in Copenhagen
The weather in Denmark usually stays above 0ºC (32 degrees Fahrenheit) and even in the coldest months, it rarely goes too far below 0 (32 F).
Zero degrees Celsius is considered cold for most people. But if you dress warm, you can still have a good time outside and enjoy all the activities.
What to wear in Denmark
So, what should you wear for 0-degree weather?
Layering is key to staying warm in Denmark. Wear a base layer of moisture-wicking material, such as wool or fleece, to trap heat next to your skin.
Then, add a layer of insulation, such as a sweater. Finally, top it off with a windproof and waterproof outer layer like a parka or down jacket.
In the photo below, I'm wearing a long down jacket.
Is The Copenhagen Card worth it?
And now onto exploring Copenhagen.
You'll want to visit the main attractions in the city, right?
The Copenhagen Card gives you access to nearly 90 attractions for free, as well as unlimited free public transport.
If you plan your day and follow an itinerary, you can get a lot more in value than you paid for.
So, if you plan on seeing the Copenhagen highlights like Tivoli, canal boat tours, Amalienborg, and Kronborg Castle, The Copenhagen Card is 100% worth it.
Grab yours – Get the Copenhagen Card
A winter visit gives you a unique experience of denmark
Things to do in Copenhagen in winter
1. Grab a bite at Torvehallerne
Torvehallerne is a beautiful indoor food marketplace, where you can get traditional foods and drinks, but also food inspired from all over the world.
This is the perfect place to go when it's cold outside.
2. Have porridge at GRØD
"GRØD" translates to porridge in Danish, and it's a Danish restaurant making – you guessed it – delicious porridge.
Porridge can be everything from sweet oat porridge and acai bowls to savory risottos and dahl.
I love their oatmeal with cinnamon, almonds, and dates! Try it at Nørrebro, Torvehallerne, Østerbro, Frederiksberg and Vesterbro. They also have restaurants in Aarhus.
Read next: 14 magical things to do in Aarhus in winter
3. Danish hot winter-drinks
At a cafe or supermarket, try a Soul Heater from Søbogaard – in Danish it's called "Sjælevarmer" because it warms the soul/body.
A soul heater is a drink made with ginger, apple cider, and berries like elderflower or cherry. Great for colds or if you just want to warm up in winter.
You can also try a Snueknuser (a 'cold fighter') in Tivoli. It's basically the same.
4. Tivoli
Tivoli is a must-visit, no matter when you visit Copenhagen.
This world-famous amusement park is transformed into a winter wonderland during the Christmas season, with twinkling lights, festive decorations, and plenty of activities to keep you entertained.
If you can, go on a weekday because weekends are often crowded.
Book your ticket – Tivoli Gardens 1-Day Unlimited Rides Ticket
5. Copenhagen Christmas Markets
In December, don't miss the Christmas markets in Copenhagen!
Taste gløgg and shop for Christmas crafts at Højbro Plads, Kongens Nytorv and at Nyhavn. All of them are located near each other.
You can also join a walking tour of the Christmas markets where you will also experience the Christmas lights and Christmas tree in the city center and taste traditional Danish æbleskiver.
Read next: How we celebrate Christmas in Denmark
6. Amagerbakke or Copenhill
One of the best things to do in Copenhagen in winter is to visit Amagerbakke and Copenhill.
Here, you can go skiing, toboggan, or just enjoy the beautiful view all the way to Sweden.
It's definitely a must-see.
Get your ticket here – CopenHill Ski Pass Including Rental Gear
7. Freetown Christiania
This self-governing community has its own unique laws and customs.
Christiania is a fascinating place to visit with lots of graffiti and homemade houses. Make sure you have the time to walk around the whole area and not just Pusher Street.
Also, be sure to respect the local culture and don't take photos where it's clearly not permitted (there are signs).
8. Church of Our Savior
Next to Christiania and Copenhill is the most beautiful church spire in Copenhagen.
You really can't miss it. The golden spire towers high above the city, and you can even go all the way to the top.
9. Take a canal tour
A canal boat tour is one of the highlights of visiting Copenhagen.
Not just because you'll get to see the main attractions, but also because you'll see them from a different perspective.
You can book a canal boat tour in advance or head to Gammel Strand or Nyhavn where they take off.
Book a tour – Classic Canal Tour With Live Guide
10. Go ice skating at Broens Gadekøkken
At Broens Gadekøkken, you can try ice skating. The ice rink is open only in the winter season, from November to February.
Throughout the season, they host all types of events from choir singing and children's disco to ice skating lessons and bingo.
It's located at the end of Inderhavnsbroen (bridge only for pedestrians and bikes) at Nyhavn. 
11. Take the train to Malmø, Sweden
Malmø is a 30-minute ride from Copenhagen and it's easy to get there. You can go back and forth in one day.
Either travel by train or join a day trip where you'll visit Malmø and Lund.
This is an easy way to visit if you prefer not to deal with the logistics. Remember your passport.
Book a tour – Full-Day Trip to Malmö with Swedish Lunch
12. Cake at La Glace
La Glace from 1870 is the oldest patisserie in Denmark. It's also a cafe.
It's famous for its cake art, old fashioned interiors and it's a travel back in time. Extravagant and beautiful.
13. Try a Saunagus
If you really want to feel like you have visited Denmark, go try a Saunagus. 
It's where you sit in a 90-degree sauna, and then you go for a dip in the sea — back up in the sauna afterwards. It's cold, but you'll love it!
Here's where you can try it:
Butchers Heat (Refshaleøen)
Sauna85 (mobile sauna)
Just Sauna (Sydhavnen)
Innercise (Sydhavnen)
Plugin (Sydhavnen)
Guzen.dk (Dragør)
14. Glyptoteket
Ny Carlsberg Glyptotek is right next to Tivoli.
It holds more than 10,000 pieces, featuring ancient Mediterranean cultures, plus French and Danish art.
The first thing you see is the lush winter garden, which is my favorite part.
15. Taste gløgg and æbleskiver
When you visit Copenhagen in winter, try sugar-roasted almonds (brændte mandler), gløgg and æbleskiver.
The warm, spiced red wine paired with sweet, fluffy pancake balls is a comforting treat against the cold.
16. Copenhagen Light Festival
The Copenhagen Light Festival takes off in February from the 3rd to the 26th.
Light installations are set up across the city from Nordhavn to Ørestad, covering old buildings, squares, and canals.
You can explore on your own or take a guided tour by Segway, boat, kayak, or on foot. Check the program to plan your route and see the lights.
17. Visit the iconic Nyhavn
This picturesque canal district is lined with colorful townhouses and old-fashioned sailing ships.
Nyhavn is a great place to stroll, take photos, and enjoy a traditional Danish pastry.
18. The Little Mermaid
The Little Mermaid Statue, inspired by the fairy tale of Hans Christian Andersen, is one of Copenhagen's most popular tourist attractions.
She sits on a rock in the harbor, gazing out to sea.
19. Christiansborg Palace
This is the seat of the Danish Parliament and one of the largest palaces in Scandinavia.
You can take a tour of the palace or visit the Royal Reception Rooms.
Book here – Copenhagen City & Christiansborg Palace Private Walking Tour
20. Rosenborg Castle
Rosenborg is a Renaissance castle in Copenhagen that houses the Danish Crown Jewels.
It's a beautiful example of Danish architecture, and it's also a great place to learn about Danish history.
21. Strøget
Strøget is the longest pedestrian street in Europe, and it's lined with shops, cafes, and restaurants.
It's a great place to do some Christmas shopping or simply wander around and enjoy the festive atmosphere.
22. The Round Tower
The Round Tower is a 17th-century tower that offers stunning views of the city. You can climb to the top for a small fee.
23. Smørrebrød at Ida Davidsen's
Smørrebrød at Ida Davidsen's is simple, hearty, and classic Danish.
This is the place to try classic open-faced sandwiches because you'll get a great variety and fresh ingredients.
Read next: 20 amazing dishes you must try in Denmark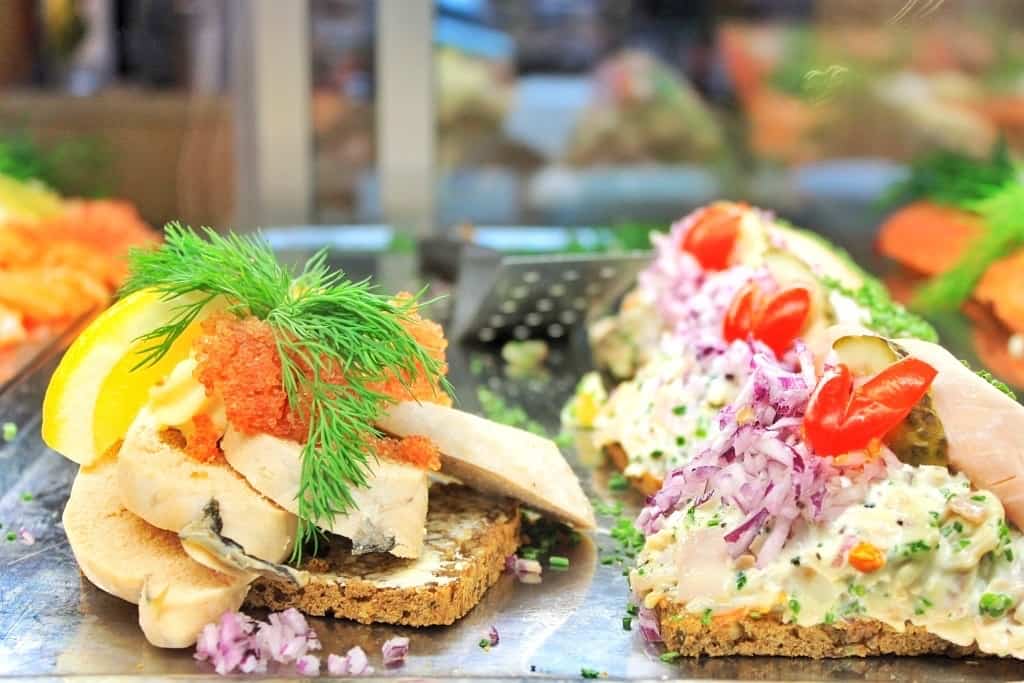 FAQ – Copenhagen in winter
Is winter a good time to visit Copenhagen?
Yes, winter is a good time if you enjoy cozy atmospheres, festive holiday markets, and fewer tourists. However, it's cold and days are short.
Indoor attractions and hearty Danish food make up for it, though.
Should I go to Copenhagen in December?
Yes, December is charming in Copenhagen with festive lights, Christmas markets, and a cozy ambiance. It's cold and gets dark early, but the holiday cheer brightens up the experience.
Indoor attractions are aplenty, and the seasonal Danish treats are a delight. Just dress warmly!
Is it worth visiting Copenhagen in January?
Yes, if you don't mind cold weather and shorter days. There are fewer tourists, which means less crowded attractions.
Indoor venues like museums and restaurants remain welcoming. Be prepared for a quiet, chill vibe.
What is the best month to visit Copenhagen?
May to August are the best months to visit Copenhagen. My favorite month is June and September.
In the summer, you can expect pleasant weather, long days, and outdoor events. It's ideal for exploring the city at its liveliest.
More posts about Denmark you might like
Save it!