A magical one day in Odense – H.C. Andersen's hometown (2023)
Odense is one of Denmark's most famous towns. I put together this ultimate travel guide to spending one day in Odense, including where to stay, things to do, and essential tips.
Odense is the Danish fairy tale capital.
This is where the famous writer Hans Christian Andersen was born, and you can visit his childhood home and much more here.
The old town of Odense is an attraction in itself. This is my favorite activity in town – just wandering around its ancient streets and alleys.
Here's everything you should experience in Odense in one day.
This post contains referral links for products I love. Adventurous Miriam earns a small commission at no extra cost to you if you make a purchase through my links. Thank you for your support ♡ Learn more
One day in Odense
About Odense
Odense is the third largest city in Denmark, and it's rich in culture and history, mostly linked to fairy tale author H.C. Andersen.
This is where he was born and penned famous tales like "The Princess and the Pea" and "The Little Mermaid".
As you walk through Odense, you'll encounter the spots that sparked Andersen's creativity.
Odense is a small town, so you can easily experience the top things to do in one day.
Where is Odense?
Odense is located on the island of Funen in Denmark.
It's about 160 kilometers (100 miles) west of Copenhagen, which is around 1.5 to 2 hours by train or car.
How to get to Odense
The best way to get to Odense is by train or car.
By train
Trains from Copenhagen, Aarhus, and other major cities in Denmark are frequent. The trip from both Copenhagen and Aarhus to Odense takes around 1.5 hours.
By car
Driving is straightforward with well-marked routes. From Copenhagen, it's about a 2-hour drive via the E20 highway.
You can rent a car in Copenhagen.
And if you're thinking about exploring more of Denmark, there are lots of things to experience on a road trip to Funen and Zealand.
top attractions In the centre of odense
An amazing one day in Odense
Below, you'll find the best things to do in Odense in one day. You'll get to experience all the highlights if you follow this Odense itinerary.
Visit the Hans Christian Andersen Museum
The H.C. Andersen's House in Odense is one of the city highlights.
In 2021, this brand-new museum opened its doors, with 2/3 of the museum located underground and the rest surrounded by a fairytale garden.
The museum shows Hans Christian Andersen's fairy tales, not his personal life.
Visit H.C Andersen's childhood home
In Odense old town lies Hans Christian Andersen's birthplace, now a tiny museum.
Born here on 2 April 1805, this humble home highlights his family's low status. They were living with his father's aunt due to hard times. Inside, you'll also learn about his grandparents.
Kramboden
Kramboden is a place I recommend visiting. It's housed in a preserved merchant's yard from the 16th century.
Like back then, there's a real general store here, set up just as before when it was the face of the merchant's yard.
The Old Poor House and School
This half-timbered building was a school for the poor in the early 1800s.
A plaque notes it as H.C. Andersen's school during his last years in Odense, though he wished for a better education at the Latin school nearby.
St. Knuds Cathedral
You should also visit St. Knuds Cathedral, built in the 1300s.
It's a Gothic cathedral with a bright, high nave, and it's widely considered the finest Gothic building in Denmark.
The Fairy Tale Garden
Next, head to The Fairytale Garden behind the cathedral and city hall.
Established in 1876 by the Reading Association, this beautiful garden became public in 1942.
In the park, you'll find a 1949 H.C. Andersen statue, Erik Heide's 1985 sculpture "The Paper Boat", a pergola, and other sculptures.
Explore Møntergården
Møntergården Museum is a must-visit in the city of Odense. It's like stepping into a small historic neighborhood.
The place dives deep into Odense's culture and history. It begins with a modern exhibit on Funen's history, from pre-Viking times to now.
Then, stroll through Renaissance buildings with cobblestone streets, learning about medieval life. Nearby cottages depict poor widows' homes. For kids, there's a puppet workshop and a special treehouse.
Odense Town Hall
Stepping into central Odense, you'll see Odense Town Hall, erected in 1885 to phase out an older, out-of-style Gothic predecessor.
Odense Castle
Across town, there's time for one more stop. Flanked by the King's Park on one side and the Arfou Duckling Park on the other, stands Odense Castle.
Built for King Frederik IV, it's simpler than other Danish royal residences, but it has a subtle elegance.
While you can't go inside, you can enjoy the castle from the outside and also visit the scenic parks.
Storms Pakhus Street Food
A great spot for lunch or an easy dinner is Storms Pakhus Street Food Hall.
It's a short walk from the city center, and you can get lots of different food, including Thai, Indian, and Mexican, with vegetarian, vegan, and gluten-free options.
Art Museum Brandts
Odense's Kunstmuseum Brandts is Funen's largest art museum.
You'll see a blend of modern and classical art across 10 annual exhibitions in a unique four-floor building.
The top floor showcases over 15,000 classic artworks.
Funen Village Open-Air Museum
Last, but not least, visit Funen Open-Air Village.
Here, you can experience how Funen people lived in medieval times. You can also try authentic activities like old stoves, fireplaces, or even a horse-drawn carriage ride.
Where to stay in Odense
Hotel Odeon – Conveniently located just 200 meters from the train station, this 4-star hotel is perfect for your stay in Odense. Check the latest rates and availability here.
Where to next?
Funen is one of the most magical places in Denmark, and you'll find lots of beautiful sights here.
A must-see landmark is Egeskov Castle, one of the best-preserved Renaissance palaces in Northern Europe. I also recommend visiting Faaborg, which is a beautiful small town in Denmark.
Both of these places are within a 45-minute drive from Odense.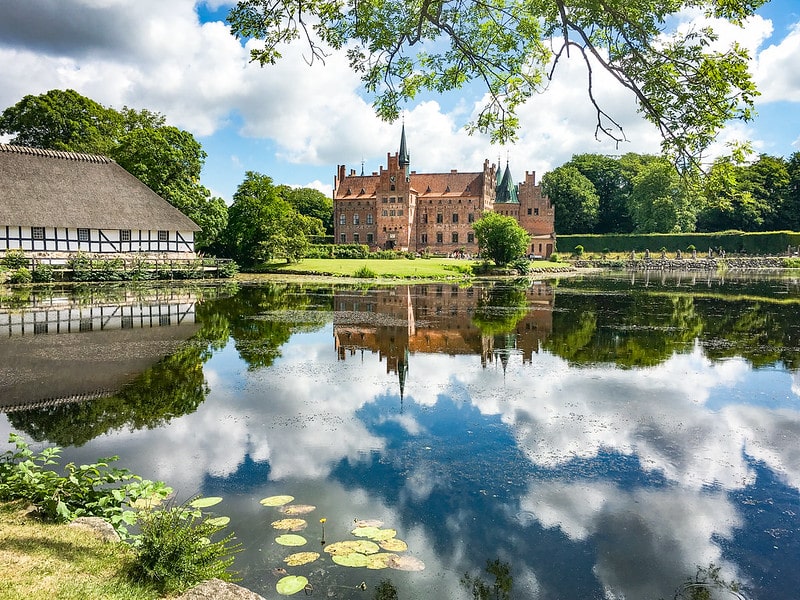 FAQ – Things to do in Odense
Is Odense Denmark worth visiting?
YES! You should definitely visit Odense because it's easy to get around, has great museums, and status as Denmark's greenest big city.
It also has year-round events, a developing city center with new hang-outs, a light rail, an excellent bike path, and is notably H.C. Andersen's hometown.
What is Odense Denmark best known for?
Odense is best known as the birthplace of Hans Christian Andersen, its well-preserved historical old town, a rich cultural scene with museums and festivals, and is a green city with many parks and recreational areas.
Is one day in Odense enough?
Yes, one day in Odense is enough to see the main attractions. You'll be able to cover the highlights such as H.C. Andersen's house, the old town, and Odense Cathedral.
Why visit Odense?
Visit Odense for its rich cultural heritage, H.C. Andersen's birthplace, diverse museums, historical buildings, and green recreational spaces.
How long does it take to go through the HC Andersen Museum?
It typically takes 1-2 hours. During Summer, you can also watch performances.
More posts about Denmark you might like
Save it!